Family matters: Arrieta doesn't prepare alone
Cubs righty hikes trails near his Texas home with his young children in tow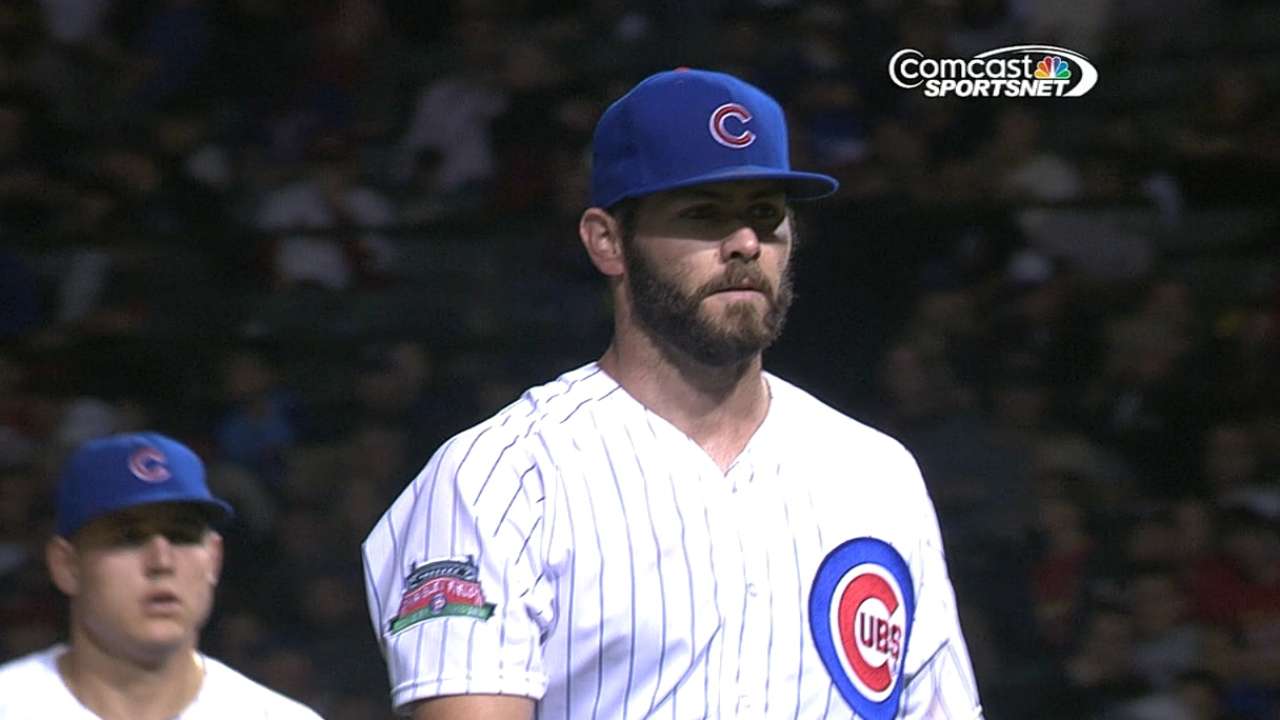 CHICAGO -- This week, Cubs pitcher Jake Arrieta will likely start throwing more as he prepares for next season. But if the sun is shining in Austin, Texas, then he's most likely outside, and could be using his kids in his training.
Arrieta often hits hiking trails near his home with 3-year-old son Cooper in a harness on his back and 11-month-old daughter Palmer in a baby carrier on his chest. Toting that extra 80 pounds gives Arrieta quite a workout, and he posted a picture of the trio on his Twitter account, calling it the "ideal start to a training day."
"It's almost every day," Arrieta said of the walks, which can extend up to 15 miles. "If the sun's out and it's dry, there's a 90 percent chance we're hiking somewhere."
There are times when Cooper wants to explore on his own, and they'll pause so he can throw rocks or splash in some water. Arrieta is OK with that. Being outside and together is key.
This is the ideal start to a training day. Baby girl on my chest and the beast has the backseat pic.twitter.com/1Qv6L1BcVn

- Jake Arrieta (@JArrieta34) November 20, 2014
"That's one the main reasons we live in Austin," Arrieta said. "The weather is so nice for the majority of the offseason, and it's easy for us to get out and ride bikes and get on some trails, to walk together as a family. Sometimes I'll go out for a trail run. We just like to do things outdoors."
Arrieta, 28, is coming off his best season, posting a 10-5 record and a 2.53 ERA in 25 starts. He set career highs in innings pitched (156 2/3) and strikeouts (167), and he is the first Cubs pitcher since 1950 to take three no-hit bids into the seventh inning in a single season.
The right-hander knows how much work he had to do to accomplish all of that, and he is gearing up for 2015.
Arrieta has played catch a couple times this fall, and he works on some mechanical elements of his delivery in front of a mirror to keep the muscle memory fresh. He's postponed throwing until December but admits he's antsy.
"I told my wife the other day I wanted to start throwing," Arrieta said.
She had to remind him that it was only November.
Besides the trail runs, Arrieta has added Pilates this offseason and goes to a studio three times a week.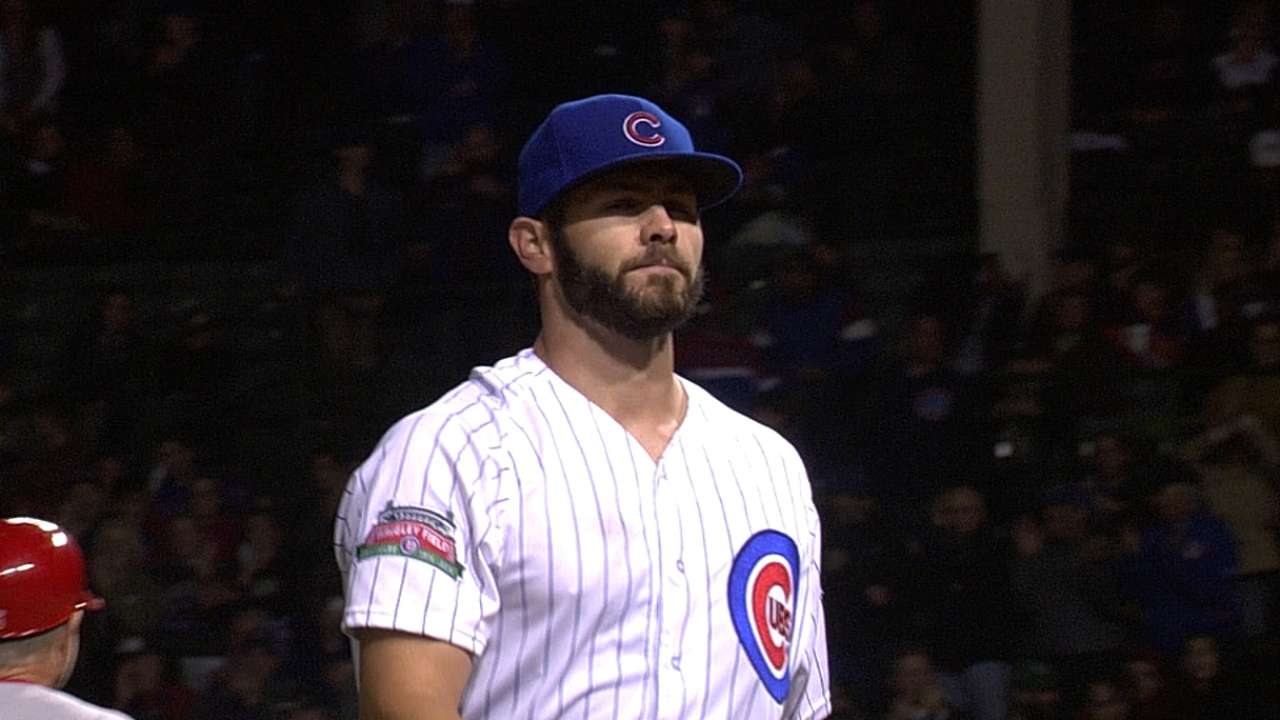 "It's incredible how much of an isolated burn you can get from doing something two or three times a week," he said. "I don't think I've ever been as humbled as I have been in Pilates. It's incredible how much body control and how much isolated strength you have to have to complete these movements successfully."
So far, he said, "everything from my head to my toes have benefitted" from the Pilates workouts. The Cubs hope whatever Arrieta is doing will keep him strong for the entire season. He missed April because of tightness in his right shoulder, and Arrieta said he isn't doing anything different this offseason to avoid that. He's always emphasized strengthening and stabilizing his entire body, not just the shoulder.
"That's one of my focuses, is to increase my flexibility and strength and have greater range of motion," Arrieta said in a phone interview. "If and when I'm able to get to those points, it'll allow me to be more powerful, explosive and durable. I think flexibility in general is something that needs to be reinforced, and not only baseball players but all sports."
Arrieta doesn't have to go far to get a workout, creating a gym in his garage.
"So much of my day, especially Monday through Friday, involves some aspect of training, whether I'm in the garage for an hour or three hours -- Cooper never lets me in the garage by myself," Arrieta said. "I like to find things for him to do that are safe."
Cooper also has a routine when it comes to family bike rides. Arrieta has an attachment for the back of his bike for his son, who can pedal at his own pace.
"Before every ride, he requests a Gatorade [drink] in his cup holder," Arrieta said. "He's pretty demanding about that. I'm trying to get him to understand that sometimes we need to supplement some water.
Arrieta's wife Brittany has a degree in education, and she is already teaching their son at home. Cooper won't have as much time next offseason with dad because he'll likely be in school. Now is an opportunity to make up for the long road trips during the Cubs' season, which is why the walks together are so pleasant.
Cooper is still trying to figure out why daddy stays so busy, working out two, and sometimes three times a day.
"He'll say, 'Why do you need to do that?'" Arrieta said. "I'll say, 'Well, we have to practice and work hard to get better at our job.' He doesn't really understand baseball is a job, but that's one of the beauties of playing this game. I get the large amount of time off that I do and I'm able to have him around. It's neat for them to see the behind-the-scenes aspects of baseball."
Carrie Muskat is a reporter for MLB.com. She writes a blog, Muskat Ramblings, and you can follow her on Twitter @CarrieMuskat. This story was not subject to the approval of Major League Baseball or its clubs.