Hinch gathering coaches for Houston meet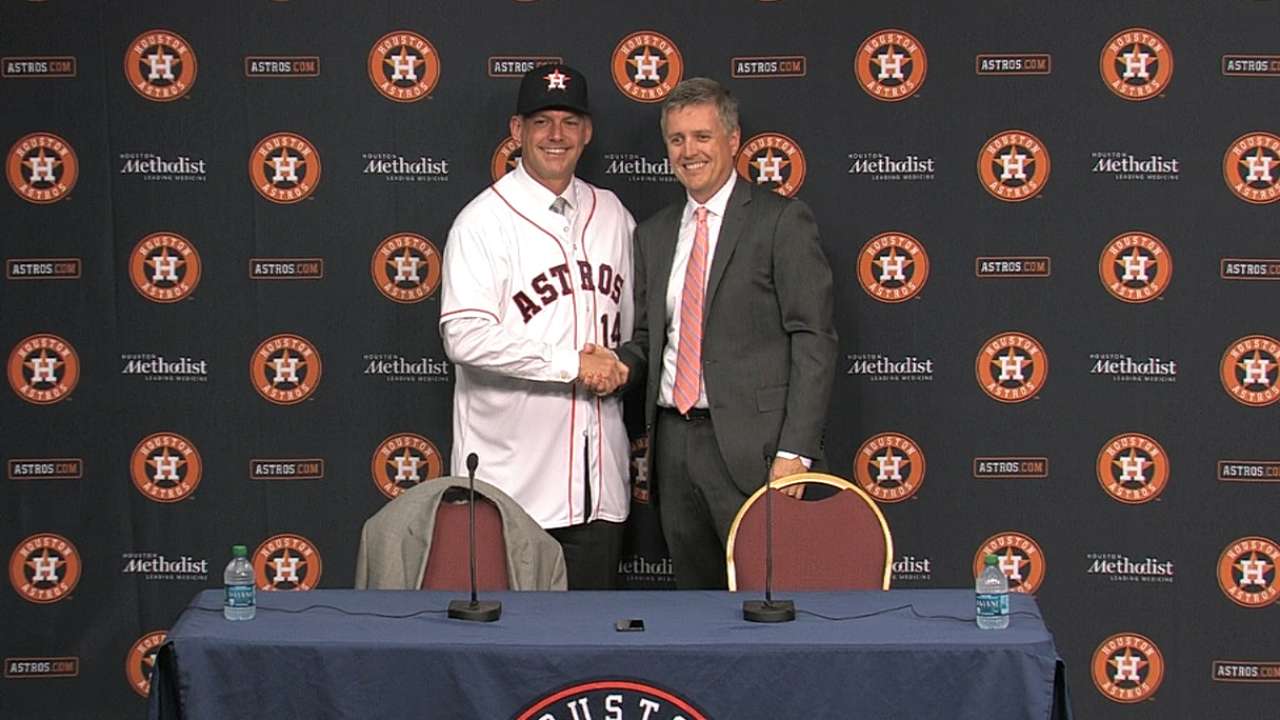 HOUSTON -- Astros manager A.J. Hinch has grown quite familiar with his new coaching staff since it was completed a month ago with the hiring of Alan Zinter as assistant coach, and now the coaches will have a chance to get acquainted with each other.
Hinch, who was hired at the of the regular season, and his entire coaching staff will meet face to face for the first time this week when they spend a few days together attending meetings at Minute Maid Park and hanging out in the evenings, including a trip to see the NBA's Houston Rockets.
"They're all connected to me in some capacity, but they're not necessarily connected to each other," Hinch said. "We'll all be under one roof for the first time. We've had some group texts and communicated through email, and, of course, I've talked to all of them individually quite a bit this winter, but we need to get in the same room and pound out a few things."
Hinch's coaching staff consists of holdovers in pitching coach Brent Strom and bullpen coach Craig Bjornson, and newcomers Trey Hillman (bench coach), Dave Hudgens (hitting coach), Rich Dauer (first-base coach), Gary Pettis (third-base coach) and Zinter, who's on a Major League staff for the first time.
The staff will gather for a group dinner in downtown Houston on Tuesday night to kick things off, with general manager Jeff Luhnow and assistant general manager David Stearns in attendance. Hinch said president of baseball operations Reid Ryan and possibly even owner Jim Crane could make an appearance.
Following meetings on Wednesday, the group will attend the Rockets' game against the Grizzlies as the guests of Crane. There will be more meetings on Thursday before everyone goes their separate ways until the start of Spring Training. None of the coaches presently live in Houston.
"It's a time to get to know each other," said Hinch, who's commuting almost weekly between his home in the San Diego area and Houston. "We're going to spend a ton of time with each other starting in February. I've seen it on both sides as a player and a manager. When the coaching staff has a good chemistry and good culture, the players can sense that.
"We want to get a head start on developing our own coaching chemistry, coaching culture that can be fed off by the players. The good staffs, they talk about things, develop and challenge each other -- the best ones that I've been around. We're going to kick start that with meetings."
When asked what kind of tone he wants the coaching staff to set, Hinch said developing the mentality of what it's going to take to push players and continually be teachers and motivators. He wants the coaches to be consistent in how they go about their business.
"For me, I'm very big into delegation and letting the guys manage their own situation -- Rich Dauer on the infield, Gary in the outfield and Strommy with the pitching and things like that," Hinch said. "They need to all hear, from me, my expectations and the attitude we're going to bring for 162 games and all of Spring Training. It's not necessarily reinventing the wheel as much as it is setting the standards pretty high from what we expect out of our group."
Hinch and the Astros front office will head to San Diego in a week for the Winter Meetings. Hinch plans to stay with the rest of the Houston brass for a few instead of commute between San Diego and his home in La Jolla, Calif., as the Astros continue to look to acquire bullpen help and more offense.
Expect Hinch to spend more time in Houston in January as players begin to trickle into Minute Maid Park to work out in advance of Spring Training.
"I think the next six to eight weeks are probably going to fly by," he said.
Brian McTaggart is a reporter for MLB.com and writes an MLBlog, Tag's Lines. Follow @brianmctaggart on Twitter. This story was not subject to the approval of Major League Baseball or its clubs.