Cano out of Japan Series with toe fracture
Mariners superstar expected to be sidelined for 3-4 weeks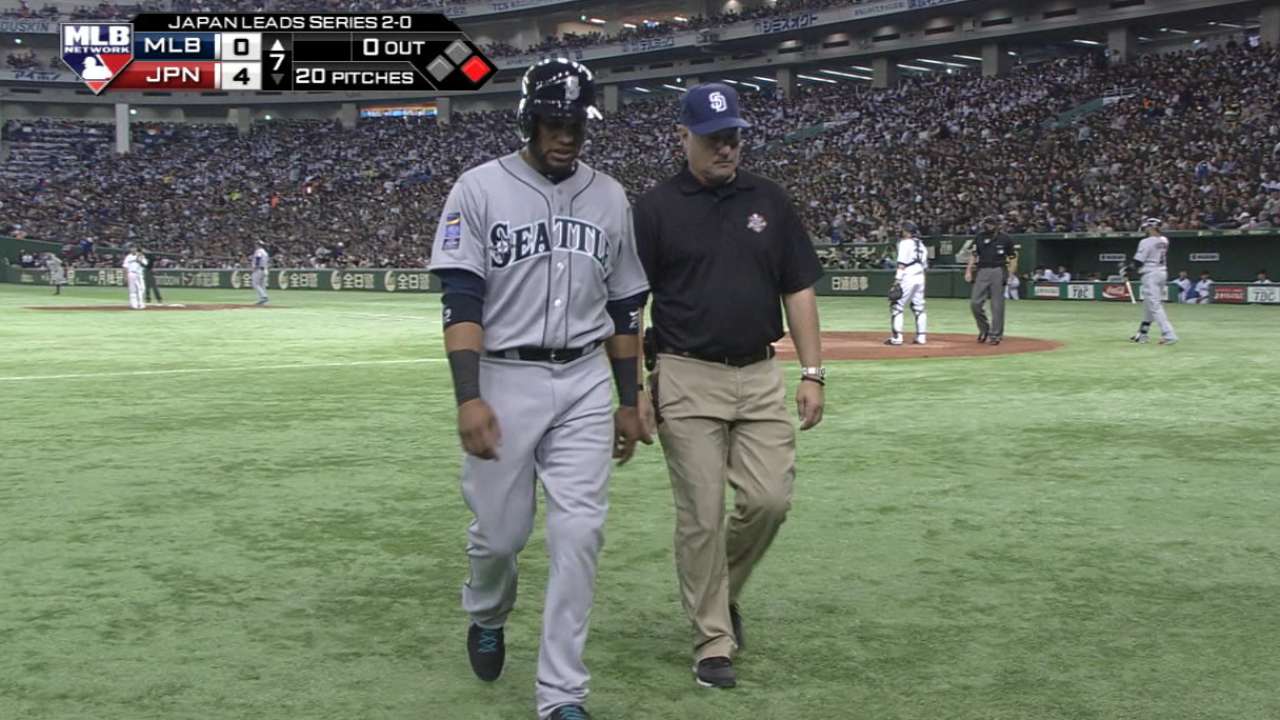 TOKYO -- Mariners second baseman Robinson Cano suffered a broken right pinkie toe when he was hit by a Yuki Nishi pitch during the seventh inning of Saturday's All-Star Series Game against Samurai Japan, said Mariners general manager Jack Zduriencik.
Cano will miss the remainder of the Japan Series and will be sidelined from baseball activities for three to four weeks. The Mariners said Cano will resume full workouts in December and should have no issues with being ready for the start of Spring Training in February.
Cano left the game, and X-rays revealed a non-displaced fracture. The injury will not require a cast or treatment, just rest. Mariners trainer Rick Griffin spoke with Cano, who reported no pain.
Cano, 32, is coming off his fifth consecutive All-Star season, which saw him bat .314 with 14 home runs in his first year as a Mariner. He was one of the highest-profile players on MLB's All-Star Series tour of Japan, regularly starting at second base and batting second for John Farrell's team. Cano ended up going 2-for-10 in three games.
In Cano's absence, Astros second baseman Jose Altuve -- who has come off the bench for most of the Japan Series -- should see the bulk of playing time at the position.
Historically one of the league's most durable players, Cano has averaged 160 games per year since 2007. He signed a 10-year, $240 million contract with the Mariners last winter after spending the first nine seasons of his career with the Yankees.
The Japan All-Star Series wraps up with one more game at the Tokyo Dome on Sunday, followed by Game 5 of the series Tuesday in Sapporo. The MLB All-Stars will then travel to Okinawa for one final exhibition game, which does not count in the Series standings.
"It's part of the game, getting hurt," Cano said before leaving the Tokyo Dome and learning of his fracture. "I'll be fine."
Japan All-Star Series schedule
• Exhibition: MLB 8, Hanshin-Yomiuri 7 | Box
• Game No. 1: Japan 2, MLB 0 | Box
• Game No. 2: Japan 8, MLB 4 | Box
• Game No. 3: Japan 4, MLB 0 | Box
• Sunday: Game No. 4 at Tokyo Dome, Tokyo (6 p.m. JT/4 a.m. ET)
• Monday: Travel day
• Tuesday, Nov. 18: Game No. 5 at Sapporo Dome, Sapporo (7 p.m. JT/5 a.m. ET)
• Wednesday, Nov. 19: Travel day
• Thursday, Nov. 20: Exhibition game vs. Samurai Japan, Okinawa Cellular Stadium, Okinawa (6 p.m. JT/4 a.m. ET)
MLB Network will broadcast all seven games of the Japan All-Star Series, and MLB.TV subscribers in the U.S. and around the world can watch live and on-demand streams of every game as well.
Anthony DiComo is a reporter for MLB.com. Follow him on Twitter @AnthonyDicomo. This story was not subject to the approval of Major League Baseball or its clubs.