Japan knocks around MLB countrymen
Iwakuma, Wada give up seven runs as Team Samurai takes 2-0 series lead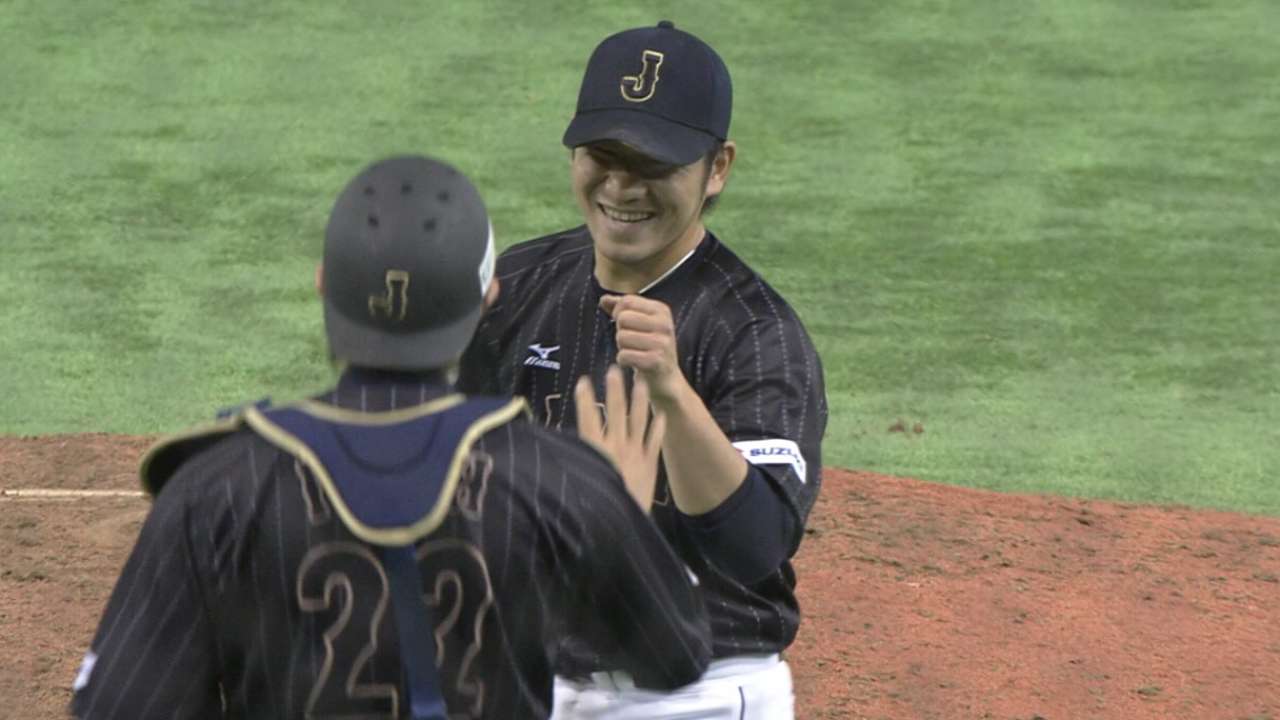 The MLB squad surrendered six runs with two outs and mustered just six hits while dropping Game 2 of the Japan All-Star Series to Samurai Japan, 8-4, on Friday at the Tokyo Dome.
Mariners right-hander Hisashi Iwakuma, who got the start for the MLB club in his hometown, allowed five runs on 10 hits in four innings and took the loss. He struck out four.
Justin Morneau hit a two-run home run in the second inning -- his only hit of the trip thus far -- off Japanese starter Chihiro Kaneko, who allowed three runs on three hits over five innings while striking out five for the victory.
The other Japanese player on the MLB All-Stars roster, Cubs left-hander
Tsuyoshi Wada
, saw his first game action of the trip, pitching 1 2/3 innings and surrendering Samurai Japan's first home run of the series -- an eighth-inning solo shot by Nobuhiro Matsuda, who finished 3-for-4.
The MLB team has been outscored 17-12 over three games and trail the Japan Series 2-0 with three more games and an exhibition remaining on the tour.
Ben Zobrist tripled and scored in the third, then doubled in the eighth and scored on a Robinson Cano single off the left-field wall. Cano was thrown out at second base going for a double.
Japan center fielder Yuki Yanagita, who went 3-for-4 with four RBIs and a run, finished the game a home run short of the cycle. Yanagita, Matsuda, second baseman Ryosuke Kikuchi (3-for-5 with two RBIs) and catcher Hikaru Itoh (2-for-3 with three runs and an RBI) all had multiple hits.
MUST-SEE MOMENTS
Matsuda helps Samurai extend lead
Matsuda's solo shot off Wada in the eighth was the Samurai Japan's first home run of the Japan All-Star Series and it preceded an RBI double by Yanagita that gave Japan an 8-3 lead.
Wada, one of two Japanese players on the MLB squad, threw 1 2/3 innings, surrendering two runs on two hits and one walk while striking out one. He was relieved by Jose Veras, who got two groundouts to end the inning.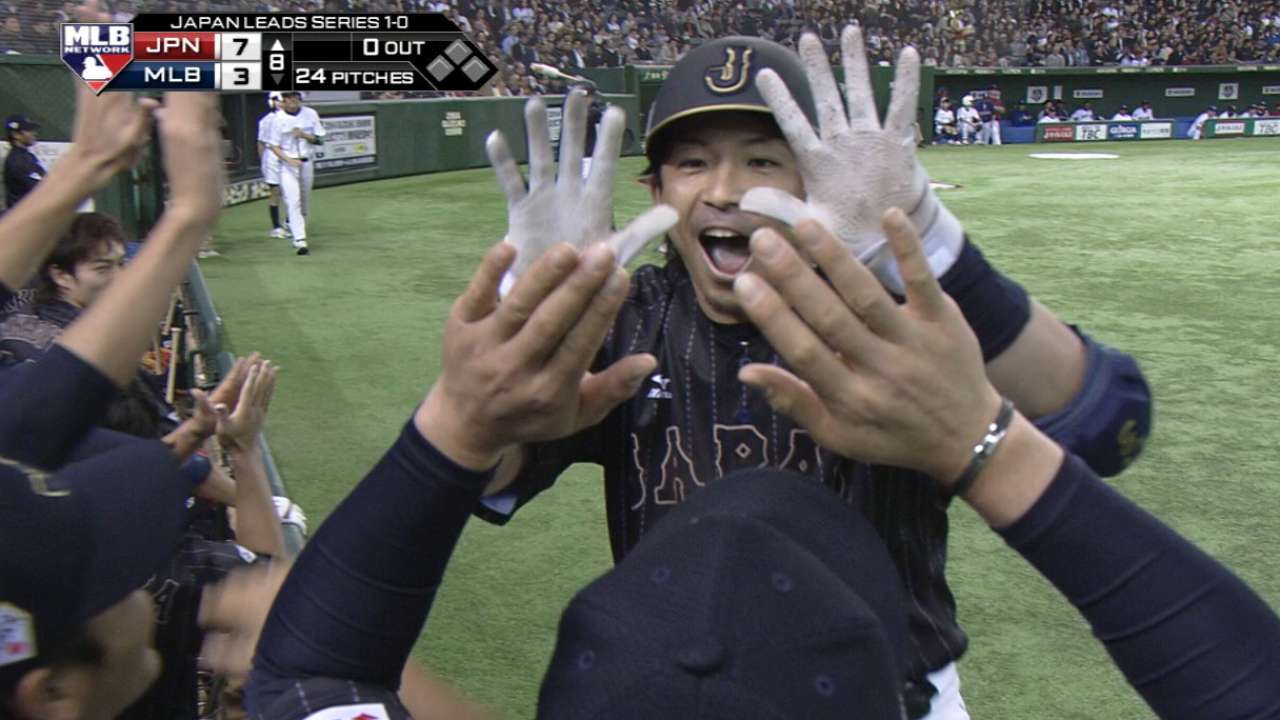 Morneau ends big leaguers' drought
After going hitless in the MLB All-Stars' exhibition game and Game 1 of the Japan All-Star Series, Morneau blasted a two-run home run to center field to narrow Samurai Japan's lead to 3-2 in the second inning.
Morneau, who won the National League batting title with a .319 average for the Rockies this season, took Kaneko deep on a full-count pitch after Evan Longoria singled in the previous at-bat.
It snapped an 11-inning scoreless streak for the MLB All-Stars.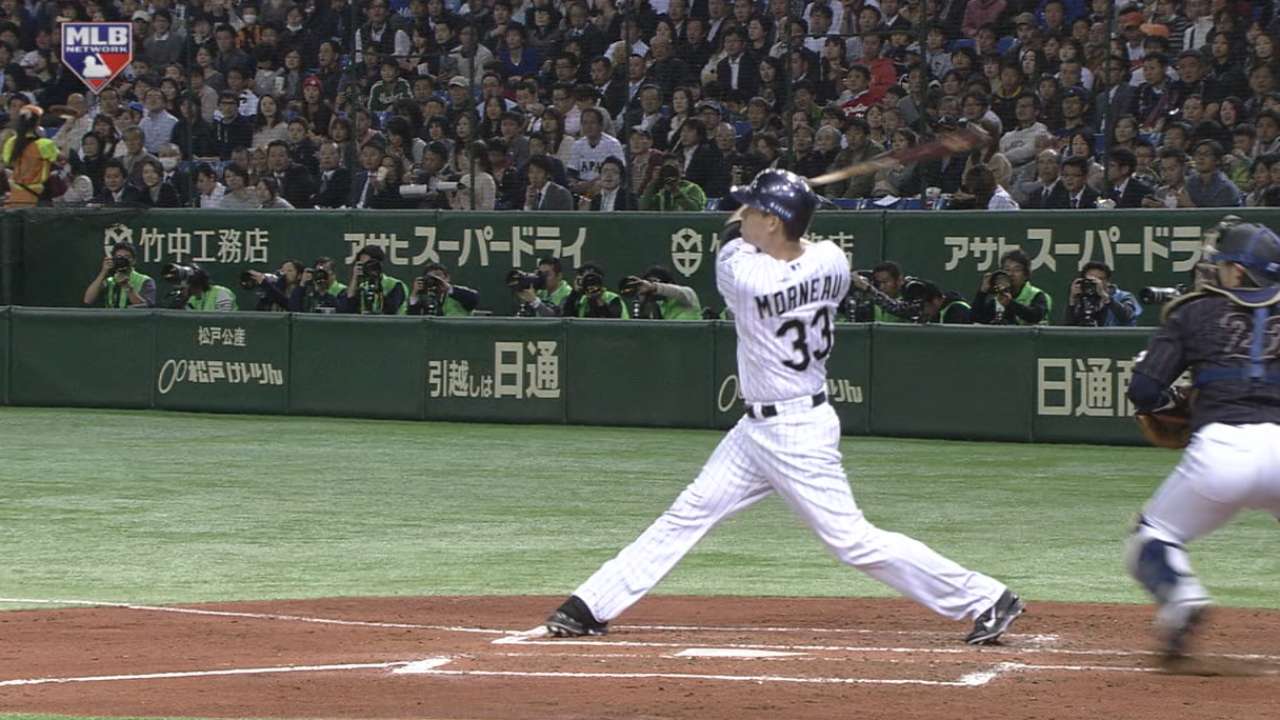 • Morneau's blast breaks ice for MLB
• Japanese fan snags souvenir from Morneau
Samurai strikes first again
Samurai Japan, which won Game 1 of the Japan All-Star Series, 2-0, mounted a two-out rally against Iwakuma in the second inning to take an early 3-0 lead in Game 2.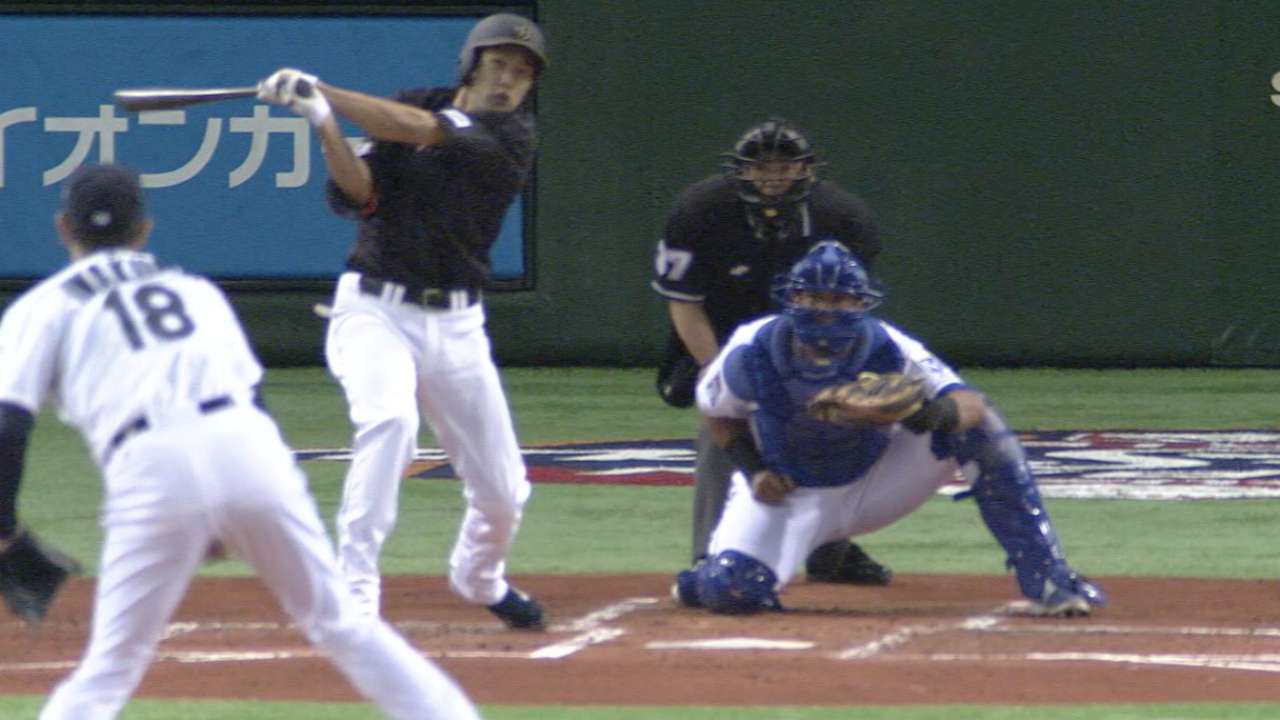 The Japanese team ambushed its countryman on the first pitch for three of their first five hits of the game, including Yanagita's two-run triple to center field. That hit, which followed three consecutive singles, gave Samurai Japan the 3-0 advantage.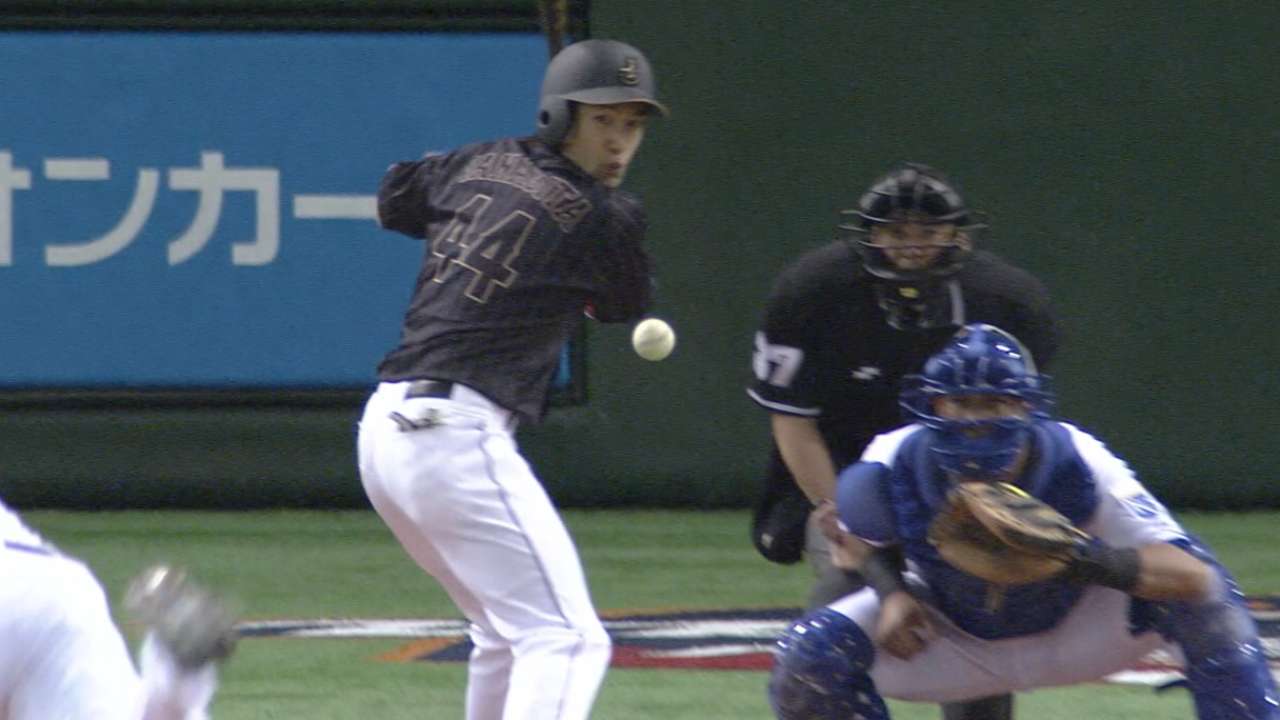 Iwakuma returns
Iwakuma, who played 11 seasons in Nippon Professional Baseball before joining the Mariners in 2012, was roughed up on Friday but he received a warm welcome from the Tokyo Dome crowd.
The Mariners righty has been the biggest rock star on MLB's traveling All-Star team is Hisashi Iwakuma, the more accomplished of the two Japanese big leaguers on tour. Each day, Iwakuma has spent time posing for pictures, signing autographs and answering question after question from the Japanese media.
"I feel very honored," Iwakuma said through an interpreter. "I was really looking forward to coming back here as a pitcher for the American team, so I'm very happy for that."
In three years since joining the Mariners after 11 seasons in Nippon Professional Baseball, Iwakuma has gone 38-20 with a 3.07 ERA. That mark is the lowest of any Japanese-born pitcher with more than 20 big league starts.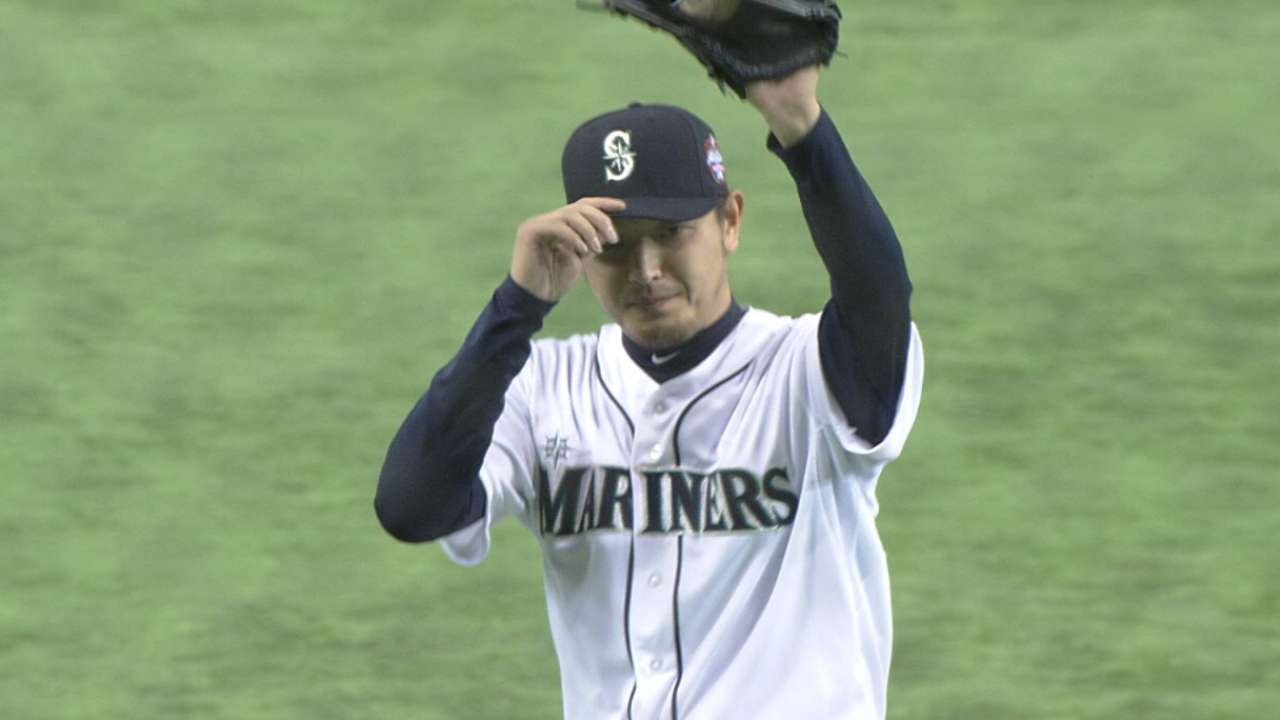 • Respect trumps results for Iwakuma and Wada
KEY PLAYERS
Yuki Yanagita
The outfielder was one of two Japanese players to reach base four times, finishing just a home run shy of the cycle.
After striking out to lead off the game, Yanagita tripled in the second, singled in the fourth, walked and stole a base and scored in the sixth and doubled in the eighth. He's 3-for-8 with four RBIs in the series.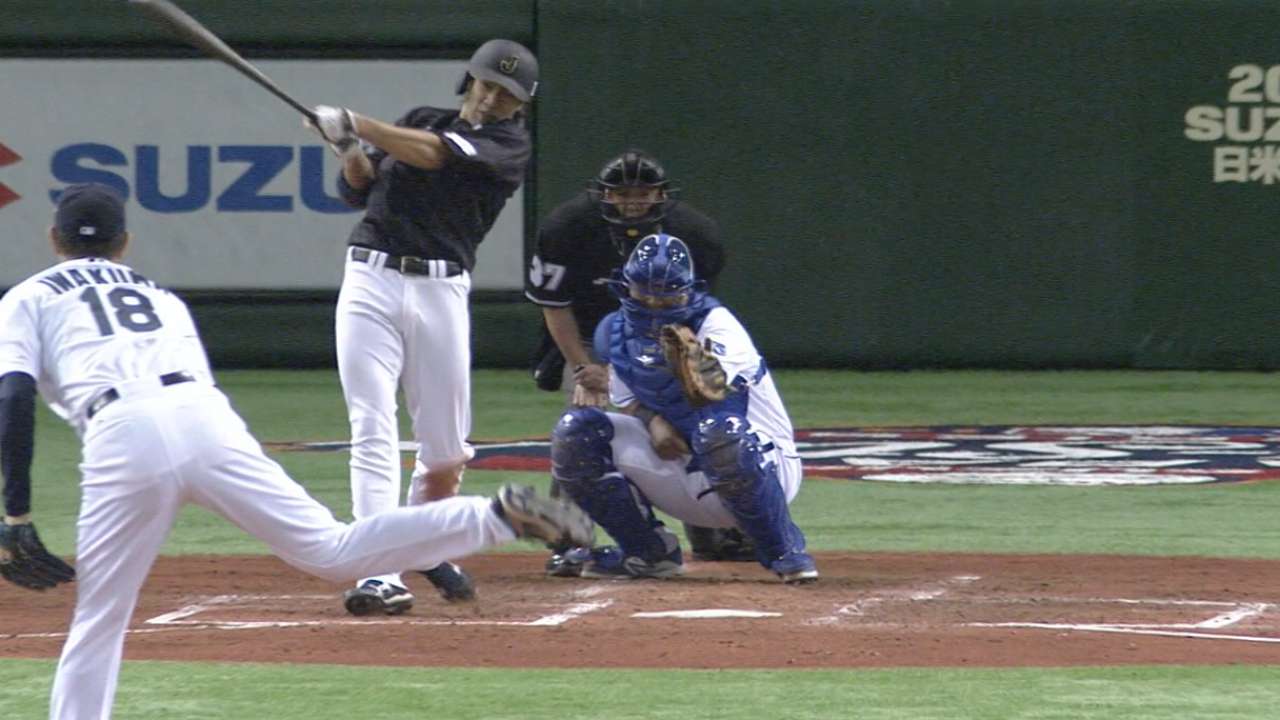 Evan Longoria
After a 2-for-4 day in Game 2, the Rays' third baseman now leads the MLB All-Stars with a .500 average (3-for-6) in two series games, to go along with the monster grand slam he hit in Tuesday's exhibition. He also scored on Friday.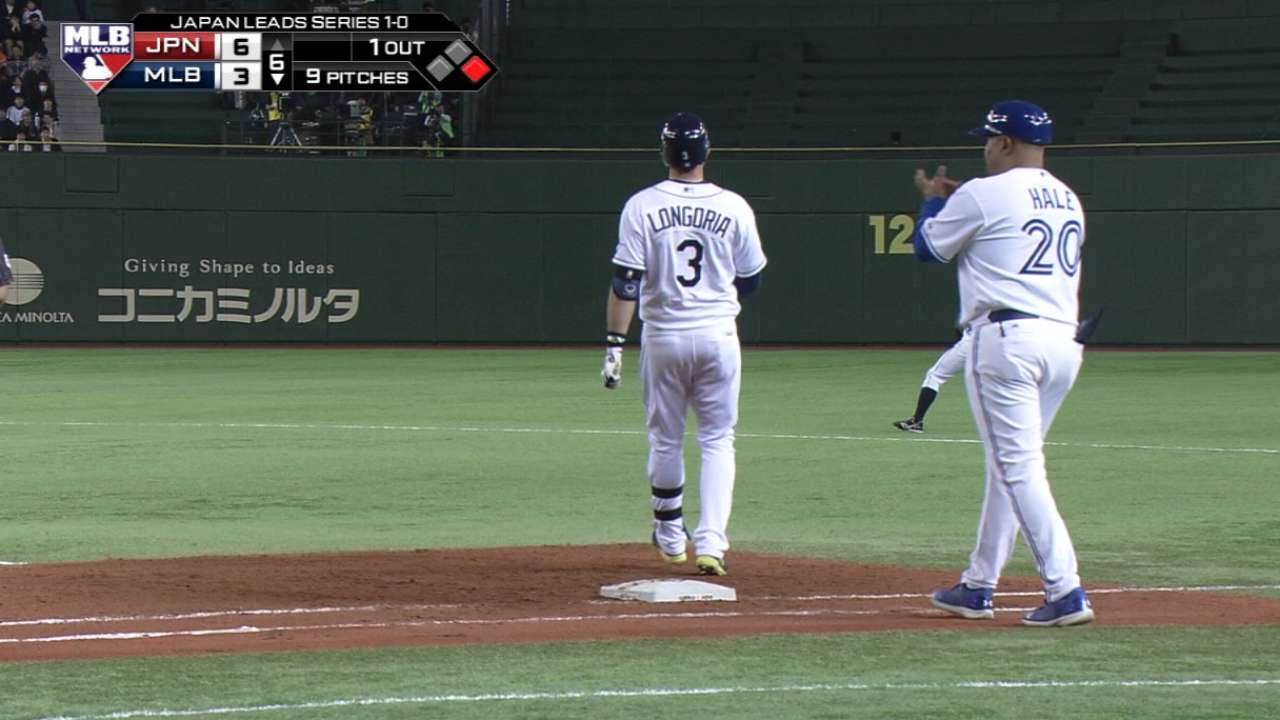 WHAT'S NEXT
The MLB squad will turn to Royals right-hander Jeremy Guthrie on Saturday to try to win their first game of the Japan All-Star Series. The matchup will be broadcast live at 4 a.m. ET on MLB Network and MLB.TV, then re-aired at 9 p.m. on MLB Network.
Since beating a team composed of players from the Hanshin Tigers and Yomiuri Giants, 8-7, in an exhibition on Tuesday, the big leaguers have been outscored 10-4 in two losses. There are three more Japan Series games and one more exhibition remaining on the trip.
Guthrie, who helped lead the Royals to the World Series, was 13-11 with a 4.13 ERA in 32 starts for Kansas City this year. He went 1-1 with a 4.05 ERA in three postseason starts. The veteran will be opposed by Takahiro Norimoto, a 23-year-old who won the Japan Pacific League Rookie of the Year in 2013 and led the league in shutouts and complete games this past season.
• Guthrie seeks MLB's first win in Japan
More from the Japan All-Star Series
• Respect trumps results for Iwakuma and Wada
• Morneau's blast breaks ice for MLB
• MLB squad visits US embassy in Tokyo
• Japan trip hits home with Royals' Guthrie
• Japan Series start an honor for Iwakuma
• Maeda backs up the hype with gem in Game 1
• Shoemaker solid over five innings in outing in Game 1
• Cap swap a sign of respect in Japan Series
• Santana rides strong finish with Tribe into Japan Series
• MLB roster for Japan full of stars
• Japanese broadcasters call best moments
• Watch the full Japan All-Star Series on MLB.TV
VIDEO: Highlights, interviews and analysis
Japan All-Star Series schedule
• Exhibition: MLB 8, Hanshin-Yomiuri 7 | Box
• Game No. 1: Japan 2, MLB 0 | Box
• Game No. 2: Japan 8, MLB 4
• Saturday: Game No. 3 at Tokyo Dome, Tokyo (6 p.m. JT/4 a.m. ET)
• Sunday: Game No. 4 at Tokyo Dome, Tokyo (6 p.m. JT/4 a.m. ET)
• Monday: Travel day
• Tuesday, Nov. 18: Game No. 5 at Sapporo Dome, Sapporo (7 p.m. JT/5 a.m. ET)
• Wednesday, Nov. 19: Travel day
• Thursday, Nov. 20: Exhibition game vs. Samurai Japan, Okinawa Cellular Stadium, Okinawa (6 p.m. JT/4 a.m. ET)
MLB Network will broadcast all seven games of the Japan All-Star Series, and MLB.TV subscribers in the U.S. and around the world can watch live and on-demand streams of every game as well.
Joey Nowak is a reporter for MLB.com. Follow him on Twitter at @joeynowak. This story was not subject to the approval of Major League Baseball or its clubs.