Garvey mentors son at Dodgertown fantasy camp
Iconic big leaguer offers advice to Ryan, an outfielder in Rockies' system
VERO BEACH, Fla. -- A doubleheader of scrimmage games had left most of the other campers and ex-Dodgers exhausted. As they trudged into the locker room on Tuesday during this adult baseball camp at Historic Dodgertown, Ryan Garvey slipped into the batting cages for some extra practice.
Tossing to him in the cage was his father, ex-Dodgers first baseman Steve Garvey.
When Steve was asked to serve as an instructor for the adult baseball fantasy camp, where fans sign up to play a week's worth of scrimmage games and are coached by former Dodgers players, Ryan jumped at the chance to come with his dad.
Ryan, a 21-year-old Minor Leaguer in the Rockies organization, had heard all the stories about this Spring Training facility, but never actually visited. And yet, here he was dressing in the same locker room, chatting around the pool tables in the old players lounge, eating in the same dining halls and taking extra reps in the batting cages just like Steve once did in Spring Training during his 14 seasons with the Dodgers.
Later in the week, as Ryan watched fans line up to get his father's autograph, he reminisced about how strange this used to be when he was younger.
"This is just the guy I whip in ping pong every night," Ryan said with a laugh. "Obviously I knew he played, but I didn't know how good he was."
Growing up as Steve Garvey's son comes with its positives and negatives, and wearing the name and number -- 6 -- brings heightened expectations.
Ryan remembers during his early years of playing baseball, back when he could get by on pure athleticism, when he would pop out or strike out, he could hear the whispers: "That's Steve Garvey's son?"
"The pressure starts kicking in once you realize who he was," Ryan said. "Then I finally found peace, where I'm my own person and my own player. You can't really care what people think. ... You're not going to be Steve Garvey."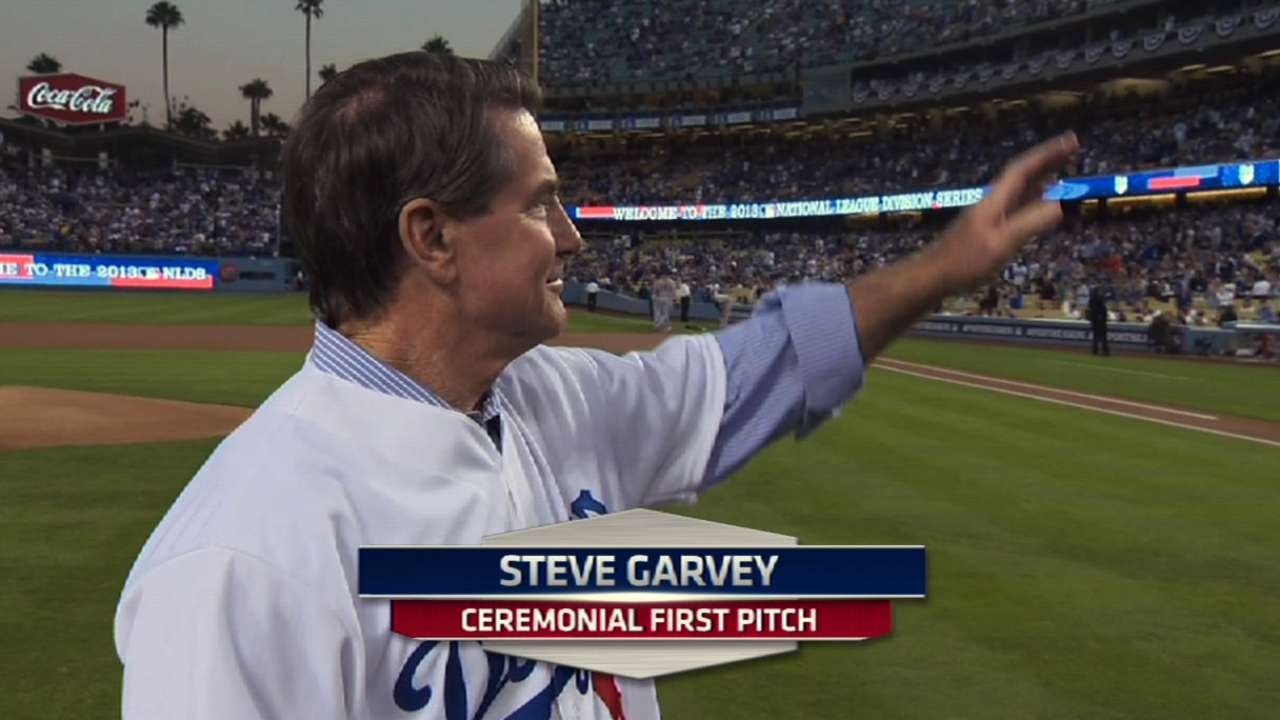 Ryan was selected by the Rockies in the 33rd round of the 2012 First-Year Player Draft and played this past season at Class A Tri-City. He was limited to 41 games by an oblique injury and hit .233 with three homers and 15 RBIs in 41 games.
Ryan's games were not available for Steve to stream online, so he would be sure to follow along with the play-by-play and follow up with Ryan on the phone. The two speak after nearly every game.
Ryan would explain what happened in each at-bat, "I'm anxious, I see the ball, but I'm not driving it the other way."
"Take a step back [in the batter's box]," Steve would respond. "Have them throw it away so you can drive it to right field, and if it's inside, throw your hands in."
"We've always said that I'm the home team," Steve said. "I'm the answers to the quiz. He comes home to me, but it's good that he's had different coaching and different people that have worked with him, because he needs to hear that from other people that are knowledgeable.
"I'm always brutally constructive in my analysis of him. I think you have to be. We all want our kids to do well, especially those of us that played, it would be wonderful if he made the Major Leagues. I think he has a very high baseball IQ and he has some good skills. Plus arm, plus power. Probably still 500 to 800 at-bats away from making some huge steps."
This week has only whet Ryan's appetite to get to Spring Training himself -- after playing in a game Wednesday, filling in for a team that was short a camper, all anyone could talk about was how "young Garvey got to everything."
And after the first two nights here, Ryan told his dad he could see why he grew up liking the place so much.
"Just seeing all the pictures in the hallways and the memories you see and you hear, especially being around the locker rooms with all these greats, the stories about Dodgertown, and then it finally comes true when you come here," Ryan said. "You see it and you actually live and see it through their eyes what they've been through and what kind of place they kind of grew up in.
"Like they said, this was like a home away from home for a lot of guys. I feel like deep down inside, it's a home away from home, even just being here three or four days. Just the history here and being with my dad."
Jamal Collier is an associate reporter for MLB.com. This story was not subject to the approval of Major League Baseball or its clubs.