Kershaw finalist for NL MVP, Cy Young Award
Trout seeks top AL honor against Tigers slugger Martinez, Tribe outfielder Brantley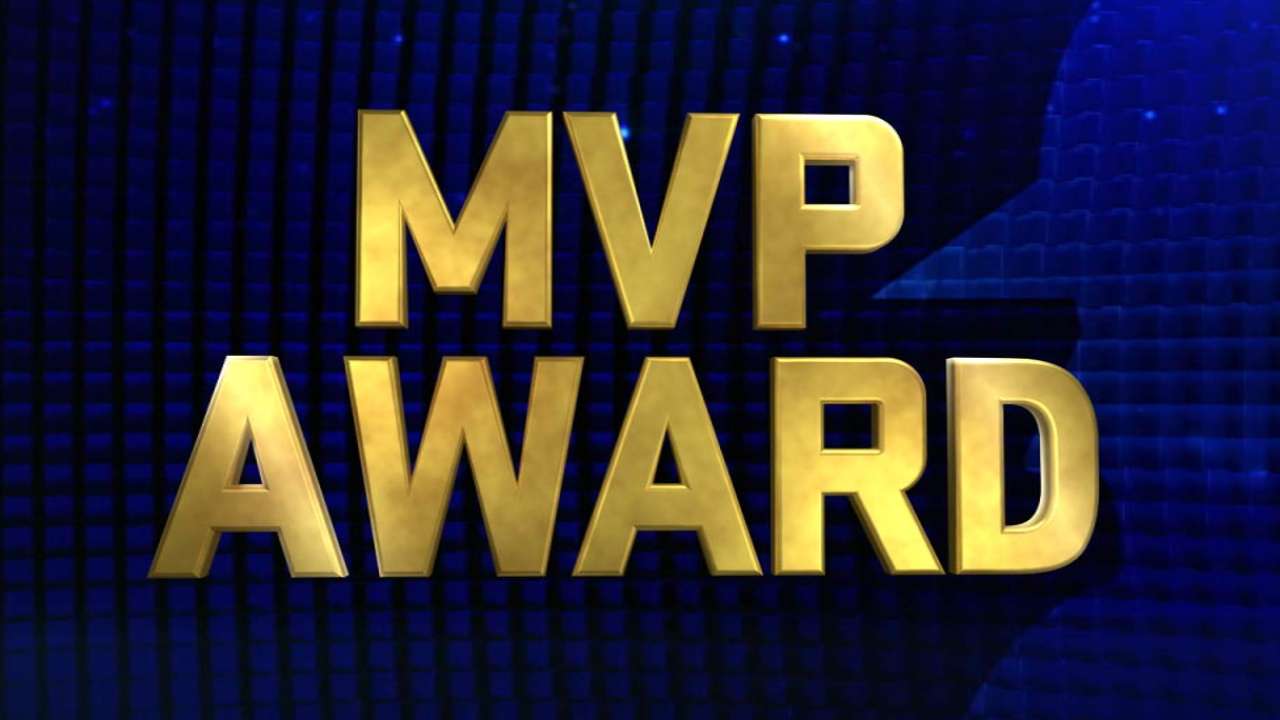 With the biggest piece of team hardware handed out last week at the conclusion of the World Series, the most coveted individual awards are being prepared for their eventual owners, some of the top names in the game about to be etched into baseball history. The finalists for the Baseball Writers' Association of America awards are all lined up now, and that line begins with a big left-hander from the Dodgers named Clayton Kershaw, followed by everyone else among baseball's elite in 2014.
Kershaw is a finalist and arguably the favorite for both the Most Valuable Player Award and the Cy Young Award in the National League, a double that was accomplished in the American League three years ago but hasn't been earned in the NL in nearly a half-century. In the AL, this looks like it could be the year for Angels phenom Mike Trout, the third great season in three tries looking like the charm for MVP honors -- unless another Tigers slugger has something to say about it.
Whether Kershaw and Trout receive enough support to make some history hangs in the balance after the finalists were announced by the BBWAA on Tuesday. The winners from both leagues for Rookie of the Year will be announced Monday, followed daily by Manager of the Year, Cy Young and MVP. The highest individual honors are about to be bestowed on baseball's best.
For now, the finalists get their due. Here they are:
MOST VALUABLE PLAYER
Thursday, Nov. 13, 6 p.m. ET on MLB Network
National League
Kershaw, LHP, Dodgers
Andrew McCutchen, OF, Pirates
Giancarlo Stanton, OF, Marlins
The votes already have been submitted -- voting BBWAA members had to send their ballots by the end of the regular season -- but the debate no doubt continues about whether a pitcher eligible for the Cy Young also should be considered for MVP. The Tigers' Justin Verlander won both in the AL in 2011, but the last one to do it in the NL was the Cardinals' Bob Gibson in 1968. Kershaw, however, made a very compelling case that he is deserving of both in 2014.
His peers made it clear where they stand. Kershaw already collected a trifecta of awards from the Major League Baseball Players Association, winning overall Player of the Year honors for all of Major League Baseball, the NL's Most Outstanding Pitcher and the Marvin Miller Man of the Year for his contributions on and off the field. With a season in which he became the first pitcher to win four consecutive ERA titles, posting a career-best 1.77 ERA, Kershaw set a very high bar even while missing a month to injury.
So, too, did Stanton, whose stellar season came to a horrific end when he suffered facial fractures being hit by a pitch on Sept. 11. Before the injury, Stanton hit 37 homers, which stood up as the NL's top total, and his 105 RBIs wound up being second in the NL -- and that's just part of the story for the strong-armed right fielder, who accepted the Hank Aaron Award for the NL's top offensive player in October and was named the NL's Most Outstanding Player in the Players Choice Awards. McCutchen is the reigning MVP, and he posted a season worthy of that status, helping lead the Pirates to a second consecutive postseason bid after being out of it for 21 years.
American League
Michael Brantley, OF, Indians
Victor Martinez, DH/1B, Tigers
Trout, OF, Angels
The last two seasons, Trout played second fiddle in the MVP voting behind the Tigers' Miguel Cabrera, and another Tigers slugger enters the conversation this year with Martinez putting together a stellar season. But Trout, who won Most Outstanding Player in the Players Choice Awards and the AL Hank Aaron Award, put up another campaign that's going to be hard to beat.
Becoming the first player to lead either league in runs scored his first three full Major League seasons with 115 this year, Trout kept his unprecedented start to a career going. Trout set or tied career highs in doubles with 39, triples with nine, home runs with 36 and RBIs with 111. Martinez certainly offers some strong numbers for his case, setting career highs with 32 homers and a .974 on-base plus slugging (OPS), tops in the Majors, while truly defining the word "valuable" for the Tigers. Brantley, meanwhile, became the first hitter in Indians history to go for more than 200 hits, 40 doubles, 20 homers and 20 steals -- a strong showing for any franchise.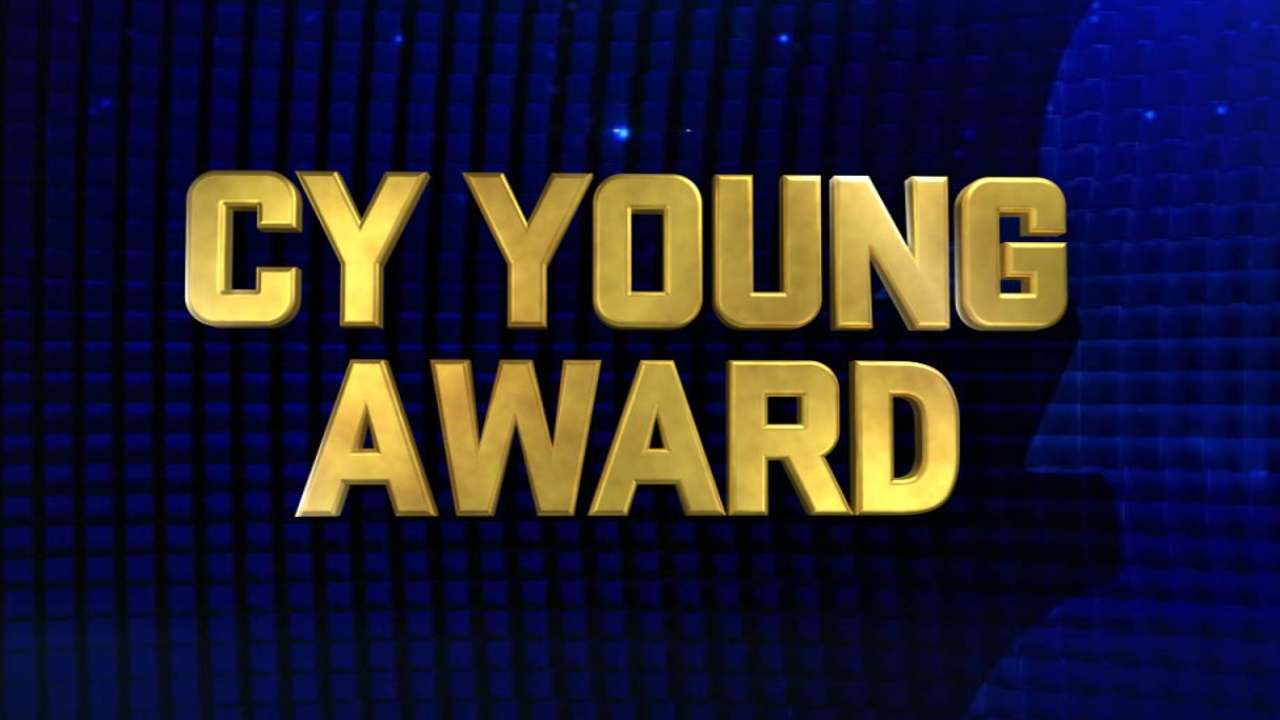 CY YOUNG AWARD
Wednesday, Nov. 12, 6 p.m. ET on MLB Network
National League
Johnny Cueto, Reds
Kershaw, Dodgers
Adam Wainwright, Cardinals
Any other year, Cueto and Wainwright might run away with top honors for pitchers in the NL -- certainly, both had seasons that rank among the strongest seen in recent memory. But Kershaw simply had a season for the ages, winning 21 games in 27 starts and posting a 1.77 ERA that was the Majors' lowest by far, also leading the Majors with a 0.86 WHIP and six complete games. Oh, and a no-hitter. That's just hard to top.
Again, Cueto and Wainwright both certainly put up the types of seasons that would be in consideration for top honors any year. Cueto held or shared the league lead in starts (34), innings pitched (243 2/3) and strikeouts (242), and he was absolutely untouchable coming out of the gates with a 1.25 ERA through his first nine starts. Wainwright kept up with Kershaw and Cueto in key pitching categories, and he had a career-high three shutouts and ran off three streaks of 20 or more scoreless innings.
American League
Felix Hernandez, Mariners
Corey Kluber, Indians
Chris Sale, White Sox
King Felix brings the 2010 Cy Young with him to the table, and he had another season worthy of the royal entourage that follows him, chanting for him to strike out batters. While he wasn't the King of K's even among these Cy Young finalists, Hernandez had a 2.14 ERA and 0.92 WHIP, and that's hard to beat. But Kluber was an absolute machine, registering 10 games with seven or more innings, two or fewer runs allowed and 10 or more strikeouts, just part of an impressive resume of consistency. Sale just missed out on the ERA title at 2.17 but led the AL in strikeouts per nine innings at 10.76, becoming the fourth pitcher in White Sox history to post consecutive 200-strikeout seasons.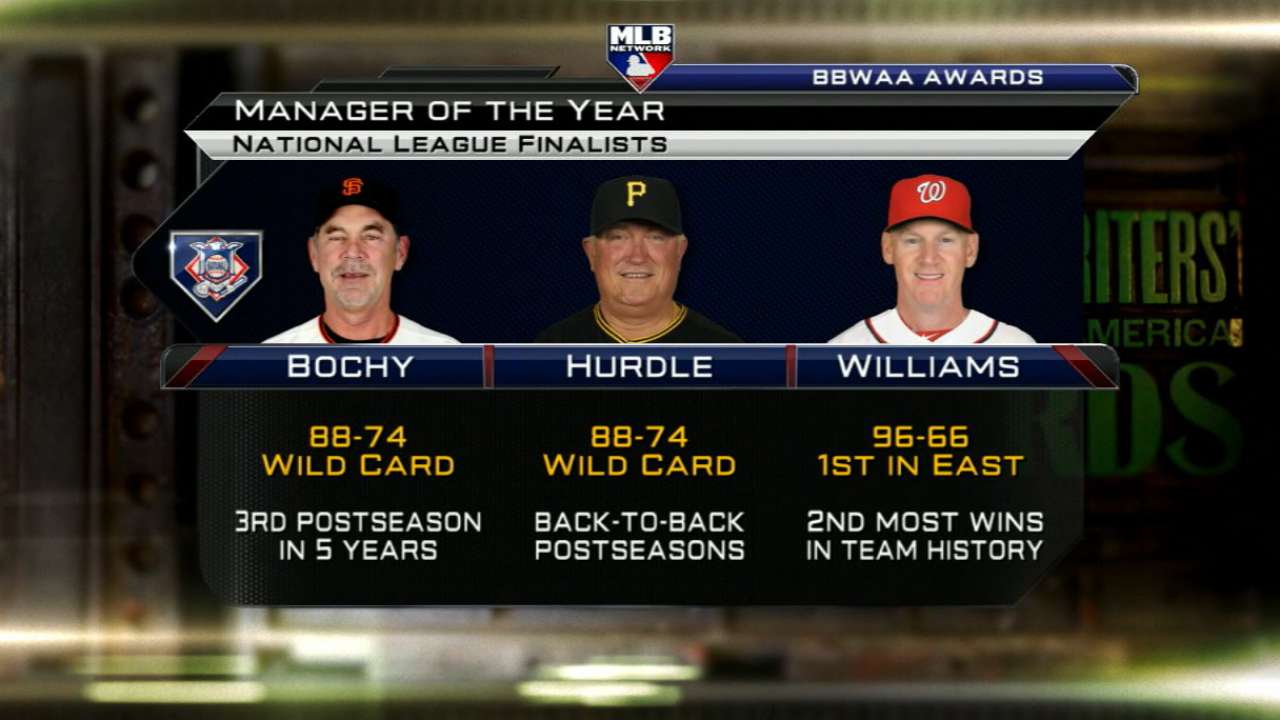 MANAGER OF THE YEAR
Tuesday, Nov. 11, 6 p.m. ET on MLB Network
National League
Bruce Bochy, Giants
Clint Hurdle, Pirates
Matt Williams, Nationals
Only one of the three finalists won a division title, and that would be the guy in his rookie season on the top step of the dugout. Williams set a tone in the nation's capital that led to the Nationals running away from the NL East by a whopping 17 games. He's up against two managers of Wild Card teams, including the skipper who led his team to a third World Series title in the past five seasons. The postseason doesn't count for Bochy, but his work at keeping a team that had more than its share of injuries on track toward the postseason was exemplary. Yet, the dean of active managers with 20 consecutive years under his belt has just one trophy to his name, from his second year in 1996. Hurdle, meanwhile, picked up his first award a year ago and is back in the mix after helping the Pirates pick themselves up following a bit of a stumble to start the season.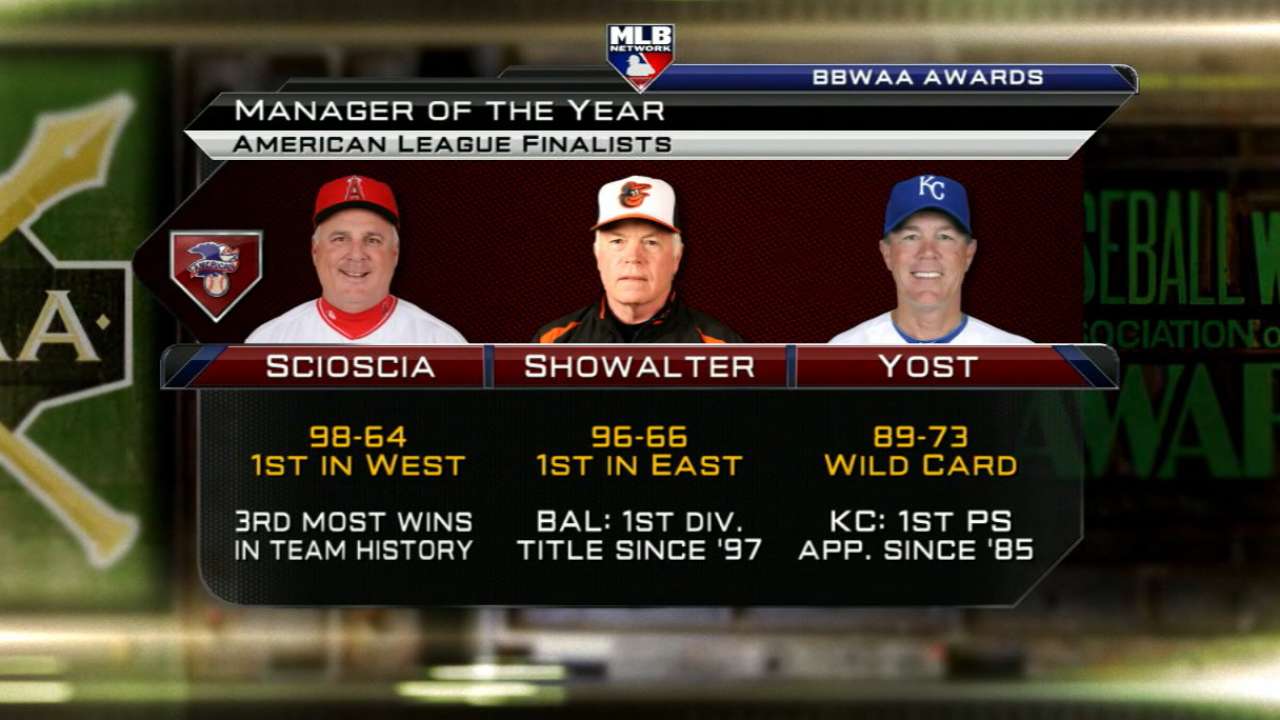 American League
Mike Scioscia, Angels
Buck Showalter, Orioles
Ned Yost, Royals
Once again, what happens in the postseason stays out of the awards conversation, so it's not possible for Yost's full 2014 body of work to come into play. But, then, leading the Royals to the postseason for the first time since 1985 is a pretty good place to start. The Orioles, meanwhile, strutted right through the regular season as far and away the top team in the AL East, and Showalter steadied the ship right into October despite losing stars Manny Machado and Chris Davis down the stretch. Scioscia, like Showalter a two-time winner of the award, got a star-studded team on track after some stumbles in previous seasons, and the Halos reached the postseason for the first time since 2009.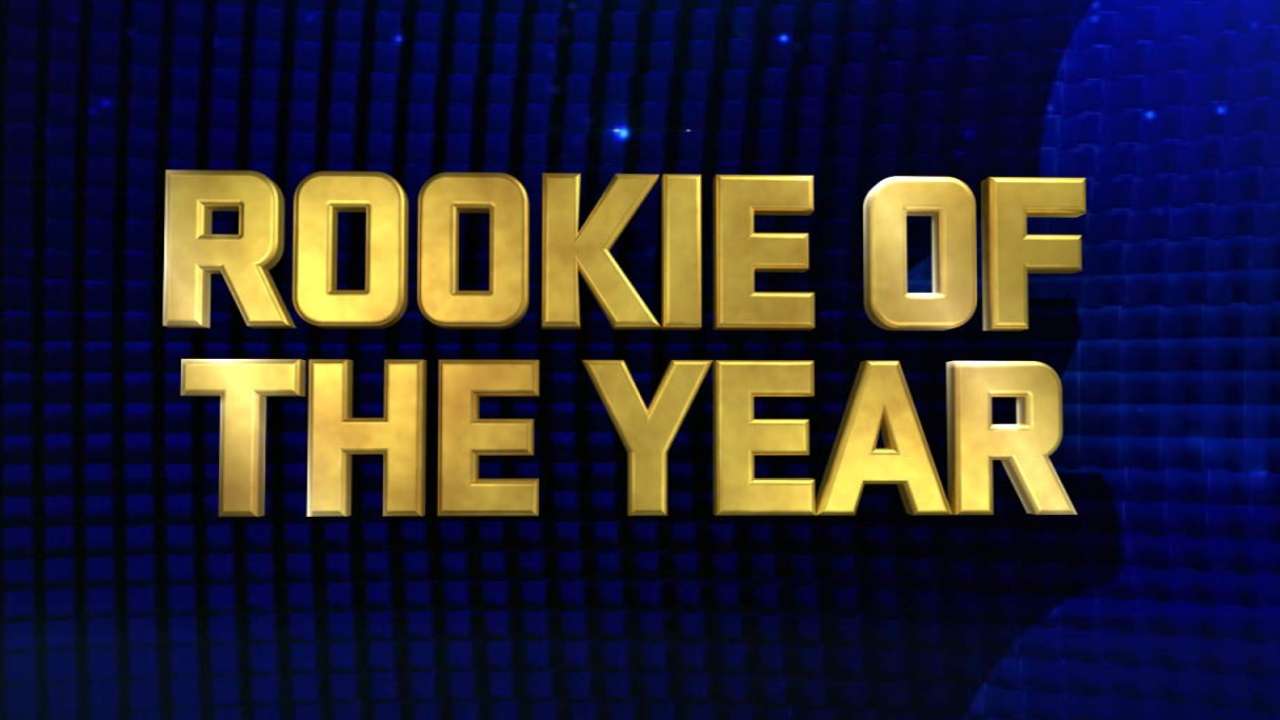 ROOKIE OF THE YEAR
Monday, 6 p.m. ET on MLB Network
National League
Jacob deGrom, RHP, Mets
Billy Hamilton, OF, Reds
Kolten Wong, 2B, Cardinals
Dominant starting pitching. Blazing speed. Startling power. The three finalists for top NL rookie honors deliver those skills, and then some. Which of the three will emerge as the NL's best for 2014 looks like a tossup. In deGrom, the Mets got a pitcher who was quality and then some throughout the summer, delivering a 28-inning streak without allowing an earned run and winding up leading NL rookies in strikeouts (144), ERA (2.69) and tying for the league lead with nine wins. Hamilton, meanwhile, came in with the hype associated with being as fast a player as baseball has seen in years. The center fielder came through with 56 steals, a Reds rookie record and the most since 1997, while leading NL hitters in doubles with 25 and hits with 141. Wong had 12 homers, and he added 20 steals as he established himself as the Cardinals' second baseman.
American League
Jose Abreu, 1B, White Sox
Dellin Betances, RHP, Yankees
Matt Shoemaker, RHP, Angels
The power found in Abreu's bat was evident from the very outset of the Cuban's first season in America, and as the season proceeded he showed he can do more than just blast balls over the fence, pairing his 36 homers with 35 doubles and a .317 average, hitting a variety of pitches with pop. But Betances found his way into the history books, too, surpassing Mariano Rivera's record for strikeouts by a Yankees reliever with 135, and allowing just 46 hits -- that's a ratio of 4.6 per nine innings, the lowest ever posted in the AL by a pitcher with at least 75 innings in a season. Shoemaker, meanwhile, posted 16 wins and a 3.04 ERA in a surprising rookie season.
There they are, the finalists for the biggest individual prizes in baseball. By the end of next week, the eight awards will be engraved with the names of worthy winners, and it might take only seven names to get it done.
John Schlegel is a national reporter for MLB.com. You can follow him on Twitter @JohnSchlegelMLB. This story was not subject to the approval of Major League Baseball or its clubs.