Maddon bringing his own kind of 'crazy' to Chicago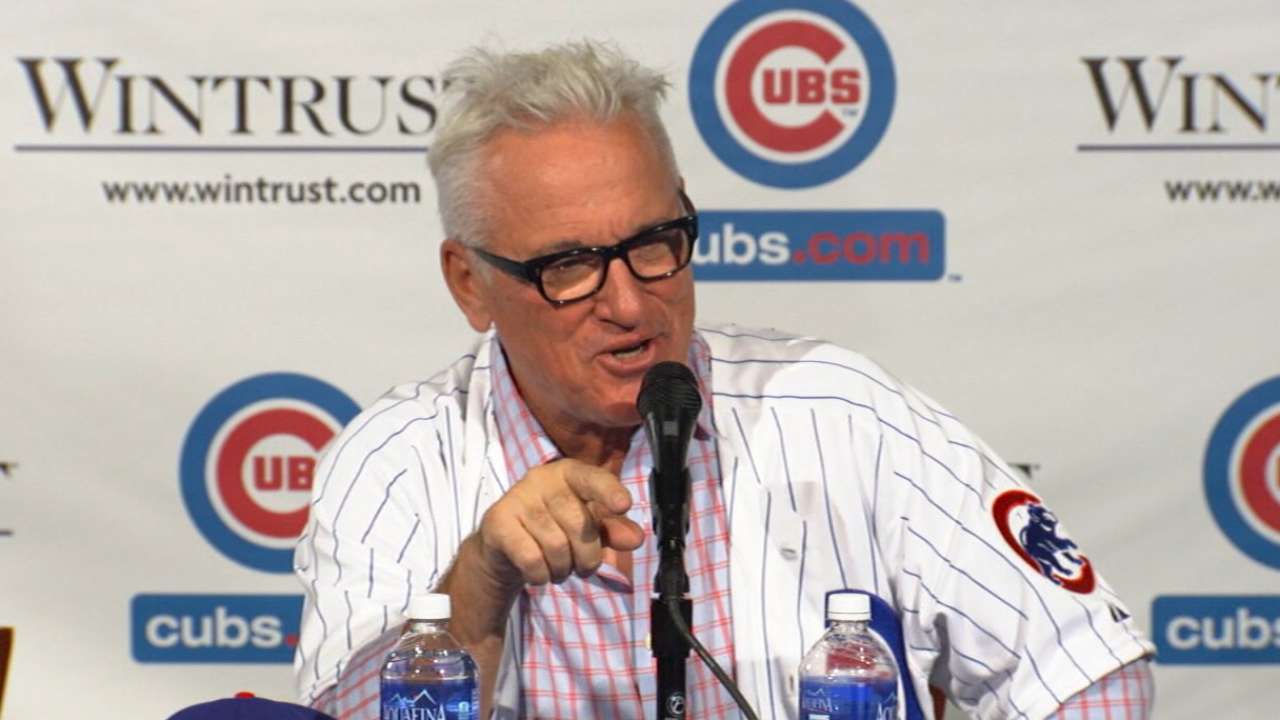 CHICAGO -- Has anyone ever called Joe Maddon crazy?
"Of course," the new Cubs manager said on Monday during his introductory news conference, held, oddly enough, at the Cubby Bear bar across from Wrigley Field. "And you know what? You have to have a little bit of crazy to be successful. I want crazy in the clubhouse every day. You need to be crazy to be great.
"I love crazy. I tell players that all the time."
The arrival of Maddon, 60, definitely signals a shift for the Cubs, who have been in rebuilding mode the last three seasons since Theo Epstein took over as president of baseball operations.
"We've made a lot of progress," Epstein said on Monday. "Now we feel like we have our long-term manager. It's another great piece to feel really good about. The next step is to ... try to win big league championships."
Maddon learned conventional baseball components from Gene Mauch, Marcel Lachemann, Larry Himes, Bob Clear and Don Zimmer. But who told him to have a merengue band play in the clubhouse or invite penguins?
That's all Maddon.
His rationale for the theme road trips, when players dress up in costume? To get players out of their comfort zone.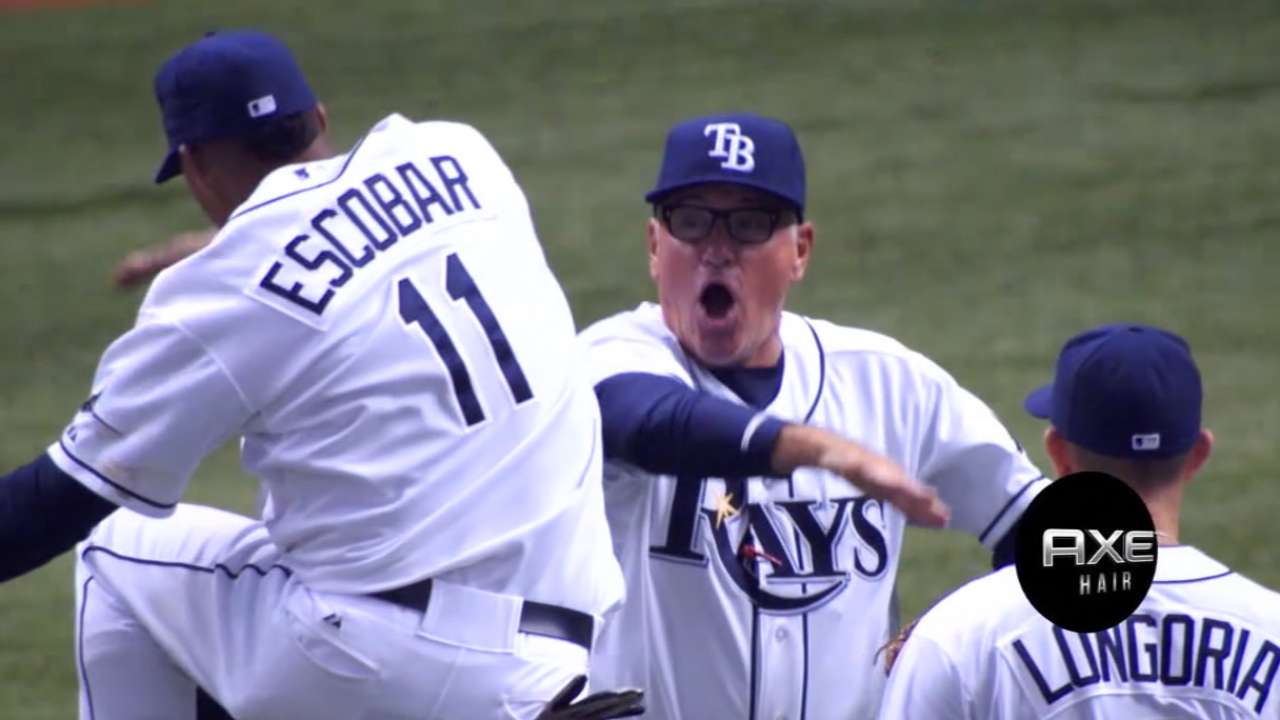 Some other Maddon-isms gleaned from his first day wearing No. 70 for the Cubs:
• Pregame work is overrated. Maddon is well aware of the strange schedule the Cubs have because they play so many day games at Wrigley Field. (For example, the Cubs flew from Denver to Chicago on Aug. 7 to face the Rays in an Interleague series that began with a day game on Aug. 8.) Maddon doesn't want coaches or players at the ballpark at noon for a 7 p.m. game.
"I'm not really big on pregame," he said. "I think pregame is overrated, and batting practice in general is overrated."
Epstein is OK with that.
• Managing National League games will require some prep work, as Maddon has worked exclusively in the American League. The difference?
"The intellectual component," he said. "You have to pay attention all the time in this game. I always play the game before the game. I sit down and go over the lineup and look at it and look at it and look at it, and try to figure out your bullpen before the game begins. [In National League games], there's so many moving parts to keep track of during the course of the game. In the National League, having a really good bench coach and pitching coach regarding movement is very important. You're definitely more fatigued mentally in a National League game as opposed to an American League game."
• Maddon is not superstitious and won't fret over the so-called "curses" associated with the Cubs.
"The only tradition that I'm interested in is that Billy Williams walks out there, I meet Mr. [Ernie] Banks," Maddon said of the two Hall of Famers. "Those are the kind of things that are important to me. I know Glenn Beckert from down in Port Charlotte [Fla.], saw Jody Davis here last year. All that kind of stuff is the kind of tradition I'm looking forward to embracing. The other stuff is fun, but I can't really go there."
• Though it's been more than 100 years since the Cubs won a World Series, Maddon will use the same approach in Chicago that he did in St. Petersburg, and most likely put the same message at the top of his lineup card, which is, "Don't ever permit the pressure to exceed the pleasure."
Maddon is an old school baseball guy with a new attitude, and now that his job status is set, he has a busy few weeks ahead. He'll be in Tampa for the opening of his restaurant, Ava Inspirato Italiano, then New York for a football game, then Sonoma, Calif., for a clinic, then San Diego for the Winter Meetings.
Then it's "Thanksmas," his charitable event, through which he helps the homeless -- a project he wants to extend to Chicago if possible. He's also active with the Hazleton Integration Project, which he started in his hometown of Hazleton, Pa., and is an attempt to bring together the Hispanic and Anglo community there.
And, of course, he has to do some prep work on the Cubs. He saw the talent first-hand during the Interleague series at Wrigley Field, which the Rays won, 2-1.
"They're young, which means they'll be good for several more years, and then you have the ability to augment the group through free agency or acquisition," he said of his new team. "Then you have the fan base, the ballpark, the expansion that's going to occur within the ballpark itself. It's like the optimal time to be here. I'm really honored to be asked, and I really feel privileged to have the opportunity now."
Tampa/St. Petersburg is a much smaller market than Chicago. Will Maddon's craziness work here?
"We're going to find out," he said. "Why would I ever want to change? Why would I ever want to do something that's counter to my nature or personality? Why would I want to do that? It shouldn't matter where you're located. What matters is the consistency with which you approach the day and how you deal with people and how you build relationships. That's important."
So, how was his first day with the Cubs?
"It exceeded expectations," he said. "I anticipated doing something in the ballpark, but once I found out it was in the Cubby Bear, which I'd never been to but had heard about -- to have your inaugural press conference in a cool bar, it doesn't get much better than that."
Carrie Muskat is a reporter for MLB.com. She writes a blog, Muskat Ramblings, and you can follow her on Twitter @CarrieMuskat. This story was not subject to the approval of Major League Baseball or its clubs.