MLB.com Columnist
Phil Rogers
Maddon's path to new club mirrors Sparky's
Though difficult, Cubs' pursuit of proven winner may pay huge dividends
CHICAGO -- Thirty-five years ago, in supposedly gentler times, the Tigers had a first-year manager named Les Moss. He was a loyal organization man who had worked his way up the ranks and been named to replace Ralph Houk as manager. Then-Tigers general manager Jim Campbell felt Moss was a good choice because he had worked with many players on a young team in the Minor Leagues.
But in June of the 1979 season, his first on the job, Moss was dismissed so the Tigers could hire Sparky Anderson. Moss had done nothing wrong, but it turned out that Anderson, who won back-to-back World Series titles with the Reds in '75 and '76, was available. Anderson had turned down multiple job offers the previous winter, telling everyone who asked he was going to take a year off.
Anderson found broadcast work boring, however, and word got around that he was discussing a job offer with the Cubs to be their manager in 1980. Once Campbell heard that, he called Sparky directly and told him he'd like him to manage the Tigers, effective immediately. It took a strong sales pitch, but Anderson said yes and would be Detroit's manager for the next 17 seasons, winning the World Series in 1984, his fifth full season with Detroit.
"When you get a chance to hire a manager like Sparky Anderson, you grab it," said Campbell, who was highly respected during his 43 years with the Tigers.
The same can be said about Joe Maddon.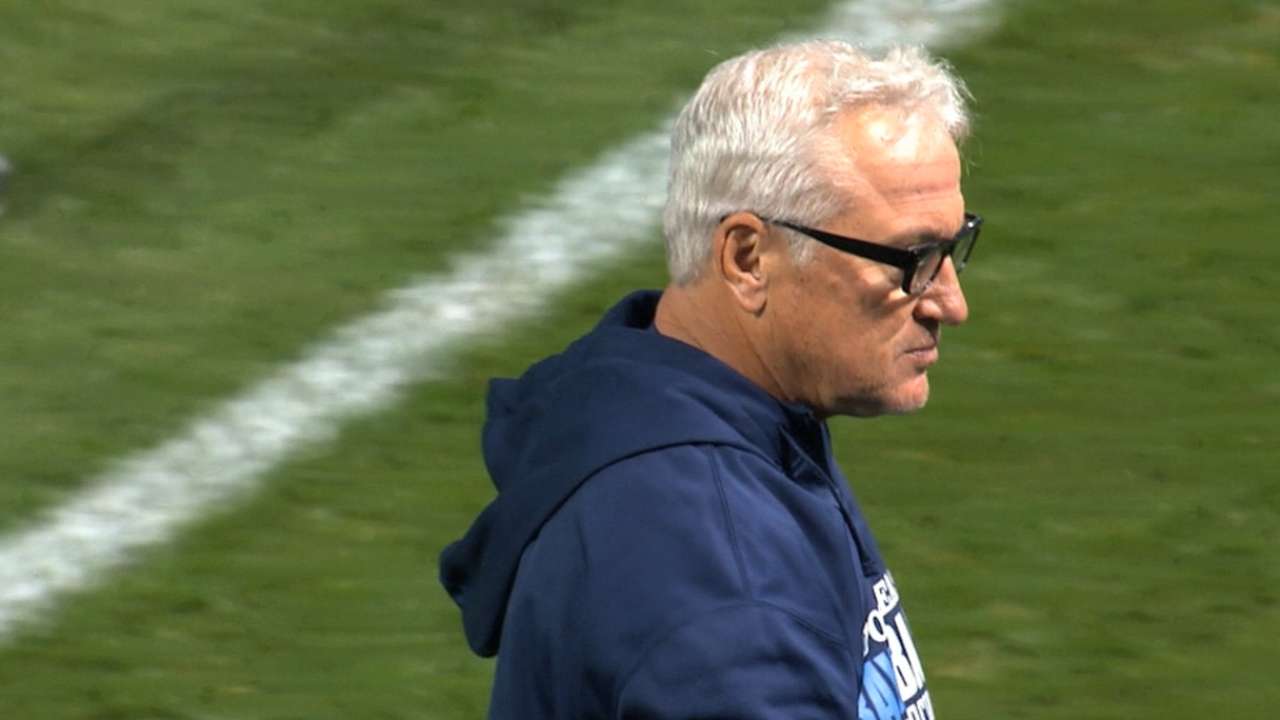 Yes, there are some around Major League Baseball who seem upset that the Cubs pursued Maddon while they had Rick Renteria under contract. And it remains to be seen what action, if any, the Rays will take if they -- as reported -- are upset with the Cubs' pursuit of Maddon.
You can't blame the Rays for being upset. Along with owner Stu Sternberg and former team president Matt Silverman -- currently the club's GM -- Maddon and new Dodgers president of baseball operations Andrew Friedman were the visible pieces of a management team that had done unprecedented work together.
They were the Beatles of baseball management, and they've broken up. That stinks for the people who wanted to keep the band together forever.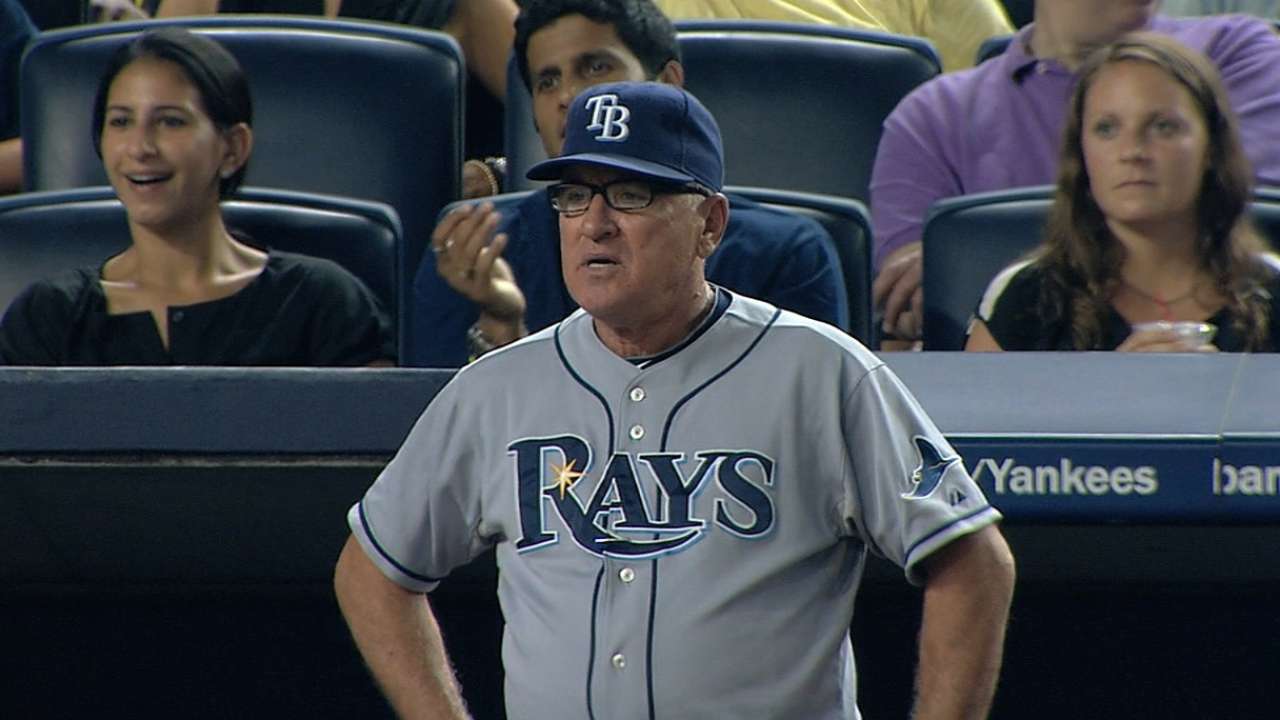 But really, were the Cubs wrong to go after Maddon?
It would have been far worse to have ignored his availability. That would have been an act of malfeasance by anyone running an ambitious organization that has spent the last three years taking lumps at Wrigley Field while stocking the farm system.
Maddon is a two-time American League Manager of the Year Award winner, and he guided Tampa Bay to the playoffs four times in a six-season span, beginning with a trip to the 2008 World Series. He's managed 30 postseason games in this span, only one fewer than the Cubs' total since 1946.
For a long list of reasons, including his ability to inspire his players and the people who buy tickets, Maddon is the perfect hire for the Cubs. That's why president of baseball operations Theo Epstein was spurred into action on Oct. 23, when he heard through his own sources that Maddon had become a free agent.
According to a statement Epstein made on Friday, when he announced Renteria's dismissal a couple of hours before announcing Maddon's hiring, he confirmed through Major League Baseball on Oct. 23 that Maddon was indeed a free agent. The Rays didn't announce Maddon's departure until the following day, so it's possible that they are upset that the Cubs were working in advance of the announcement.
But Campbell didn't wait around when he heard Sparky was a free agent, either. He went out and did what it took to get him. The Tigers had a manager when they were talking to Anderson, just as the Cubs had one when they launched their pursuit of Maddon.
Epstein has always walked a fine line between being aggressive and playing by the rules, but he walks that line very well. That's why he remains so respected among other executives, who enjoy doing business with him.
This would appear to be another example of that. The Cubs did not keep Renteria in the dark. To the contrary, Epstein says that GM Jed Hoyer flew to San Diego last Friday to meet with Renteria. He essentially told Renteria that the Cubs were pursuing Maddon but that he remained their manager. In Epstein's words, "The organization has priority over any one individual."
Would it have been better for the Cubs to just dismiss Renteria then, not knowing how the Maddon situation would play out?
I think if I was Renteria, and I liked my job, I'd rather wait and see than force the issue at that point. He handled himself exactly right in this situation, and hopefully that will lead to a significant position for him in the Cubs organization in the short term and a shot at another managing job elsewhere in the future.
But it won't take long for the specifics of Maddon's hiring to become yesterday's news. He arrives in Chicago on Monday -- good thing he wasn't here Friday, as the sleet, snow and 35-mph north winds might have given him second thoughts -- and he'll take the town by storm, as he did Tampa-St. Petersburg.
For the fans who have kept Wrigley Field's average attendance at 33,652 over the past three seasons, with the team going 200-286 while Renteria and Dale Sveum ran auditions for a revolving cast of players, Maddon's hiring means that one of baseball's flagship franchises is back in business.
Epstein has said that the Cubs' immediate priority is adding pitching to a lineup that next season could include Kris Bryant (MLB.com's No. 3 prospect, possibly destined to be Maddon's next Evan Longoria), Javier Baez, Jorge Soler, Addison Russell and Arismendy Alcantara, in addition to Anthony Rizzo and Starlin Castro. Another impact hitter, Kyle Schwarber, isn't far away, and perhaps no team in the Majors has as much payroll space for elite players over the next few years.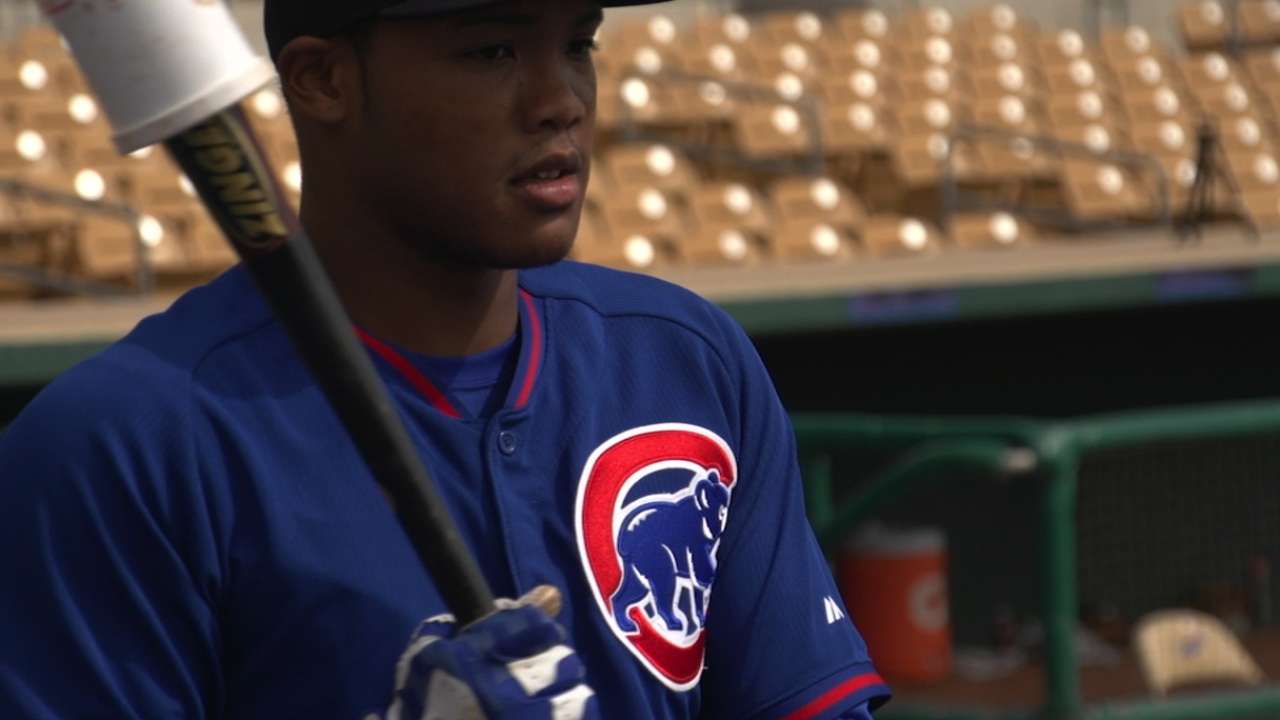 With Maddon's hiring bringing some fresh credibility to the ground-up rebuilding process that has consumed Epstein, Hoyer, player development/scouting executive Jason McLeod and many others since late 2011, you shouldn't be surprised if the Cubs have a pitching staff that includes at least two members of the Jon Lester, James Shields and David Price trio by the start of the 2016 season, if not next season.
Lester -- who pitched for Epstein in Boston -- and Shields -- who spent seven years pitching for Maddon with Tampa Bay -- join Max Scherzer in the top tier of pitchers expected to be in this year's free-agent class. Price, who was traded from the Rays to Detroit on July 31, is one season away from free agency.
You don't bring in a winner like Maddon if you aren't going to give him a team he can win with for a long time.
The Cubs haven't had a manager in place for longer than five seasons since Phil Wrigley dismissed Leo Durocher in 1972. That lack of stability has been among the biggest issues for a team that has tried many other big-name managers but never stuck with one.
Terms of Maddon's contract haven't been released, but it will be a surprise if he doesn't get a five-year deal, like Epstein did when he left the Red Sox. He'll be 61 on Opening Day next year, but he might be the youngest 60-year-old in America. Maddon is being hired to be there a decade, if not more, just like Sparky in Detroit.
This is exactly that kind of move. It was smart then, and it's smart now.
Phil Rogers is a columnist for MLB.com. This story was not subject to the approval of Major League Baseball or its clubs.