Duffy didn't start in postseason due to cracked rib
Royals lefty able to pitch in relief, expected to be fine by Spring Training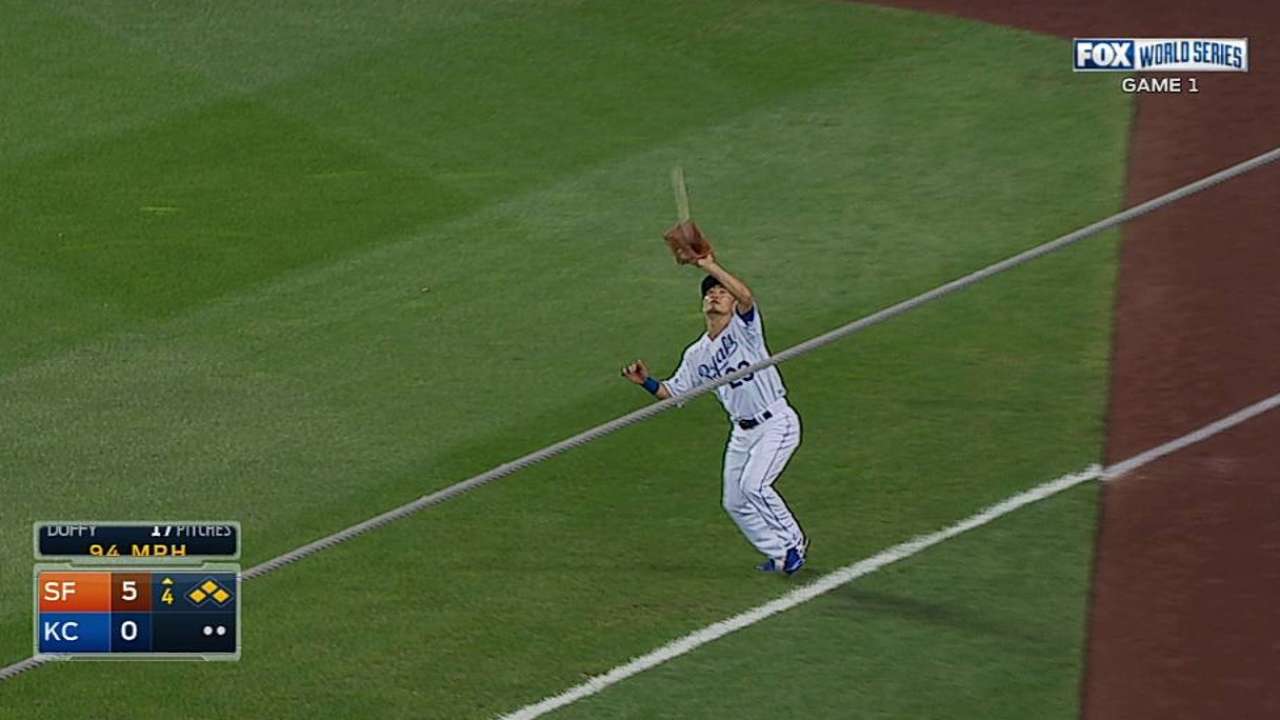 KANSAS CITY -- Left-hander Danny Duffy was the only member of the Royals' five-man rotation who didn't get a postseason start, but it wasn't because manager Ned Yost lost confidence in him. It was because Duffy had a cracked rib.
Yost was told that Duffy had a "stress reaction" on one of his ribs which still allowed him to pitch, but on a limited basis, certainly not enough to permit a starting assignment.
"It's not a full crack all the way through, but the outside of the rib, as far as I understand it, was cracked," Yost said on Friday.
"He could manage the pain for a couple of innings, but then he'd start to get real stiff and real tight. So he could go maybe two, maybe three innings and that was about it."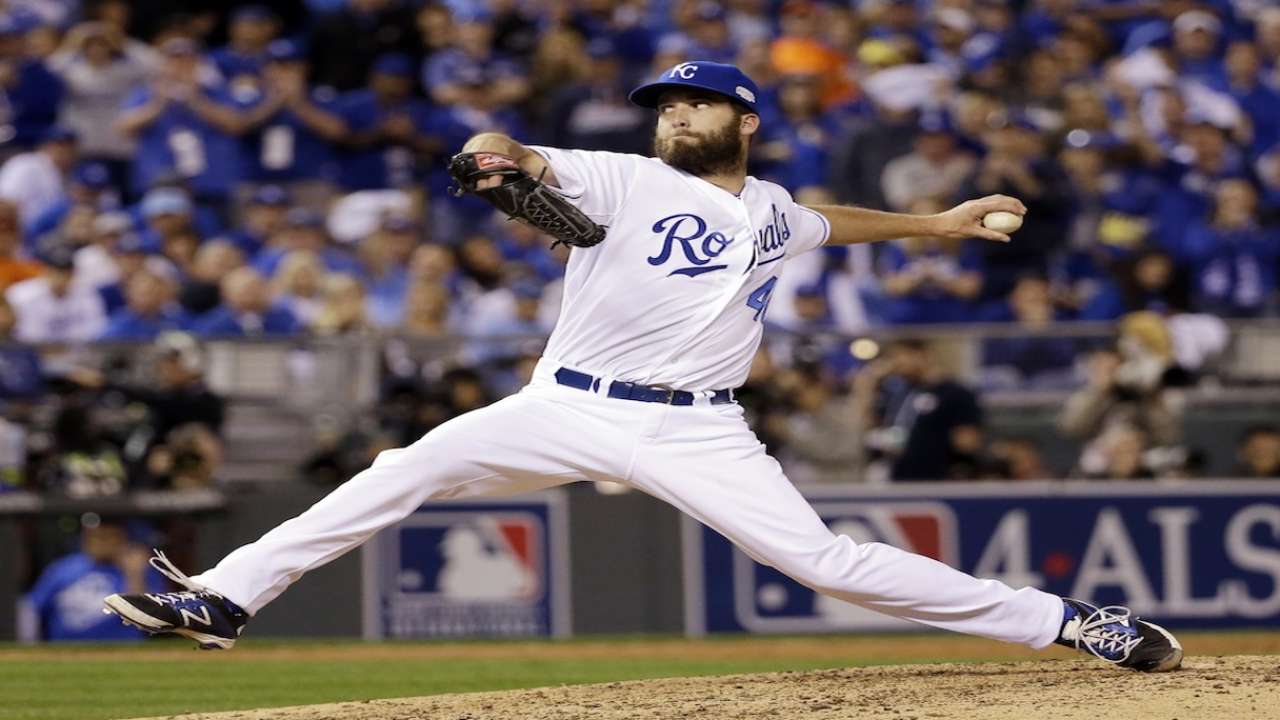 Duffy apparently didn't know how the injury occurred but it changed Yost's plans for the American League Division Series against the Angels.
"We were setting up the rotation as soon as we won the Wild Card," Yost said. "We were probably going to look at him starting Game 1 but, after that, Vargy [Jason Vargas] started Game 1 of the Anaheim series."
Later, Duffy pitched in three postseason games, including a scoreless 10th inning in that first game at Anaheim. In all he worked a total of 4 2/3 innings, giving up two runs, three hits and four walks with five strikeouts.
The Royals decided against putting Duffy on the disabled list and activating another pitcher during the postseason.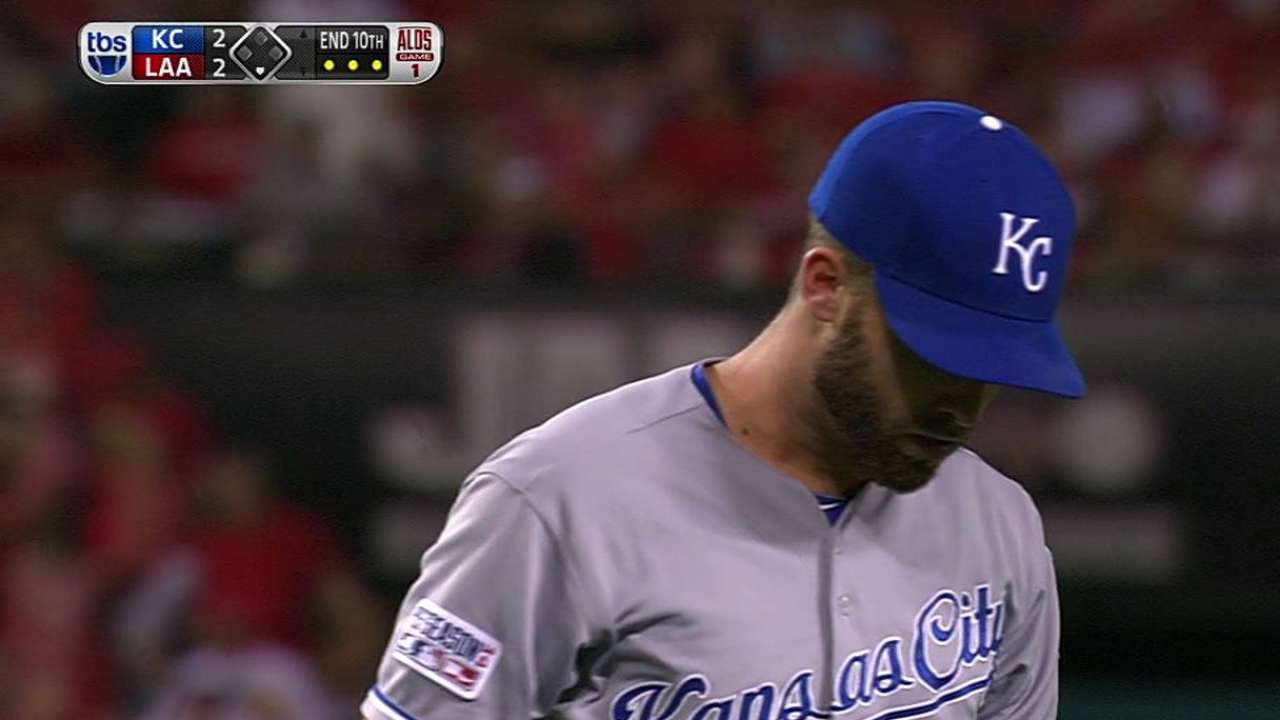 "He could still pitch and be a viable option out of the 'pen," Yost said. "He dealt with it. He managed the pain fine and actually pitched quite well through it."
Of the 15 postseason games, James Shields started five, Yordano Ventura four, Vargas and Jeremy Guthrie three each.
Yost expects Duffy to be fine in plenty of time for Spring Training.
Dick Kaegel is a reporter for MLB.com. This story was not subject to the approval of Major League Baseball or its clubs.