Cubs players react to managerial change
Baker, Villanueva praise job Renteria did, while catcher expresses excitement for Maddon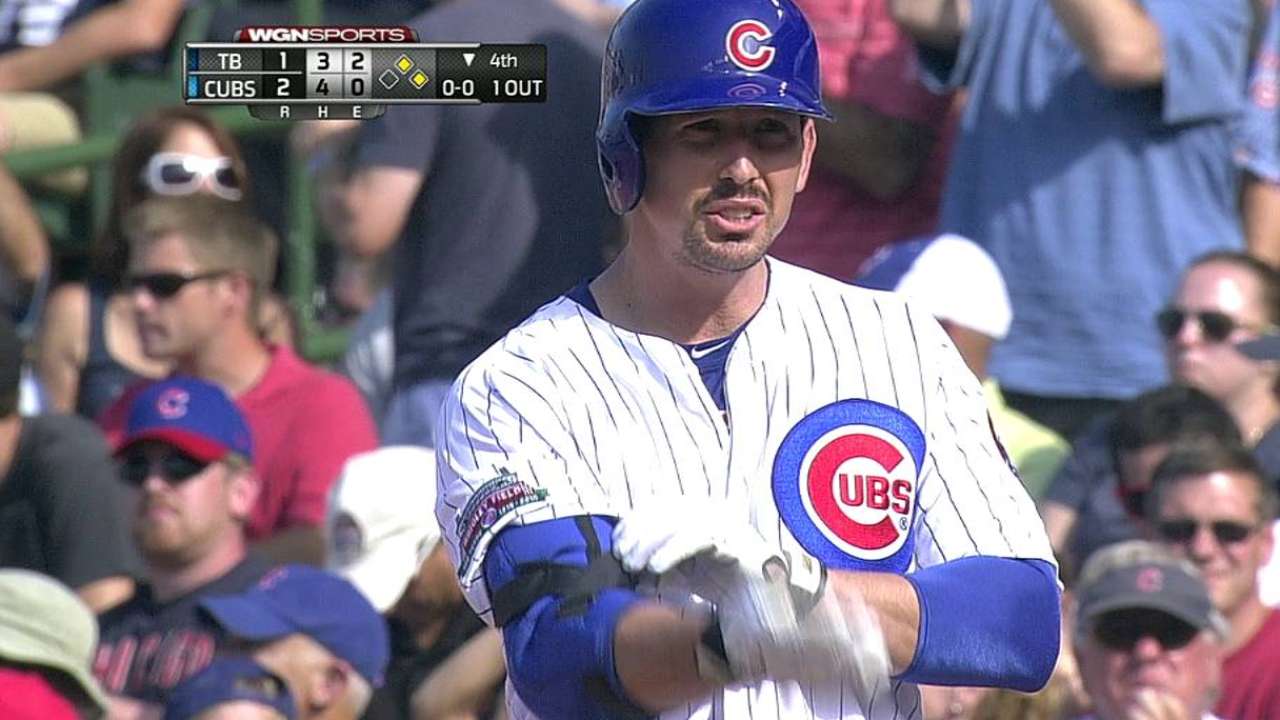 CHICAGO -- Catcher John Baker played in San Diego when Rick Renteria was on the coaching staff, and the two were reunited in Chicago this past season. Baker, well aware of the business side of the game, was saddened at the news that Renteria was dismissed Friday as Cubs manager.
"Obviously, when you play for somebody, and I've known Ricky for a few years, so it's sad to see that side of it in baseball, but I think everybody going into every new season knows this is a business," Baker said Friday. "Sometimes business decisions are tough on people who are personable. It was fun to play for Ricky. I enjoyed having him as a manager and a coach. I look forward to seeing what happens next season."
What will happen next season is the beginning of the Joe Maddon era in Chicago. The Cubs will introduce Maddon as their 54th manager in franchise history on Monday.
At the end of the regular season, Renteria talked about how he was looking forward to spending the winter preparing for the upcoming year with a better knowledge of the Cubs' players and personnel. Instead, he is looking for a new job after just one year.
"I believe he did a wonderful job with the circumstances he was presented with this past season," pitcher Carlos Villanueva said Friday. "It is very hard to be evaluated after only one season managing, especially when your two best starters are traded away midseason.
"I said it then, and I'll say it again, most of us with experience in this business knew what we signed up for when we came to Chicago during this period of rebuilding," Villanueva said. "And we also understood that whatever Theo [Epstein] and Jed [Hoyer] thought was best for the future of the organization, they were going to do, putting the organization first over anyone and anything else."
For the third straight season, the Cubs dealt two starting pitchers at the Trade Deadline, sending Jeff Samardzija and Jason Hammel to the Athletics for young prospects. That's part of the rebuilding process under Epstein, the Cubs' president of baseball operations, and Hoyer, the general manager. Dale Sveum had to deal with that as the Cubs' manager in 2012-13 as well. Finding the right manager also is part of the rebuilding process. Maddon will be the third in four seasons since Epstein took over in October 2011.
"It is obviously a business-driven decision that not all are going to like," Villanueva said of dismissing Renteria, "but at the end of the day, if that is what they thought was going to help bring a championship to the Cubs' organization, that's what they need to do. We'll know if it works with time. Hopefully, it works out for all parties."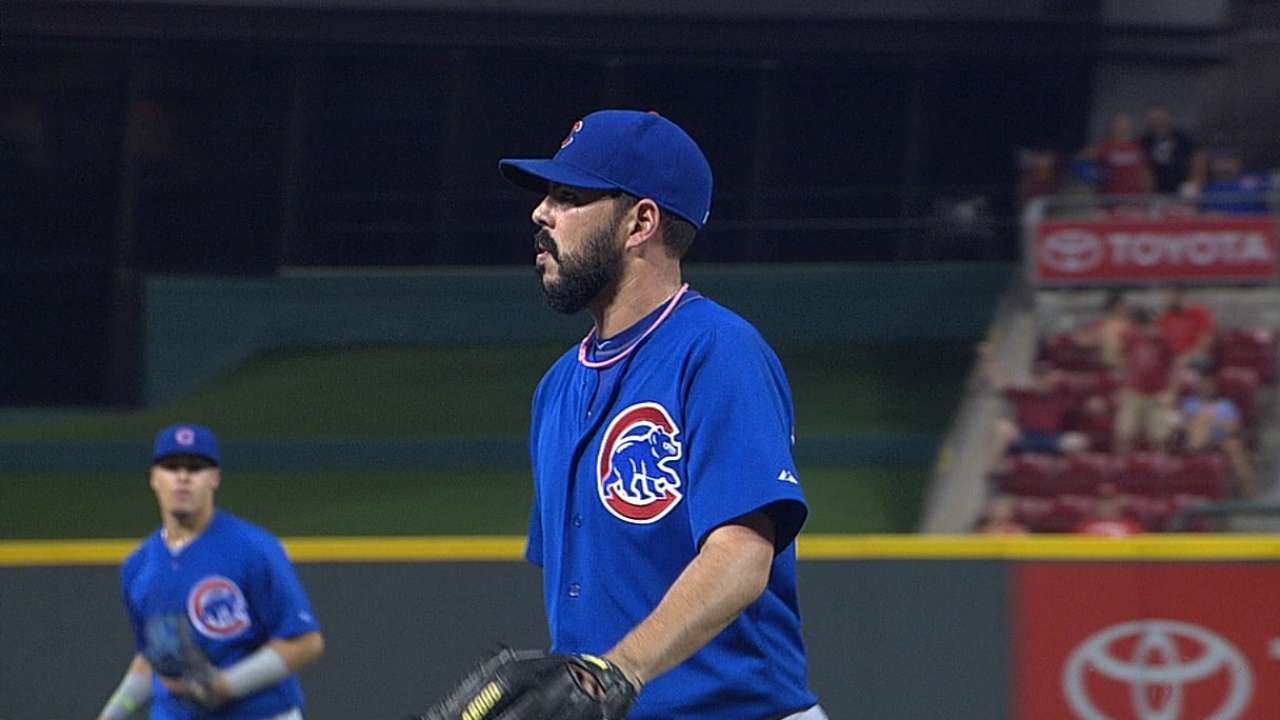 Maddon exercised an opt-out clause in his contract to leave the Rays, and he will definitely be a different manager than any the Cubs have had in the past. The Rays' players wore camouflage outfits on a May 2013 trip to Baltimore, team letterman jackets in April 2013 to Boston, all white in June 2012 to Miami and hockey jerseys in June 2010 to Toronto. Among the Rays' clubhouse guests were a pair of South African penguins from the Florida Aquarium, a cockatoo, a four-piece Merengue band, a 20-foot long python and a Seminole medicine man.
Cubs fans may need to learn some new phrases, such as "hitterish," "woof," "poisontry" and "over-boogie," which are all Maddon-isms. In 2008, when Maddon and the Rays won the American League East, the manager often said "nine equals eight," which translates to nine players playing nine innings each game to become one of eight playoff teams.
"Joe Maddon was very successful in Tampa in a smaller market, and most baseball pundits would tell you that's easier than having more of a major-market team like the Cubs," Baker said. "I think it's an appropriate time in Joe Maddon's career to move to one of these historic franchises and see if he can do something magical. He made some magic happen in Tampa Bay, and if this is the one opportunity the Cubs have to acquire a manager like that, it seems to make sense. If I have the opportunity to play for him, it's somebody I'd try to learn from, just like I did with Ricky as well."
Maddon's free-spirit attitude does have a purpose.
"He seems to know how to keep a clubhouse light and be able to focus on the important things, which is the game," Baker said. "Sometimes when you add extra distractions it becomes easier to focus on baseball. That's a philosophy I subscribe to. They all come from a similar background -- Bud Black, Maddon and [Mike] Scioscia and those coaches who came from those early Angels teams. They have some things I've noticed that help them be successful. They keep it light, keep it positive, always focusing on the goal and moving forward.
"Obviously, Joe Maddon has a track record of being a very successful manager in a very tough division in baseball. It'll be very exciting."
Renteria had returned to his California home the day after the regular season ended, and he met with Epstein and Hoyer two weeks ago for an end-of-the-season evaluation. Epstein complimented Renteria's performance to the media and season-ticket holders. Renteria left Chicago with high expectations.
"Why wouldn't anybody want or have goals to have success in the coming year? I do," Renteria said on Sept. 27, the day before the regular season ended. "I'm laying extremely high expectations. I laid them before everybody this year. A lot of people fear laying them out there because if you don't obtain them, there's a consequence of not obtaining them.
"I don't worry about anything other than just doing my job. Part of it is laying expectations."
Villanueva credited Renteria for getting Anthony Rizzo and Starlin Castro back on track after tough seasons in 2013.
"He helped make them All-Stars along the way and did all that was asked of him and more," Villanueva said. "There are things that happen that only the people who are in the clubhouse at times know of, but with all the challenges [Renteria] faced, he did great. Whoever gets him will have an outstanding baseball man."
Carrie Muskat is a reporter for MLB.com. She writes a blog, Muskat Ramblings, and you can follow her on Twitter @CarrieMuskat. This story was not subject to the approval of Major League Baseball or its clubs.