Tigers extend qualifying offers to Scherzer, V-Mart
Club loses Dirks, McCoy to waiver claims; Iglesias reinstated from 60-day DL
DETROIT -- The Tigers announced qualifying offers to free agents Max Scherzer and Victor Martinez among a flurry of moves Friday, including the loss of Andy Dirks off waivers to Toronto and Patrick McCoy off waivers to Baltimore.
Detroit also purchased the contract of outfielder Wynton Bernard from low Class A West Michigan and outrighted the contracts of utilityman Don Kelly and reliever Evan Reed to Triple-A Toledo. Shortstop Jose Iglesias, right-hander Drew VerHagen and relievers Bruce Rondon and Luke Putkonen were reinstated from the 60-day disabled list.
The moves set up the Tigers' 40-man roster at 36 for the start of what promises to be a busy offseason. With the loss of Dirks and McCoy, the changes have already begun.
The Tigers had until Monday to extend one-year, $15.3 million qualifying offers -- the average annual salary of baseball's top 125 contracts -- to free agents. By doing so with Scherzer and Martinez, the Tigers set themselves up to receive compensation picks in June's 2015 First-Year Player Draft should they sign elsewhere. Detroit has avoided qualifying offers in recent years, but with Scherzer and Martinez in line as potentially the top pitcher and hitter on the market, it was an expected decision.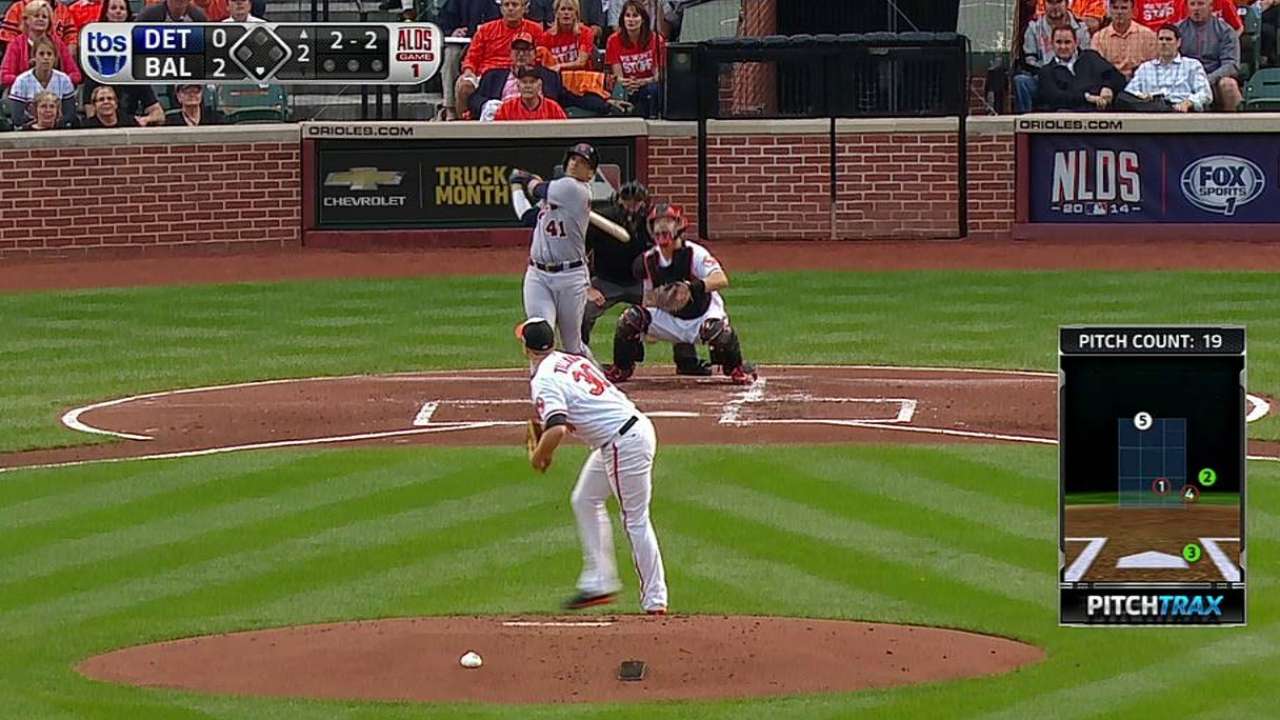 Scherzer and Martinez have until 5 p.m. ET on Nov. 10 to accept or decline the offer. Both will almost surely decline, as both are expected to garner lucrative multiyear deals on the open market. Detroit can still try to re-sign them if they decline.
Dirks was in a different situation, eligible for arbitration this winter after what amounted to a lost season to injuries. The 28-year-old outfielder, a part of Detroit's outfield from 2011-13, underwent back surgery in March, then suffered a series of setbacks -- including a hamstring strain -- that thwarted his rehab assignment in July and August.
Those setbacks likely played a role in the decision. Tigers president/general manager Dave Dombrowski had expressed the need for a left-handed-hitting outfielder in the mix, but decided Dirks wasn't the answer.
"We had made the decision based upon his current health situation," Dombrowski said in an email, "and not being sure if we could count on him for next season."
The Blue Jays, who have a history of offseason waiver claims under general manager Alex Anthopoulos, took the chance. With that, prospects Tyler Collins, Daniel Fields and Steven Moya stand as the only left-handed-hitting outfielders on Detroit's 40-man roster.
The 26-year-old McCoy was an unexpected contributor in Detroit after signing as a Minor League free agent last fall. He pitched in 14 games out of the bullpen, allowing six runs on 21 hits with 13 walks and 11 strikeouts.
Bernard earned Midwest League MVP honors at West Michigan, albeit as one of the older players in the league. The speedy outfielder batted a league-best .323 (164-for-507) for the Whitecaps with 30 doubles, six triples, six home runs, 47 RBIs and 45 stolen bases in 131 games.
Bernard would have been a Minor League free agent had he not been added to the 40-man roster. The move puts him in line to spend Spring Training with the Major League club.
Kelly and Reed are likely to decline their outright assignments and elect to become free agents, but Dombrowski said the team could still re-sign Kelly. The Tigers did that after the 2012 season and ended up re-signing Kelly to a Minor League contract two months later. They kept Kelly on their 40-man roster last offseason and avoided arbitration.
Kelly, who has served in an infield/outfield superutility role since 2009, batted .245 (40-for-163) this year with five doubles, a triple, no home runs, seven RBIs and a .620 OPS. He made at least five starts at each outfield position, 13 starts at third base and four starts at first.
Still to be decided is a $5.4 million club option for catcher Alex Avila, who would otherwise be eligible for arbitration. Since Avila isn't eligible for free agency, the Tigers have until Nov. 20 to pick up or decline the option.
Jason Beck is a reporter for MLB.com. Read Beck's Blog and follow him on Twitter @beckjason. This story was not subject to the approval of Major League Baseball or its clubs.