Fresh off Series run, Royals face tough decisions
Shields, Butler, Aoki among free agents who may not return in '15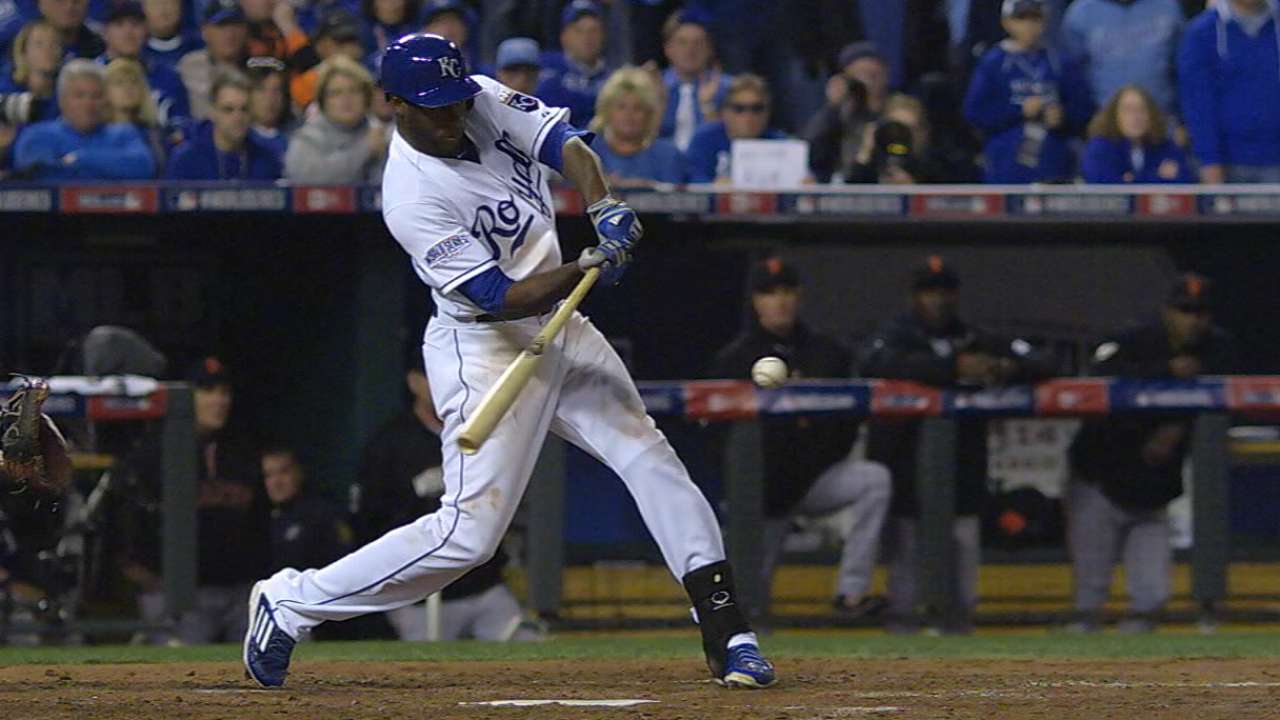 KANSAS CITY -- What's the obvious need for the 2015 Royals, fresh from their first World Series experience in 29 years?
Right off the bat, you'd have to say more bats. Productive bats. Maybe even some that could get Kansas City off the bottom of the American League home run list.
Yet, playing in spacious Kauffman Stadium means that the Royals will stay with their emphasis on pitching, defense and speed. General manager Dayton Moore made that clear in the aftermath of the club's World Series Game 7 loss to the Giants.
"We're going to have to make some tough decisions with our roster and we'll continue to look at players that fit in," Moore said. "We're going to have to certainly look to continue to add starting pitching but we'll continue to have to put it together the way we have."
The decisions include whether to bid for pitching staff and team leader James Shields, who is entering free agency. Should the Royals bring back free-agent right fielder Nori Aoki?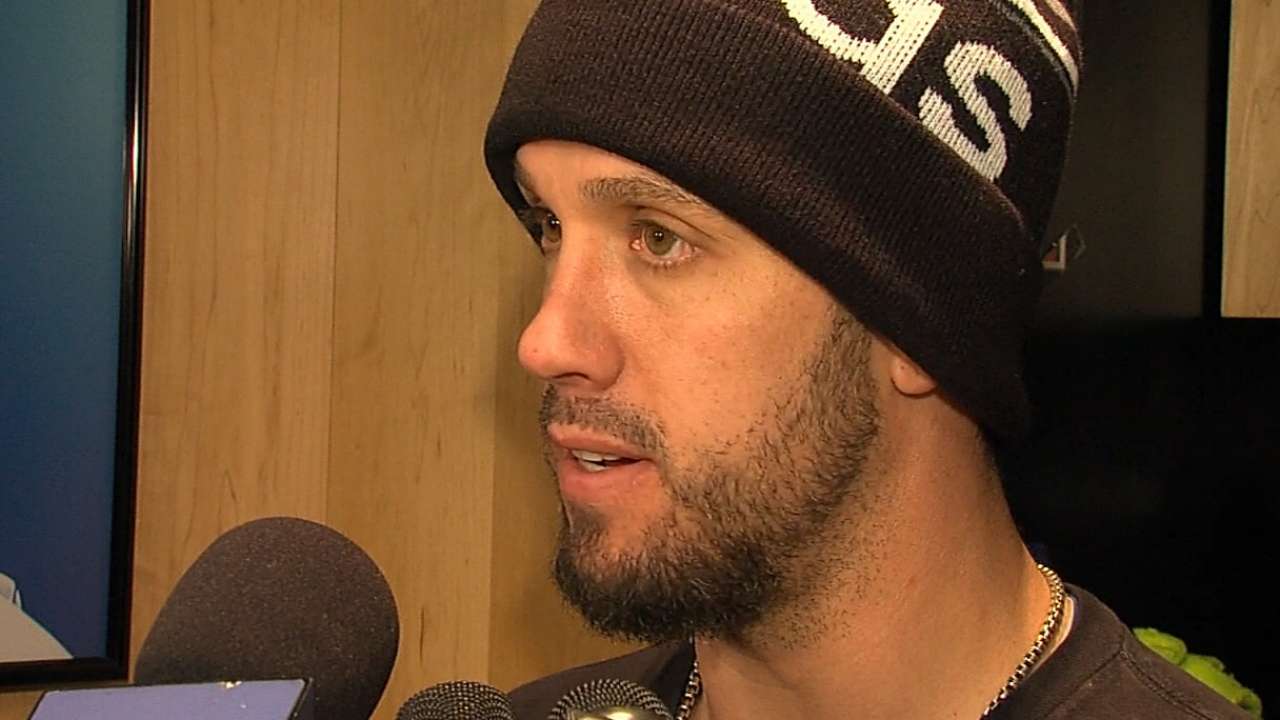 While there are a dozen players eligible for arbitration which should crank up the payroll, the good news is they represent part of a talented core group.
"It's a great group of players and a lot of talent. Very young, they've got a great future ahead of them," Moore said. "They're all going to have terrific careers and there's not one player that I look at and evaluate on our current core group that I feel has reached their ceiling. They're all going to get better."
Arbitration-eligible
Lorenzo Cain, Louis Coleman, Tim Collins, Aaron Crow, Wade Davis (if club option for $7 million is not exercised), Danny Duffy, Jarrod Dyson, Kelvin Herrera, Greg Holland, Eric Hosmer, Mike Moustakas, Jayson Nix.
Free agents
Aoki, Billy Butler, Scott Downs, Jason Frasor, Luke Hochevar, Raul Ibanez, Shields, Josh Willingham.
Rotation
Staff leader Shields is heading into free agency and is not likely to return but the other four -- Jeremy Guthrie, Jason Vargas, Yordano Ventura and Duffy -- are coming back. That's a good solid quartet to build from.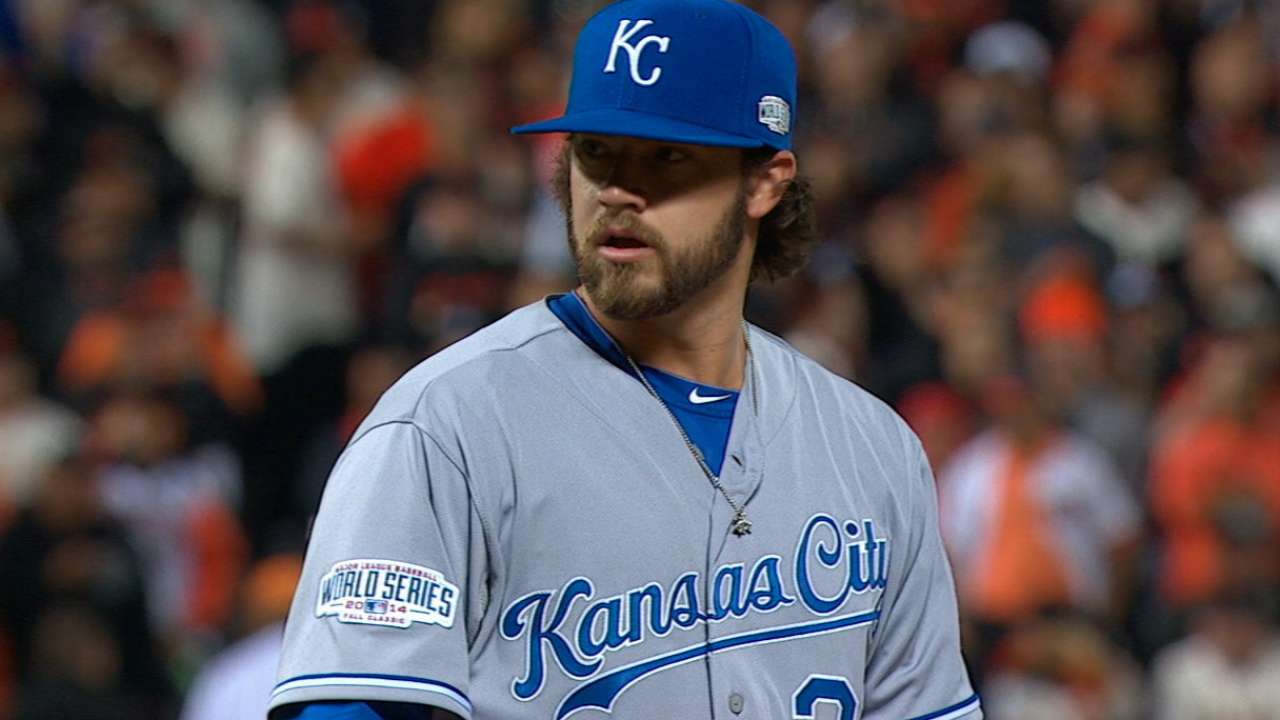 An intriguing option is left-hander Brandon Finnegan, the 2014 first-rounder who jumped right to the Majors in a relief role and held his own in the postseason. However, right-hander Kyle Zimmer, the 2012 first-round pick, is out because of shoulder surgery.
Then there's the matter of Hochevar, the veteran right-hander who sat out 2014 after Tommy John surgery. But he'd have to be re-signed as a free agent.
Could Davis, after his sizzling success in relief, be moved back into the rotation? Not likely. He's proven far too valuable out of the bullpen.
Bullpen
They were the unbending backenders of the bullpen. Herrera in the seventh inning, Davis in the eighth inning and Holland in the ninth undoubtedly formed the most terrific trio of late-inning relief in the Major Leagues. No reason to tinker with success.
How about the middle? Crow struggled late in the season and was left off the postseason rosters. Previous regulars Collins and Coleman were sent to the Minors for re-tooling. Would somebody like Casey Coleman work? Should veterans like Frasor and Downs be brought back?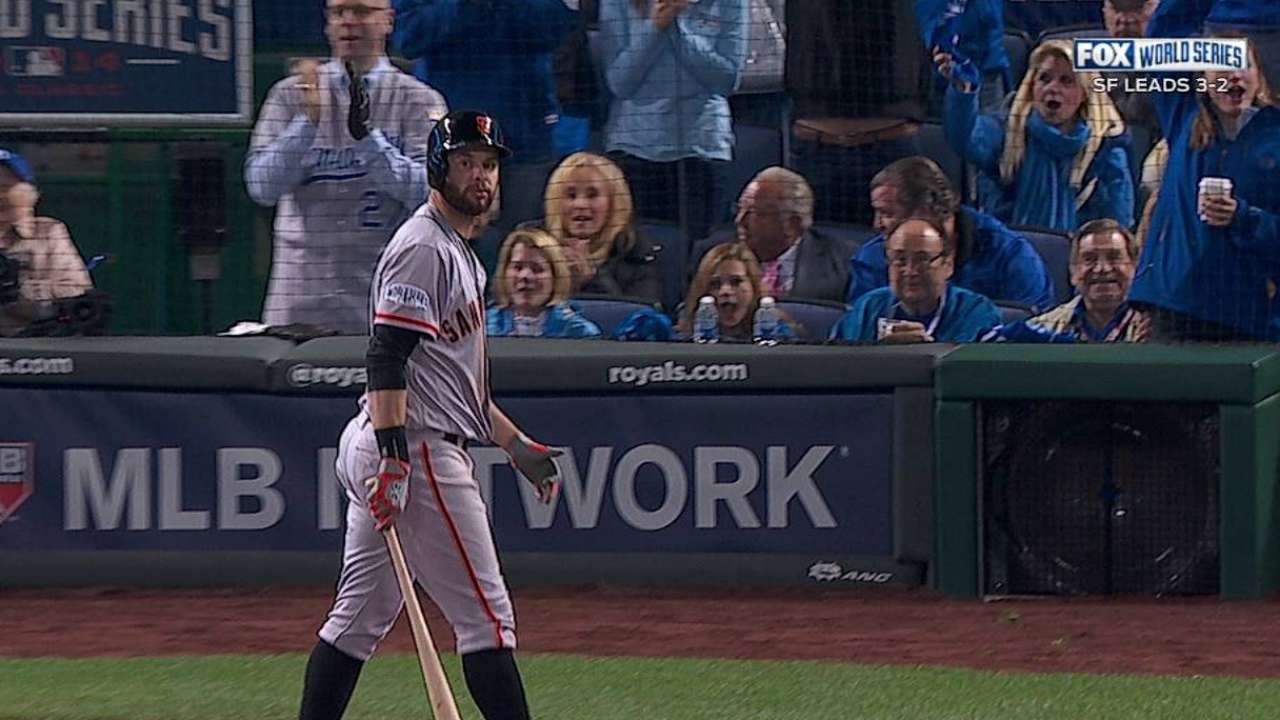 What about a left-handed specialist? Francisley Bueno or somebody from the outside?
Catcher
No question who dominates behind the plate. Salvador Perez, already a two-time All-Star and Gold Glove Award winner, is entrenched and carries a heavy workload. His hitting slipped a bit late in the season as he seemed to get overly aggressive.
Erik Kratz, another large economy size catcher, wound up as the seldom-seen backup. But Francisco Pena has won praise for his defense and blasted 27 home runs for Omaha.
Designated hitter
Butler, the Majors' top DH in 2012, struggled most of 2014 and his average, homers and RBIs dipped. The club did not exercise its $12.5 million option for 2015, but Butler has indicated a willingness to negotiate a new deal.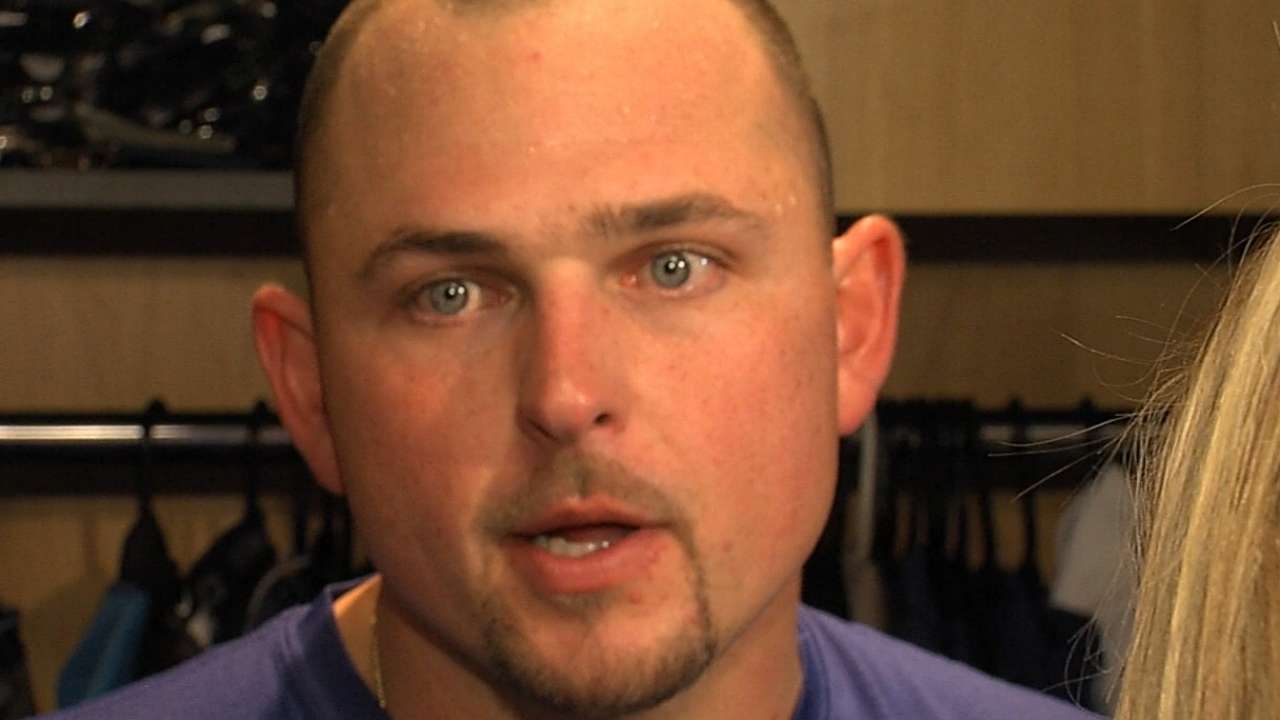 Late-season addition and free agent Willingham is a possible option. However, the Royals could morph into the mode of using the DH as a floating stop for several players during the season.
First base
Hosmer was just getting his hitting game into gear when his right hand was hit by a pitch in late July and he missed a month with a stress fracture. The good news is he showed little signs of rust when he returned for the stretch run in September and hit .351 with 12 RBIs in 15 postseason games.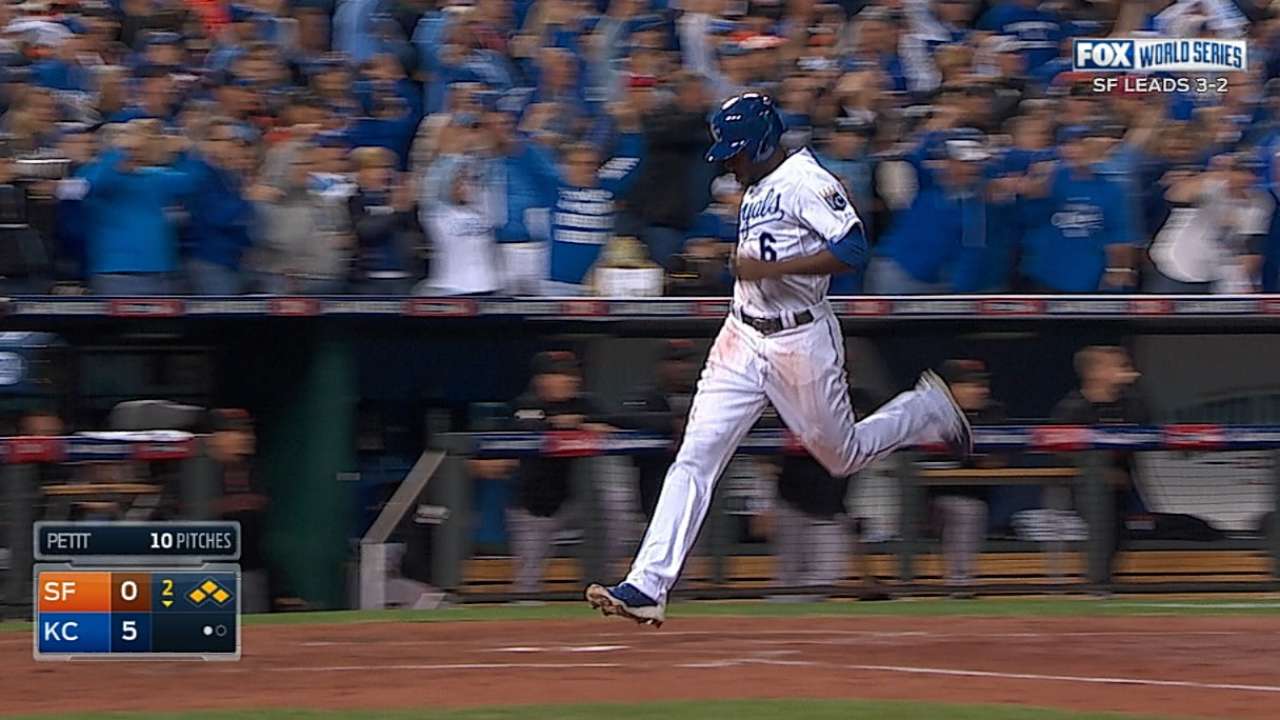 Hosmer, as always, is a logical choice for the No. 3 or No. 4 lineup spot if he can be more consistent. He's a Gold Glove winner, but Butler was solid as a one-month replacement for him.
Second base
Omar Infante is signed through 2017 and he provided good defense, collaborating with shortstop Alcides Escobar, in his first Kansas City season. Infante's average was lower than expected, but he had a career high in RBIs and had some clutch hits.
One-time heir apparent Johnny Giavotella seems out of the picture and Christian Colon looms as the likely backup infielder.
Shortstop
Escobar is the thin iron man of the middle infield, playing 162 games and with astonishingly proficient and often spectacular defense. He's also a solid hitter who flourished in a late-season turn in the leadoff spot. And his good speed and daring enabled him to steal 31 bases.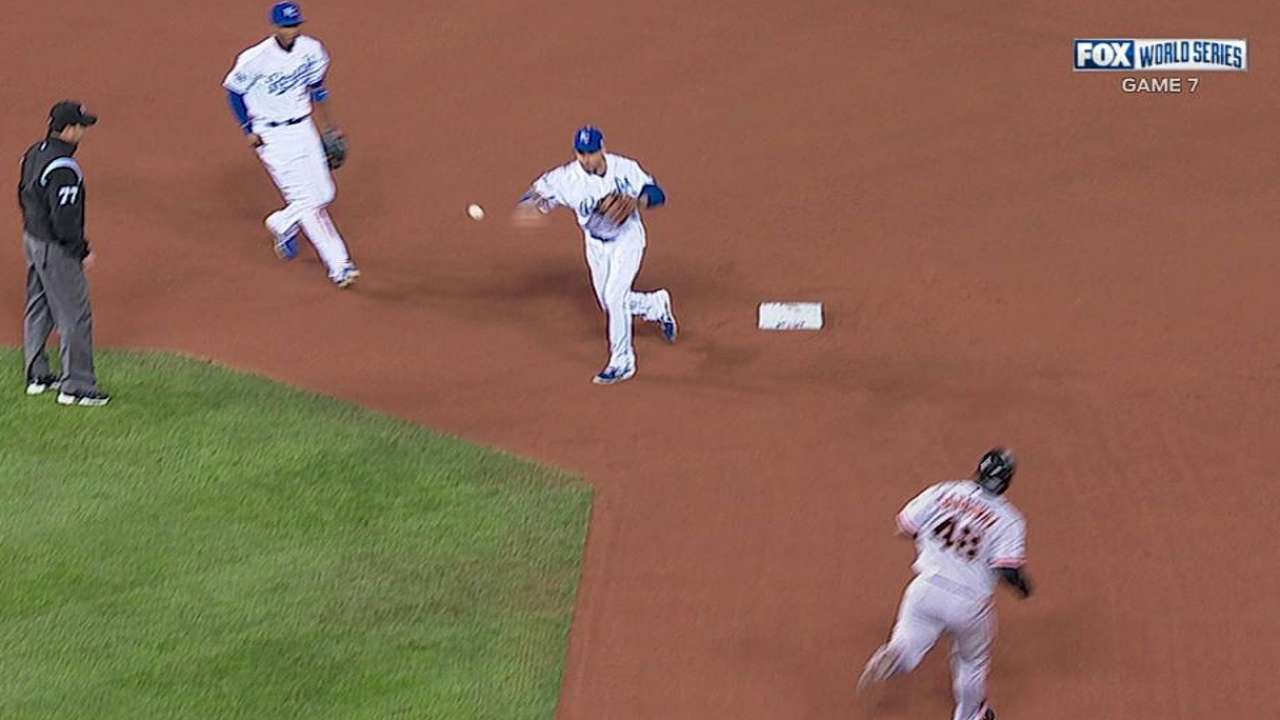 The Royals are poking about, looking for a backup infielder who can play shortstop, but with Escobar, he's rarely needed.
Third base
Moustakas has been something of a mystery. His average finally edged up to .212 but he had a nice bag of 15 home runs and 54 RBIs. He wasn't the consistent threat that teams like at a corner position, but he did whack five homers in 15 postseason games. As a defender, Moose has Gold Glove-like moves and he's still just 26.
In-house candidate Hunter Dozier found the going tough in a half-season at Double-A and hasn't had big home run totals.
Outfield
Gold Glove left fielder Alex Gordon is signed through 2015 and had indicated he'd love to stay in Kansas City beyond that, so perhaps an offseason extension would be in the works. There's no question that he's an offensive force, topping the club in homers and RBIs, and a quietly effective team leader.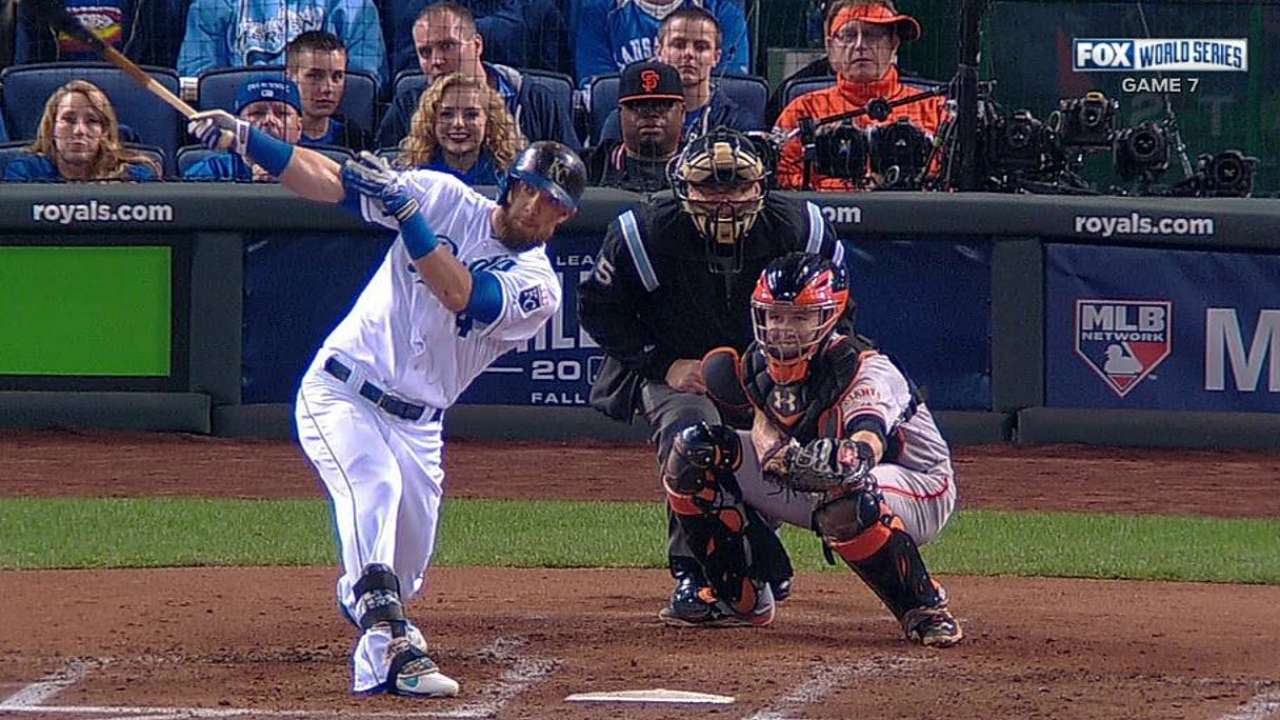 A big question is: Does Aoki return to play right field? Terms of his contract made him a free agent after the 2014 season. So does he play the field or come to an agreement with the Royals, for whom he gave a strong second half?
The obvious alternative is to play Dyson in center field and move Cain permanently from center to right. Dyson has improved significantly as a hitter and there's no question that he can cover center. Cain had a breakthrough year at bat and he's a dynamite defender.
If Dyson would become an everyday player, the Royals might look at super-swift Terrance Gore as his successor as pinch-runner extraordinaire. Lane Adams and Carlos Peguero could be in the backup picture.
Dick Kaegel is a reporter for MLB.com. This story was not subject to the approval of Major League Baseball or its clubs.