Few tweaks could be all Rays need to improve
With new manager the priority and roster in place, Hot Stove likely quiet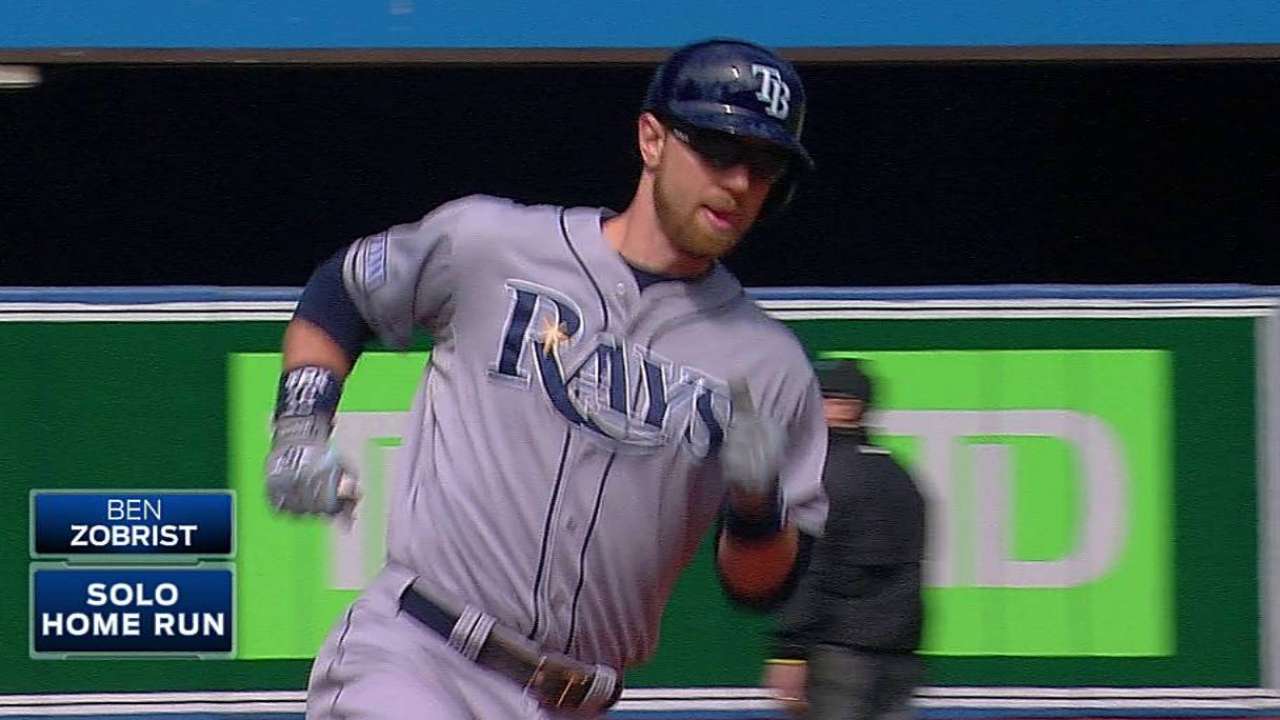 ST. PETERSBURG -- This was going to be an unusual offseason no matter what for the Rays, coming off their first sub-.500 season since 2007 with a fully intact roster that leaves little room for reconstruction. And that was before Andrew Friedman and Joe Maddon left town.
Now, Matt Silverman will begin his first Hot Stove season as the Rays' president of baseball operations looking, first and foremost, for Maddon's replacement. Then he must go about the process of improving Tampa Bay's roster, figuring out what needs to be fixed after a disappointing 77-85 campaign and what is more likely to fix itself.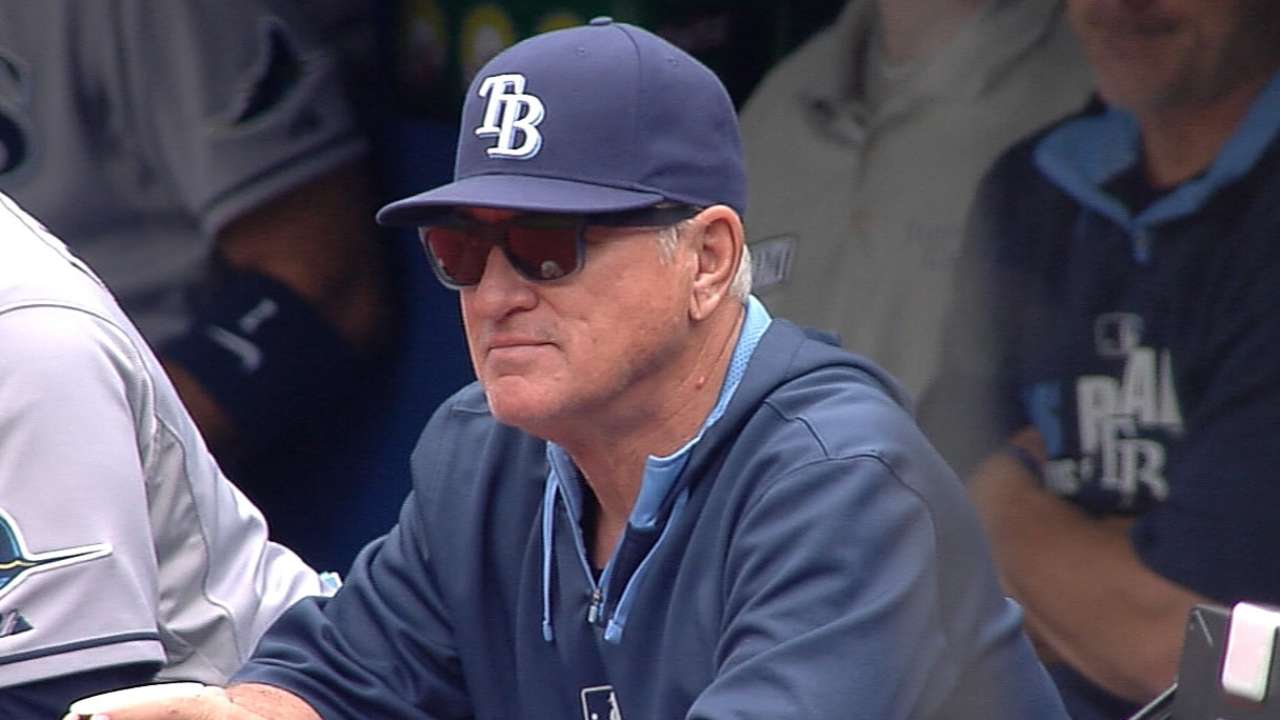 The Rays enter the offseason with a full 40-man roster and two players on the 60-day disabled list. They will have to clear room for a few prospects eligible for the Rule 5 Draft, making matters slightly more urgent. They have nine players with guaranteed contracts, two with pending options and nine who are eligible for raises in arbitration.
Everyone who ended the season with the Rays is still under team control, and the plan is to lower the team's payroll. Both limits might restrict what Tampa Bay can do with its roster this offseason from a personnel and financial perspective. Here's what the Rays are looking at heading into the Hot Stove season.
Free agents/options
The Rays don't have any free agents. They exercised their $7.5 million option on super utility man Ben Zobrist -- arguably their most valuable player last season -- and also exercised their $2.5 million option on reliever Joel Peralta.
Needs
Considering their .367 slugging percentage last season, the worst in the American League, the Rays need more power. For their long-term stability, they need more high-upside position players -- stud prospects like outfielder Wil Myers in 2013 -- to restock their Minor League system.
Players must stay healthy and perform up to their potential. That includes third baseman Evan Longoria, set to make $11 million next year, and Myers. Tampa Bay already has a talented young rotation in place, with Matt Moore coming back at some point next season, and a deep bullpen with lock-down late-inning options in Jake McGee and Brad Boxberger.
Otherwise, keep in mind the Rays will return with most of the roster that many experts predicted to win the World Series last spring.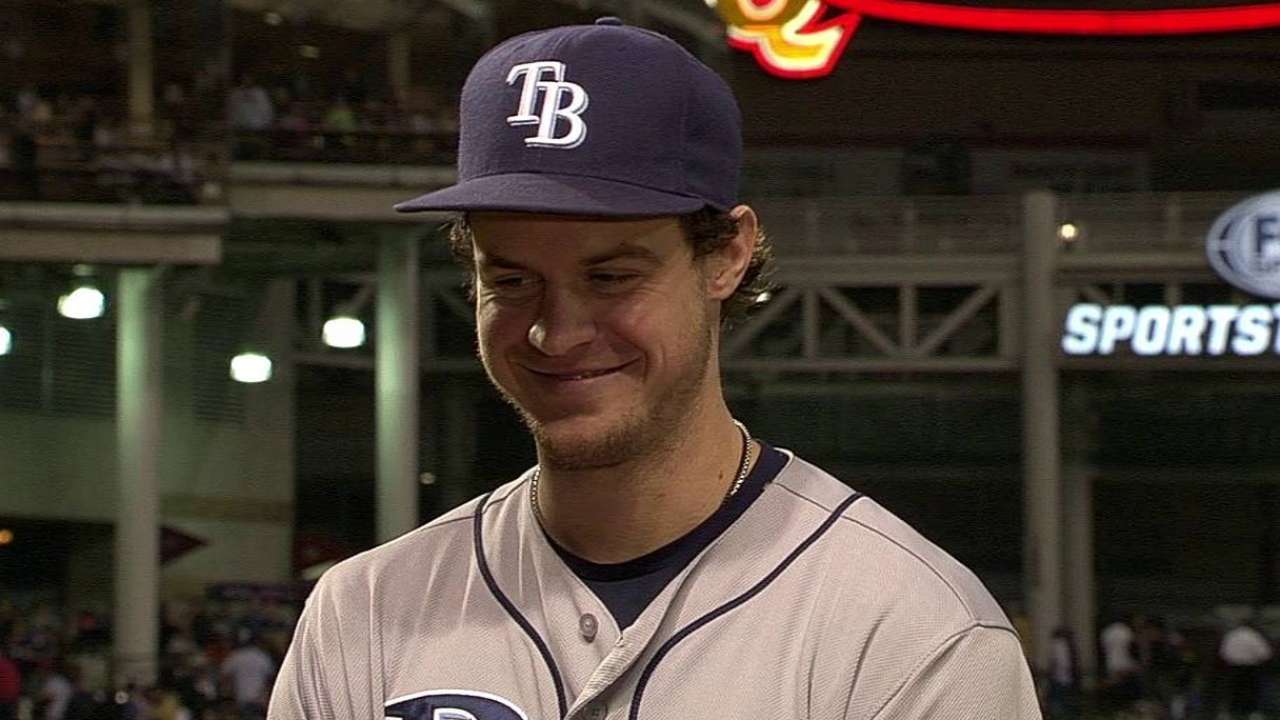 Potential targets
The Rays won't be major players in free agency. Silverman said Tampa Bay will do most of its business in the trade market, but there's no sense of what specifically the club is looking to bring back in any deal.
With every position on the roster pretty much accounted for, it's safe to assume the Rays will simply seek the greatest possible value in whatever moves they make.
Trade assets
There's a major logjam in the outfield, and Matt Joyce might be the odd man out. He's been strictly a platoon player, his numbers dropped last year and his salary could climb up to $5 million in arbitration. The other option would be outfielder David DeJesus, set to make $5 million next year with a $5 million club option for 2016.
The Rays' biggest trade chip is Zobrist. He'd bring back a nice return, given his production and versatility, but they might deem Zobrist too valuable to part with.
Might Tampa Bay consider selling low on catcher Jose Molina ($2.5 million) and reliever Grant Balfour ($7 million) after disappointing seasons, provided they could find a trade partner? Balfour looked more like his old self down the stretch, and the Rays still value what Molina does behind the plate.
Tampa Bay could also look to trade Sean Rodriguez, who hit .211 with 12 homers last season. The utility man is projected to make about $2 million next year. Some might consider right-hander Jeremy Hellickson to be a trade candidate considering his escalating salary and the Rays' rotation depth, but Tampa Bay saw early last season what it's like to scramble for starting pitching.
Bottom line
Expect to see a lot of familiar faces on the field come Opening Day, with a few tweaks and trades between now and then.
Adam Berry is a reporter for MLB.com. Follow him on Twitter at @adamdberry. This story was not subject to the approval of Major League Baseball or its clubs.