Tribe picks up Aviles' 2015 option
Versatile veteran thrilled to return to Cleveland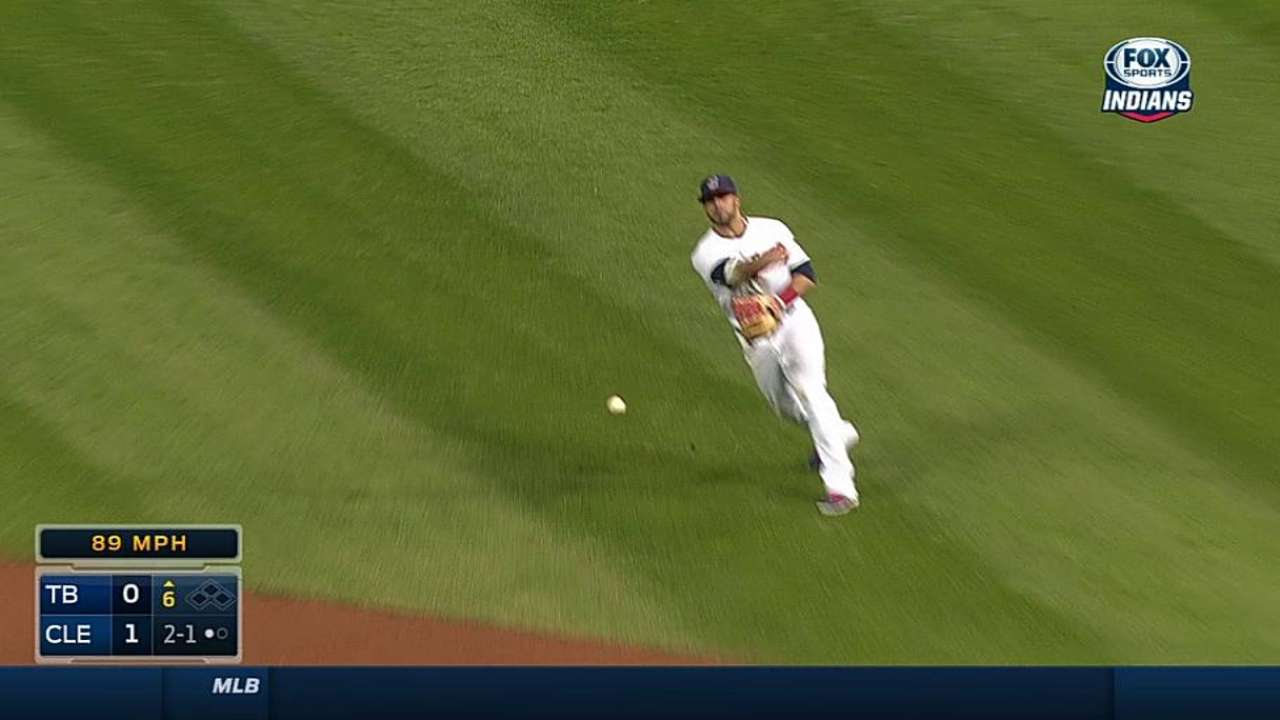 CLEVELAND -- After Terry Francona became manager two offseasons ago, one of the Indians' first targets was utility man Mike Aviles. During their brief time together with the Red Sox, the manager placed a high value on Aviles' ability to move around the diamond and be prepared to come off the bench or serve as a starter.
Aviles will have the chance to play for Francona for at least one more season. On Friday, Cleveland exercised its $3.5 million team option to keep the utility man on the roster for the 2015 season, providing the Tribe with an experienced player capable of handling multiple infield and outfield positions.
"Mike's an incredibly important part of our team in so many ways," Indians general manager Chris Antonetti said on Friday. "He played six positions last year and filled in very capably in each of those spots. His versatility gives [Francona] great comfort on the bench, because he can fill in anywhere and contribute and provide us protection at so many positions. It allowed us last year to carry an extra reliever for most of the year.
"Beyond what he does on the field, he's a great teammate. He's a guy that has an incredible energy about him and is a big part of our team and the fabric of our team."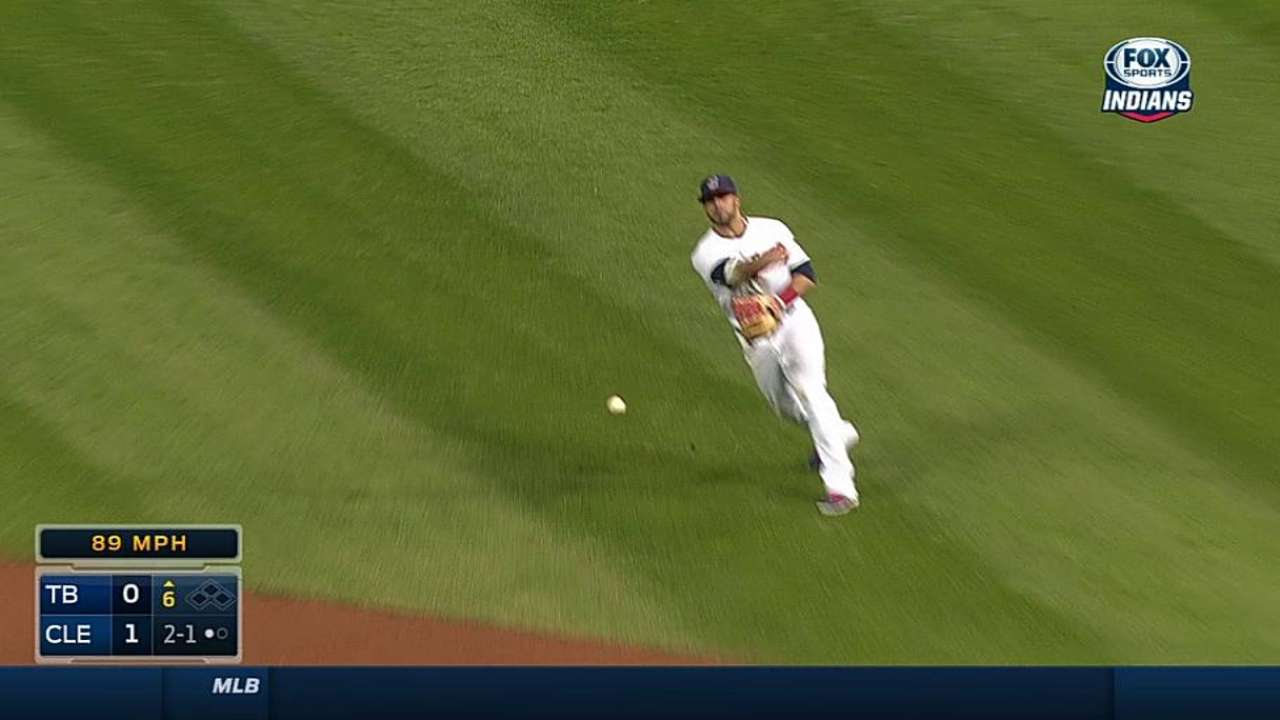 Aviles was thrilled to be coming back for the 2015 season.
"My excitement level is extremely high because of where the team is," Aviles said. "Had my option been declined, I would've been a little upset because of the movement that was going with the team. I got to know everybody on the team, the front office, the players, everything. Everything is going in the right direction. ... Slowly but surely, I think the process is coming along.
"You've seen a lot of young guys really maturing and getting better. That was part of my excitement of wanting to come back and wanting to stay here, because I really do feel this team is special and can get to that next level. It's only a matter of time."
Aviles, acquired in November 2012 with catcher Yan Gomes from Toronto for pitcher Esmil Rogers, has appeared at six positions in his two seasons with the Indians. At various points, the 33-year-old veteran has been a starter at second base and shortstop while other players dealt with injuries. He added center field to his repertoire this past season.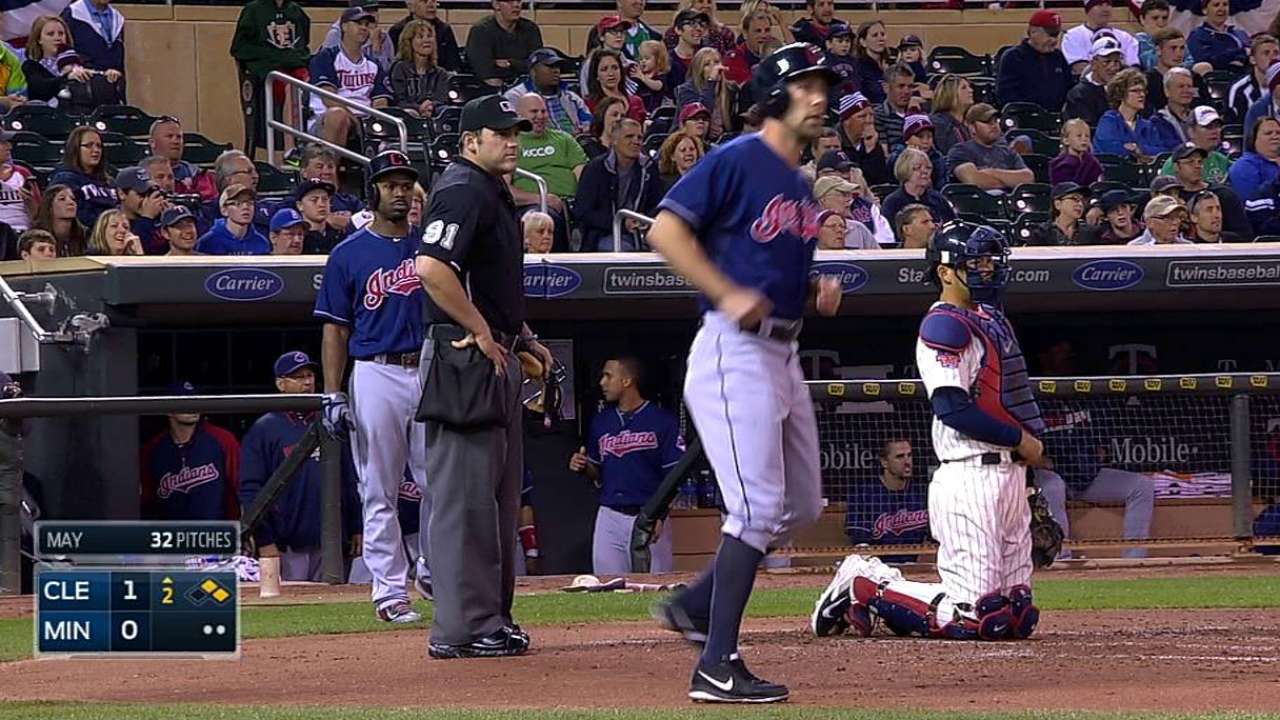 In 113 games for the Indians, Aviles posted a .247/.273/.343 slash line to go along with five home runs, 16 doubles, 38 runs, 39 RBIs and 14 stolen bases. He appeared at third base (36 games), second (33), left field (27), shortstop (15), center field (three) and right field (three). In his two years with Cleveland, he has hit a combined .250/.277/.356 with 14 homers, 31 doubles, 85 RBIs and 22 stolen bases in 237 games.
In parts of seven Major League seasons, Aviles has hit .269/.299/.393 in stints with the Royals, Red Sox and Indians. He has a career .733 OPS against left-handed pitching, compared to a .671 mark against right-handers.
"You can throw him out there and know that [the positions] are going to get played correctly," said Francona, who managed Aviles with the Red Sox in 2011. "He turned himself into a good left fielder. You saw how he can play second base, and when you can put a guy at short, that's also a big safety net.
"He's got that home run sitting in his back pocket there. It kind of comes out of nowhere sometimes, but it's there. You don't know when it's going to come. And he can steal a base. You might not want him getting 550 at-bats, because of the on-base percentage, but his ability to play multiple positions and be ready to play at a moment's notice is really valuable."
Jordan Bastian is a reporter for MLB.com. Read his blog, Major League Bastian, and follow him on Twitter @MLBastian. This story was not subject to the approval of Major League Baseball or its clubs.