Nats' Arizona Fall League overview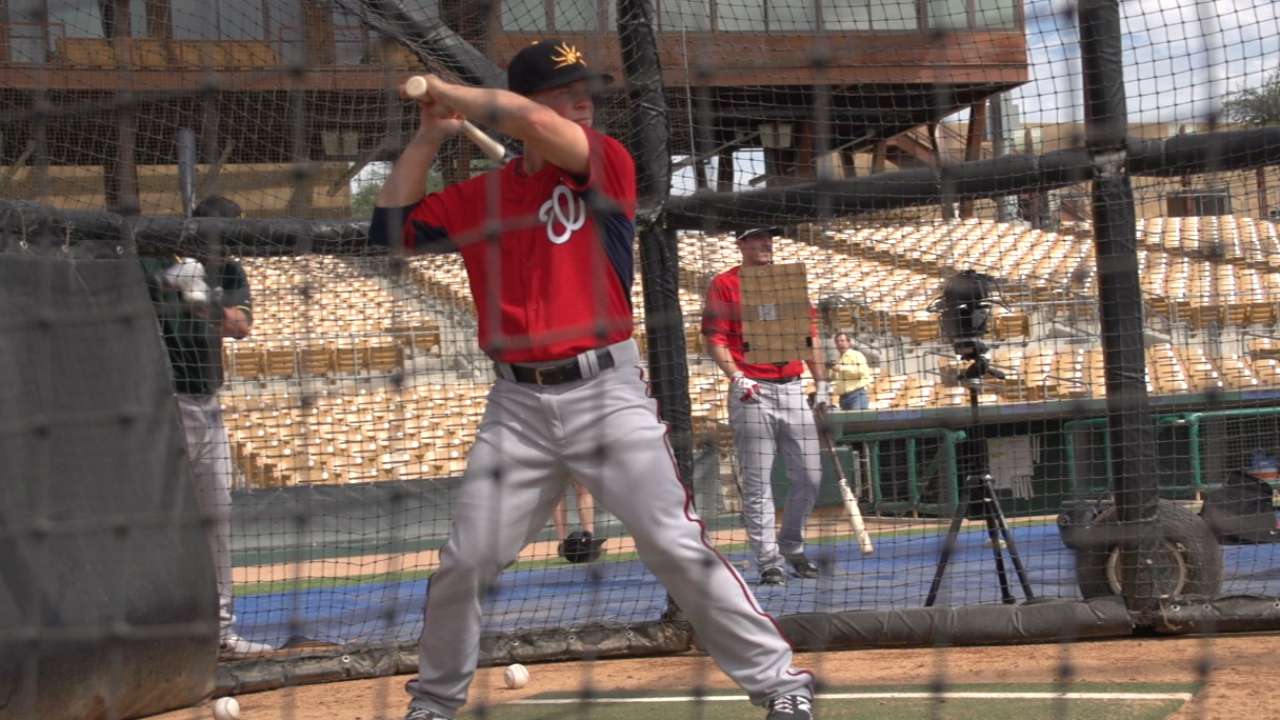 Tony Renda does not cut an imposing figure in the batter's box. Listed at 5-foot-8, 180 pounds, the second baseman sometimes earns comparisons to Jose Altuve for his build or Dustin Pedroia for his determined approach to the game.
But, like Pedroia and Altuve, Renda's short stature belies his hitting acumen. He won the Carolina League batting title this season, hitting .307/.381/.377 with 19 stolen bases in 107 games for advanced Class A Potomac.
Renda, one of seven Nationals playing for Mesa in the Arizona Fall League this year, has long since figured out how to be successful without towering over the opposition.
"I'm probably one of the smaller guys here in Arizona, and that's OK," said Renda, the Nats' No. 17 prospect. "You don't have to play small. You can play big."
Renda is, in fact, one of the shortest players in the AFL. Surprise second baseman Sean Coyle, the Red Sox's No. 13 prospect, is also listed at 5-foot-8, and his Saguaros teammate Mallex Smith checks in at 5-foot-9.
Renda has also proved to be one of the better players in the AFL. On Saturday, he will represent the Nationals in the Fall Stars Game (8 p.m. ET, MLB Network and MLB.com). It is the latest honor for Renda, who was named the Pac-10 Player of the Year in 2011. Washington made him a second-round pick the next year, and he has hit well everywhere the Nats have sent him.
Now, Renda is facing the elite competition of the AFL -- an opportunity which means a lot to him.
"The Nationals are an organization with a lot of really good prospects and a lot of really good ballplayers, and to be in the mix with those guys is great," Renda said. "I'm happy to be out here. When [assistant general manager] Doug Harris told me I was coming out here, I got a big grin on my face, and I was really excited to be here. It's everything I thought it would be."
Most players in the AFL have at least reached Double-A, and many have experience in Triple-A or even the big leagues. Renda hasn't played in the upper levels of the Minor Leagues yet, but he knows this fall will help prepare him for the jump to Double-A Harrisburg next year and could accelerate his ascent to Washington.
Renda said he is simply working hard and trying to take advantage of the opportunity to play more baseball this year.
"I'm just going to compete," Renda said. "Take every at-bat one at-bat at a time, and take the things I was working on in-season and just put them to work out here and keep trying to get better each day -- work hard and hopefully it all works out for me."
Nationals hitters in the AFL
• Catcher Spencer Kieboom, the Nats fifth-round pick in 2012, missed almost all of '13 after undergoing elbow surgery. He returned healthy this season and posted a .852 OPS in 87 games at Class A Hagerstown. Kieboom makes steady contact and shows some power. He is a quality defender behind the plate, with a strong arm and good receiving ability.
• Just 20 years old on Opening Day this season, catcher Pedro Severino was one of the youngest players in the Carolina League in 2014. While he struggled offensively at times, he continued to show off his solid defensive skills. Severino has an above-average arm and is adept at blocking balls thanks to his athleticism. His defensive skills mean he won't have to hit much to carve out a role in the Major Leagues. Severino doesn't have much power, but he has a good approach at the plate.
Nationals pitchers in the AFL
• The Nats tried left-hander Matt Grace as a starter after selecting him in the eighth round of the 2010 First-Year Player Draft, but he has fared much better since moving to the bullpen in '13. He doesn't overpower hitters, but his sinker-slider combination has been especially tough on left-handed hitters. Grace throws his fastball around 90 mph, so his command has to be fine for him to get outs.
• A true sidearmer, Neil Holland has worked his way up to the upper levels of Washington's system since being drafted in the 11th round in 2010. He throws his fastball in the upper-80s with sinking, tailing action. Holland also throws a sweeping curveball and a changeup. His deception helps him succeed, but he doesn't have much margin for error and has had to prove himself at every level.
• Left-hander Felipe Rivero was part of the package the Rays sent to the Nationals in exchange for Nate Karns in February. He spent much of this season on the disabled list due to a sprained elbow, but he returned to action for Harrisburg in August. Rivero throws his fastball in the low-90s and mixes in a curveball and a changeup. He's still learning to repeat his delivery and can be a big league starter if he can harness his raw ability.
• Right-hander Derek Self got stronger and increased his velocity as a senior at the University of Louisville in 2012. Those changes have continued to pay dividends in the Minor Leagues. He throws his fastball in the low-90s with late life. Self has a good feel for his changeup and comes right after hitters. He doesn't miss a lot of bats, but he pitches confidently and generates ground-ball outs.
Teddy Cahill is a reporter for MLB.com. Follow him on Twitter at @tedcahill. This story was not subject to the approval of Major League Baseball or its clubs.