MLB.com Columnist
Jim Callis
Pipeline Inbox: Has Bryant passed Buxton as top prospect?
MLB.com's Jim Callis answers questions about baseball's top youngsters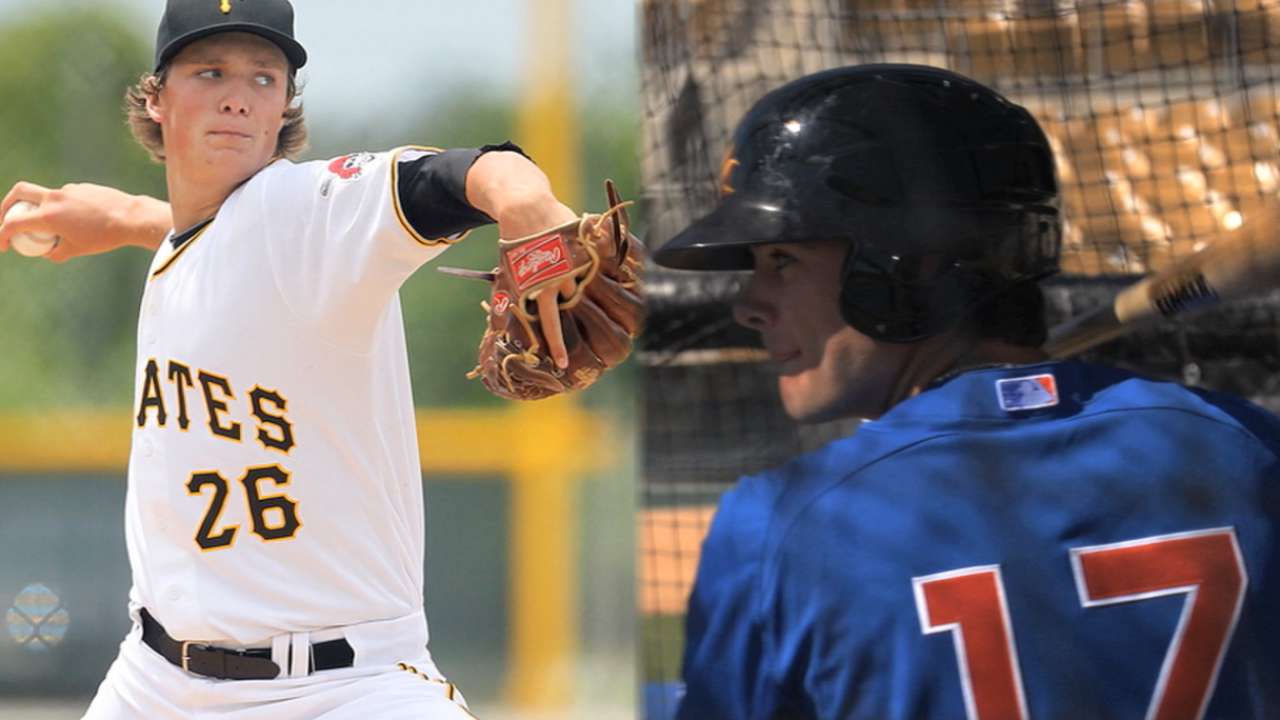 Happy Halloween, everyone! The real treat comes tomorrow, when the Arizona Fall League holds its annual Fall Stars Game. The prospect showcase begins at 5 p.m. MST, and it will be broadcast on MLB Network and streamed live on MLB.com.
Though Twins center fielder Byron Buxton will miss the Fall Stars Game after dislocating and fracturing his left middle finger, several top prospects will be on hand. Those include Indians shortstop Francisco Lindor, D-backs right-hander Archie Bradley, Dodgers shortstop Corey Seager, Pirates first baseman/outfielder Josh Bell and Reds outfielder Jesse Winker.
With Twins center fielder Byron Buxton being injured a lot lately and Cubs third baseman Kris Bryant having the year that he had, is Bryant the new top prospect in the Minor Leagues?
-- Cody S., Des Plaines, Ill..
Buxton has had trouble staying healthy since breaking out as the Minors' most electric player in 2013. He strained his left shoulder swinging a bat in the Arizona Fall League last offseason and played just eight games there, then he was limited to 30 games in the '14 regular season by injuries to both wrists and a concussion. Buxton lasted 13 games in the AFL this time around before getting hurt while diving for a fly ball.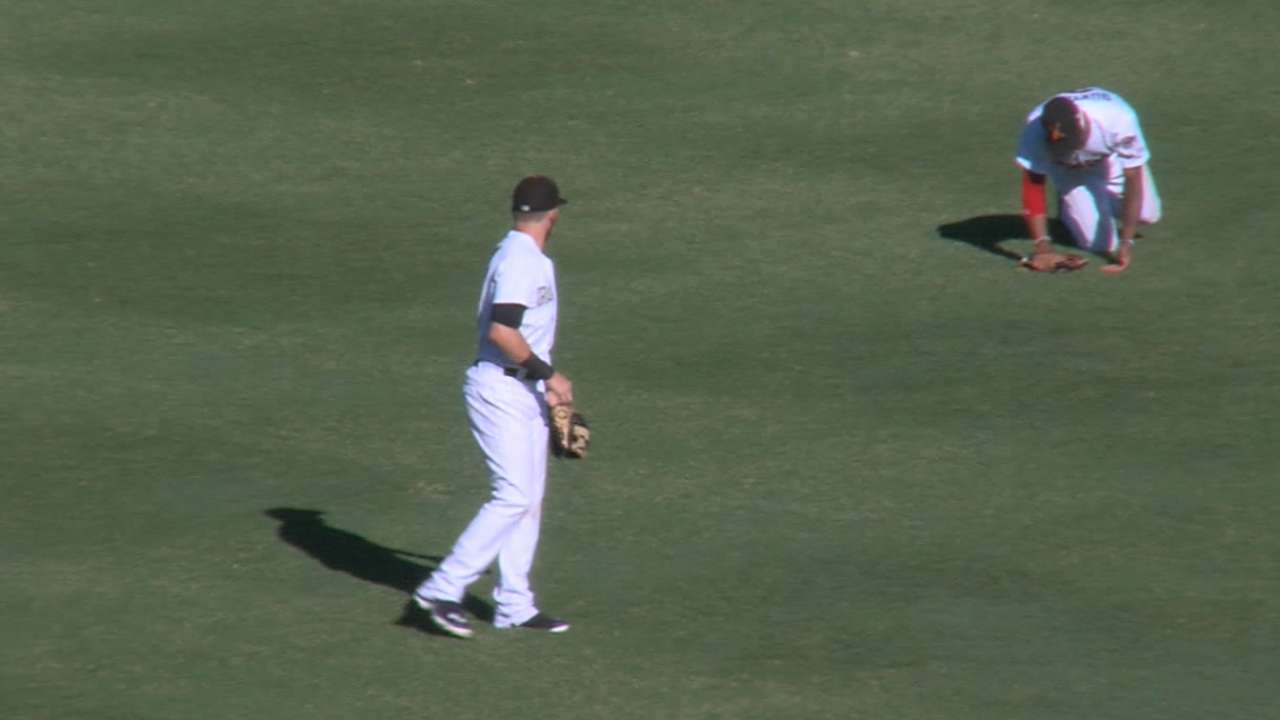 Those injuries are fluky, not chronic, so Buxton's ceiling -- the second coming of Mike Trout -- remains as high as ever. His bat, speed, arm and center-field defense all grade as well-above-average tools, and he could develop plus power as well.
Meanwhile, Bryant -- the best power-hitting prospect in the game -- batted .325/.438/.661 and led the Minors in homers (43), extra-base hits (78), slugging and OPS this year in his first full pro season. He's good enough defensively to remain at third base, though the Cubs' infield logjam eventually could push him to the outfield.
Bryant would be the safer call, because he has proven he can handle Triple-A pitching while Buxton has played just one game above high Class A. Buxton has a more well-rounded game and more upside -- and he plays up the middle. I tend to lean toward ceiling as a tiebreaker and would still go with Buxton as baseball's top prospect.
What were your initial impressions of Joe Panik when the Giants drafted him in the first round? Have they changed since then?
-- Sheila D., Daly City, Calif.
To be honest, I saw Panik as more of a third-round talent when San Francisco made him the 29th overall pick in the 2011 First-Year Player Draft out of St. John's. He was a contact hitter with good plate discipline and not a lot of pop, and his average arm and quickness made him better suited for second base than shortstop, his position at the time. Panik had a high floor but not a huge ceiling.
Three years and one World Series ring later, the same scouting report still rings true. Panik batted .305/.343/.368 as a rookie, though I think he'll settle in more as a .275 hitter with an OPS around .675. He can be a quality defender at second base, as he showed with the crucial double play he started in Game 7 against the Royals.
Panik won't be a star, but he can be (and already has been) a useful player on a contending ballclub. He already has justified the Giants' $1,116,000 bonus investment, even if he didn't have obvious first-round tools.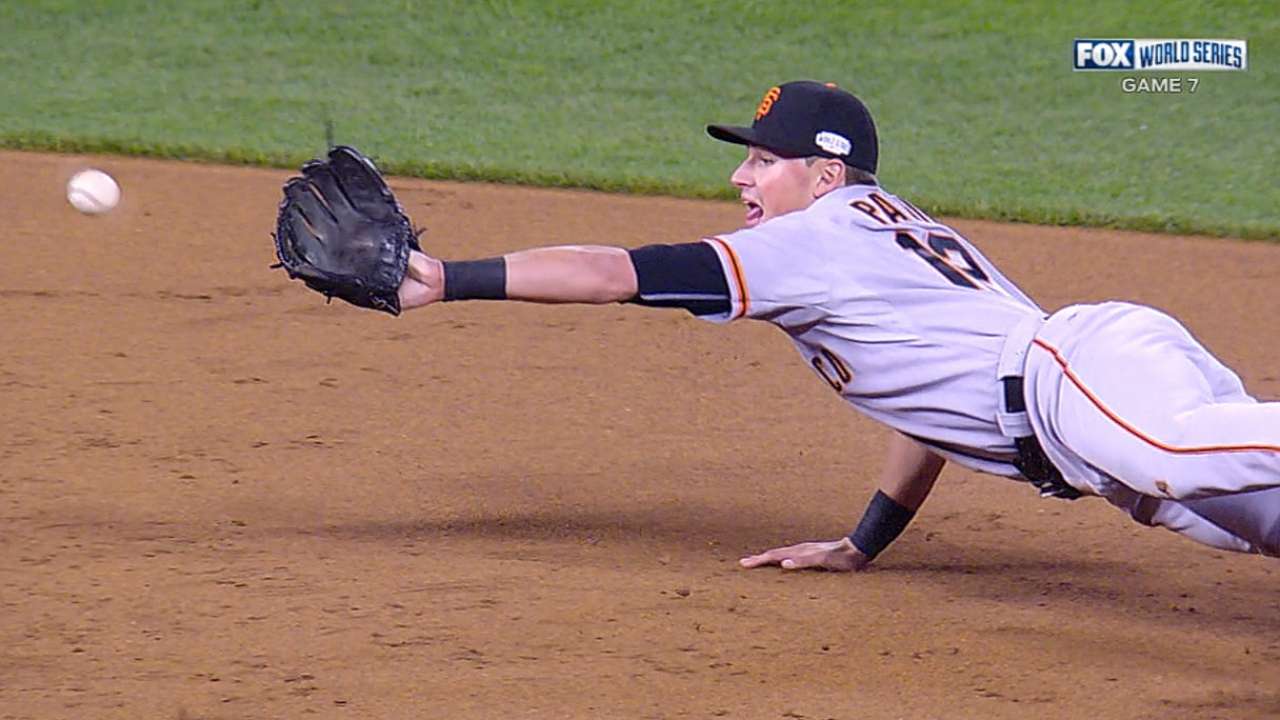 I was thrilled when the White Sox got right-hander Nolan Sanburn from the A's in a trade for Adam Dunn. Do you see him as a starter or reliever?
-- John W., Chicago
I also liked the return Chicago got for Dunn, who was hinting at retiring after the season and made good on that intention. A second-round pick out of Arkansas in 2012, Sanburn was one of the best pitching prospects in Oakland's system.
Sanburn can show four pitches, highlighted by a fastball that can reach the mid-90s and a low-80s curveball. But he's best suited for relief. Sanburn has had more success in that role, and he strained his shoulder when the A's tried to use him as a starter in 2013. His 6-foot, 175-pound frame and his command aren't built for huge workloads, and he's more effective in shorter stints, when he can focus on his fastball and curve.
Sanburn had a 3.28 ERA and 73 strikeouts in 71 1/3 innings in high Class A this year. Keeping him in the bullpen could allow him to reach Chicago at some point in 2016, and he has a ceiling of a set-up man.
What can you tell me about Athletics outfielder Boog Powell? Is this 20th-round pick for real?
-- Michael G., Raleigh, N.C.
No relation to the former American League MVP Award winner of the same name, Powell had a breakout year when he reached full-season ball for the first time in 2014. He hit .343/.451/.435 with 16 steals in 83 games between two Class A clubs and was named MVP of the Midwest League All-Star Game, though he also got nailed with a 50-game suspension for amphetamine use.
Signed for $20,000 out of Orange Coast (Calif.) Junior College in 2012, Powell could have three solid tools -- his bat, his speed and his center-field ability. Some scouts question the length in his swing, wondering how it will play against more advanced pitching. But Powell is making a case for being the best outfield prospect in Oakland's system.
Jim Callis is a reporter for MLB.com and writes a blog, Callis' Corner. Follow @jimcallisMLB on Twitter. This story was not subject to the approval of Major League Baseball or its clubs. This story was not subject to the approval of Major League Baseball or its clubs.