Speed is key for Padres farmhand in pitch-clock game
Smith shows off wheels in Surprise's comeback victory, timed at 2:28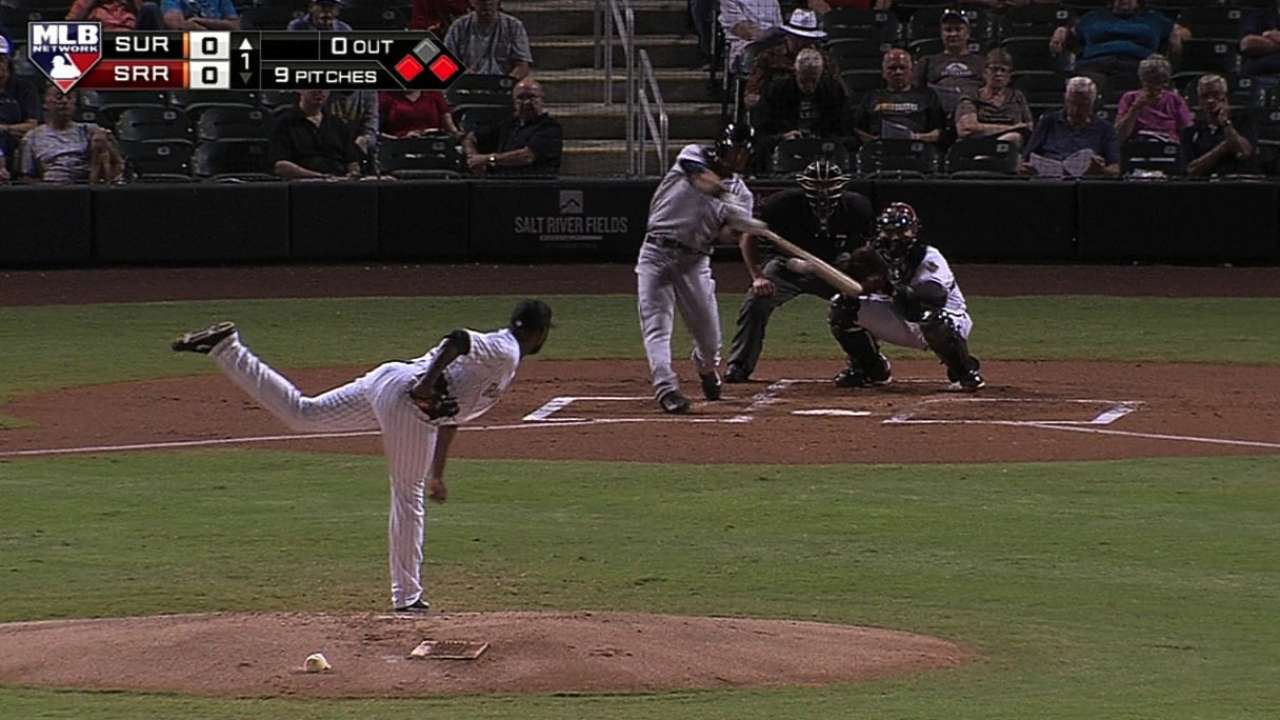 SCOTTSDALE, Ariz. -- Mallex Smith is known for his speed, and his ability to blaze a trail on the basepaths was a key component in Surprise's 5-4 come-from-behind win over Salt River.
Thursday night's game at Salt River Fields was also the ninth in which the 20-second pitch clock -- a new initiative that Major League Baseball's Pace of Game Committee is testing during the Arizona Fall League -- was in effect. With a duration of 2 hours, 28 minutes, the average for pitch-clock games is down to 2:36.
Surprise and Salt River played to an 11-inning tie on Wednesday, and Thursday's game also came down to the wire, with the Saguaros scoring both the game-tying and go-ahead runs in the top of the ninth.
"Feels good," Smith said. "Those guys are pretty good. They're leading their division by a long shot. That's a talented group, and they played hard the whole way through, so that's a good win."
Smith, the Padres' fifth-round pick in the 2012 First-Year Player Draft, notched his third straight multi-hit game in the win, going 2-for-4 with a pair of runs scored.
"Just [trying to] stay within my game," Smith said. "Made a mistake in the outfield, I wanted to find a way to get that run back at the plate. I was just trying to stay within myself, wasn't trying to do too much."
Using his speed, Smith was able to find ways to make things happen offensively for the Saguaros.
Splitting time between Class A Fort Wayne and Class A Advanced Lake Elsinore, Smith played in 120 games in 2014. He hit .310 and racked up 88 steals, so it should come as no surprise that he's flying around the bases in the AFL.
Smith's speed was on display right from the very beginning as he led off the game with a double into the right-field corner.
"I don't know why I stopped," Smith said. "I should have been on [third base], but I stopped. I don't know why."
After a balk advanced Smith to third, his aggressive baserunning once again became apparent. Smith took a couple of big leads, and although he ultimately scored on fellow Padres prospect Jace Peterson's double, the thought of stealing home did cross his mind.
"Sometimes it runs in my mind, but sometimes I just want to get in the pitcher's head," Smith said. "It would have been nice."
Smith, batting .333 in the AFL, beat out an infield single in the fourth and walked in the ninth, advancing to third on a double and scoring the go-ahead run on a chopper to third.
"Everybody's talented here," Smith said. "Nobody really wants to lose. Everybody's tired, but we're here to play, so we're going to take advantage of every opportunity."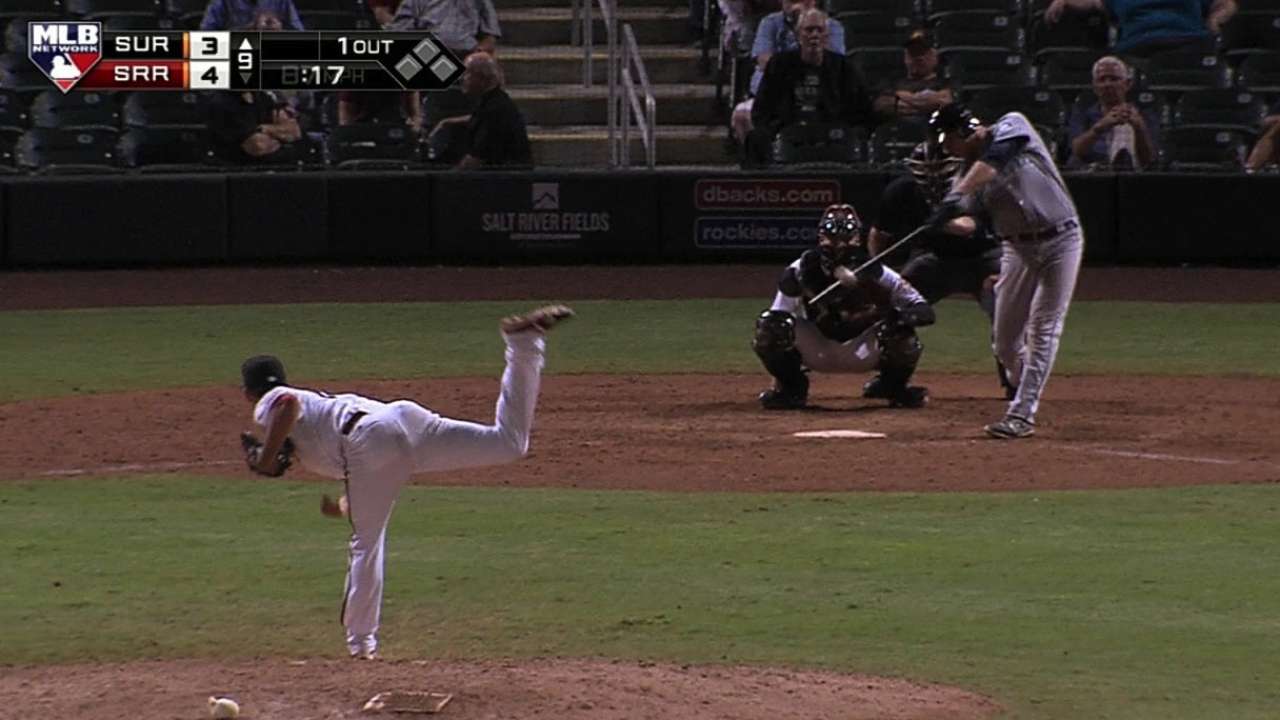 William Boor is a reporter for MLB.com. Follow him on Twitter at @wboor. This story was not subject to the approval of Major League Baseball or its clubs.