Giants' latest title offers questions, answers
Bochy polishes Hall-worthy resume; Romo makes case to return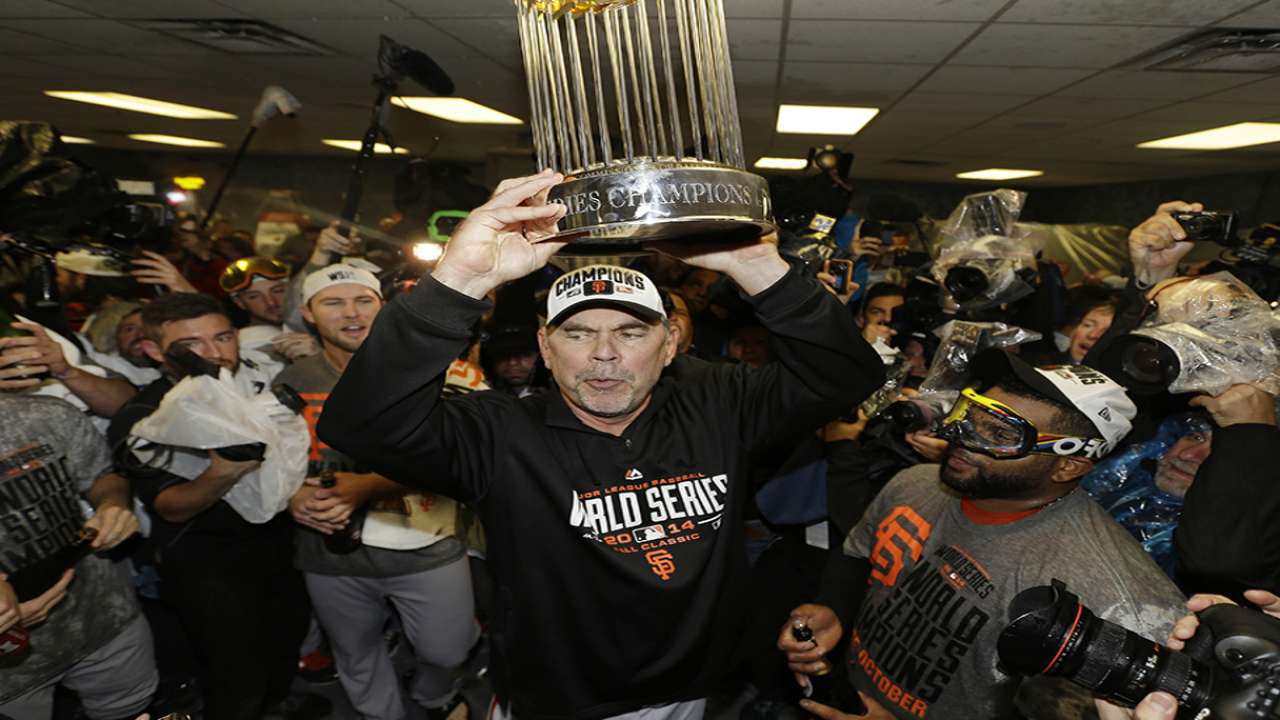 SAN FRANCISCO -- Should a Fortune 500 company hire Brian Sabean as chief operating officer? Is Sergio Romo really gone? Is Brandon Crawford better than everybody realizes? How will Bruce Bochy look in bronze? What we learned about the Giants -- these issues and others -- during their circuitous yet fascinating route to their third World Series title in five seasons are addressed here.
MADBUM: THE BEST?
Watching Madison Bumgarner top off his record-setting postseason with five shutout innings of relief in Sunday's Game 7 prompted general manager Brian Sabean to say, "Now he's arguably, because of this, the best pitcher in baseball."
Chris Sale of the White Sox, Adam Wainwright of the Cardinals and especially Clayton Kershaw of the Dodgers might contest Sabean's remark. But Bumgarner's postseason excellence may have vaulted him past everybody else. Is it any wonder that he seemingly flirts with a no-hitter in every other start during the regular season? He'll get that no-hitter someday, too. Keep watching. You won't have to wait too long.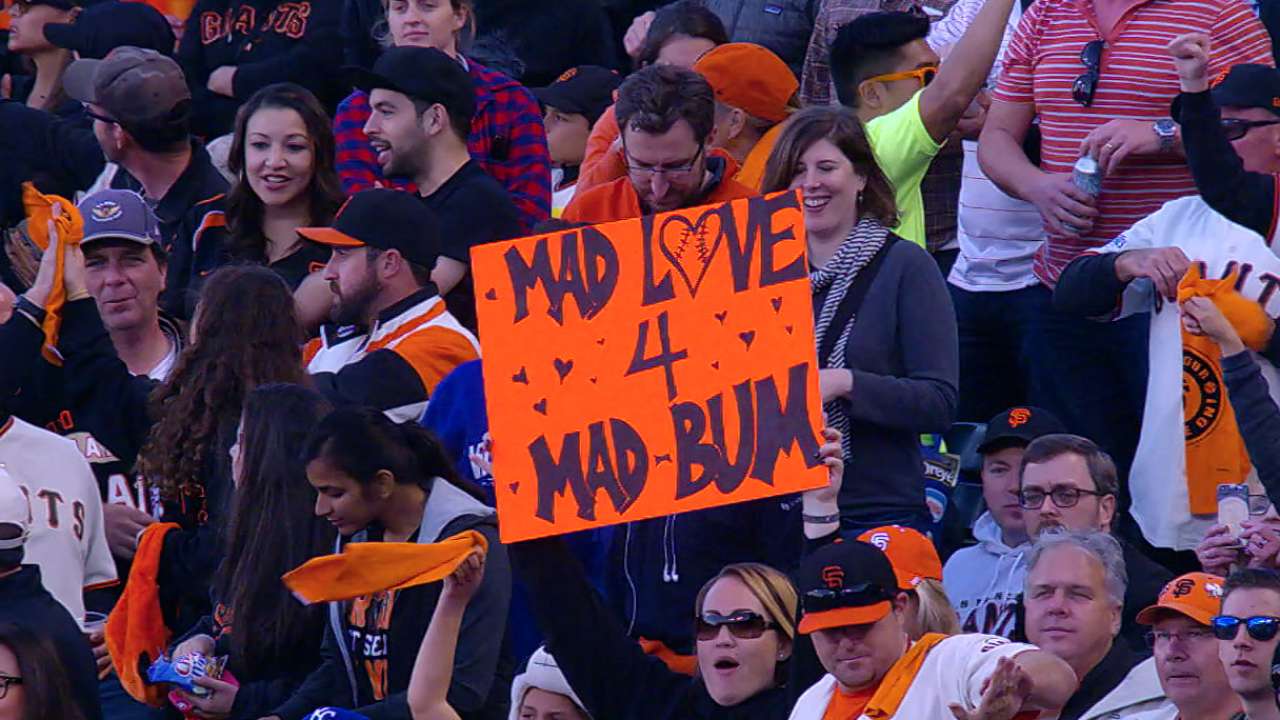 NEXT STOP: COOPERSTOWN
Start with the easy one. Bochy someday will gain election to baseball's Hall of Fame. This is a no-doubter, due to the company Bochy has joined. Only nine other managers have won three World Series. All joined baseball's immortals by receiving a plaque in Cooperstown. Bochy will not be an exception.
Maybe he'll receive extra credit for leading Series-winning teams that each had different leadoff batters, had different closers and clinched on the road.
Bochy isn't overly unconventional or innovative. However, he combines basic managerial fundamentals better than most of his counterparts. He never criticizes players publicly. He consistently puts players in position to succeed, which is another way of saying that he doesn't ask them to do things they struggle to do. For example, he won't order a poor bunter to lay one down or leave in Javier Lopez to face a particularly dangerous right-handed batter.
Bochy thinks ahead. He's rarely, if ever, caught by surprise strategically by other managers. One Giants coach marveled about Bochy's powers of observation, such as when he noticed an opposing catcher's difficulty in handling pitches during between-innings warmups. The Giants, who aren't known for daring baserunning, ran this poor catcher ragged at Bochy's behest.
Like all effective leaders, Bochy delegates authority. Each member of his staff has his own set of responsibilities and is given autonomy in carrying out his duties. On a handful of teams, for instance, the first-base coach does little more than throw batting practice and stand in the coaching box during games. By contrast, the Giants' Roberto Kelly tutors players in baserunning and outfield technique. Bochy makes sure everyone has a role. That includes each player on his 25-man roster.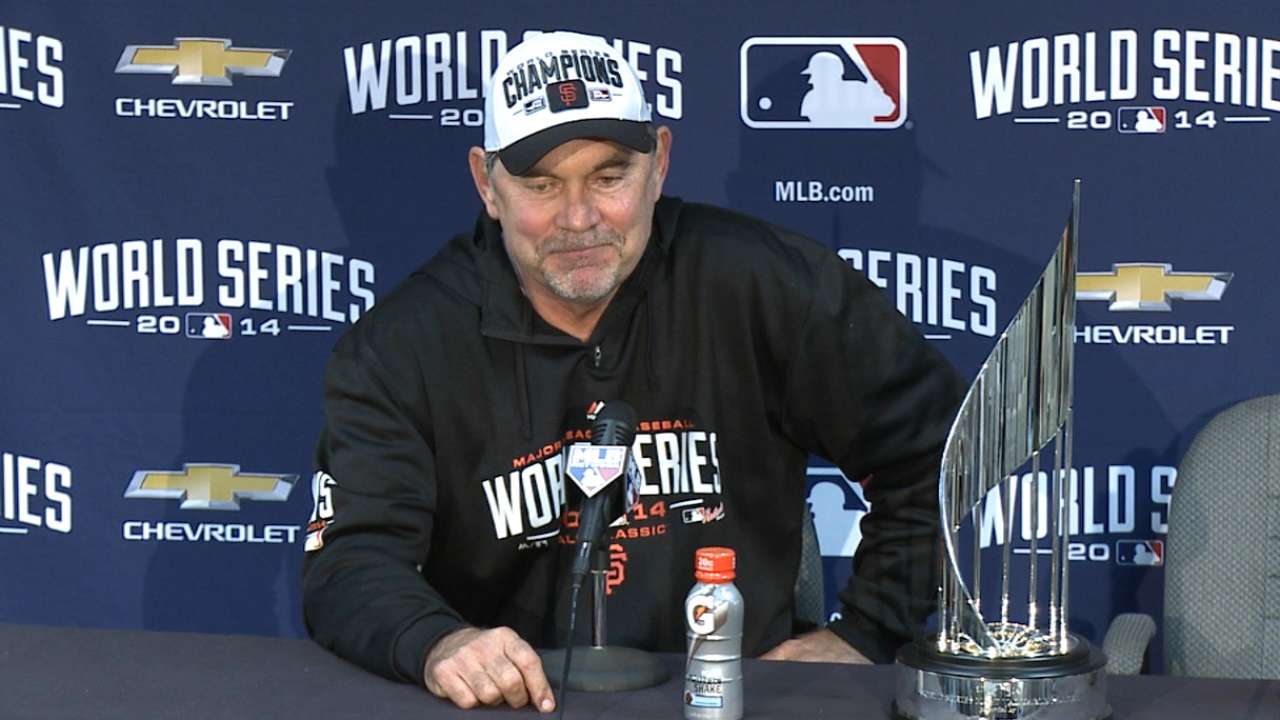 LEADER OF THE PACK
Maybe the wrong Bay Area baseball franchise was celebrated in a best-selling book and a feature film that grossed more than $100 million worldwide. Certainly the Oakland A's and general manager Billy Beane offered a compelling story for the world to absorb with "Moneyball." The Giants are perceived as the anti-A's, and yet San Francisco's the team that keeps ordering championship flags and rings.
As the Giants' GM, Sabean has created a culture in which many baseball-operations employees don't want to leave the organization. He asks for unswerving loyalty, but he also reciprocates it. The resulting "collective collaboration," as Sabean called it, helps the Giants act in concert when reaching a baseball-related decision.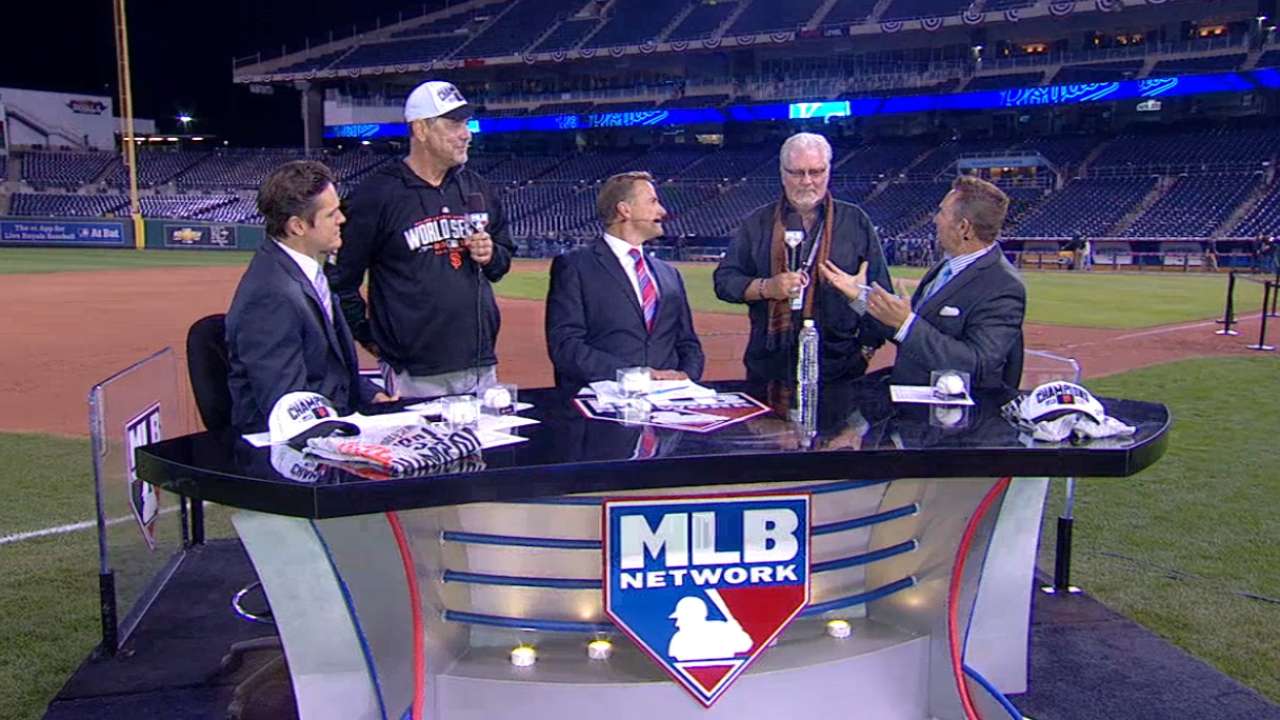 WHEREFORE ART THOU, ROMO?
Romo has been regarded for most of the season as good as gone for 2015. His impending free agency prompted this notion, and his removal from the closer's role in June furthered it. However, the Giants' top relievers demonstrated the bullpen's nature. During the postseason, left-handers Jeremy Affeldt and Lopez and righties Romo and Santiago Casilla subdued opponents by throwing at varying velocities, from multiple arm angles and with differing degrees of movement. Allowing Romo to walk would upset this equilibrium. After a postseason in which he recorded a 1.29 ERA in nine appearances, his departure is no longer a certainty.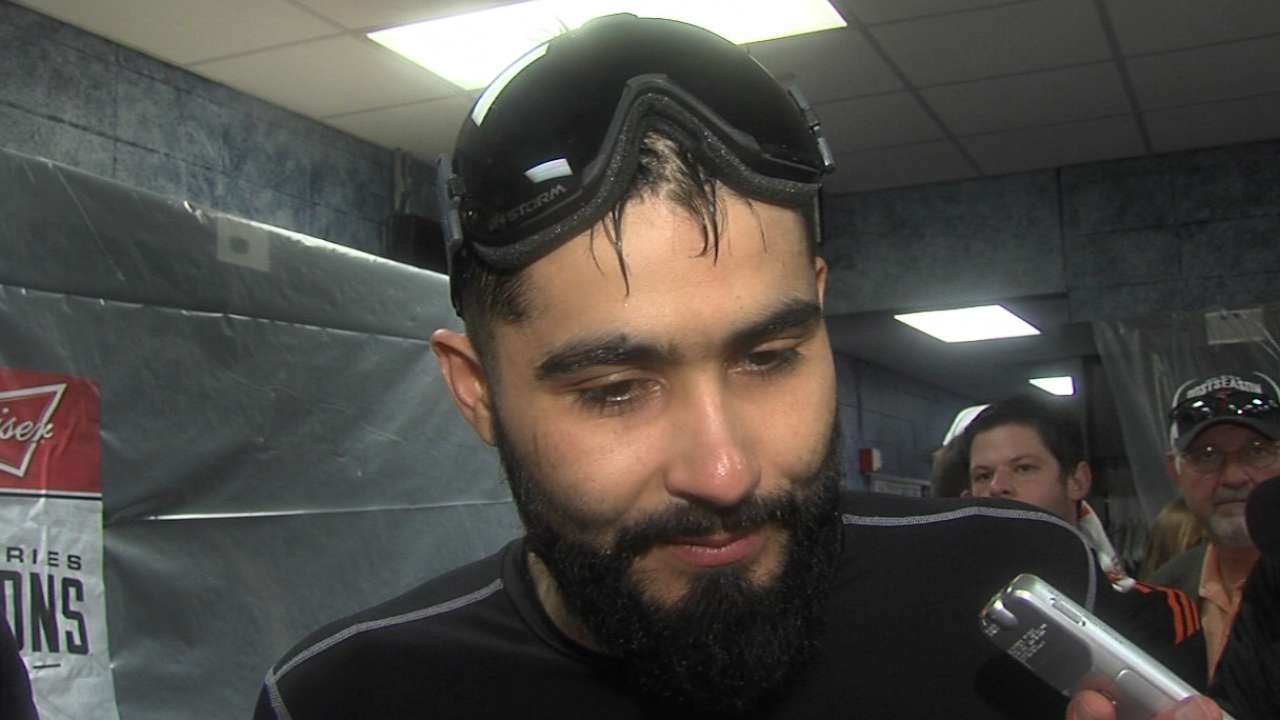 ROTATION OFF ITS AXIS
The starting rotation is a different matter. The Giants must find a pitcher or two who can bolster a staff currently composed of Bumgarner and a bunch of question marks. Jake Peavy, who's a free agent, and Tim Hudson, who has a year remaining on his contract, sustained impressive stretches during the regular season but lacked reliability in the postseason. Bochy insisted that Ryan Vogelsong experienced unusually bad luck this year, but whether the Giants consider that in evaluating his value as a free agent is questionable at best. Unless the Giants want a rotation compared of Bumgarner and a collection of No. 5 starters (barring a complete comeback for Matt Cain and improvement from Tim Lincecum), they'll have to seek upgrades.
Free agency offers the typical array of starters with histories of injury or ineffectiveness, or who are just too expensive. A small sampling: Brett Anderson, A.J. Burnett, Aaron Harang, Jon Lester, Colby Lewis, Francisco Liriano, Brandon McCarthy and James Shields.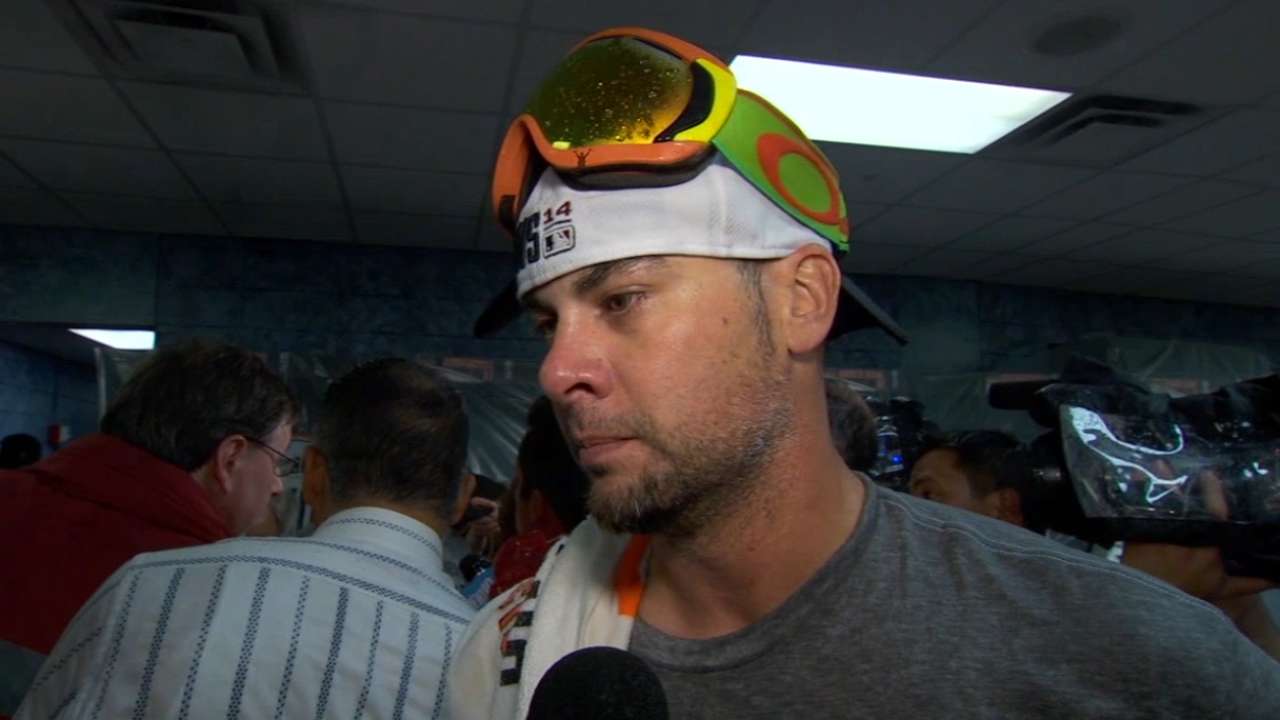 LOVE THE GLOVE
During the Giants' first World Series stop in Kansas City, a Giants coach asked a reporter, "So what do you think of our shortstop? That was his way of saying, "Brandon Crawford is a heck of a player, isn't he?"
This corner of the baseball world has believed for quite a while that Crawford is vastly underrated. Statistically, by traditional or modern measures, Crawford falls short of many shortstops. His .967 fielding percentage ranked 10th among NL shortstops, and he was in the middle of the pack in range factor and defensive WAR.
But, as Charlie Brown grumbled in the "Peanuts" comic strip, "Lucy, tell your statistics to shut up." Crawford deftly adjusted to working with various second basemen before Joe Panik arrived. He constantly handles tough hops that might not look challenging unless they're viewed live. He's unquestionably athletic and acrobatic, qualities which should help him remain an asset to the Giants for many seasons.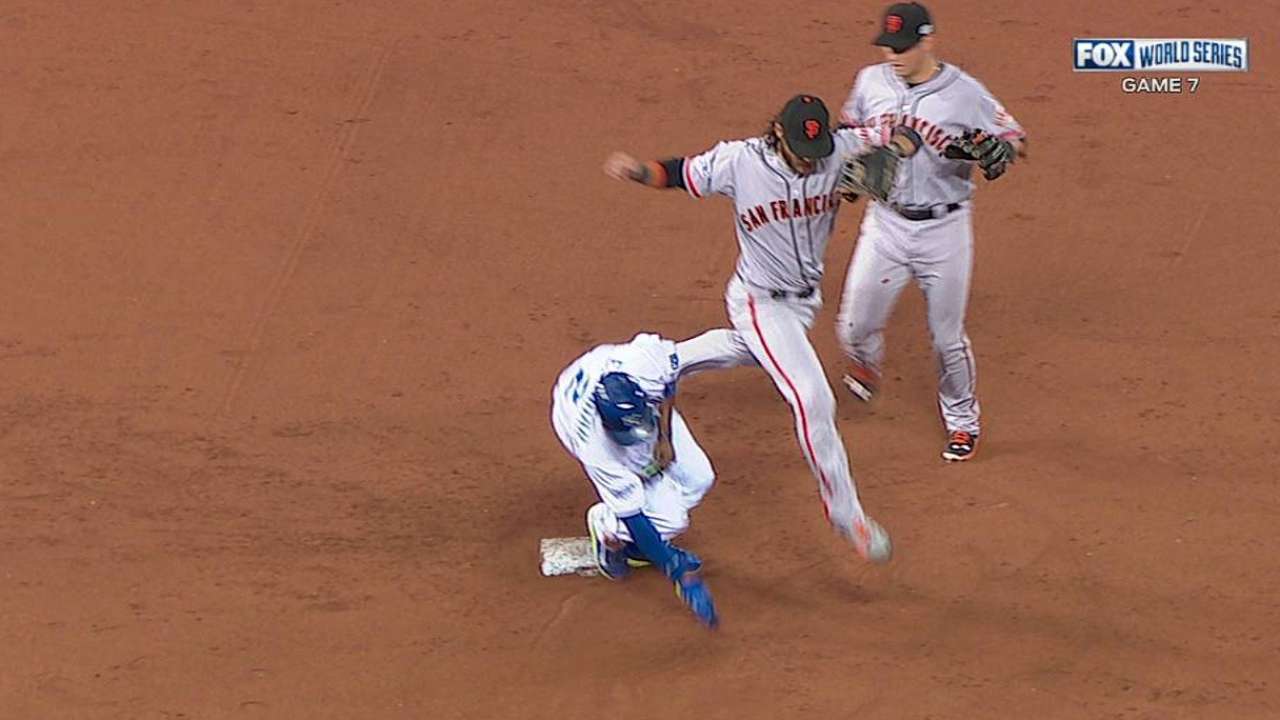 Chris Haft is a reporter for MLB.com. Read his blog, Haft-Baked Ideas, and follow him on Twitter at @sfgiantsbeat. This story was not subject to the approval of Major League Baseball or its clubs.