MLB.com Columnist
Jonathan Mayo
Dozier heads KC's prospect class in Fall League
First-round pick in 2013 continuing transition from shortstop to third base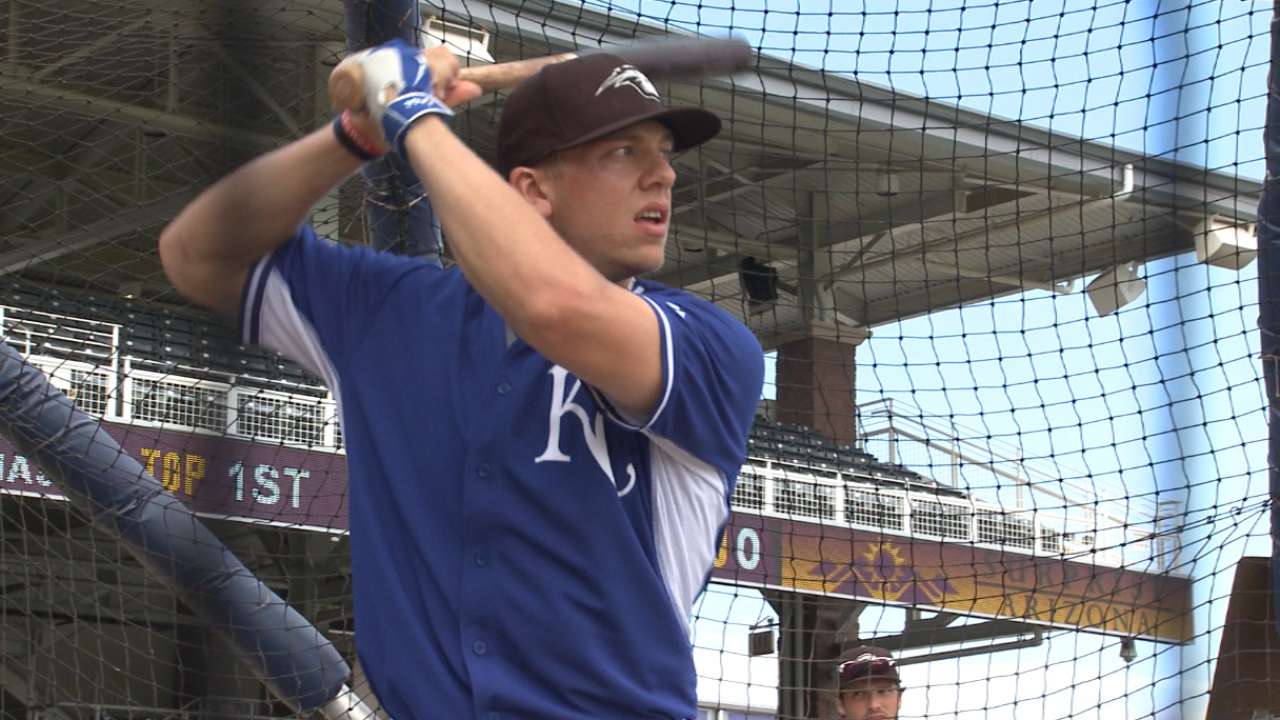 The Kansas City Royals' dream season may have finished just short on Wednesday night, but that doesn't mean there isn't still hope for the loyal fan base.
It might not ease the sting of the Game 7 loss immediately, but the prospects currently participating in the Arizona Fall League hope to continue a pipeline of talent up to Kansas City that will help make a Royals postseason run a normality rather than a once-in-three-decades occurrence.
Hunter Dozier hopes to be one of those prospects who gets there soon. After spending half the year in Double-A in his first full season of pro ball, it certainly seems like the Royals' No. 4 prospect (No. 86 overall) is on a fast track. The No. 8 pick in the 2013 First-Year Player Draft struggled after that promotion to Double-A as his strikeout rate went up and his walk rate decreased compared to his strong numbers in the Class A Advanced Carolina League. He's hoping his time with the Peoria Javelinas will help him learn how to handle the higher level of pitching he saw in the Texas League and will continue to see as he moves up.
"Those guys, they know how they want to pitch to you," Dozier said of the competition he faced in Double-A. "If you swing at a curveball in the dirt, they're going to keep coming back to it. It's all about making adjustments. That's why I'm out here, trying to make adjustments and trying to get better."
Dozier knew right at the outset of the Fall League that he was in for a challenge. In Peoria's opener against Surprise, Dozier and company faced the Mariners' Taijuan Walker, the young right-hander who has shown he has the stuff to succeed at the big league level. It's exactly what Dozier was seeking.
"He's a heck of a pitcher," Dozier said. "It was fun facing him. I know we're going to face more guys like that, and it's going to be fun."
He's also continuing the transition to third base after playing shortstop throughout his career at Stephen F. Austin State University. The move to the hot corner began almost immediately, with Dozier playing third regularly during his summer debut. In 2014, he was there exclusively, and all reports were that he has everything needed to be a solid defender. A sign of those efforts paying off is when it looks like the switch is going smoothly.
"I've had to work at it pretty hard," Dozier said. "A lot of good coaches have helped me a lot. The ball gets on you a little quicker than at short. I'm trying to work at it, getting better every day."
Add in raw power that will be tapped into more consistently as he makes those adjustments at the plate and Dozier could very well fit the profile most Major League clubs are looking for from his position. The AFL, he feels, will help him get closer to fulfilling that potential.
"I'm just getting used to facing these types of pitchers," Dozier said. "In Double-A, we saw a lot of good arms. I'm just getting more at-bats against those guys, laying off the off-speed pitches in the dirt, just getting better and more consistent."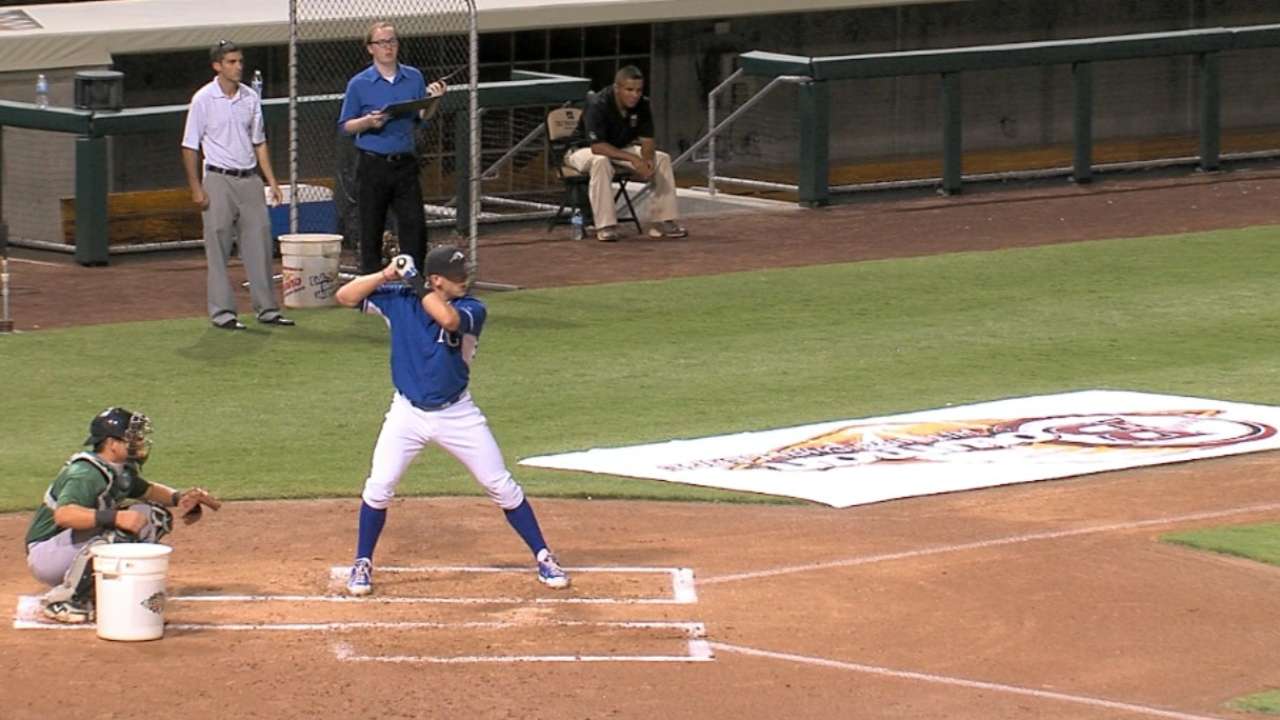 Royals hitters in the AFL
At age 19, Raul Adalberto Mondesi is one of the youngest performers in the Fall League. It's something the Royals' top prospect, and son of former big leaguer Raul Mondesi, is accustomed to, already spending the year in the Class A Advanced Carolina League, much of it at age 18. He needs to refine his approach at the plate, but that should come with maturity and experience.
The No. 5 pick in the 2011 Draft, Bubba Starling has yet to turn his considerable raw tools into consistent performance. An outstanding outfielder who can run well, Starling is continuing to work on his approach at the plate, with the hope that his time in the AFL could help prepare him for the next level.
Royals pitchers in the AFL
Though he's just 21, Miguel Almonte's combination of stuff and feel for pitching has the Royals excited. A 2013 Futures Game selection, Almonte finished his 2014 season in the Carolina League strongly, and the right-hander is working this fall to get ready for the jump to Double-A. The fastball and changeup are ready, but will the breaking ball be?
A starter for much of his pro career since being drafted in 2012, lefty Sam Selman began making a move to the bullpen in July. He took to it well, even earning a late promotion to Triple-A. He's continuing his relief work in the AFL, and his fastball-slider combination should work well in shorter stints.
Daniel Stumpf joined the Peoria pitching staff when Kyle Zimmer was shut down with a shoulder problem. The left-hander was a starter throughout his first full season in 2013, but he also moved to the bullpen in late May, with the hopes of developing into a middle reliever or lefty specialist.
The numbers for Ali Williams after arriving at Double-A in 2014 may not look great (5.18 ERA), but he still continued to miss bats (10.4 K/9 ratio). Command is his biggest enemy. If he can refine that, his fastball-breaking ball combination could land him in a big league bullpen. He's Rule 5 eligible this year, so it could happen sooner rather than later.
Jonathan Mayo is a reporter for MLBPipeline.com and writes a blog, B3. Follow @JonathanMayoB3 on Twitter. This story was not subject to the approval of Major League Baseball or its clubs.