Davies continues dealing in Fall League play
Baltimore's No. 8 prospect throws five scoreless innings, allows two hits in Glendale win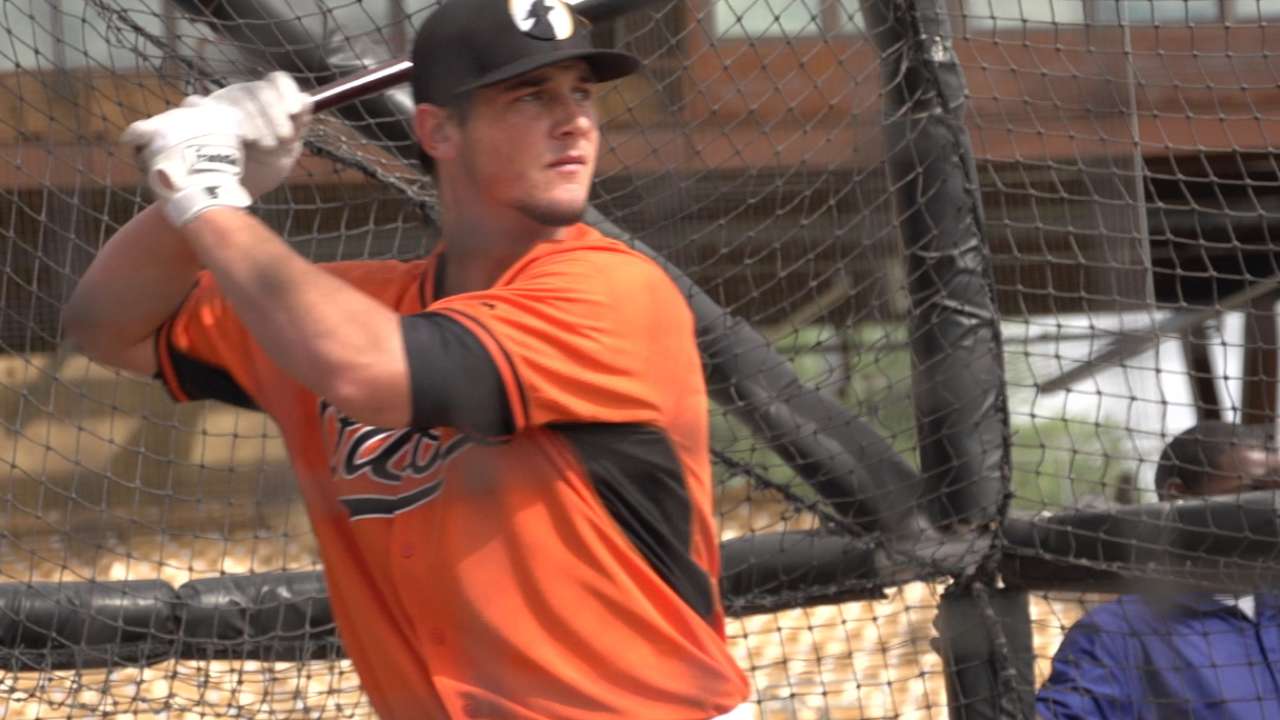 In his first few starts in the Arizona Fall League, the timing of right-hander Zach Davies' delivery was off. It showed in his results, as he allowed four runs on four hits and five walks in 4 2/3 innings.
Davies has since ironed out his delivery and has returned to form. That continued Thursday, as he threw five scoreless innings and Glendale defeated Peoria, 4-1.
Davies, the Orioles' No. 8 prospect, hasn't allowed a run in 15 innings. Thursday, he struck out four batters and held the Javelinas to two hits and two walks. He worked efficiently, throwing 43 of his 64 pitches for strikes and creating five ground-ball outs.
"Today was just throwing strikes and having the defense work for me," he said. "I tried to stay out of the middle of the plate as much as I could and have them put the bat on the ball, but not where it could hurt me."
With his start Thursday, Davies improved to 1-0 with a 2.04 ERA. He has struck out 18 batters and walked 10 in 17 2/3 innings.
Davies' solid performance is a continuation from the regular season with Double-A Bowie. The 21-year old went 10-7 with a 3.35 ERA and 109 strikeouts in 110 innings for the BaySox. He didn't throw enough innings to qualify for the Eastern League ERA title, but if he had, he would have ranked seventh. It would have been the third straight year to begin his career that he had posted at top-10 ERA in his league.
One of Davies' goals for the fall is to make up some of the innings he missed and get as close as possible to matching the 148 2/3 innings he threw in 2013 innings count. He is also working on his slider, which he recently began throwing again after the Orioles instructed him to focus on developing his curveball early in his career.
"For fall, I'm working on my slider, trying to get that extra pitch in there and get another look," he said. "Get work against all the great hitters here in the fall league."
Despite Davies' strong start Thursday, he had to settle for a no-decision. Mike Thomas relieved him to start the sixth and Peoria scratched a run out against the left-hander, when Cody Stanley brought Jordan Smith home from third with a groundout to second base.
But the Javelinas could muster no more offense. Thomas and fellow left-handers Michael Strong and Joe Mantiply held them scoreless for the final three innings, allowing the Desert Dogs to retake the lead.
Peoria finished the game with six hits. Third baseman Hunter Dozier, the Royals' No. 4 prospect, was the only member of the Javelinas to reach base twice, going 1-for-3 with a walk.
Glendale's offense also struggled in the early going. Right-hander Dylan Baker, the Indians' No. 15 prospect, held the Desert Dogs to one run on five hits in three innings and relievers Ryne Harper and Nick Maronde combined for three scoreless innings.
The Desert Dogs pushed ahead in the seventh. Scott Schebler led off the inning with a double and Hector Gomez followed with a single to bring him home and retake the lead. Glendale scored again when Garabez Rosa doubled to drive in Gomez and then added another insurance run in the ninth.
Rosa, Davies' teammate this year in Bowie, finished the game 3-for-4 with a run and an RBI. Shortstop Tim Anderson, the White Sox No. 2 prospect, went 2-for-5 with a double.
Davies said that even in the low-pressure environment of the AFL, he enjoys watching late-inning rallies.
"It's serious but it's not the same kind of pressure that you get during the season." He said. "Guys are showing off their talent and it's fun to watch a lot of the guys play out here."
Davies is also enjoying the chance to play back in Arizona. He grew up in suburban Phoenix and graduated from Mesquite High School in Gilbert, Ariz., less than an hour from Camelback Ranch, the Desert Dogs' home stadium.
"I get friends and family out here who get a chance to see me play," Davies said. "I haven't had that since high school."
Teddy Cahill is a reporter for MLB.com. Follow him on Twitter at @tedcahill. This story was not subject to the approval of Major League Baseball or its clubs.