Talent in KC on display during improbable year
Royals came up just short, but brought national attention to Kansas City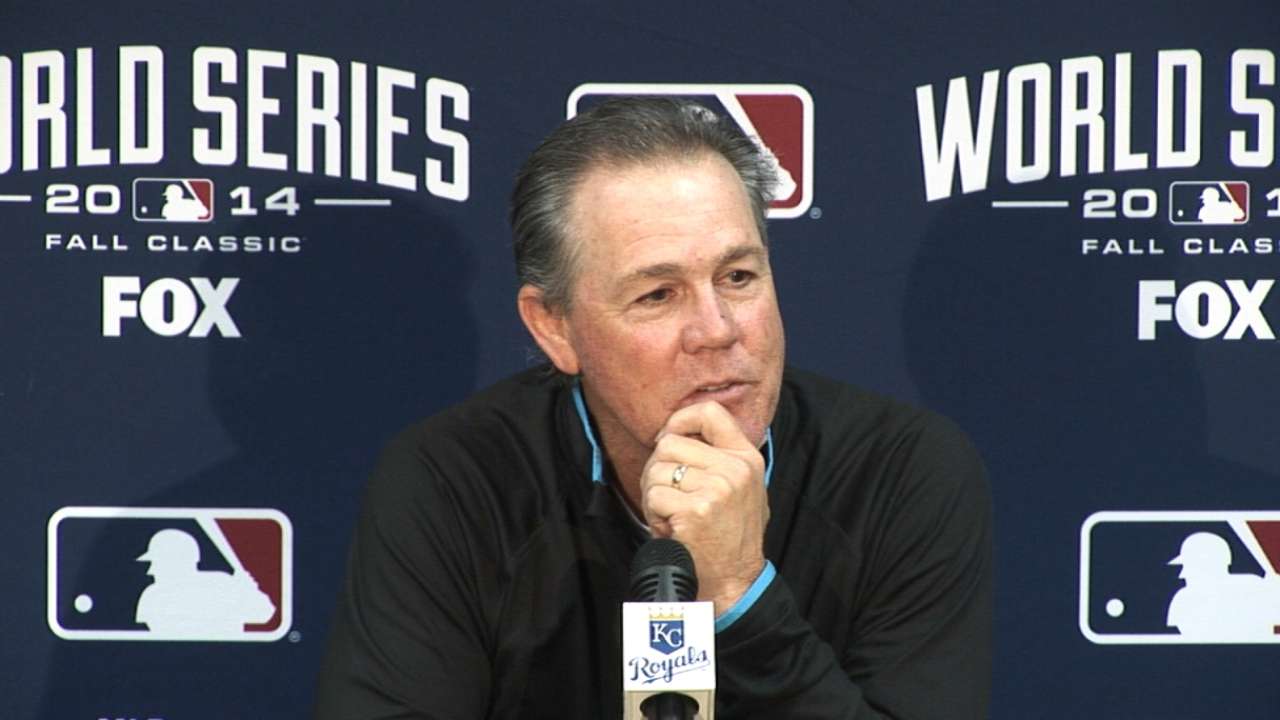 KANSAS CITY -- Honestly, not even fervent Royals believers might have forecast this: The team took the 110th World Series right down to the final out before turning loose of their finest and most improbable season in 29 years.
"The word wasn't 'improbable' for me, it was more like 'magical,'" manager Ned Yost said.
The Royals fell short of the American League Central title but secured a Wild Card berth and then won a wild, extra-inning game over the A's. That ignited a firestorm -- a three-game sweep of the Angels in the AL Division Series and a four-game sweep of the Orioles in the AL Championship Series.
"When you're matching up against the Angels, as tough as they are, it's a daunting task, and to win that series in a sweep was unbelievable," Yost said. "Then you match up with Baltimore ... with their pitching, their bullpen and their power, starting off in their park and to sweep them. That's when I knew that something special was happening here. Even though we were celebrating winning the American League, it was still kind of surreal at that time. It really sunk in, I think, the first game of the World Series."
The battle with the Giants went the distance, with Alex Gordon perched at third base and representing the tying run when Madison Bumgarner threw his final devastating pitch in Game 7 of the Fall Classic.
"We were 90 feet away from winning a world championship in my mind after a long, long year," Yost said. "And that hurts, that's disappointing."
The road to the World Series had a false start in June when a 10-game winning streak secured the Royals first-place status at mid-month. The Tigers tolerated it for three days, then re-took the lead as the Royals spun into a funk. A little over a month later, Kansas City was third and eight games behind.
It was about this time, on July 22 at Chicago, that the Royals players decided to have a meeting -- without Yost and his staff -- to do a little soul-searching and sort things out. Whatever words were spoken, they seemed to work, because the club was 30-12 after that through Sept. 7 and was in first place.
Then came the chase to the wire.
The champagne corks were popped for the first time since 1985 on Sept. 26 at Chicago after a 3-1 victory over the White Sox. The Royals had clinched at least a Wild Card berth which, in the end, is what they got, because the Tigers clinched the Central title on the regular season's final day. The corks kept popping longer than almost anyone had guessed.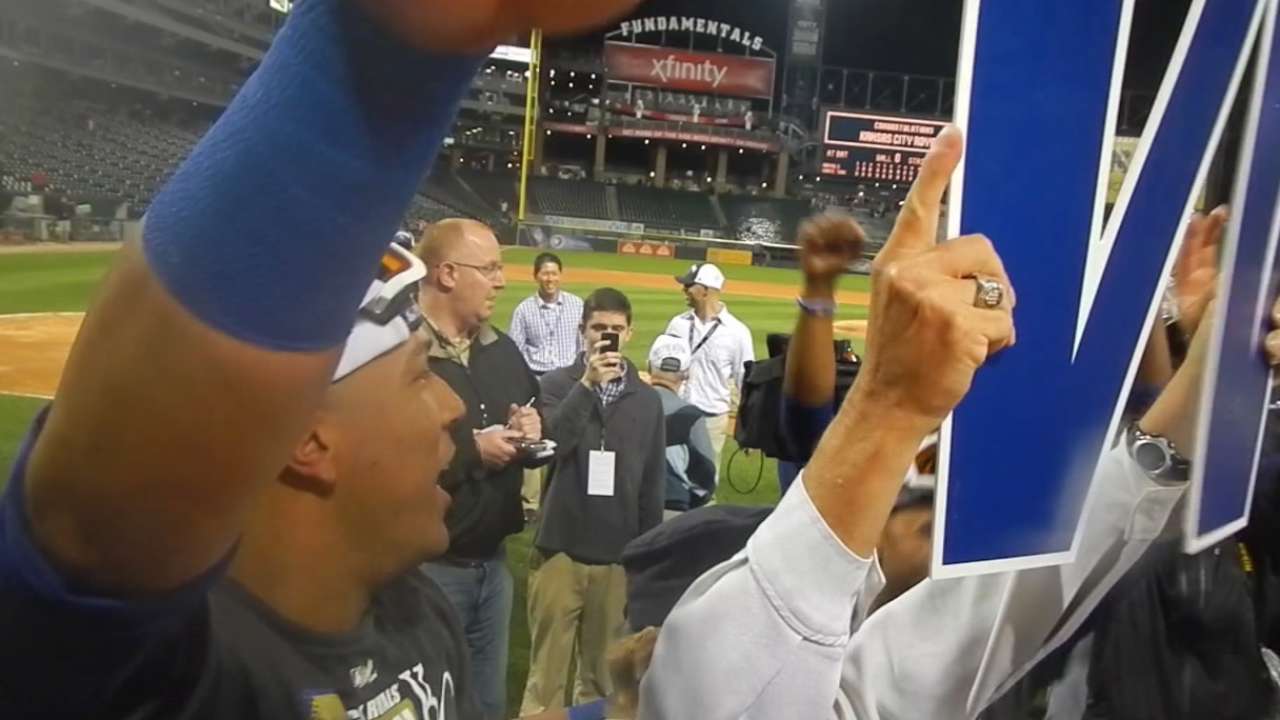 And a nation largely unaware of the talent that was developing in Kansas City paid attention.
"I think the country got to know these guys, see what they're about and really this organization has made a lot of new fans throughout the country," Yost said. "What was more impressive than that was the country got to see that Kansas City is a phenomenal baseball town."
Record: 89-73, second in the AL Central.
Defining moment: Jarrod Dyson's back flip in center field after catching the final out of the 3-2 victory over the A's on Aug. 11 at Kansas City was a symbol of the exuberance and energy of this determined 2014 club. It also celebrated the Royals' move past the Tigers into first place. They would hold that spot for the next month, establishing themselves as legitimate contenders for a postseason berth. The win itself was typical: achieved by clutch singles, a great diving catch by Gordon, six strong innings by starter Yordano Ventura and one scoreless inning each by relievers Kelvin Herrera, Wade Davis and Greg Holland.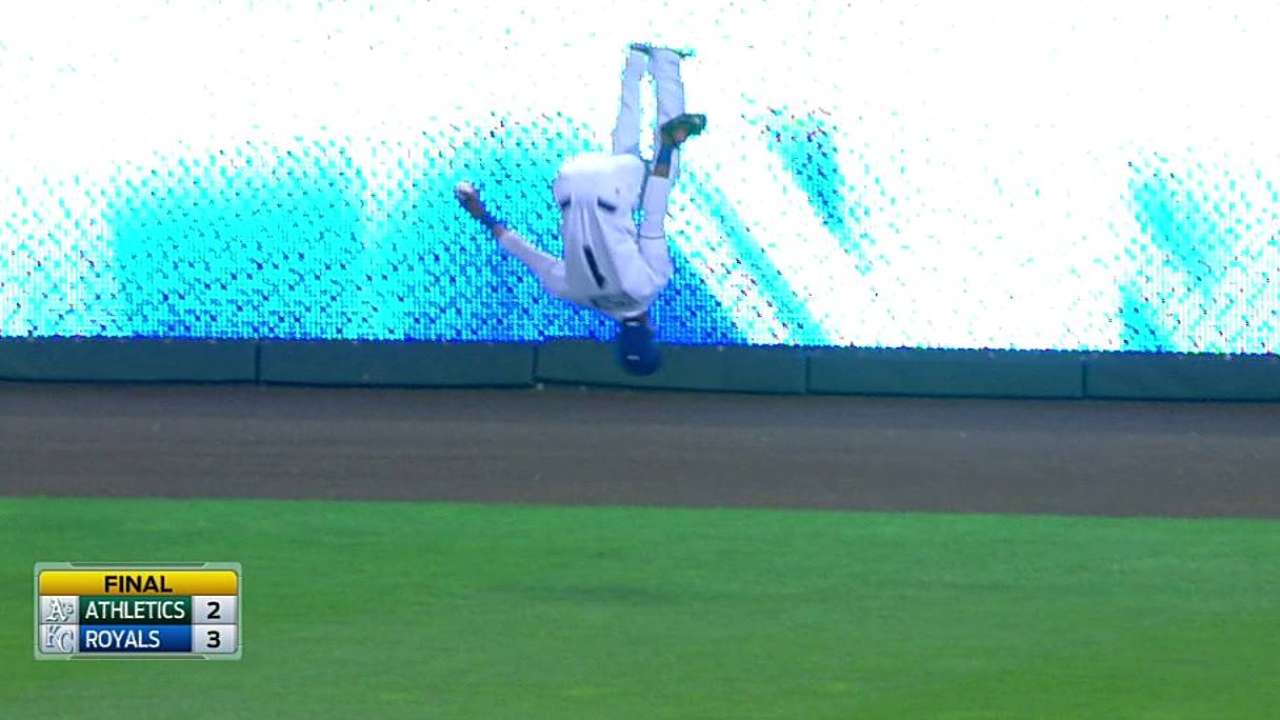 What went right: The starting rotation was strong from the beginning, with Jason Vargas melding nicely with holdovers James Shields and Jeremy Guthrie. Ventura was a rock as a rookie, and Danny Duffy's arrival added strength. The bullpen backend became unbending after Herrera became the seventh-inning regular, joining setup man Davis and closer Holland. The defense, with three Gold Glovers in catcher Salvador Perez, first baseman Eric Hosmer and left fielder Gordon, was superb. The team exploited its speed with Dyson, Alcides Escobar, Lorenzo Cain, Nori Aoki and Gordon and led the league with 153 stolen bases. Yost always said this was a good second-half team, and that was borne out during the 30-12 surge that started in July.
What went wrong: Nobody expected this club to overwhelm the league with power, but being a distant last in home runs and ninth in the AL in run scoring was not what the Royals had in mind, either. They struck out fewer times than anybody in the AL, but also walked fewer times. Things were so bleak offensively that in late May, the club changed hitting coaches, from Pedro Grifol to Dale Sveum.
Designated hitter Billy Butler struggled most the year (except for August when he played first base for the injured Hosmer). Bruce Chen had a tough time starting, then was hurt and eventually was released. A promising 10-game winning streak and first-place status in June gave way to an immediate 2-7 skid and eventually a tumble to third place in mid-July.
Biggest surprise: The shock isn't that Davis wound up in the bullpen instead of starting, but that he was able to maintain such incredibly efficient consistency in his success. His eighth-inning performances were masterful. He not only had a ridiculously low ERA of 1.00, but had the longest scoreless streak (31 2/3 innings) and most strikeouts (109) of any reliever in team history.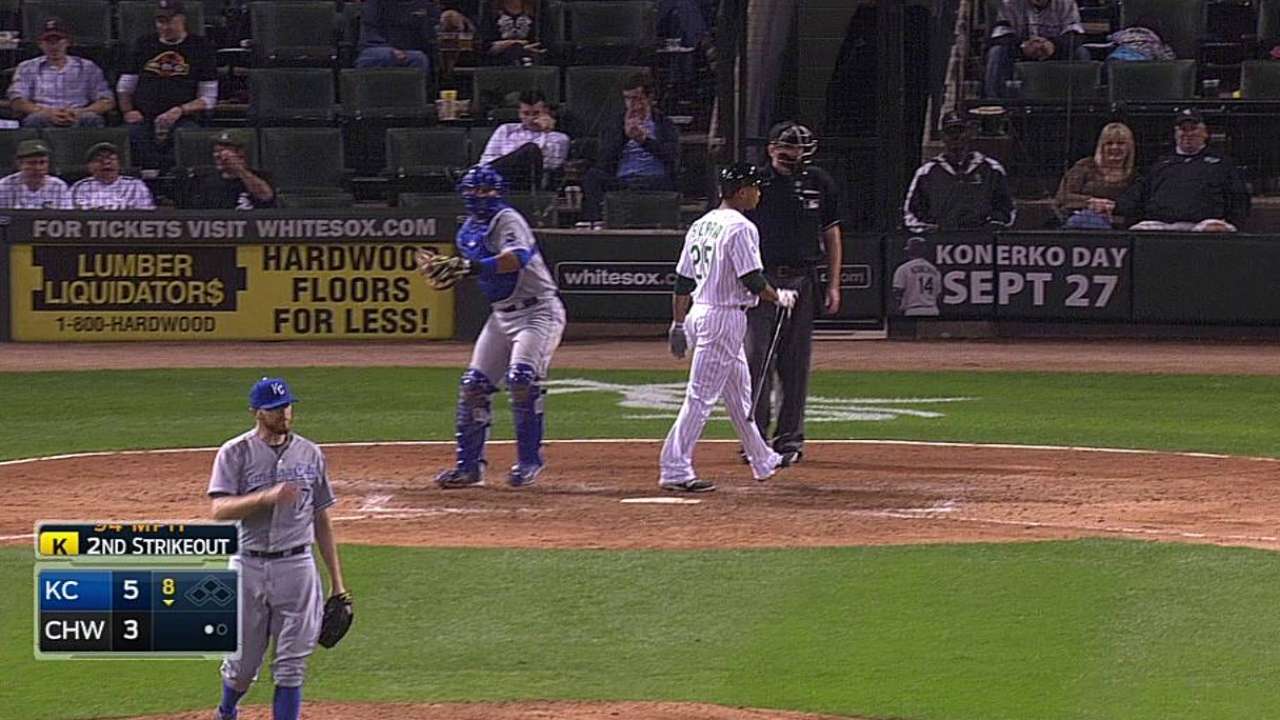 Hitter of the Year: Gordon didn't approach the .300 mark, but he led the club with 19 home runs, 74 RBIs and hitting with runners in scoring position -- .338, which was sixth-best in the league. Example of his clutch hitting: a two-run walk-off home run against Twins closer Glen Perkins on Aug. 26.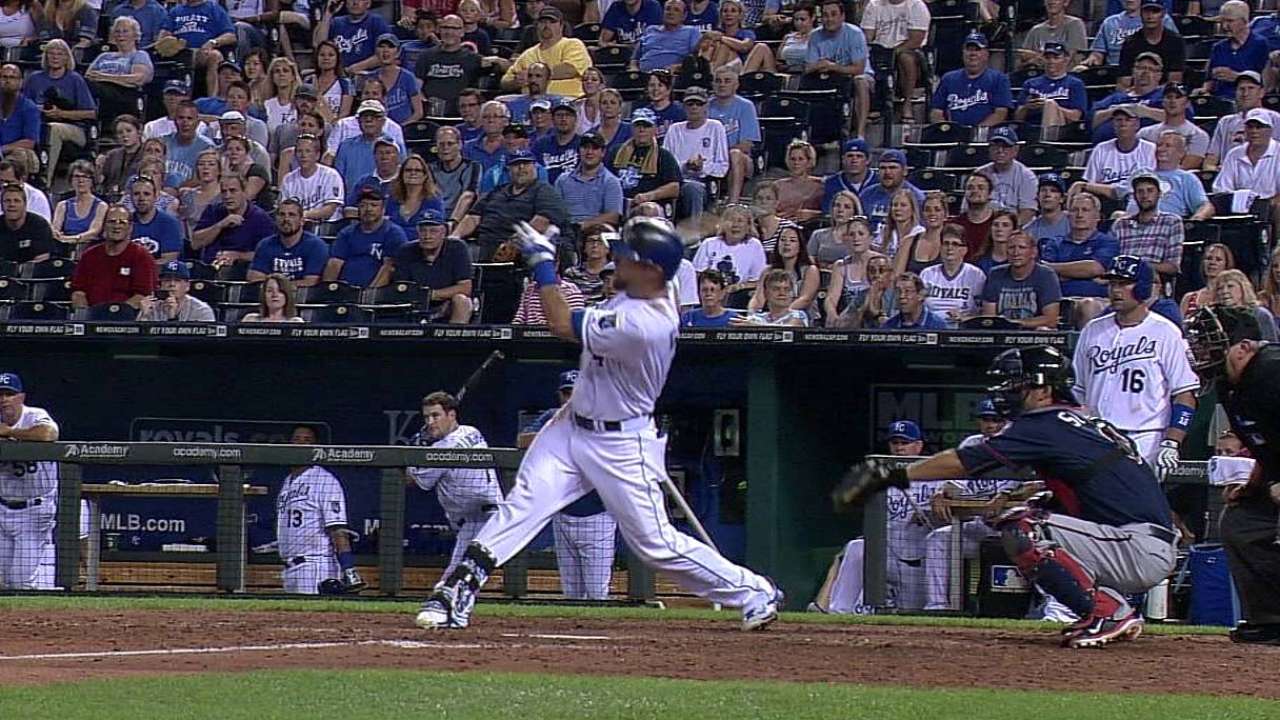 Pitcher of the Year: Shields led the way in wins (14, tied with Ventura), starts (34), innings pitched (227) and strikeouts (180) with some clutch performances. Who can forget his seven shutout innings at Detroit on Sept. 10, holding the Tigers to two hits and putting the Royals back in sole possession of first place?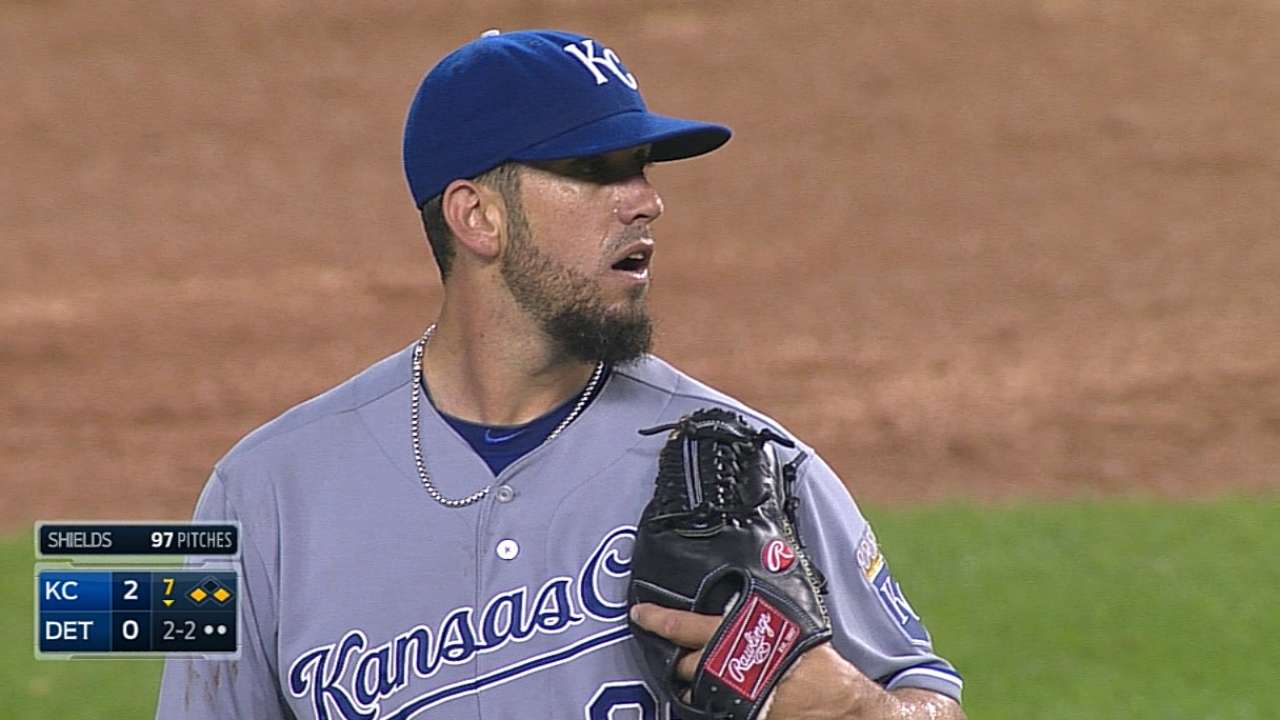 Rookie of the Year: Ventura showed he could do much more than light up radar guns at 100 mph. He matured rapidly as a pitcher and won in double figures (14-10). His 3.20 ERA was 10th-best in the AL. His 22 quality starts broke a 44-year-old record for a Royals rookie.
Dick Kaegel is a reporter on MLB.com. This story was not subject to the approval of Major League Baseball or its clubs.