Yost surprised as anyone with MadBum's performance
Manager didn't expect Giants ace to go five strong on such short rest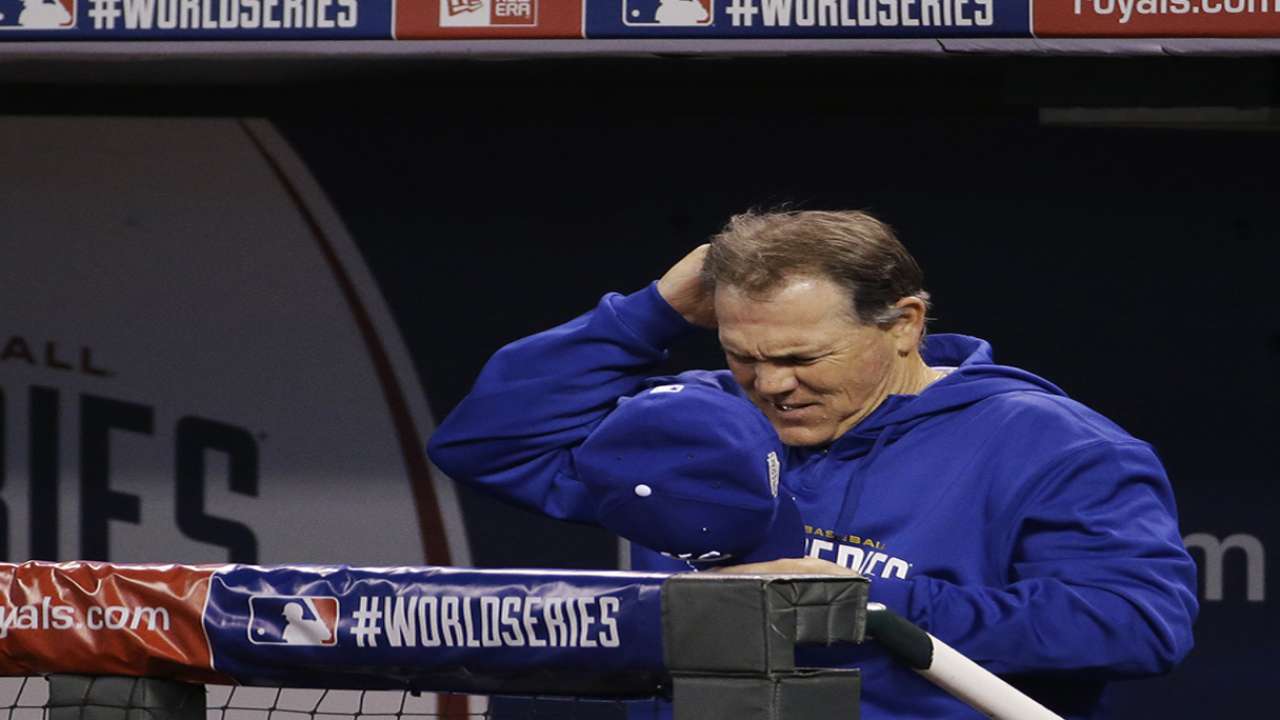 KANSAS CITY -- On the day after Madison Bumgarner dispatched the Royals with five more shutout innings, manager Ned Yost had a story about the Giants' Most Valuable Player of the World Series.
After Bumgarner blanked the Royals in Game 5 at San Francisco on Sunday, Yost had to pass through the Giants' side of the field to get to the postgame interview room.
"I went into their dugout and saw Madison Bumgarner there, and I just called him over and said, 'Madison, I just want to tell you that start was just absolutely fantastic. What a start! Game 1 was phenomenal, but Game 5 -- congratulations, you were just unbelievably good,'" Yost recalled on Thursday.
"And I told him, 'You know what? I sure am glad I don't have to see you again.'"
With that, Yost had to laugh because little did he suspect then that two days later in Kansas City, the same left-hander would come out of the bullpen to stifle his Royals again.
"Dang, if that didn't come back to bite me!" Yost said.
"But who [would] have dreamed that this kid, after throwing 120 pitches, would come out and throw five innings of relief in Game 7? Who'd have believed it?"
When Bumgarner did take the mound on Wednesday night, Yost didn't want to believe it, especially after Omar Infante greeted him with a single.
"When he came in and Omar got the first hit, I'm like, 'OK, here we go. We're going to beat this dude. This dude beat us in Game 1 and Game 5, but we're beating him tonight,'" Yost said.
"We were going to out-last 'em, because we had the pitching all set up. We had Holly [Greg Holland] for another inning, we had [James] Shields, we had [Danny] Duffy, we had guys down there. I felt like we could outlast 'em until we could walk 'em off. It just didn't happen."
It was 3-2 Giants when Bumgarner came in and 3-2 when he finished.
Dick Kaegel is a reporter for MLB.com. This story was not subject to the approval of Major League Baseball or its clubs.