Hall-worthy: World Series artifacts sent to Cooperstown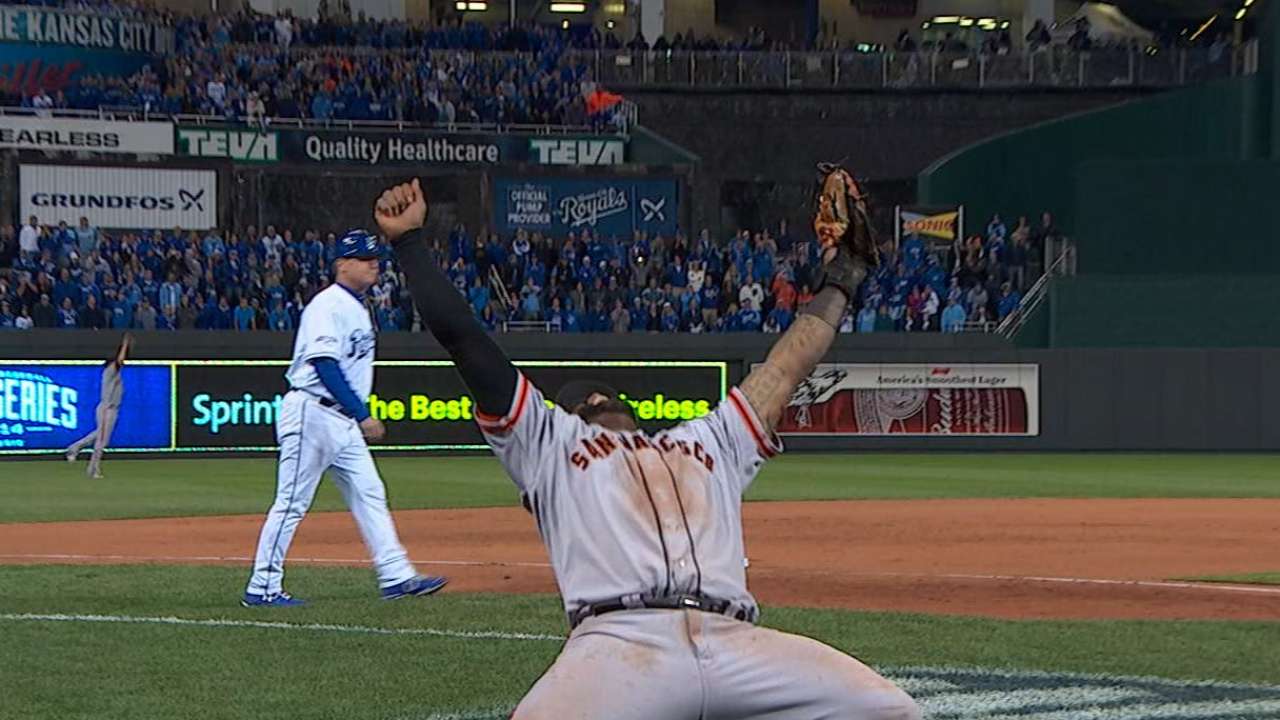 ALBANY, N.Y. -- One moment in time -- one World Series moment -- can get a player to Cooperstown, even if they never make the Hall of Fame.
Caps worn by 2014 World Series Most Valuable Player Award winner Madison Bumgarner and San Francisco Giants manager Bruce Bochy, Buster Posey's champagne-soaked jersey and the bats used by offensive stars Hunter Pence and Pablo Sandoval arrived at baseball's shrine on Thursday, along with the grass-and-dirt-caked spikes Game 7 winner Jeremy Affeldt wore while tossing 2 1/3 scoreless innings during San Francisco's third World Series clincher in five seasons.
"[Affeldt is] just a real average, blue-collar reliever -- a really great guy who's been around the game a long time," said Brad Horn, Hall of Fame vice president for communications and education. "He was so excited, because he's so thrilled to bring his boys to Cooperstown, knowing that he'll never be a Hall of Famer, but something of his winds up in the Hall of Fame. That's kind of what all of these moments represent."
Horn, traveling without sleep, stopped at Albany International Airport to show off the collection before making the final leg of his journey back to Cooperstown, about an hour away. He and Hall of Fame president Jeff Idelson spent nearly three hours gathering items from Giants and Royals players after Wednesday night's game in Kansas City.
The most poignant piece is the cap Royals pitcher Yordano Ventura wore during his Game 6 victory in tribute to late Cardinals outfielder Oscar Taveras, who died Sunday in a fatal car crash in the Dominican Republic. Silver lettering next to the cap's KC logo says: RIP O.T. #18.
A cap worn by Kansas City pitcher Brandon Finnegan, the first person to compete in the College World Series and MLB World Series in the same year, will also be displayed. Previously, Hall of Fame officials obtained the bat used by the Giants' Travis Ishikawa to hit his walk-off home run in Game 5 of the National League Championship Series, and the jersey worn by Royals manager Ned Yost in Game 4 of the American League Championship Series, when Yost became the first manager to win his first eight postseason games.
Articles will become part of the Hall of Fame's Autumn Glory exhibit in late November, and they will remain on display through the 2015 postseason.
Bochy most likely stamped his ticket to Cooperstown with the Giants' latest World Series championship. He became the 10th skipper in history with at least three World Series titles. The other nine managers are all in the Hall of Fame.
"Some might say that three World Series titles would make Bruce Bochy's head get a little bigger," Horn joked. "But considering he wears a size 8-1/8, it's already a pretty big hat. It's probably the biggest in our Hall of Fame collection."
Horn and Idelson were in the service tunnel, getting ready to go to the Giants clubhouse, when the Royals' Alex Gordon wound up on third base after ripping a two-out, ninth-inning line drive to left-center field that went all the way to the wall. They quickly had to come up with a contingency plan in case the Royals staged a dramatic comeback, similar to Kansas City's victory against Oakland in the AL Wild Card Game.
"All of a sudden, I said, 'Wow!' " Horn said. "You're preparing for a major walk-off, in which case you go right to the field, to Salvador Perez or Alex Gordon. But that didn't happen, so we took the more traditional route of being in the clubhouse when the Giants players arrived. Over the course of about two hours from the final pitch, that's how we were able to acquire these pieces."
The artifacts have two direct connections to the Capital Region surrounding Albany, which is New York State's capital. Pence's first year in pro ball was in the Astros organization, playing for the NY-Penn League's Tri-City Valley Cats in nearby Troy, N.Y.
"Without a doubt, Hunter Pence is the story of the 2014 World Series, in addition to Madison Bumgarner," Horn said. "As dominant as Madison Bumgarner was on the mound for the Giants, Hunter Pence was equally clutch. And without Hunter Pence's contributions offensively, the Giants do not win the World Series."
Also, the Giants trace their roots to Troy, which was home to a late 19th century big league franchise called the Troy Haymakers.
"The Giants are one of the preeminent dynasties of the last half century," Horn said. "To get back three out of five years and win it all is very impressive. They do join select company, like the Cardinals of the 1940s that did that. In this day and age for clubs to put together three different runs is really special, and it's not always been the same players.
"It's the contributions to this team and the collection of parts that make the Giants World [Series] champs in 2014."
Paul Post is a contributor to MLB.com. This story was not subject to the approval of Major League Baseball or its clubs.