O's face tough decisions on free agents
Cruz, Miller set to hit market, and they could be joined by Markakis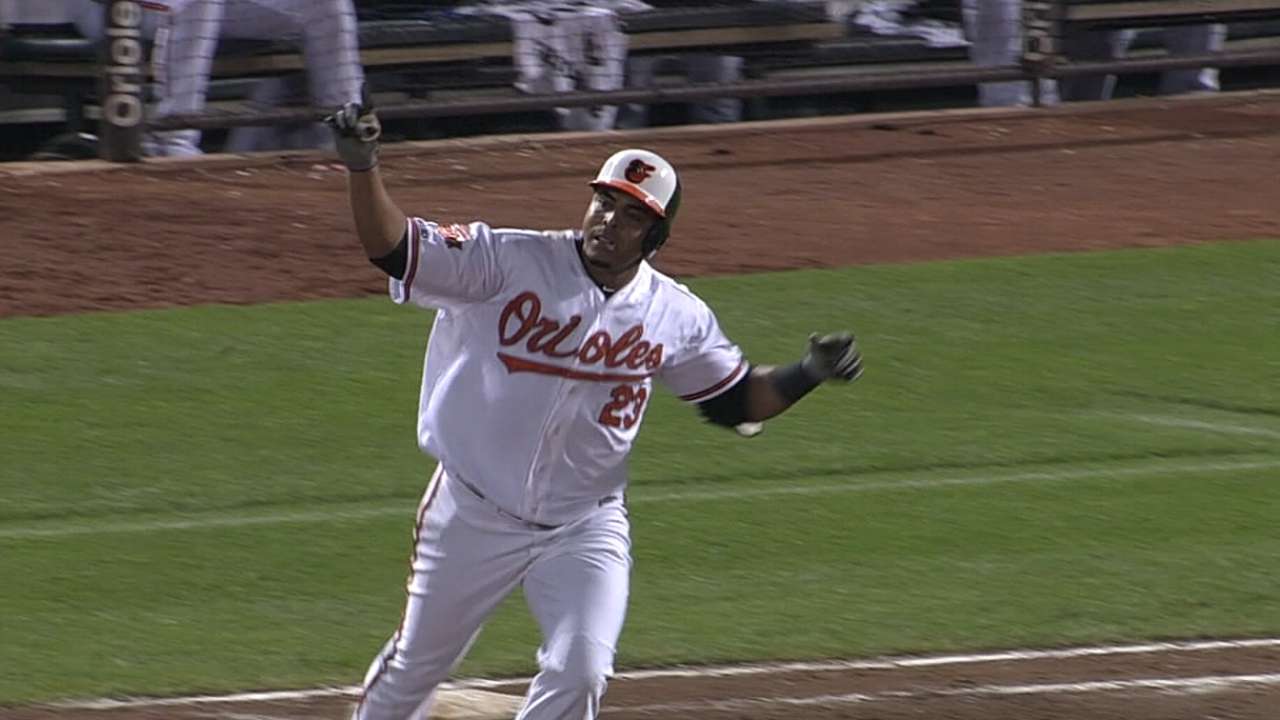 BALTIMORE -- The Orioles' season ended with them reaching the American League Championship Series, an impressive feat but one that leaves both the organization and its fans wanting more. While the O's are expected to have back the trio of players they were missing in October -- Manny Machado, Matt Wieters and Chris Davis -- executive vice president of baseball operations Dan Duquette still has plenty of decisions to make this offseason.
Addressing the club's top free agents will be Duquette's first order of business, most notably the 2014 Most Valuable Oriole, Nelson Cruz. Nick Markakis could also hit the free-agent market -- his 2015 option is expected to be declined -- as could non-waiver Trade Deadline acquisition Andrew Miller. Given the uncertainty around Machado, who is coming off his second consecutive season-ending knee surgery, and the organization's lack of infield prospects, signing shortstop J.J. Hardy to a three-year extension was a good first step.
But there is plenty more left to do. The payroll is expected to increase, but will Duquette find room in the budget to keep both Cruz and Markakis? How does Miller, who is expected to get closer money this offseason, fit in? Catcher Nick Hundley has an option that is also expected to be declined, which would make him a free agent. Pitchers Wei-Yin Chen and Darren O'Day are virtual locks to have their respective options picked up.
The Orioles could look for rotation upgrades with several marquee names on the market, and Duquette will also be tasked with adding some on-base percentage to a club that struggled to produce runs in October. Baltimore has a chance to build on this year's success, and this is a pivotal offseason for Duquette to do so.
Arbitration-eligible: Davis, Zach Britton, Alejandro De Aza, Miguel Gonzalez, Ryan Flaherty, Tommy Hunter, Brian Matusz, Bud Norris, Evan Meek, Steve Pearce, Chris Tillman, Wieters.
Free agents: Cruz, Miller, Delmon Young, Joe Saunders, Johan Santana, Kelly Johnson and Alexi Casilla. Markakis and Hundley are expected to join this category as well.
Rotation: The Orioles aren't losing anyone here, but they could look closely at adding another starter, particularly an ace. The team's starters were magnificent in the second half of the season, and there's always the hope that Ubaldo Jimenez -- the O's pricey free-agent signing last winter -- bounces back from a disappointing 2014.
Bullpen: With first-year closer Britton back and the Orioles expected to pick up O'Day's option, the club returns two big pieces. Miller is certainly a guy Baltimore would welcome back, but at what price? The O's also have decisions to make concerning arbitration-eligible players Hunter and Matusz. And, like nearly every club, Baltimore will sign some relievers to bring to camp to compete for spots. The Orioles' bullpen has been a huge part of their recent success, and it's an area Duquette and manager Buck Showalter will again focus on maintaining in 2015.
Catcher: Wieters, who underwent season-ending Tommy John surgery, is expected back for 2015. The O's always seem to add another catcher in the winter for depth, and they should again, particularly if they can't retain Hundley, who did a nice job along with Caleb Joseph in stepping in for Wieters.
First base: Davis, who was suspended 25 games for testing positive for amphetamines associated with the drug Adderall, is another interesting arbitration-eligible decision, though it seems likely the O's will tender him a deal. The slugger, who will miss Opening Day to complete his suspension, had a down 2014, and Pearce had a career year filling in. How will the Orioles approach the roles for both guys in '15?
Second base: Rookie Jonathan Schoop got the bulk of the playing time here -- Flaherty also saw time at the position -- and there's no one in the Minor League system that suggests a change is in order. However, this could be a spot where Duquette looks to add an OBP guy for next year.
Shortstop: Hardy's extension has the shortstop position locked up for the next few years, a deal that helps solidify the infield defense.
Third base: Machado, like Wieters, is coming off season-ending surgery and should be ready. If not, the Orioles will likely use Flaherty at the hot corner, or Davis. Pearce is an interesting option, with some in the organization wanting to see what he could do at the position. Either way, the long-term answer is Machado, so don't look for the O's to make any big external moves here.
Outfield: With the uncertainty around Cruz and Markakis, only Adam Jones in center field is written in stone right now. It would be hard to imagine anyone other than Markakis, the longest-tenured active Oriole, manning right field at Camden Yards, but if the two sides can't work out a deal, Duquette will face the tall task of filling that spot. Cruz split left-field duties, and the O's are returning defensive-minded David Lough, who they hope can get off to a better start offensively next season. If they don't keep Cruz, they will have to find another DH/left-field type, especially with Young also set to hit free agency.
Brittany Ghiroli is a reporter for MLB.com. Read her blog, Britt's Bird Watch, and follow her on Facebook and Twitter @britt_ghiroli. This story was not subject to the approval of Major League Baseball or its clubs.