Rockies encouraged by growth of resilient Ottavino
A potential future closer, righty working to improve numbers against lefties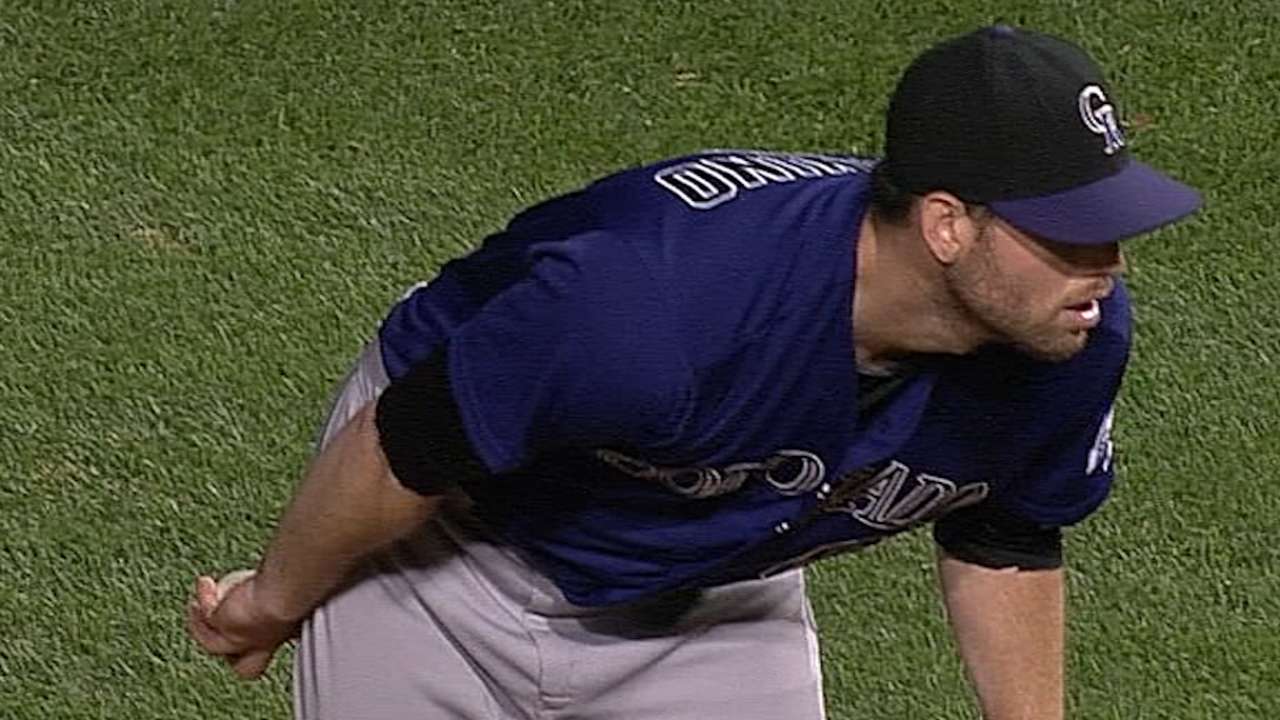 DENVER -- The Rockies and right-handed reliever Adam Ottavino would rather not have gone through a disappointing performance in June. But the way Ottavino bounced back could be valuable information for his future.
Ottavino, who has grown into a dependable bullpen member since being claimed off waivers from the Cardinals at the start of the 2012 season, endured an out-of-character June -- 0-2 with a 10.80 ERA and a .446 batting average against in 11 2/3 innings over 13 outings. But Ottavino posted a 2.22 ERA and a .231 average against after July 1. Remove June from his season, and he had a 2.05 ERA and .220 batting average against in 62 games covering 52 2/3 innings.
"It's a lesson that you're never as bad as you think you are when you're going through a bad stretch like that," Ottavino said. "I never questioned my ability at that point. I didn't let that define me.
"That's good to know going forward. You're going to go through struggles again. Hopefully, I can avoid them. But if I don't, I think I'll be quick to get going."
Armed with the understanding that he can rebound from such a struggle, Ottavino could be one of the keys to a bullpen that struggled in 2014.
The Rockies' 4.79 bullpen ERA was the second-highest in the Majors. A large part of that was a low number of innings from an injury-depleted rotation early, but the bullpen didn't pitch well enough to make up the difference. The Rockies likely will seek an impact reliever and depth, but they'll need improvement from pitchers with intriguing track records, like Ottavino.
Ottavino, heading into his first offseason of arbitration, achieved a 2.64 ERA in 51 games covering 78 1/3 innings in 2013, which led to more important innings in 2014. With the exception of one month, Ottavino met expectations.
However, Ottavino must improve against left-handed hitters, who hit .347 against him in 2014, while righties batted .238. In 2013, the numbers were .328 for lefties, .197 for righties.
Manager Walt Weiss sees Ottavino as a possible future closer, provided he solves left-handers.
"He looks at a lot of information," Weiss said. "He's making adjustments, doing everything to try to be more effective against left-handers. He knows that's the next step for him. But he took a huge step forward this year."
There was some success. In June and August, lefties hit .500 (17-for-34), but he held them to a more respectable .231 in the other months.
Ottavino's main pitches are a slider that's devastating to righties, and a fastball that improved in velocity and command in 2014. But location charts show that he doesn't locate either pitch inside against lefties, and often catches too much of the plate.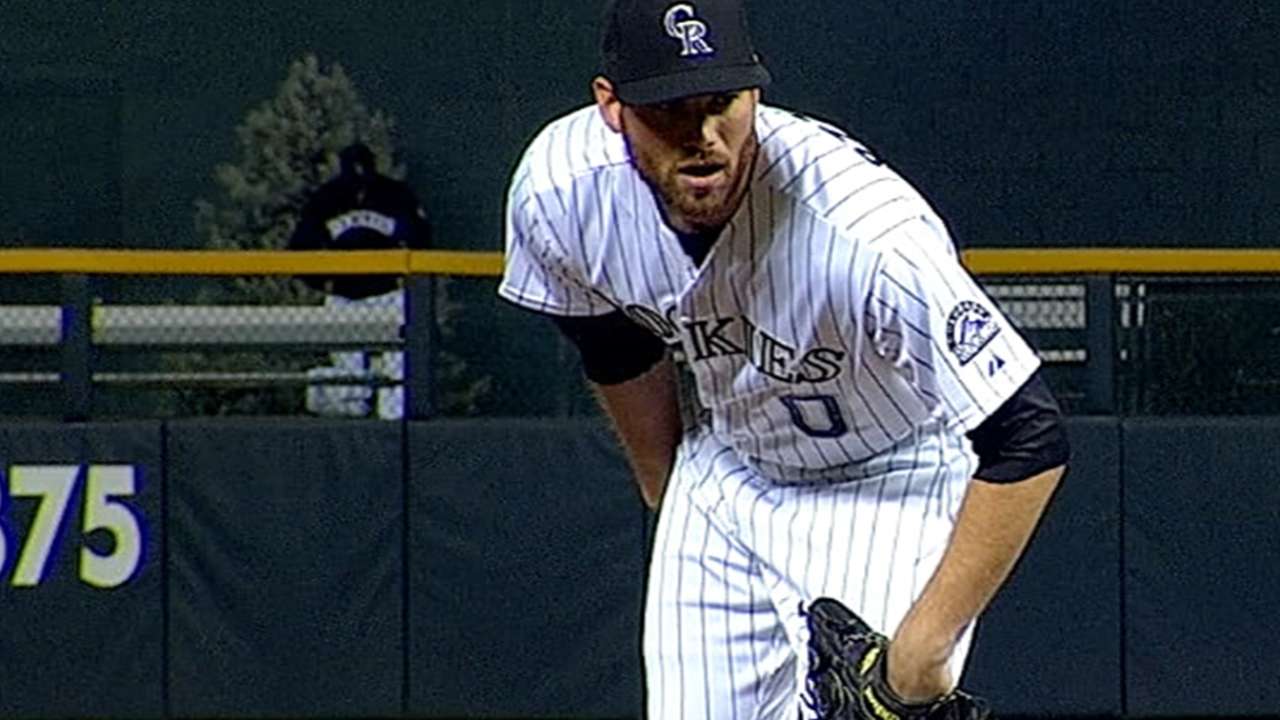 According to PITCHf/x data, Ottavino threw 250 fastballs and 71 sliders to lefties. He also was listed as having thrown one curve and seven changeups -- pitches he didn't use at all against righties.
Moving to the first-base end of the pitching rubber didn't help, so Ottavino plans to tweak his approach against left swingers.
"The answer lies more in pitch selection, and maybe throwing more of a tertiary pitch more often," he said. "I've become a little too predictable against lefties, throwing a higher percentage of fastballs. If I can throw a lot more changeups, sliders or even cutters, I can combat that anticipation on the hitters' part.
"If you look at what I do against righties, I throw a more even split of fastballs [311 in 2014] and offspeed [441 sliders]. I can catch them in between on speeds. I don't have to throw perfect pitches. I just need to do it enough to throw off their timing."
An asset is Ottavino's climbing four-seam fastball velocity, which he attributed partly to pitching at a slightly heavier weight and partly to being fully recovered from two shoulder injuries early in his career.
Ottavino's 94.3 mph average in 2014 was a career high, according to PITCHf/x, with data showing his velocity rose in the latter months, with averages of 94.4 in July, 95.8 in August and 96.7 in September.
A right-handed power pitcher who figures how to subdue right- and left-handed hitters is a potential closer. The Rockies are expected to exercise the 2015 option of veteran righty closer LaTroy Hawkins, but need to develop his successor. Lefty Rex Brothers seemed the heir apparent before his rough 2014. Could it be Ottavino?
"Of course, that's a role that I want," Ottavino said. "I know there are areas I need to progress in, but I have confidence that I'll get better and better at whatever they throw at me."
Thomas Harding is a reporter for MLB.com. Read his blog, Hardball in the Rockies, follow him on Twitter @harding_at_mlb, and like his Facebook page, Thomas Harding and Friends at www.Rockies.com. This story was not subject to the approval of Major League Baseball or its clubs.