MLB.com Columnist
Jonathan Mayo
Mariners' Arizona Fall League overview
Top 10 prospects Peterson, Kivlehan headline talented group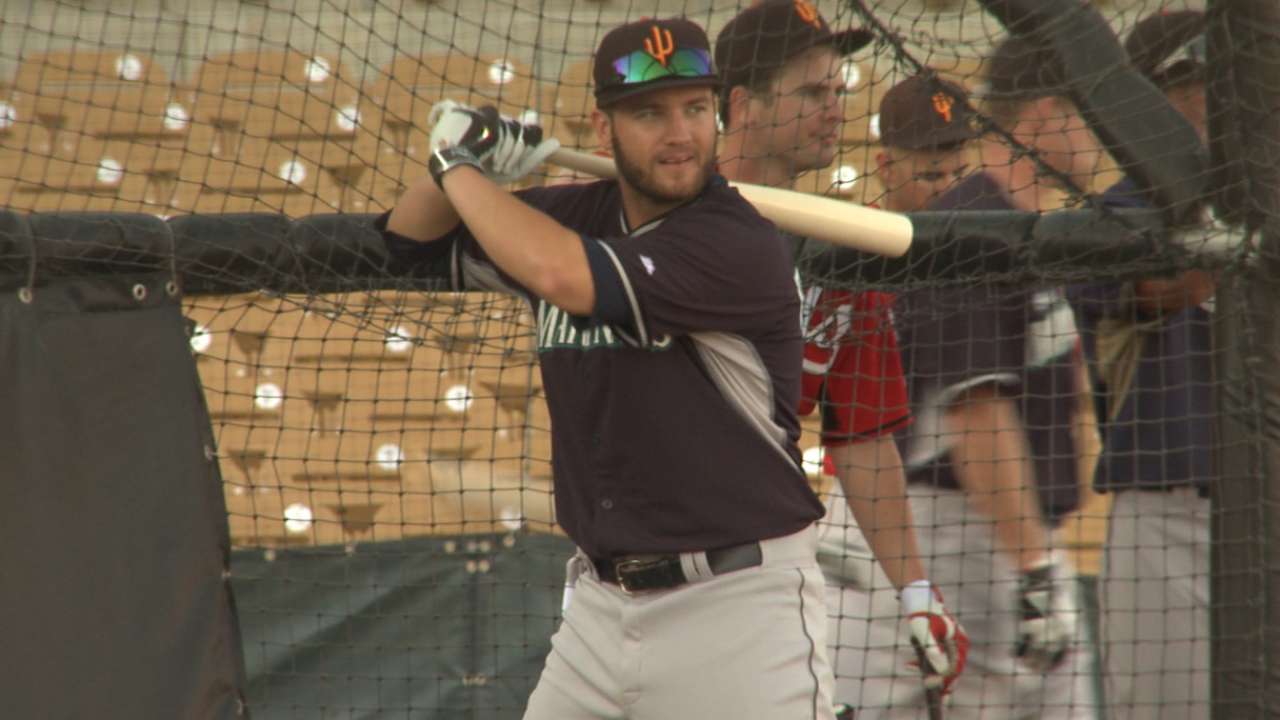 He was supposed to be there a year ago, joining fellow 2013 first-round college hitters like Kris Bryant and Colin Moran.
Instead, D.J. Peterson is in the Arizona Fall League now, with Class of '13 alums Hunter Dozier, Hunter Renfroe, Tim Anderson and Aaron Judge. The reason for the delay -- a broken jaw from a hit-by-pitch in August -- isn't something the No. 12 overall pick in the 2013 First-Year Player Draft would wish on anyone, but he does see the silver lining.
"Obviously, it wasn't a good thing that I got to miss it last year, but I'm happy to be here this year," said Peterson, the Mariners' No. 2 prospect. "I feel that this year I'm a little more prepared than I would've been last year."
That preparation came in the form of 547 plate appearances in the Class A Advanced California League and Double-A Southern League. The third baseman from the University of New Mexico finished the year with a .297/.350/.552 combined line, 31 homers and 111 RBIs, good for the second-highest total in the Minor Leagues.
The jump to Double-A can always be a tough one, and Peterson had to adjust from the extreme hitting haven of High Desert to a pitching-friendly Southern League. He held his own, albeit without the stunning results he had down a level, but he was certain to take the lessons from that experience with him to the AFL.
"They have a better game plan, they pitch you a little more consistent," Peterson said. "They have scouting reports, they know what your weakness is. For me, it was staying more consistent, having a better game plan before the game, just really focused on driving to the other field, using all fields. That was the big adjustment I had to make, which was driving the ball to right field."
Peterson also is continuing to work on his play at third base. Many foresee a move across the diamond to first, a position he has played in the past, and he's even played a couple of AFL games there. But he's determined to put the time in to prove wrong those who think he can't stick at the hot corner.
"Just being a little more consistent, working on my footwork over at third base, kind of getting the timing down with my first-step quickness," Peterson said. "Those are things I want to work on, not just here in the Fall League, but in the offseason as well."
Probably the best part of the AFL experience for Peterson is that he gets to put in all of this work in his backyard. He was a graduate of Gilbert High School in Arizona before heading off to New Mexico. Coming home to play certainly made extending his first full season an easy pill to swallow.
"It's amazing," Peterson said. "All my family members get to come out and watch. My aunt showed up, I didn't even know that she was going to come. It's a cool experience, my whole family gets to watch me play, finally."
Mariners hitters in the AFL
For someone who didn't start playing college baseball until his senior year, Patrick Kivlehan has made tremendous strides. The 2012 fourth-round pick, ranked No. 6 on the Mariners' Top 20 prospects list, spent most of 2014 in Double-A and hit a combined .295/.363/.507 with 20 home runs and 103 RBIs. Primarily a third baseman, Kivlehan has spent time at first and the outfield, something he's focusing on in the AFL.
At the very least, John Hicks appears about ready to help out as a big league backup catcher. The 2011 draftee and No. 19 prospect in Seattle's system, he bounced back from a subpar 2013 season and reached Triple-A this past season. Defense is his calling card, with a career 47 percent success rate in throwing out basestealers. Whether he hits enough to be a regular remains to be seen, but playing behind Mike Zunino could happen sooner rather than later.
Mariners pitchers in the AFL
Seattle signed righty Matt Anderson as a non-drafted free agent in August 2012, so the fact he spent time in Double-A, even if unsuccessfully, means he's kind of ahead of the curve. The Long Beach State product was a starter for all of '13 and for a large chunk of '14, but began pitching out of the 'pen, with good results, near the end of the year. It's something that has continued in the AFL.
A '12 senior signed out of Boston College, right-handed reliever Matt Brazis reached Double-A in 2014 and pitched well throughout, finishing with a combined 2.36 ERA and 10.5 K/9 ratio. He uses a fastball-slider combination with a bit of a max effort delivery that will only work out of the bullpen.
A 22nd-round pick in '10, Stephen Landazuri has put his name on the radar with a solid three-pitch mix: fastball, curve and changeup. An oblique injury forced the righty out for almost two months in '14, so he's in Arizona trying to make up for some lost innings. He's Rule 5 eligible in December.
Right-hander Taijuan Walker began the fall with Surprise, but made the decision to head home after two strong Fall League starts. Walker went 2-3 with a 2.61 ERA in eight games (five starts) with the Mariners this season.
Jonathan Mayo is a reporter for MLBPipeline.com and writes a blog, B3. Follow @JonathanMayoB3 on Twitter. This story was not subject to the approval of Major League Baseball or its clubs.