MLB.com Columnist
Jim Callis
Cardinals Arizona Fall League overview
Speedy McElroy running with opportunity to learn with Peoria Javelinas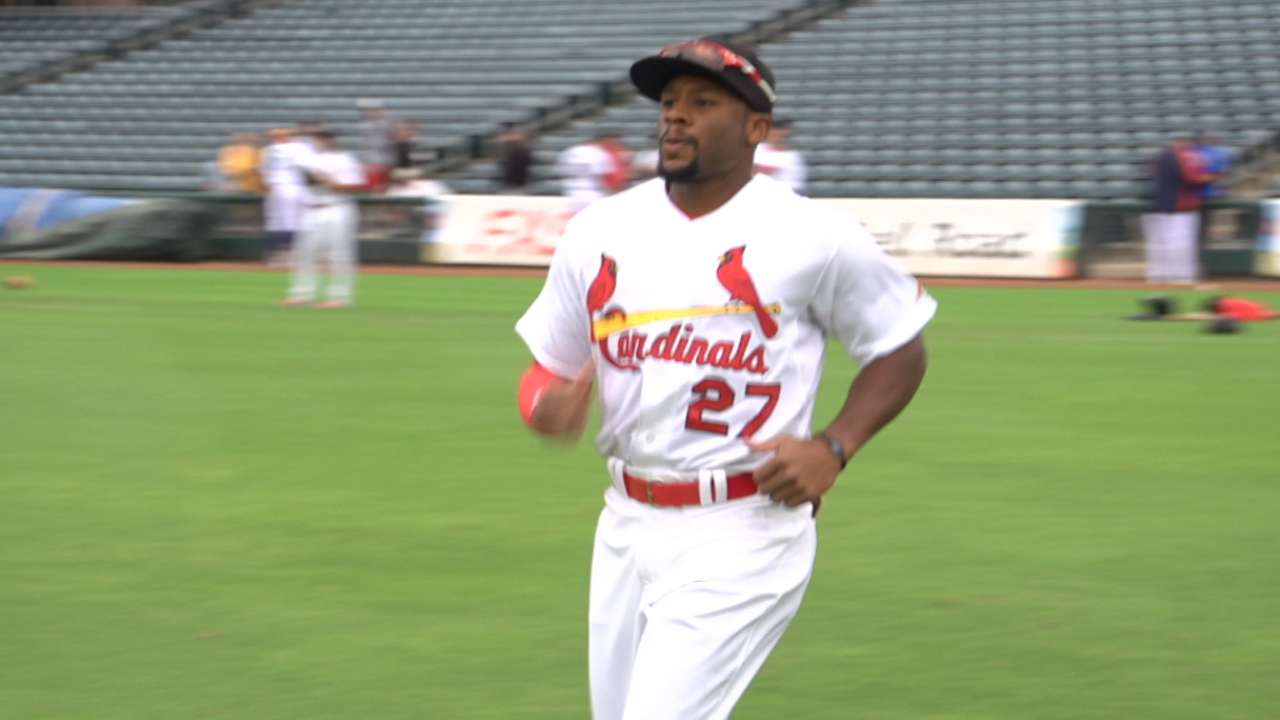 The caliber of play in the Arizona Fall League is roughly equivalent to Double-A, and most of its participants have reached that level or higher in the Minor Leagues. C.J. McElroy has yet to rise above Class A after four pro seasons, so he wasn't expecting the assignment.
The Cardinals originally planned on sending fellow outfielder Charlie Tilson to the Peoria Javelinas, but he fractured a foot at the end of the regular season, creating an opportunity McElroy was thrilled to receive.
"It's a blessing," McElroy said. "I got the call from the office when I was at home, and they said I was coming to the Arizona Fall League. I was so excited about it. I worked so hard to get to this point. I just want to thank God for being here with great teammates and learning a lot from these older guys as well. It's just a great opportunity for me."
St. Louis paid Tilson and McElroy over-slot bonuses with consecutive picks in the 2011 First-Year Player Draft. Tilson signed for $1.275 million in the second round while McElroy received $510,000 in the third.
Had he not turned pro, McElroy would have doubled as a wide receiver and outfielder in college at Houston. A star running back at Clear Creek High in League City, Texas, he rushed for 1,523 yards and accounted for 28 touchdowns as a senior.
Not surprisingly, speed is McElroy's best tool. The 5-foot-10, 180-pounder grades as a 70 runner on the 20-80 scouting scale and led Cardinals farmhands with 41 steals in 2014. He uses his quickness to get on base (he had 22 bunt singles and 38 other infield hits this year) and to cover a lot of ground in center field.
McElroy, 21, has the tools to profile as a center fielder in the big leagues, but he'll have to improve at the plate to become the third member of his family to get there. His father, Chuck, pitched for 13 seasons in the Majors, while his uncle, Cecil Cooper, made five All-Star Games in a 17-year career.
McElroy hit .267/.342/.298 at Class A Peoria this season, repeating the level after a lingering toe injury limited him to 58 games in 2013. He makes contact but needs to draw more walks and hit the ball with more authority.
This was McElroy's first full year as a switch-hitter, and the natural righty batted just .254/.327/.280 as a lefty. Learning to hit from the other side of the plate hasn't been easy, but he knows it can help his speed play up even further.
"The hardest thing is breaking pitches, but mainly I don't hit the breaking pitches, I just hit the fastballs," he said with a smile. "I just hit the fastball, use my game, bunt the ball and use my speed because speed is my tool. I can set the tone."
Facing more advanced pitching than he has seen in the Minors, McElroy is off to a slow start with the Javelinas. He went 4-for-25 (.160) in his first nine games, though he did steal four bases.
Cardinals hitters in the AFL
• Catcher Cody Stanley had the best full season of his pro career in 2014, batting .283/.340/.429 with 12 homers and throwing out 42 percent of basestealers in Double-A. A 2010 fourth-round pick from UNC Wilmington, he projects as a possible big league backup with some left-handed pop and decent defensive skills.
• Sweet-swinging second baseman Breyvic Valera hit .313/.361/.367 between Class A Advanced and Double-A, matching his career average. Signed out of Venezuela in 2010, he's a contact hitter with little power and profiles more as a utility man than a regular.
• Second baseman/third baseman Jacob Wilson was in the midst of his best pro season, batting .302/.362/.460 between high Class A and Double-A, when he tore the meniscus in his left knee in June. The 10th-round senior sign from Memphis in 2012 has three potential average tools in his power, arm and defense.
Cardinals pitchers in the AFL
• Right-hander Mitch Harris had the talent to go in the first five rounds of the 2008 Draft, but he lasted until the 13th because he owed the U.S. Navy five years of active duty. After he completed his service, he rejoined the Cardinals in 2013 and posted a 3.92 ERA with 45 strikeouts in 57 1/3 innings (mostly in Double-A) in his first full pro season this year. He still has his low-90s fastball, but his secondary pitches and command are works in progress.
• Right-hander Tyrell Jenkins was the most athletic pitcher available in the 2010 Draft, a Texas high school star who was also Baylor's top quarterback recruit, a basketball letterman and a track standout. Signed for $1.3 million as the 50th overall choice, he has developed slowly and had shoulder surgery in 2013. He came back this year to record a 3.28 ERA with 41 strikeouts in 74 innings in 13 Class A Advanced starts, showing a 91-94 mph fastball but lacking confidence in his secondary offerings.
• Chris Perry didn't play for two years at UNC Wilmington and spent his first season at NCAA Division III Methodist (N.C.) as a catcher before moving to the mound in 2012 and getting drafted in the 17th round. The right-hander used his lively low-90s fastball and effective curveball to compile a 2.14 ERA and 98 strikeouts in 63 relief innings at two Class A stops this year.
• Another conversion success story, right-hander Sam Tuivailala was a 2010 third-round choice as a shortstop and didn't move to the mound until two years later. The California prep product began this year in high Class A and finished it in St. Louis, posting a 3.15 ERA and 97 strikeouts in 60 relief innings in the Minors. He owns a 95-97 mph fastball that reaches triple digits and a power curveball, and he'll represent the Cardinals in Saturday's Fall Stars Game.
Jim Callis is a reporter for MLB.com and writes a blog, Callis' Corner. Follow @jimcallisMLB on Twitter. This story was not subject to the approval of Major League Baseball or its clubs.