Orioles Arizona Fall League overview
Ohlman, Bridwell headline talented group of O's prospects in Glendale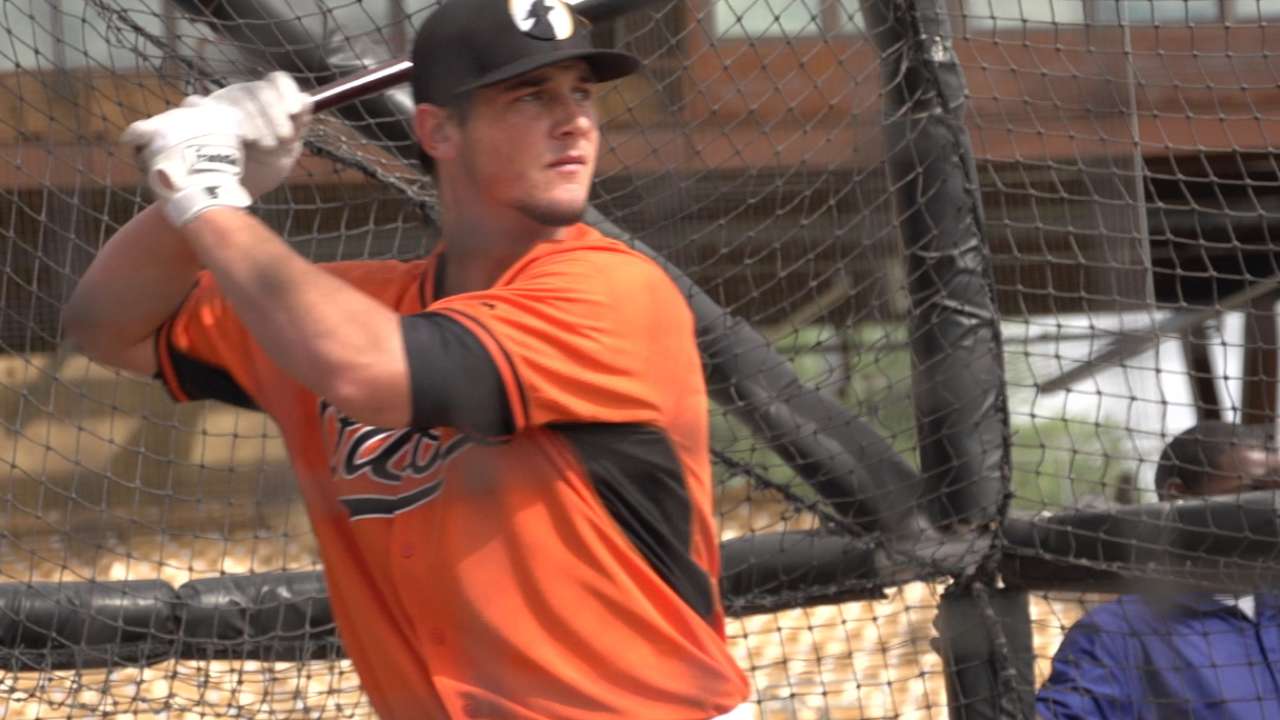 Playing for Surprise last year in the Arizona Fall League, catcher Michael Ohlman helped the Saguaros win the title. As a member of the taxi squad, he saw limited action, but Ohlman made the most of it, hitting .290/.476/.774 with four home runs in 10 games.
Ohlman, the Orioles' No. 10 prospect, is back in the desert this fall as a full-time member of the roster. He is joined by six other O's on Glendale's roster.
As one of the few players who has played in the league before, Ohlman said he has tried to help the other players acclimate to the league.
"I try to take on a little bit more of a leadership role, being a catcher and obviously having the experience last year," Ohlman said. "Knowing a little more and knowing how to go about it and how to get a routine going when you're not necessarily playing every day is a big part of it."
After playing well in the AFL last year, Ohlman advanced to Double-A Bowie this season. Facing the challenging pitching of the Eastern League, he hit .236/.310/.318 with two home runs in 113 games.
Ohlman said the level of play was noticeably different in Double-A than in the lower levels of the Minor Leagues.
"You've got to go out and make sure you're at the field ready to play every day." he said. "Can't take any days off, can't take a pitch off. It's getting more serious, and everyone's trying to take your job and make more money."
While Ohlman's offensive production took a step back during the regular season, he was able to continue his development behind the plate. He is continuing to work on his defense this fall and has been paired with a good teacher in the AFL. Desert Dogs manager Lance Parrish started two All-Star Games and won three Gold Glove Awards as a catcher during his 19-year career in the Major Leagues.
Ohlman said he can learn a lot just by listening to what Parrish has to say.
"Lance has been playing for a while," Ohlman said. "He's been coaching for a long time, too, so he knows what it takes, and he's got some good information to hand out if you want it."
Ohlman has also been able to take inspiration this fall from Baltimore's playoff run. He said he enjoyed watching their success and hopes to be able to be a part of a similar experience in the Major Leagues soon.
"I wish I could have been there celebrating an AL East championship and moving on with them," Ohlman said. "It's a lot of fun to see where they started and kind of what they've done."
Orioles hitters in the AFL
• Jason Esposito, the O's second-round pick in the 2011 First-Year Player Draft, has spent the last two years with Class A Advanced Frederick. While he's a solid defender at third base with a strong arm, the offensive promise he showed at Vanderbilt hasn't translated to the professional game. In three years, Esposito has hit .235/.277/.332 with 18 home runs. He is an aggressive hitter and, though he has below-average power, drives the ball to the gaps well.
• Baltimore signed Garabez Rosa out of the Dominican Republic as a 17-year-old in 2006. His compact swing produces a lot of line drives, but his free-swinging approach limits his on-base skills. Rosa was signed as a shortstop, but he has also played second and third base, as well as all three outfield positions. His versatility will likely help him get to the big leagues as a utility player.
Orioles pitchers in the AFL
• Right-hander Parker Bridwell has shown flashes of brilliance in the Minor Leagues -- he twice carried a no-hitter deep into games this year -- but hasn't been able to put everything together consistently and has a 4.99 career ERA. He throws his low-90s fastball from a steep downhill angle and mixes in a solid curveball and changeup. Bridwell has struggled with his command, as he tries to find a consistent delivery.
• A 26th-round pick in the 2011 Draft, right-hander Zach Davies has pitched his way onto scouts' radars with his performance as a professional. He throws his fastball around 90 mph, with good movement. Davies' changeup is his best offering, and he also mixes in a solid curveball. His stuff plays up thanks to his command and polish. Davies earns some Mike Leake comparisons for his slight build and overall skill set.
• Mychal Givens was an elite two-way player in high school, and he began his professional career as a shortstop after the O's drafted him in the second round in 2009. After struggling at the plate in his first three professional seasons, he moved back to the mound in 2013. Strictly a reliever, Givens throws his fastball in the low-90s, with heavy sinking action. He'll need to improve his control after averaging more than five walks per nine innings in the last two years.
• Left-hander Ashur Tolliver has dealt with injuries since Baltimore drafted him in the fifth round in 2009. He missed all of 2012 as he recovered from shoulder surgery. Tolliver turned 26 in January and advanced to Bowie for the first time this season. His fastball sits in the low-90s and his changeup is his best secondary offering. Tolliver pitches with good command and is especially tough on left-handed batters.
Teddy Cahill is a reporter for MLB.com. Follow him on Twitter at @tedcahill. This story was not subject to the approval of Major League Baseball or its clubs.