Too soon to think about future, Panda revels in present
A staple of three Giants title teams, Sandoval is set to hit the free-agent market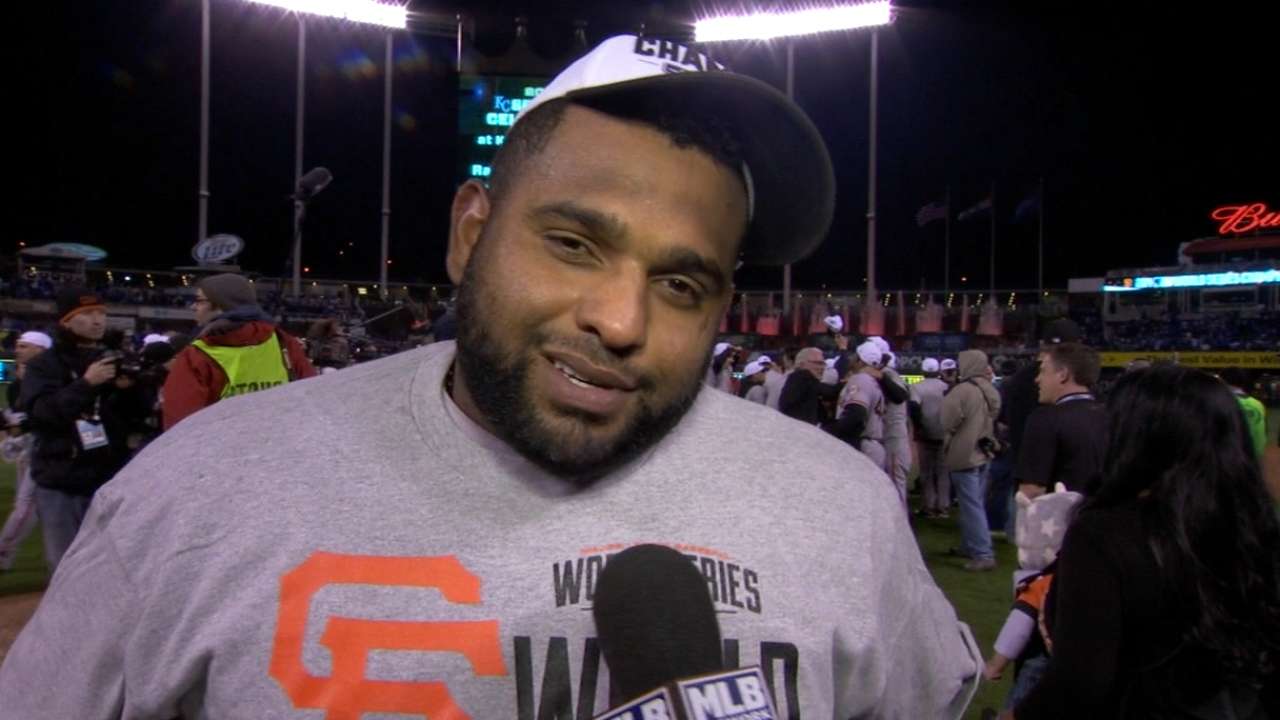 KANSAS CITY -- There was no way Pablo Sandoval was going to talk much about his impending free agency. Not when the champagne was still spraying and the music was blaring, and he and his teammates were celebrating their third World Series victory in the past five seasons.
It was neither the time nor the place.
"I'm going to celebrate," Sandoval said. "I love being with this team, I love the fans, I love my teammates. I love everything here. What am I going to say?"
Sandoval recorded the last out when he caught Salvador Perez's foul popup. Would it be his final play in a Giants uniform? You'll have to stay tuned for that, because Sandoval is one of five San Francisco free agents, joining reliever Sergio Romo, starters Jake Peavy and Ryan Vogelsong and outfielder Michael Morse.
"I can't say of the five free agents that we'll get all five -- but it's possible we'll bring all five back. But I can't tell you it's a guarantee," Giants team president and CEO Larry Baer said. "We'll be methodical. There's also these phases where guys sign early and other guys you've got to wait it through. But we feel pretty blessed to have the ability [money] to go out and do some things."
Sandoval is still in the prime of his career, having just turned 28, but he has battled weight issues on and off, and carrying the excess pounds might be more of a hindrance as he gets into his 30s. If his demands are for something similar to the five-year, $90 million deal that Hunter Pence got, it could end up being more than the Giants are willing to pay.
"It will be the standard operating procedure where it will be pretty methodical," Baer said of the process of dealing with the free agents. "We're not focused on it right now. I mean, we've done the work, because there's no downtime, but our mode is to kind of take a shot at free agents that are Giants that have helped get us to the seventh game of the World Series. I mean, we have a lot of loyalty and appreciation, so we'll see."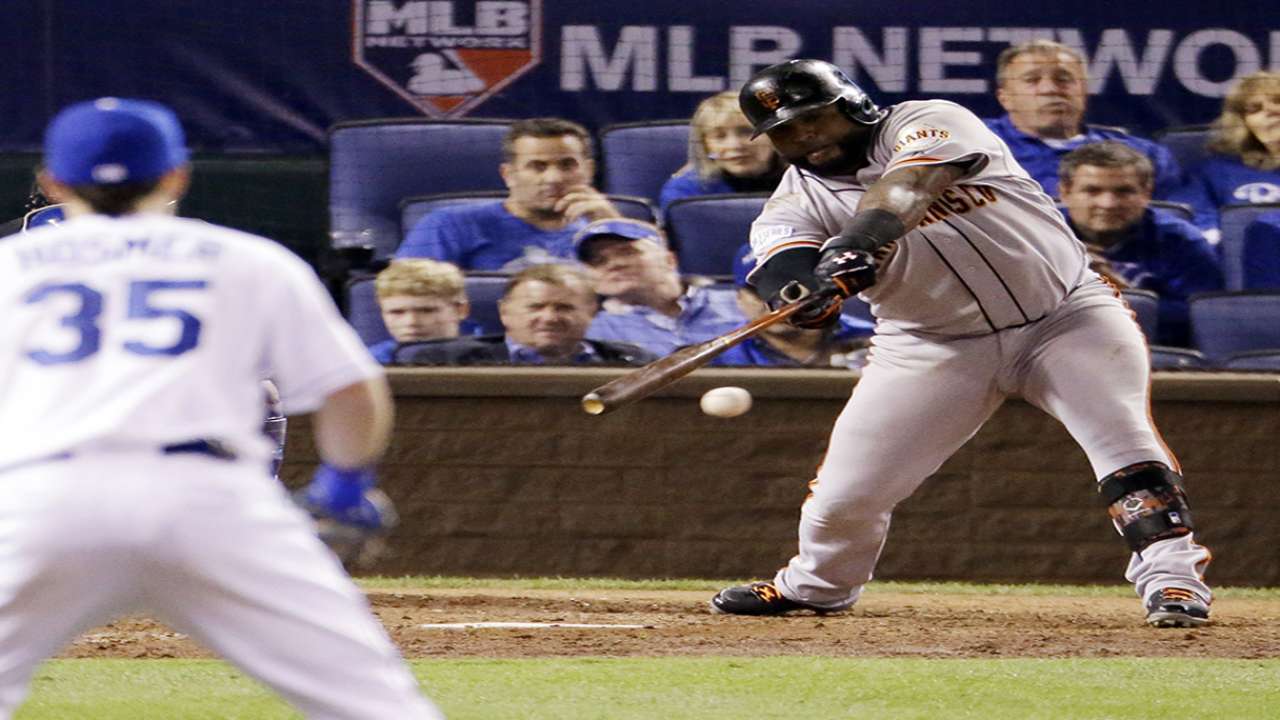 When you're a pending free agent, every little move you make gets read into. Sandoval was asked about his lengthy embrace with general manager Brian Sabean after the game.
"I just told him, 'Thank you for giving me the opportunity to be here,'" Sandoval said. "To open the door to the big leagues. That was the guy that gave me the opportunity here and trusted me to be part of my team."
So would Sandoval like to remain with the Giants?
"Very much," he said. "I love being with my teammates. Yes. Without question."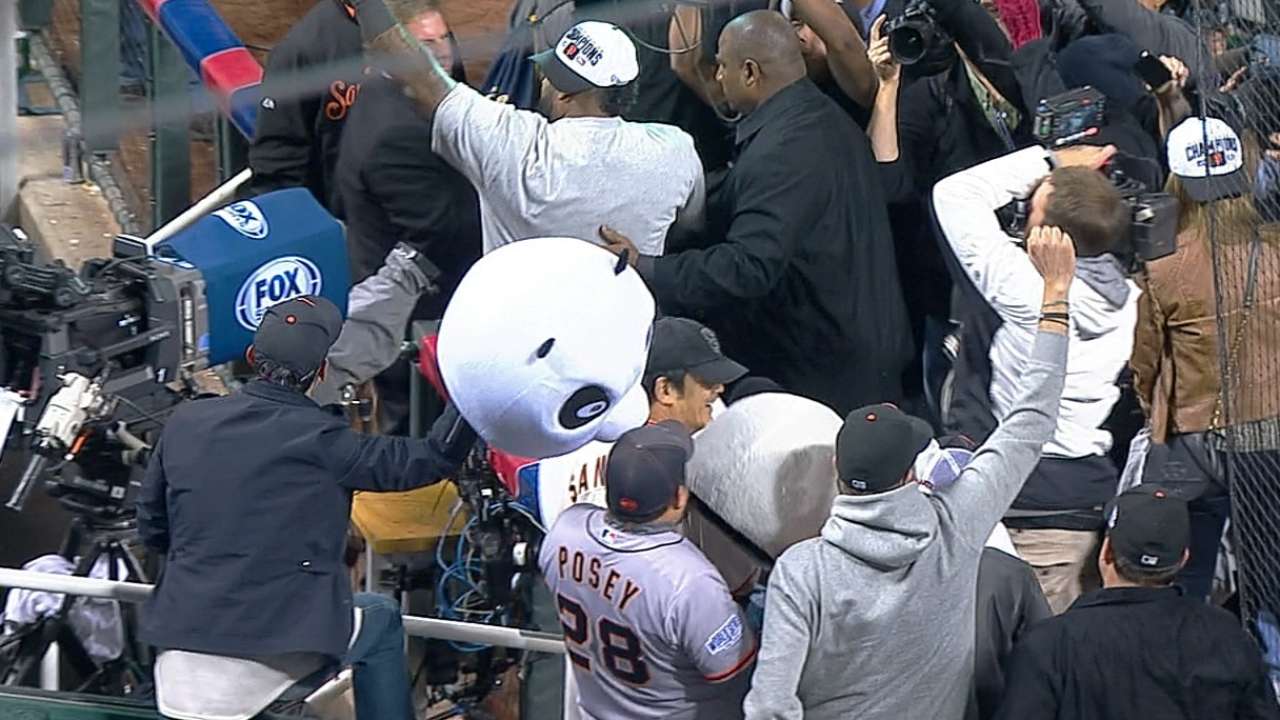 Sandoval has been part of all three of the Giants' championships, along with Buster Posey, Madison Bumgarner, Romo, Santiago Casilla, Javier Lopez and Tim Lincecum.
While the champagne was still dripping from Posey's hair, he was asked if he was hoping the Giants will re-sign Sandoval.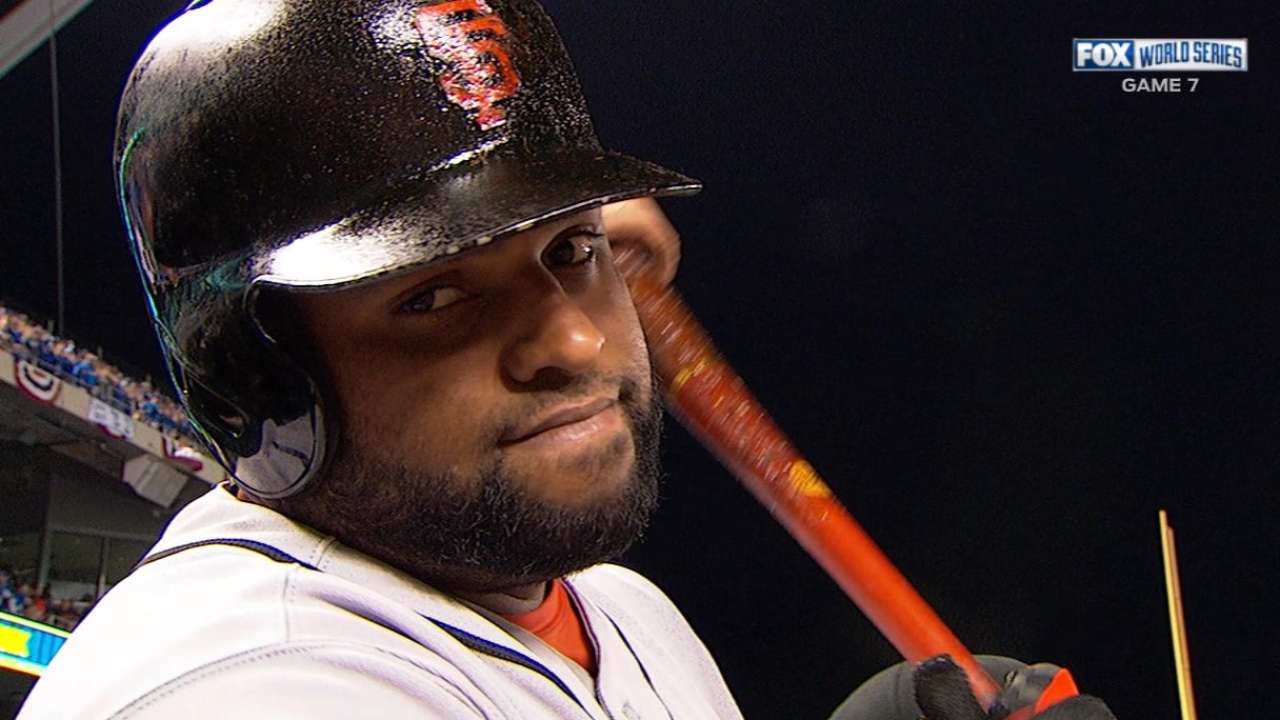 "Of course. I mean, the guy, he's important," said Posey before pausing as if to catch himself from going too far. "I think, right now, I think we just want to concentrate on this and enjoy this."
Steve Gilbert is a reporter for MLB.com. Read his blog, Inside the D-backs, and follow him on Twitter @SteveGilbertMLB. This story was not subject to the approval of Major League Baseball or its clubs.