Royals tip caps to Giants after Game 7 battle
Bumgarner's stellar relief helps derail KC's bid for first title since '85
KANSAS CITY -- The Royals' clubhouse was eerily quiet and somber as general manager Dayton Moore went through and hugged each of his players at their locker.
The club's improbable postseason run was over, derailed by a dynasty, as the Giants captured their third World Series championship in five seasons.
Kansas City was in this position largely because it had no answer for San Francisco left-hander Madison Bumgarner, who sealed his status as Most Valuable Player with a five-inning save to close out a 3-2 victory in Game 7 at Kauffman Stadium.
"First, let me say, congratulations to the Giants," manager Ned Yost said to open his postgame press conference. "I mean, that was a phenomenal Series. They played great baseball. Madison Bumgarner, man, what can you say about him and their team? That's a special group of guys over there. They've got an outstanding manager, outstanding coaches, and they played the game right. So I just would like to congratulate them on the World Series championship."
"We couldn't solve him this whole Series," Moore said of Bumgarner. "You just have to tip your cap and respect what he's done, but it doesn't take anything away from what our players have accomplished. They battled their tails off all the way to the end."
Moore held out hope as he watched the ninth inning from the Royals' baseball operations suite, his team trailing by a run. That hope increased when Alex Gordon's two-out hit skipped past Gregor Blanco and the two-base error allowed Gordon to advance to third. Moore knew it was the right move to hold Gordon at third, and he had all the confidence in the next hitter, Salvador Perez.
Perez came through with a key hit before -- a walk-off single in the Wild Card Game against the A's -- and Moore hoped he would do it again. But Perez was overwhelmed by Bumgarner, and was retired on a popout in foul territory to end the game.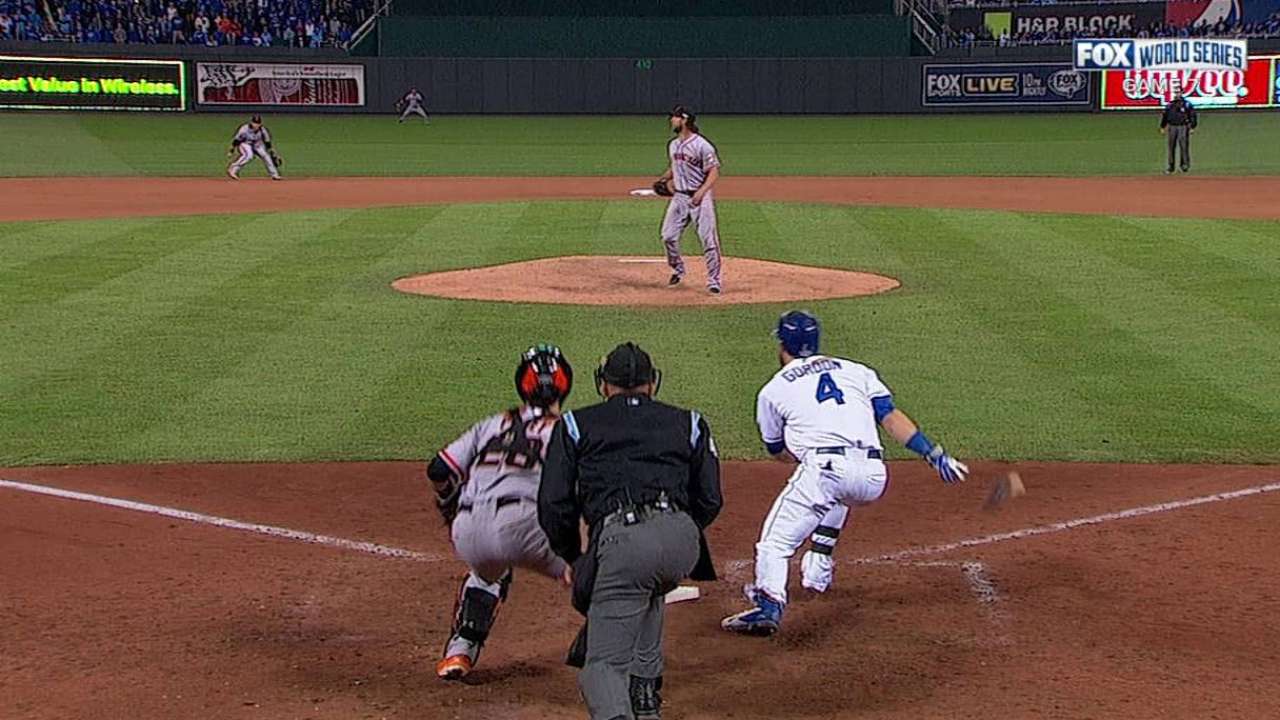 "It hurts a great deal," Moore said. "But at the same time, I'm very proud of what we've been able to accomplish."
The 2014 Royals secured the franchise's first playoff berth since 1985 before tearing through the American League playoffs with a perfect 8-0 record, while invigorating a fan base longing for something to cheer for.
Each time they stared down adversity -- a 7-3 deficit in the eighth inning of the Wild Card Game; along with 1-0 and 3-2 deficits in the World Series -- without blinking and rebounded. Although they could not write a storybook ending, this was further than nearly anyone outside of the people close to the organization could have expected them to go.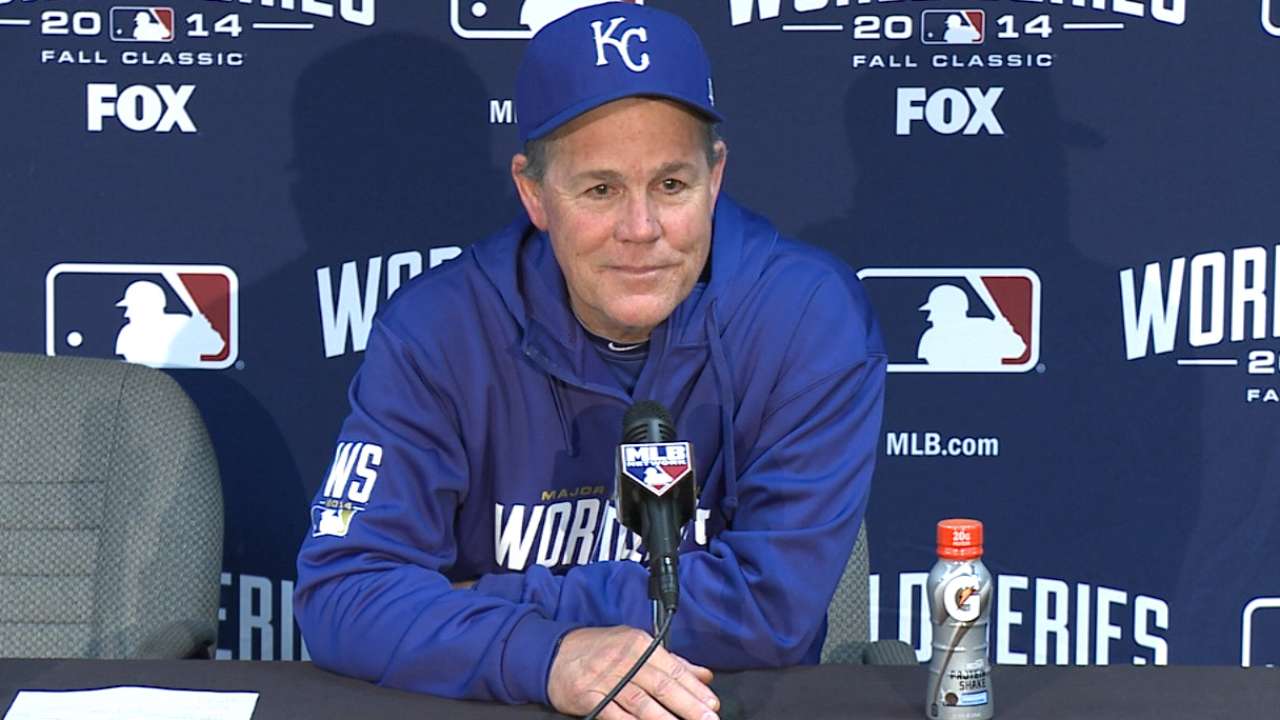 "I mean, for them to play on this stage the way that they did this postseason was phenomenal," Yost said. "I mean, just phenomenal. It was more than -- even as optimistic as I am, it was even more than I expected, how great they played. It was just a phenomenal run for them."
Bumgarner was fantastic on Wednesday and in this Fall Classic, but he was not the only reason the Giants won. They received terrific performances from Hunter Pence, Pablo Sandoval and reliever Jeremy Affeldt, each of whom could have been considered for MVP honors had Bumgarner not been such a runaway favorite.
Moore also made sure to credit Giants second baseman Joe Panik, who made a diving stop in the third inning to snare Eric Hosmer's grounder near second base to start a rally-killing double-play.
Nine straight teams had won a World Series Game 7 at home before Wednesday, but the Giants made sure to pay no attention to recent history.
"Tough ballclub to beat over there," Royals starting pitcher James Shields said. "That's why they've won three championships in five years."
Jamal Collier is an associate reporter for MLB.com. This story was not subject to the approval of Major League Baseball or its clubs.