Morse saves best for last with Series-winning RBI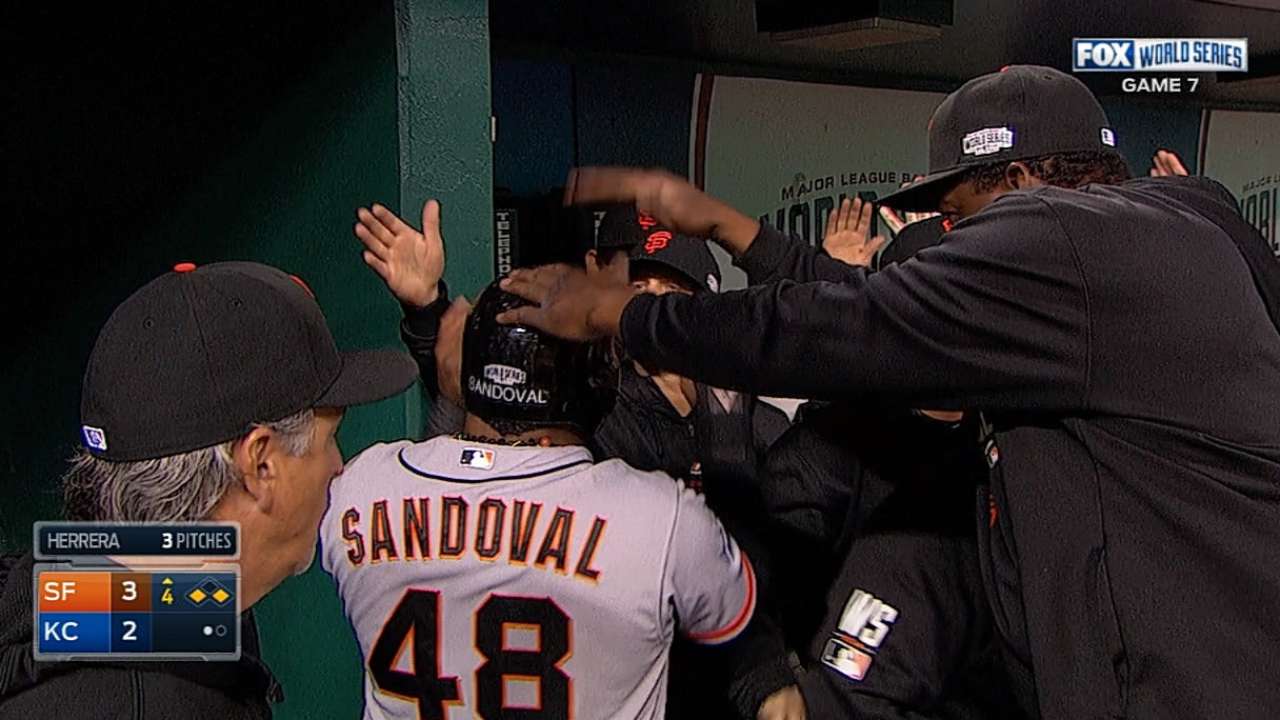 KANSAS CITY -- Michael Morse made the most of his role as designated hitter for the Giants in the four games at Kauffman Stadium during the World Series, particularly in the Game 7 clincher over the Royals on Wednesday night.
Morse drove in a couple of runs, the first on a second-inning sacrifice fly and the second on a fourth-inning single that proved to be the Series-winning RBI in a game the Giants won, 3-2, to capture their third World Series title in the past five seasons.
Morse, who joined the Giants this past offseason as a free agent, went 4-for-16 in the Series, with a double and four RBIs.
"It's unbelievable, really unbelievable. I don't know what to say," said Morse in the midst of taking a champagne bath during the clubhouse celebration. "This is a dream come true. This is what we play for."
Morse came to the plate in the fourth inning with runners on the corners and hard-throwing reliever Kelvin Herrera having just replaced Royals starter Jeremy Guthrie. The right-handed-hitting Morse fouled off two pitches and then lined a single the opposite way, scoring Pablo Sandoval. When Madison Bumgarner came on to pitch the final five innings of shutout ball, that run wound up standing to secure the win.
"It was a fastball, 99 miles per hour," Morse said about the Herrera pitch he hit. "I was just trying to stay short, just touch the ball and put it in play. When you do that, you never know what can happen."
When the postseason began, Morse was on the shelf because of a strained oblique on his left side. He missed the Giants' victory over the Pirates in the National League Wild Card Game in Pittsburgh on Oct. 1 and was not on the roster when they defeated the Nationals in four games in an NL Division Series.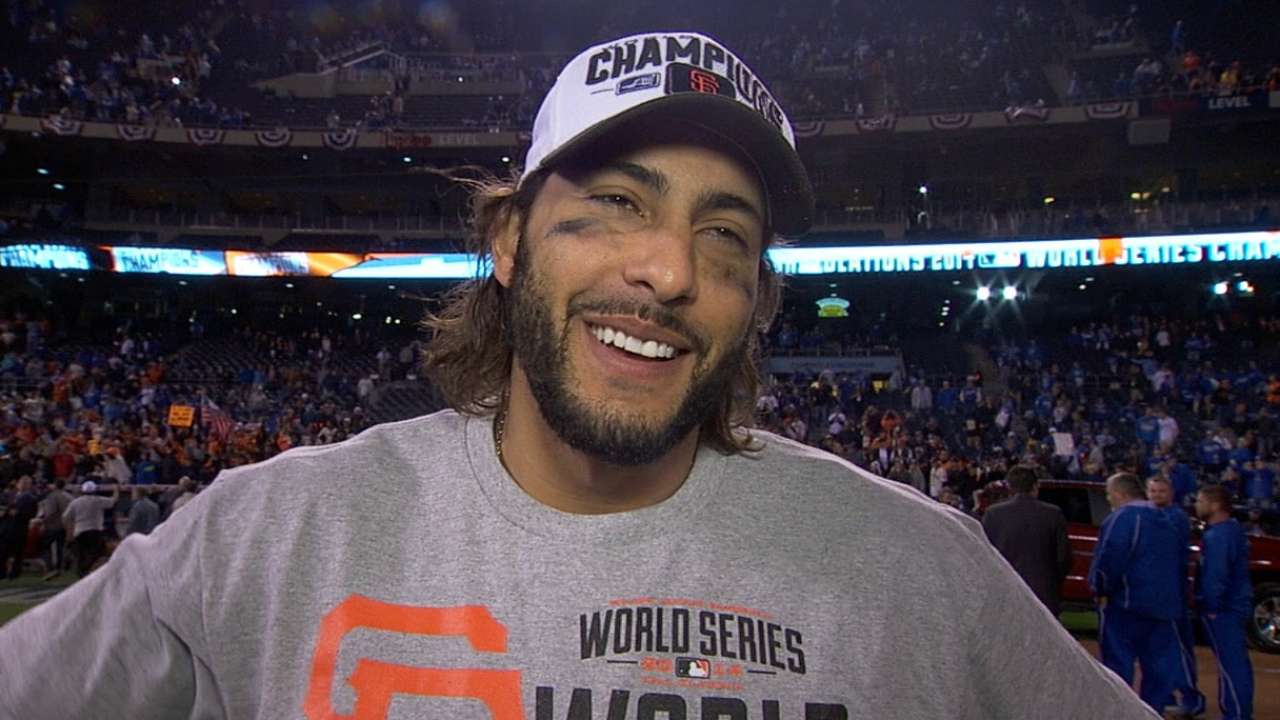 Morse was reactivated for San Francisco's five-game victory in the NL Championship Series against the Cardinals and served as a pinch-hitter, smacking the tying homer to lead off the eighth inning of Game 5 in San Francisco, and the Giants won on a walk-off three-run shot hit by Travis Ishikawa in the ninth.
"I felt good," Morse said. "I made sure that, when I did get a chance to come back, I would be ready and be able to contribute. I feel like I did a good job."
Morse sustained the injury to his left oblique taking batting practice at Coors Field on Sept. 1. An MRI exam of the area revealed the nature of the injury the next day. He received a cortisone shot, and the Giants hoped to have him back in the lineup sooner rather than later, even though recovery time from such an injury can be as long as two months.
Morse tried to return, taking two at-bats late in a game against the Padres on Sept. 19, but he was shut down again.
"I tried to come back after two and half weeks. It was way too early and I wound up reinjuring it," Morse said. "I just wasn't ready. It takes something like six to eight weeks. It didn't work. After that, the plan was, no matter how I felt, just be ready for the playoffs."
Morse signed a one-year, $6 million contract as a free agent on Dec. 17. He is a free agent again now that the World Series is over. During the regular season, Morse batted .279 with 16 homers and 61 RBIs in 131 games.
But the greatest part of the season was still to come.
"It's unreal. Big moments like this, it's awesome," he said. "This is what we fought for all year, and this is the greatest group of guys I've ever seen. And from Day 1 we believed in ourselves when others didn't. We stuck by each other. Just a group of guys like that gets you to relax and calm you down. We fought, we fought our way to get here, and it's well deserved.
"It's more than I thought it would be. It's more than that. This is something I've dreamed about since the first day I signed a contract to play professional baseball. When I signed here, it was the right place. I hope I'll be back."
Barry M. Bloom is a national reporter for MLB.com and writes an MLBlog, Boomskie on Baseball. This story was not subject to the approval of Major League Baseball or its clubs.