Pence, Panda leave marks on Series record book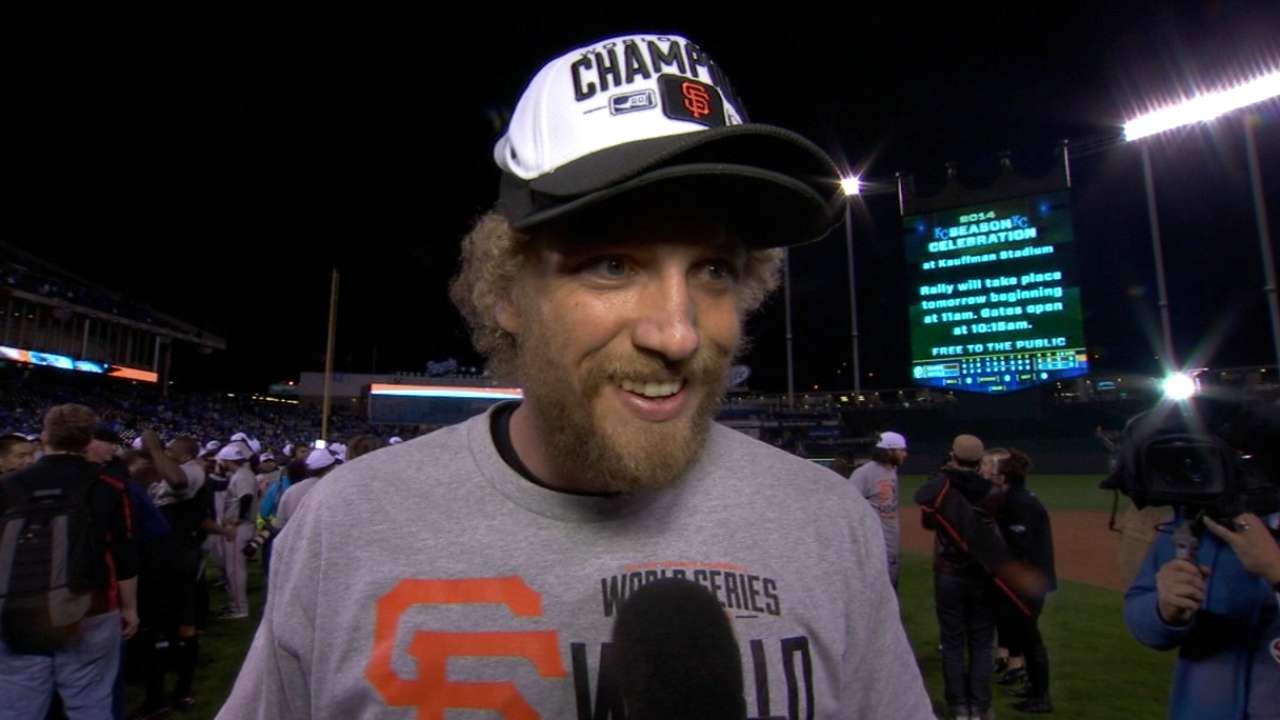 KANSAS CITY -- Hunter Pence stood in a storage room in the back of the visitors' clubhouse at Kauffman Stadium on Wednesday night, rummaging through a box of bats as a World Series-clinching party in the room outside continued. Jeff Idelson, the president of the National Baseball Hall of Fame, looked on expectantly.
Pence drew out a bat with a Day-Glo green taped handle and handed it to Idelson. Pictures were quickly snapped to commemorate the moment.
"It's the bat that I used to get the double off [Royals starting pitcher Yordano] Ventura," Pence explained, referring to a hit in the second inning of Game 6.
And with that, the bat was packaged, wrapped and ticketed to Cooperstown, N.Y. And Pence resumed celebrating the Giants' third World Series championship in five seasons, secured with a 3-2 win over the Royals in Game 7. Pence had 12 hits, at least one in each of the seven games. The 12 hits tied a franchise and World Series record also matched this Series by teammate Pablo Sandoval.
Pence batted .444 in the Series, and Sandoval .429. The Giants hit .277 as a team, but they only smacked two home runs -- none after Game 2. Pence had one of them -- a two-run first-inning shot in Game 1 that sent the Giants and Series MVP Madison Bumgarner to a 7-1 victory.
"You know, I just gave it my best," said Pence, who is now a .390 lifetime hitter in World Series play after collecting two hits in four at-bats in Game 7. "I just went out there and tried to grind some at-bats. I got a couple of little hits that were little parts of the big picture of our scoring. That's how a team does it. Everyone chips in here, and that's why we're standing here as the world champions right now."
Pence is the acknowledged heart, soul and leader of the team. As the typical victory champagne and beer celebration started, Pence gathered the guys together in the middle of the clubhouse and handed out bottles to each of his teammates.
"I'm not going to make a speech," he said, asking everyone to start shaking the bottles. He then started shouting, "Yes, indeed, yes, indeed, yes, yes, yes, yes." That's been a constant refrain of the Giants' 88-win regular season and record 12 wins in the playoffs, including the National League Wild Card Game in Pittsburgh on Oct. 1. With that, the group collectively popped the corks and sprayed themselves silly.
"Since Day 1 of Spring Training, we've been dreaming of this, we've been pushing for this," Pence said. "After all the tough times, we looked at each other and said, 'Don't forget, we're the best team in the world. We've got to believe it.' And it came to me the last few games: You just keep pushing it. You just keep grinding it. We stepped up and it was incredible."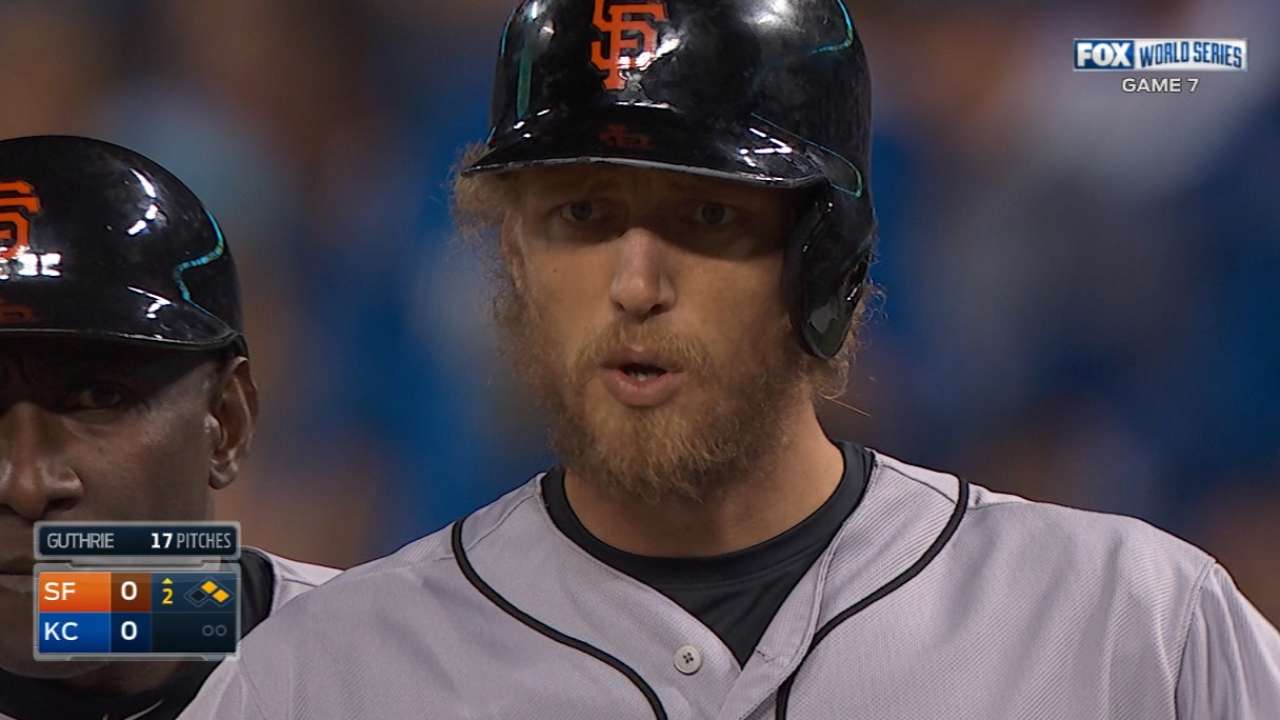 For his part, Sandoval continued his usual torrid World Series hitting. He was the Series MVP two years ago as the Giants swept the Tigers, hitting .500 (8-for-16). In Game 1 of that Series at AT&T Park, Sandoval tied a World Series record held by Babe Ruth, Reggie Jackson and Albert Pujols when he hit three homers. The first two were off Justin Verlander. In the two World Series combined, Sandoval hit .455 (20-for-44).
For the 2014 postseason, Sandoval hit .366 (26-for-71). The 26 hits established a Major League record, surpassing the previous mark of 25 held jointly by Marquis Grissom (1995 Braves), Darin Erstad (2002 Angels) and David Freese (2011 Cardinals). Sandoval had a streak of getting on base at least once in 25 games snapped when he went hitless in Game 3 of the World Series.
What is it about this time of year?
"I don't know, I love being under pressure," said Sandoval, who will now test free agency after going 3-for-3 with a double and two runs scored in Game 7. "I love playing games this time of year. I love San Francisco, I do. I love my teammates, the fans. They deserve this more than us. I thank the Giants organization for giving me the opportunity to be here and learn the game the way I have. I'm just excited."
Will he stay?
"I'm not going to worry about that right now," he said. "I'm just going to celebrate, guys."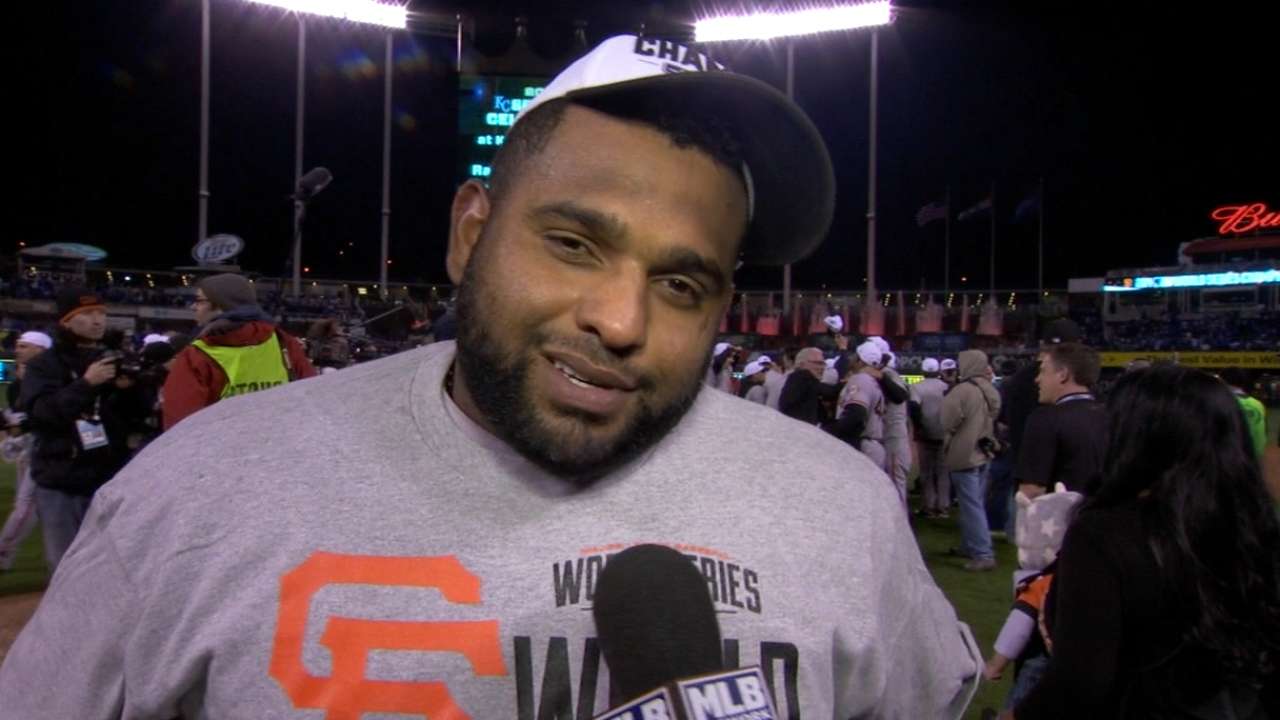 Barry M. Bloom is a national reporter for MLB.com and writes an MLBlog, Boomskie on Baseball. This story was not subject to the approval of Major League Baseball or its clubs.