Seven-game Series fitting way for Selig to go out
Commissioner reflects on final Fall Classic, Wild Card teams, replay and more
KANSAS CITY -- It took the full seven games before the 2014 World Series was decided Wednesday night at Kauffman Stadium. And that was only fitting.
This was the 22nd Fall Classic that Allan H. (Bud) Selig has presided over. And also the last. Selig will step down as Major League Baseball's Commissioner in January, handing the reins to Chief Operating Officer and Commissioner-elect Rob Manfred.
Moments after Giants left-hander Madison Bumgarner got Royals catcher Salvador Perez to pop out with the tying run on third, preserving San Francisco's 3-2 win in Game 7 to clinch its third World Series championship in five seasons, Selig paused on his way to the trophy presentation and admitted that he had been hoping this Series would go the distance.
"The seventh game meant a lot to me," Selig said. "I felt so good [Tuesday] that it was going to come down to this. So yes, it meant a lot to me. And it was a wonderful seventh game. It was remarkable, no doubt about it.
"Right to the last pitch. You couldn't ask for anything better than that. It was a great World Series, a great cap to a great season."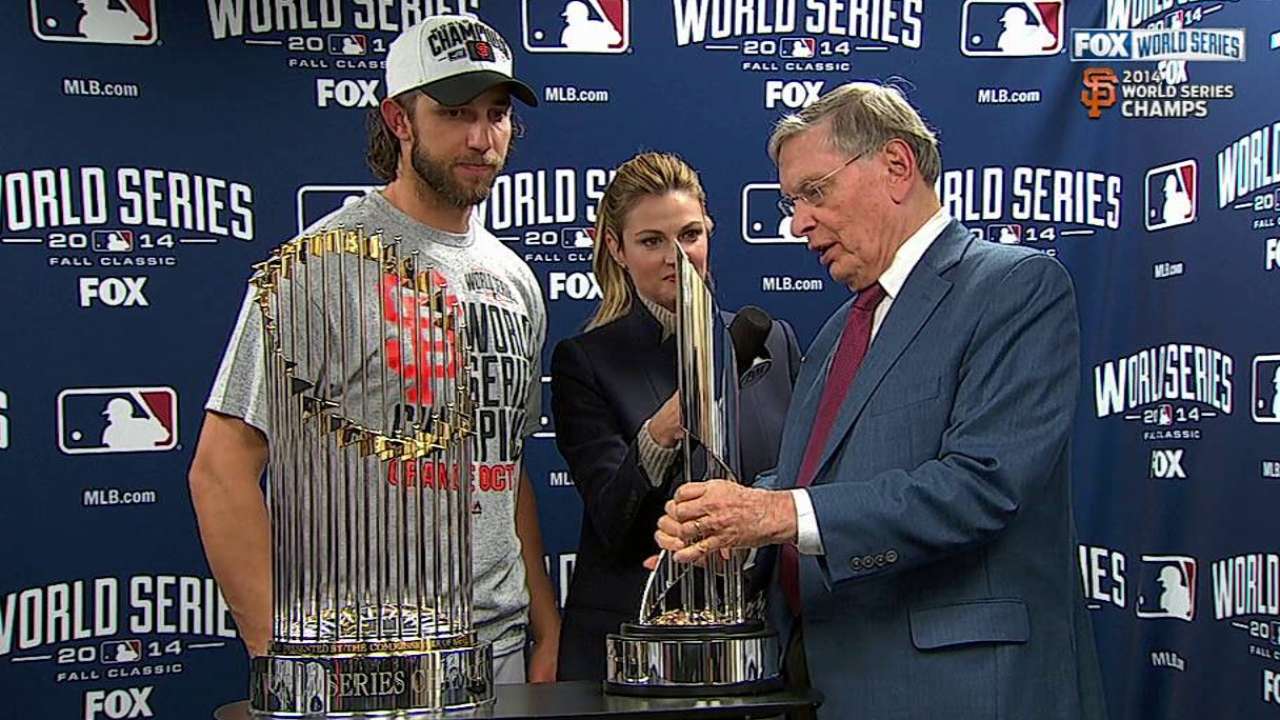 It was the fifth World Series Game 7 of Selig's tenure. The others: Marlins-Indians in 1997, D-backs-Yankees in 2001, Angels-Giants in '02 and Cardinals-Rangers in '11. Overall there have been 35 World Series that went the distance since Judge Kenesaw Mountain Landis became baseball's first Commissioner in 1921.
These games neatly reflected Selig's legacy on multiple levels.
This year, for the first time, MLB used expanded replay, as well as new rules governing home-plate collisions. In the third inning, there was a close call that could have impacted the outcome of the game. With the score tied at 2, it was originally ruled that Eric Hosmer had beaten the throw to first base on a potential double play.
Giants manager Bruce Bochy challenged the call, however, and the replay official in New York overturned it, helping to short-circuit a potential Kansas City rally.
"It makes me happy because we got it right," Selig said. "Instant replay worked out just beautifully. It couldn't have gone better. [Diamondbacks chief baseball officer] Tony La Russa keeps saying to me -- you know, he was very much involved -- how great it was. It was just tremendous."
Selig has frequently said that one of his proudest accomplishments as Commissioner is the economic reforms that have led to greater competitive balance. So it's noteworthy that a pair of Wild Card teams advanced to the 2014 World Series.
"Absolutely, no question," the Commissioner said. "I think of all the controversy about the Wild Card ... and then the second Wild Card. There was no controversy about that, and it's worked out just great."
Even more significant was the fact that the small-market Royals not only made it to the postseason for the first time in 29 years, but they came within one game of besting a Giants team that some are calling a dynasty.
"I'd be less than honest if I didn't tell you, it's one of the manifestations. It's a wonderful story. And we've had a lot of other ones," Selig said before Game 4. "The fact that Kansas City is in the World Series, of course, makes me feel good. No system is perfect, but it's what we set out to do, and it's worked."
Selig recalled how emotional he became last season watching the reaction of Pittsburgh fans as the Pirates made it to the postseason for the first time in more than two decades.
"Sitting at home watching it, I had tears in my eyes," he said. "You've all heard me say how much I believe in the hope and faith theory. And I do believe that."
This was Selig's last big turn on the World Series stage. He'll be back in Kansas City for the quarterly Owners Meetings in November, and the owners session in Phoenix before he retires in January. But as Selig left the suite in which he watched the game on Wednesday night and moved toward the Giants' clubhouse, he insisted once again that nostalgia hasn't begun to set in.
"I've been so busy and have had all this on my mind," Selig said. "I'll start thinking about it more in late November, December and January."
Paul Hagen is a reporter for MLB.com. This story was not subject to the approval of Major League Baseball or its clubs.