Royals thank KC faithful at Kauffman Stadium
Yost, players, front office take turns on the microphone to express gratitude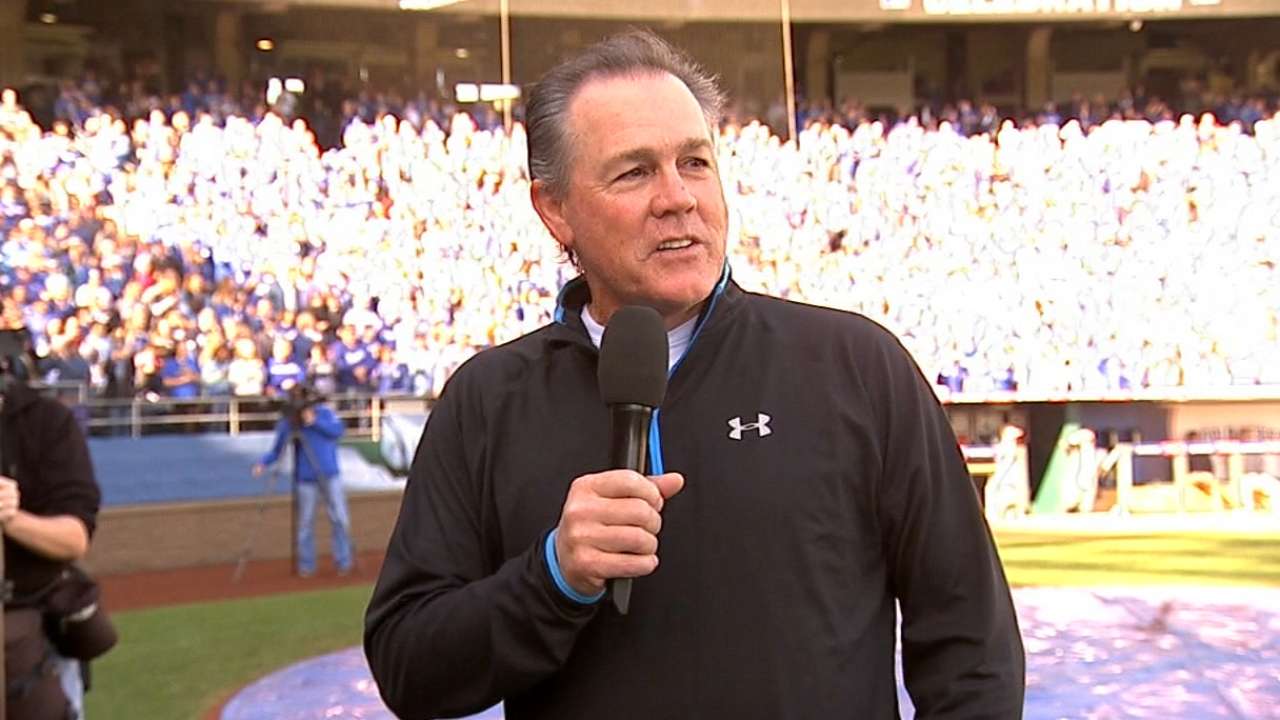 KANSAS CITY -- Barely 12 hours had passed since the Royals' first postseason team since 1985 had absorbed a tough 3-2 loss to the Giants in World Series Game 7. But an estimated 15,000 fans piled into Kauffman Stadium on Thursday morning to say thanks to the Royals. Mostly, though, the team thanked the fans.
"Without you, none of this is possible. So thank you for hanging in there with us," Royals owner David Glass told them. "I'm still struggling with last night. I think it'll get better over time, but none of us handle losing very well."
Even so, manager Ned Yost, coach Mike Jirschele and 14 players returned to the field as the lower bowl of seats filled with blue-clad fans for a 45-minute love fest.
"The reason we got out of bed today was to thank you guys," Yost said. "The one thing we will remember most about this year, when we get older, is going to be our individual achievements, but most of all, we're going to remember you -- what you guys did for us, how you guys had our back, how you brought this city together. We enjoyed it, we loved it, we appreciated it and we thank you so much for it."
"Thank you, Royals!" the fans chanted in return.
General manager Dayton Moore joined in the appreciation of fans and also thanked the Glass family for its leadership in bringing the team back to the World Series.
"Losing's not fun and it does hurt today for the guys and the men in the clubhouse and Ned and the coaching staff," Moore said. "But I can tell you this: Our motivation going forward is as strong as it's ever been, it's as fearless as it's ever been and we're motivated to bring this energy and this excitement back to Kansas City for a long time."
Pitcher James Shields was among the players who spoke to the crowd.
"When you're a little kid, you always dream about being in a World Series. … We got to experience that dream, and we're glad to experience it with you guys," Shields said.
Designated hitter Billy Butler, one of the senior Royals, got emotional as he spoke of the organization, mindful no doubt that he might be leaving as a free agent.
He told the fans: "We couldn't have done it without you guys. You guys treated us like royalty, and we couldn't be more proud to be out here for you."
"You the best! Thank you so much!" said Nori Aoki, the most English heard yet from the Japanese right fielder.
Pitcher Jeremy Guthrie and outfielder Lorenzo Cain took the microphone, too. Also waving to the crowd were catchers Salvador Perez and Francisco Pena; pitchers Yordano Ventura, Jason Frasor, Louis Coleman and Scott Downs; the middle infield combination of Alcides Escobar and Omar Infante and backup Christian Colon.
The fans who poured into the stadium also heard civic leaders and viewed scoreboard videos of highlights from the Royals' magical season, as well as clips of hijinks in the stands.
"The Royals are relevant again in Major League Baseball, and Kansas City baseball fans are back on the map, thanks to you," said the emcee, broadcaster Ryan Lefebvre.
"Don't look at last night as a loss," said Kansas City Mayor Sly James. "Look at it as a beginning of a dynasty."
"We heard you out here," Shields said, "and we're glad baseball is back in Kansas City."
Dick Kaegel is a reporter for MLB.com. This story was not subject to the approval of Major League Baseball or its clubs.