Yost sticks with Game 7 plan on pitching front
KC manager turns to dominant 'pen early, with mainly positive results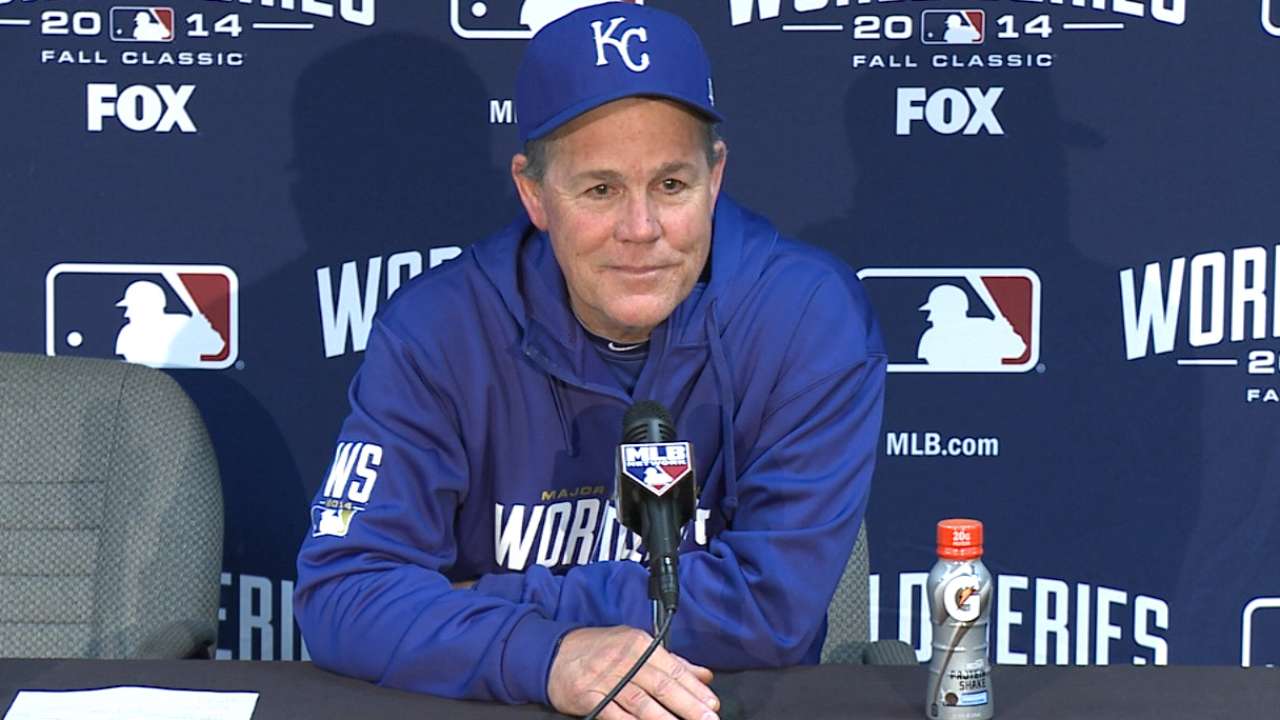 KANSAS CITY -- More than four hours before Game 7 of the World Series, Royals manager Ned Yost outlined how he planned on setting up what he hoped would be the franchise's biggest win since 1985.
Yost would rely on his starter Jeremy Guthrie for a few innings, then hand the ball off to his triad of unhittable relievers as early as possible. He categorized the strategy as "totally different than anything I've ever done."
Kansas City followed this plan, but it did not result in victory, as the Royals were edged by the Giants, 3-2, at Kauffman Stadium in the decisive Game 7 of the 2014 World Series.
"What causes you to lose sleep is you go back and evaluate things that you could have done differently. … There's not much we could have done differently," Yost said.
At Yost's pregame news conference, he made two things clear: He hoped to get Guthrie through four innings, and he would have no qualms about going to relievers Kelvin Herrera, Wade Davis and Greg Holland early and often.
Yost kept his word on the quick hook with Guthrie, pulling him after 3 1/3 innings, and on his willingness to implement his best relievers in the game's most crucial junctures.
After Guthrie allowed two of the first three San Francisco batters to reach in the fourth, Yost turned to Herrera, bringing the right-handed flamethrower into a 2-2 tie. Herrera appeared in just two regular-season games before the sixth inning, and Yost often assigned a stringent seventh-inning role to Herrera.
But a strikeout or double play was in order, and Herrera could provide either.
The process of the decision was spot on. The outcome proved deflating and costly.
Herrera got ahead 0-2 on Michael Morse and busted him in on the hands. Morse fought off the 99-mph heater and dropped it into right field for what would prove to be the game-winning, broken-bat RBI single.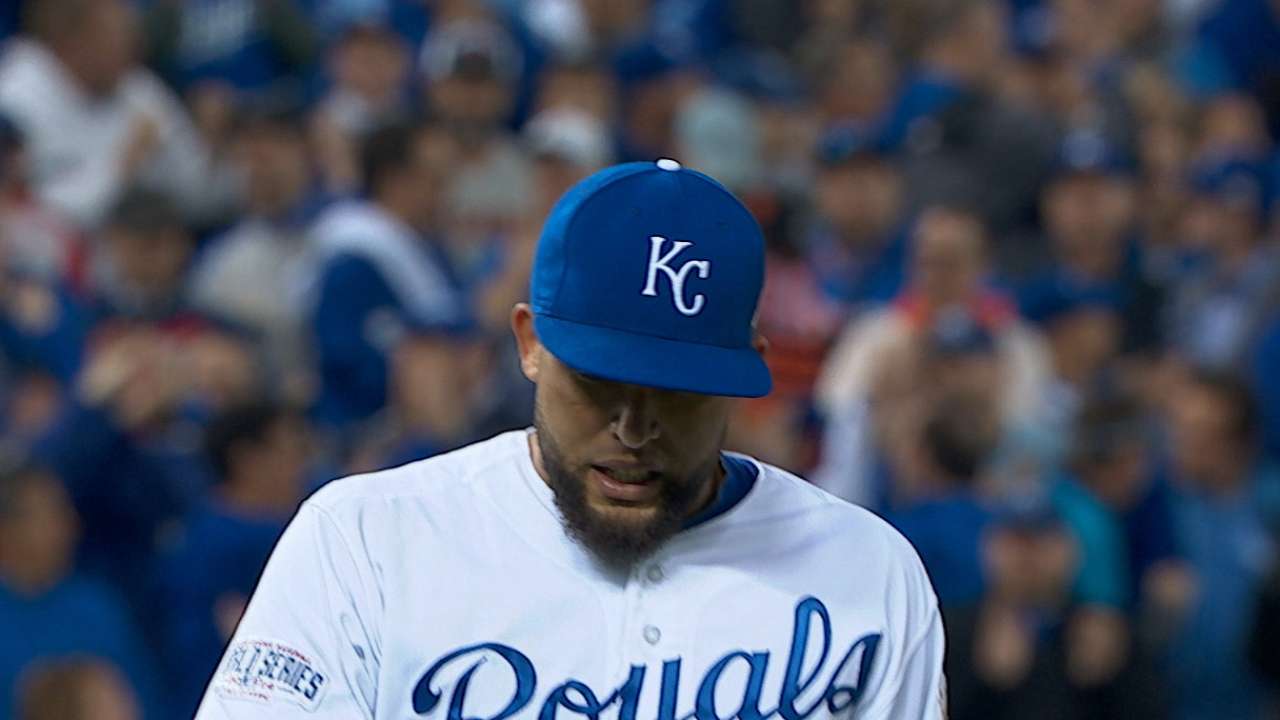 "He was late on my fastball, you saw it," Herrera said. "You saw the broken-bat contact. He got lucky that it dropped in the spot where no one was in right field."
That fourth inning could have turned into a disaster for the Royals. But Herrera navigated around the jam, and went on to pitch two scoreless frames in a career-high 2 2/3-innings outing. Davis pitched the seventh and the eighth for only his fifth two-inning outing of the season.
"There's no game tomorrow, we have a couple months' rest. We would have all given our arms up there today for that game," Davis said.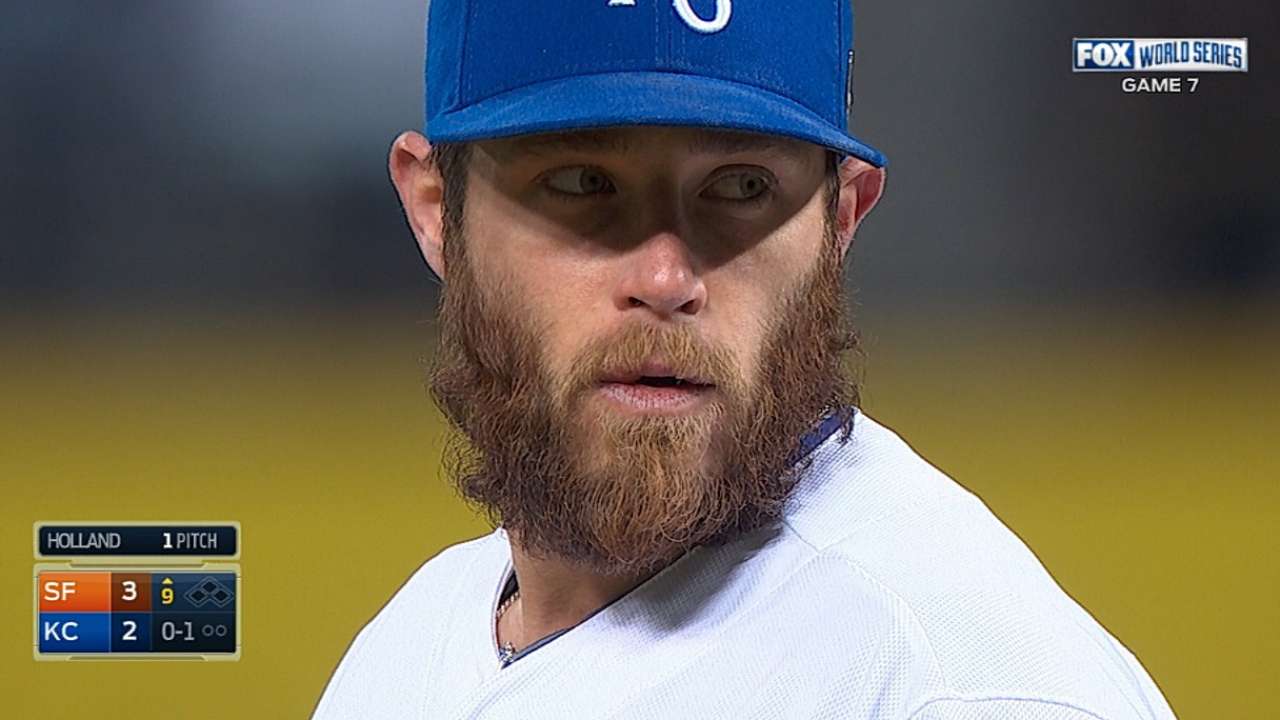 With a scoreless ninth inning from Holland, Kansas City relievers combined to throw 5 2/3 innings. They allowed four hits and struck out nine.
"They carried us," first baseman Eric Hosmer said. "They really carried us the whole way into the postseason. They were the strength of our team."
Jackson Alexander is an associate reporter for MLB.com. This story was not subject to the approval of Major League Baseball or its clubs.