MLB.com Columnist
Mike Bauman
Watching the Giants is watching history unfold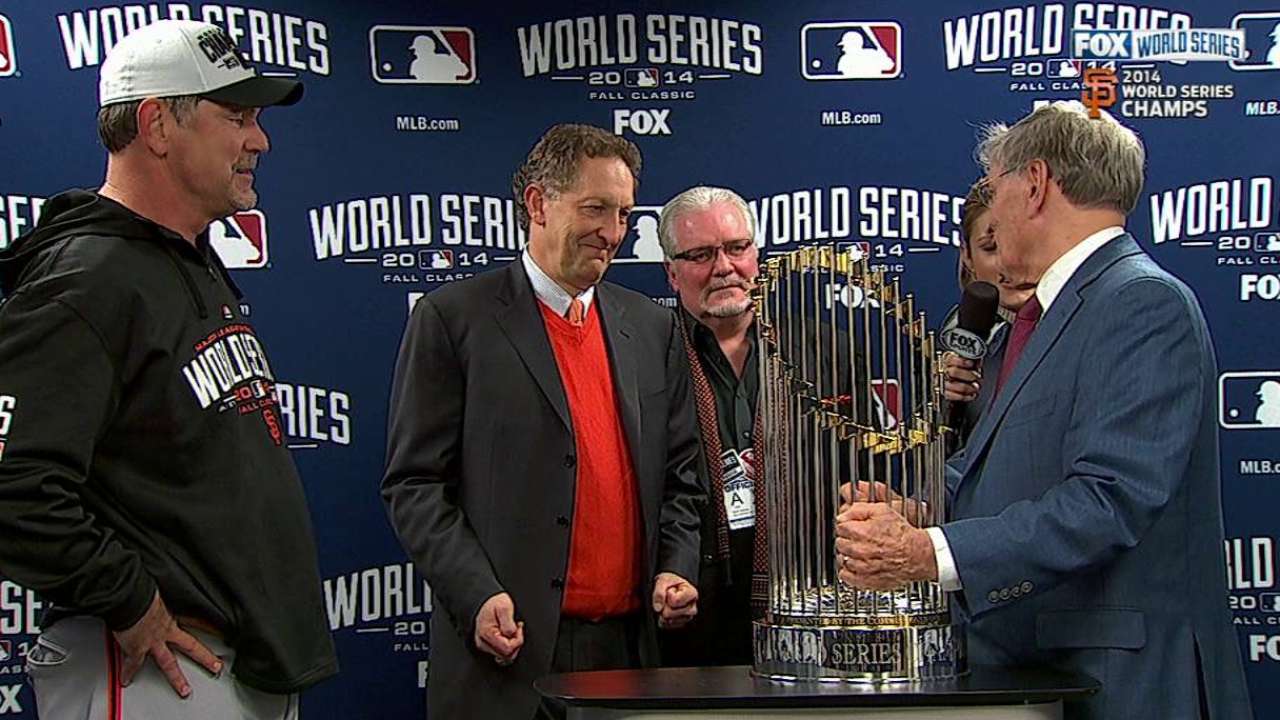 KANSAS CITY -- The premier baseball team of the current millennium is the San Francisco Giants.
The Giants are once again at the summit of the baseball world by virtue of their third World Series championship in five seasons. The 2014 edition was completed on Wednesday night with a heart-pounding 3-2 victory over the Royals.
This was Game 7 as it was supposed to be, closely contested throughout, finishing with the potential tying run for Kansas City on third base at Kauffman Stadium. And it exemplified the whole of the Giants' season. This third championship may have been the most difficult of all given the injuries and setbacks they had to endure.
At the end, the Giants rode the tireless left arm of Madison Bumgarner to this victory and this championship. The Most Valuable Player of the World Series? Of course. He was also the Most Magnificent, the Most Dominant, the Most Astounding and the Most Impossible to Hit. Five innings of shutout relief in Game 7 brought his 2014 World Series ERA to 0.43. His career World Series ERA, 0.25, is the all-time best among those with more than 25 World Series innings pitched.
But even Bumgarner's dominance should not overshadow the work of the other 24 players, manager Bruce Bochy, general manager Brian Sabean, the coaching staff and the entire club. This season was an organizational triumph for the Giants.
The Giants lost Matt Cain, a rotation stalwart, to injury. Angel Pagan, their leadoff man and center fielder, was out. Second baseman Marco Scutaro was limited to five games by back problems. First baseman Brandon Belt played 61 games in the regular season, although he did return to full health and effectiveness for the postseason.
Despite the personnel losses, the Giants found a way. They searched long and hard for a suitable second baseman and found Joe Panik in their own organization. That worked. That brilliant diving play Panik made on Eric Hosmer's shot up the middle in the third inning turned a real scoring opportunity for Kansas City into a sensational double play.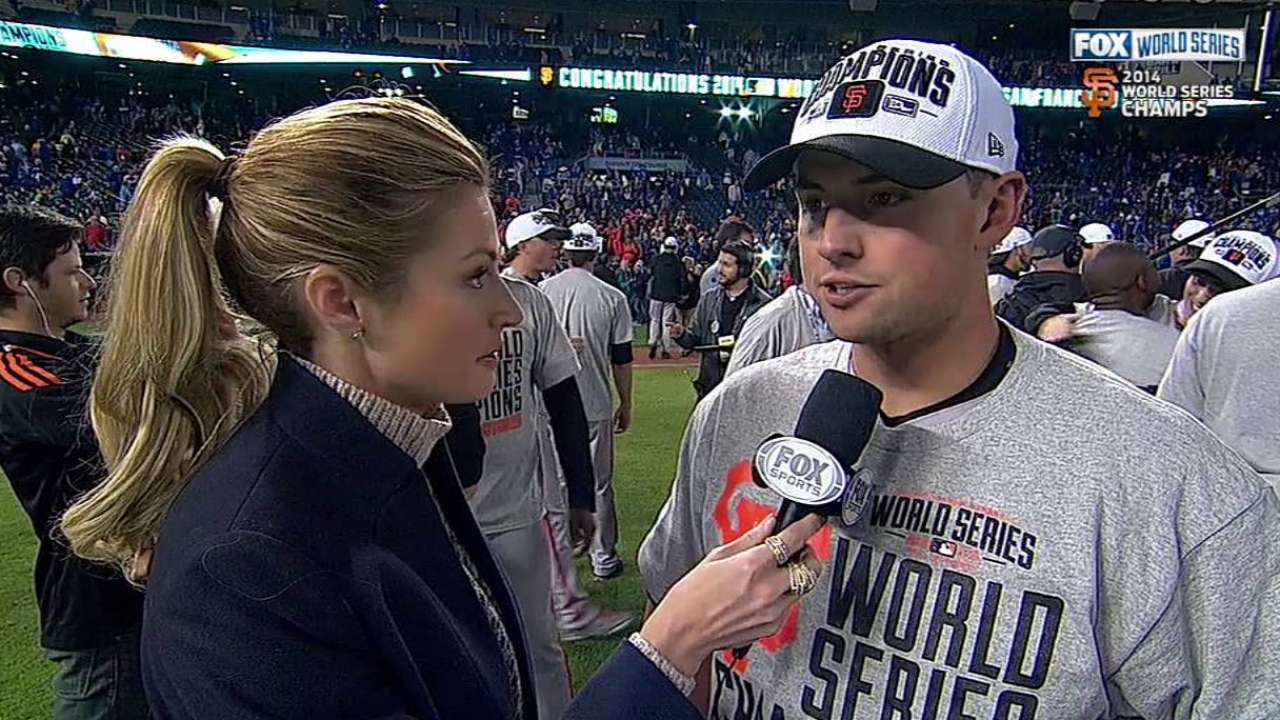 This World Series victory itself was achieved with considerable difficulty. There had been some chatter about the fact that this was the first World Series featuring two teams that had not won 90 games in the regular season.
All right, but look what happened when the postseason arrived. The Giants went 8-1 to get to the World Series; the Royals went 8-0. These were both Wild Card teams, but in October they were also baseball's best teams. No apologies were required, just congratulations to be accepted.
"That's a special group of guys over there," Royals manager Ned Yost said of the Giants after Game 7. "They've got an outstanding manager [and] outstanding coaches, and they played the game right."
What did it mean to the Giants to win their third World Series in the past five seasons?
"You know, I'm numb, really, through all of this," Bochy said. "You're so blessed or fortunate to get in the World Series and to get one, it just doesn't happen that often. To look at this and see that we won three times, I mean, I'm amazed with what these guys did and the fact that we have won three times in five years. It's not that easy. But when you have a group of warriors like we have, I mean, they continue to just amaze you. They were relentless.
"This team went through a lot this year with the injuries. Cain, Pagan, [Michael] Morse, the Wild Card, I mean, this has been a tough road we've gone down. [We] played a great club there. Congrats to the Royals with their year and a great World Series.
"To do this on the road, really going against all odds. ... We kept hearing the odds. Once [we lost] Game 6, you know, the odds weren't very good on us winning this game. To accomplish it, I just think that the guys, too, that haven't gotten a ring, the [Tim] Hudsons, the Morses and all these young kids, that's what makes this so much more special.
"Yeah, everybody did something to contribute through all of these games. That's what really made this special, too."
When you hear at some point that the Giants don't have enough power to win, feel free to either ignore that bit of opinion, or get out in front by scoffing at it. The Giants don't need power. They have pitching and defense.
Only five home runs were hit in this World Series, two by the Giants. That's the fewest homers in a Fall Classic since 1985, when the Royals and Cardinals combined for four. But hey, who needs home runs when you can score with consecutive sacrifice flies?
With this World Series victory, the Giants have won 10 consecutive postseason rounds. In that category they trail only one team, the Yankees, who won 11 straight postseason series from 1998 to 2001.
Winning three World Series in five seasons is not exactly the same as the Yankees winning five straight from 1949 to 1953, but that era and this one don't much resemble each other. The current era is one of parity in baseball. Winning three World Series in five seasons is not supposed to happen. So when it does, we are witnessing history.
So after 2010, 2012 and 2014, you do not have to be a rocket scientist to gaze toward the 2016 World Series and think: "San Francisco Giants. Again."
Mike Bauman is a national columnist for MLB.com. This story was not subject to the approval of Major League Baseball or its clubs.