Smallville: Giants show off fundamentals on big stage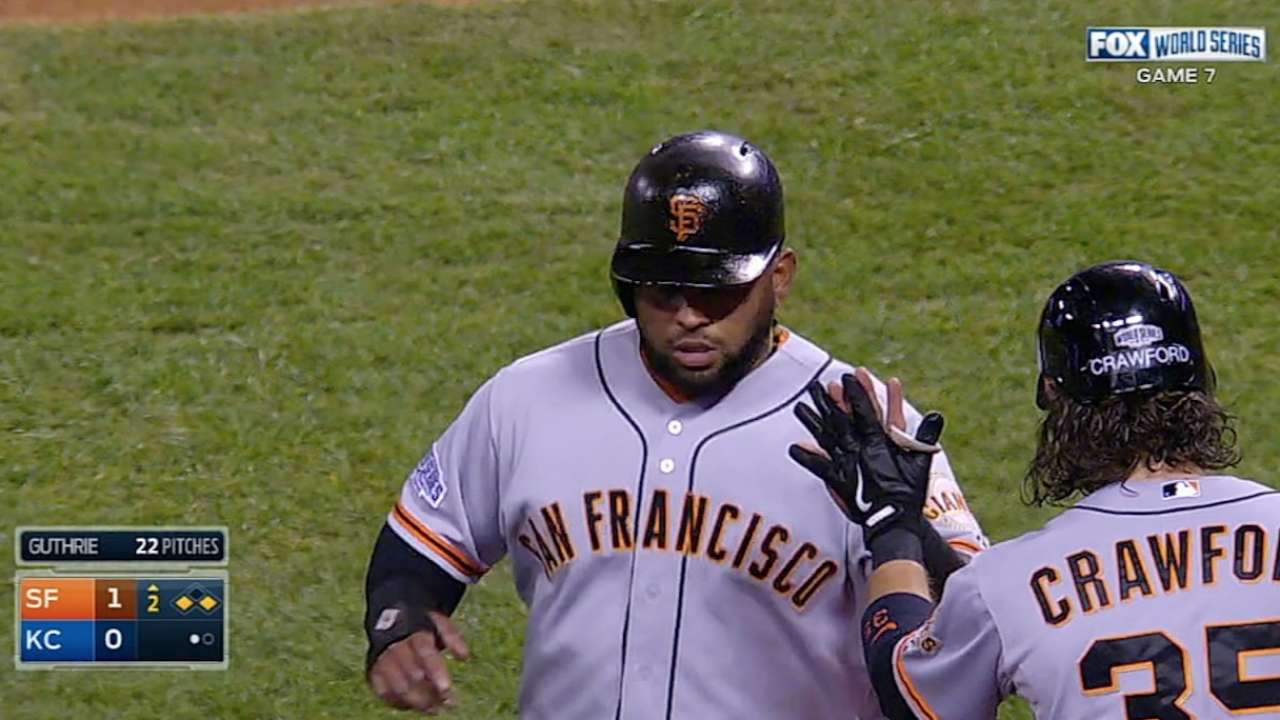 KANSAS CITY -- The back fields of Spring Training in March are a long way from the spotlight of the World Series in October, but a concept drilled into the minds of the Giants' hitters every day during those endless workouts in Arizona wound up paying huge dividends on the game's biggest stage. The mantra: Find a way to get that man in from third.
It's simple, really, yet not that easy to execute. It's Baseball 101, and the Giants passed that course with flying colors in wrapping up their third World Series title in five seasons with a 3-2 victory in Game 7 over the Royals on Wednesday night.
Using two sacrifice flies and a single to right, the Giants scored just enough runs to back up an amazing pitching performance by Madison Bumgarner and Co., wrapping up a postseason run that proved that there are many different ways to manufacture runs in October.
"We found pretty much every way in the book to score a run this postseason, and that kind of sums it up for us," said Giants shortstop Brandon Crawford, who picked up his ninth RBI of the postseason with a sacrifice fly in the second inning of the clincher. "We did all the little things right. Sacrifice flies are part of fundamental baseball. That's something we're trying to do. I think that's a big reason why we're in the postseason so often and why we win games once we're there."
This postseason, the Giants took small ball to a whole new level. They scored 20 of their 71 runs on their road to the World Series title without the benefit of a hit. We're talking six sacrifice flies, plus groundouts, walks, an error, a couple of wild pitches and the old sacrifice bunt/error on the pitcher. If there was a way to score, the Giants were going to find it.
The Giants tallied their first 13 runs of the postseason the conventional way, if you can call a solo home run in the 18th inning like the one Brandon Belt hit in Washington conventional. But after that National League Division Series Game 2 victory, the Giants started their run of creative ways to get the job done. They scored all three of their runs in the NLDS clincher against the Nationals without a hit, and they went on to spread out new and interesting ways to score throughout their amazing run to the title.
The key, said hitting coach Hensley Meulens in the din of the clubhouse celebration Wednesday night, was doing the things they worked on all Spring Training long, and continued through the regular season. The Giants led the NL with 49 sacrifice flies, just one of many ways to get that guy home from third.
"That's our M.O.," Meulens said. "We bring the run in from third with less than two outs however we can bring it. If the infield is in, we try to hit a fly ball. If the infield is back, we try to hit a ground ball.
"That's what we preach. That's what we work on, and the result today was those runs scoring."
It all goes back to that work on the back fields in Spring Training, where Meulens said he rotated groups of four every single day to work on those situations. That the results could be seen right up to the very end of the Giants' run to the title is a testament to the power of sound fundamental baseball.
Perhaps Michael Morse is as good an example of how the concept works as anyone. Brought in as a power bat, he managed just three homers after June 6. But Morse came through in the postseason, including his sacrifice fly in the second Wednesday and a clutch RBI single to the opposite field -- on an 0-and-2 fastball by Kelvin Herrera clocked at 99 mph, no less -- for what turned out to be the winning run in the World Series clincher.
"I just told myself to stay relaxed, see the ball over the middle, try not to do too much and try and put it into play," Morse said.
The Giants did whatever they could do to score runs this postseason, and they did it enough to walk away champions. It's as though they went through those drills in Spring Training with the thought going through their minds: Game 7 of the World Series, man on third, need a run here.
On a night in October that wound up bathed in champagne, those days of working on situations on a back field in March loomed large, and the mantra ingrained in their team DNA to get that runner in from third became a big piece of their postseason puzzle.
"We knew it was going to come up when we needed it the most, and these guys don't panic," Meulens said. "They know what they're doing. They know how to get it done. They have the calmness to get it done."
John Schlegel is a national reporter for MLB.com. You can follow him on Twitter @JohnSchlegelMLB. This story was not subject to the approval of Major League Baseball or its clubs.