MLB.com Columnist
Richard Justice
Bumgarner makes October his time
Left-hander wills Giants to third World Series title in five seasons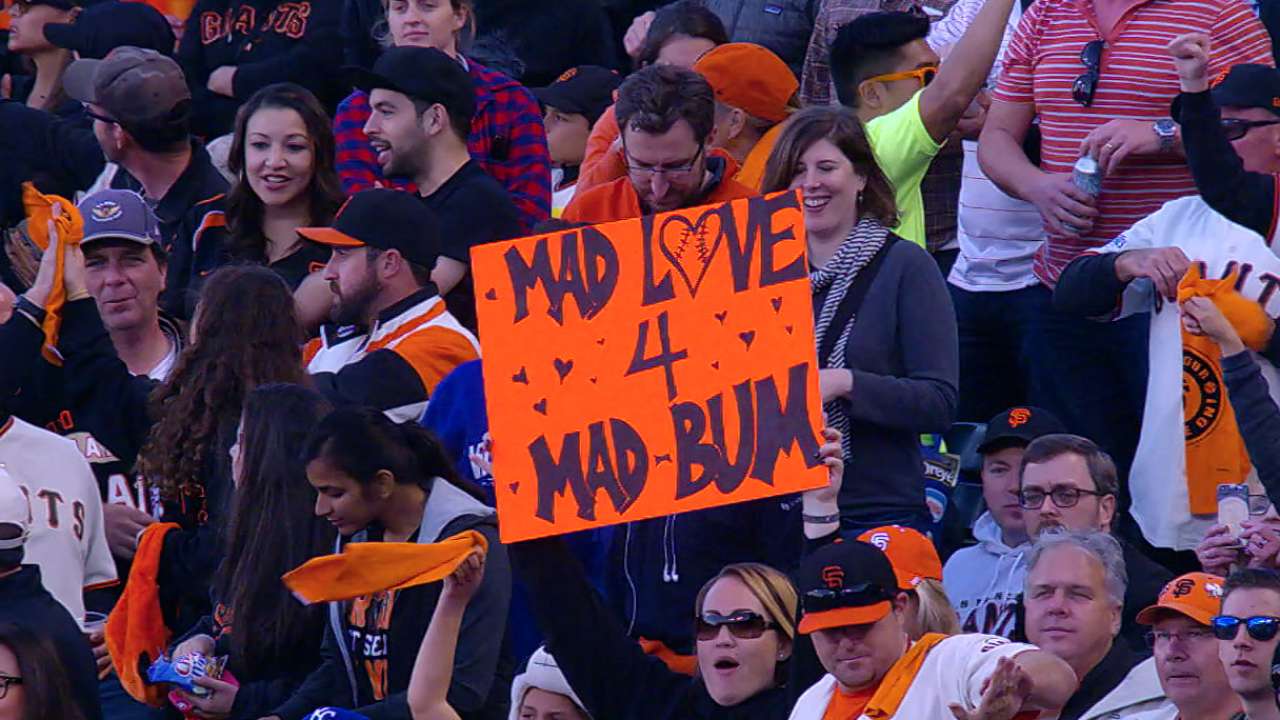 KANSAS CITY -- He would not let his team lose. That's Madison Bumgarner's legacy in this World Series. Every once in a while, a player rises to the highest level on the largest stage by seizing the moment and making it his own.
Bumgarner did just that Wednesday night in Game 7 of the World Series as the Giants defeated the Royals, 3-2, to win their third championship in five seasons. Remember this performance. Remember it and embrace it. Roll it through your heart and mind during the winter months ahead when Spring Training seems so far away.
This one will stand the test of time, will rank alongside almost any other in World Series history. Is he Sandy Koufax? For his time and place, for doing what his team asked him to do, the 25-year-old left-hander is right there with any of the greats.
Bumgarner did what the best of the best do, what Bob Gibson and Juan Marichal and Whitey Ford did in an earlier time. With their teammates counting on them, with their city hanging on every pitch, these are the guys who accept the responsibility for finishing the deal. This is what champions do.
This World Series was supposed to be largely defined by the back of Kansas City's bullpen and three pitchers -- Kelvin Herrera, Wade Davis and Greg Holland -- who led the Royals on a magical postseason run.
Those three were splendid again in Game 7, combining to pitch 5 2/3 shutout innings and help make this a tense, taut contest, a test of nerves and poise and all the rest. Every single player will remember the experience for the rest of their lives.
That the Giants won it is another validation of their greatness as a franchise and a team. But it should not diminish what the Royals accomplished in this remarkable season of rebirth in which they returned to the playoffs for the first time in 29 years and put a new generation of stars -- Eric Hosmer, Salvador Perez, etc. -- on display.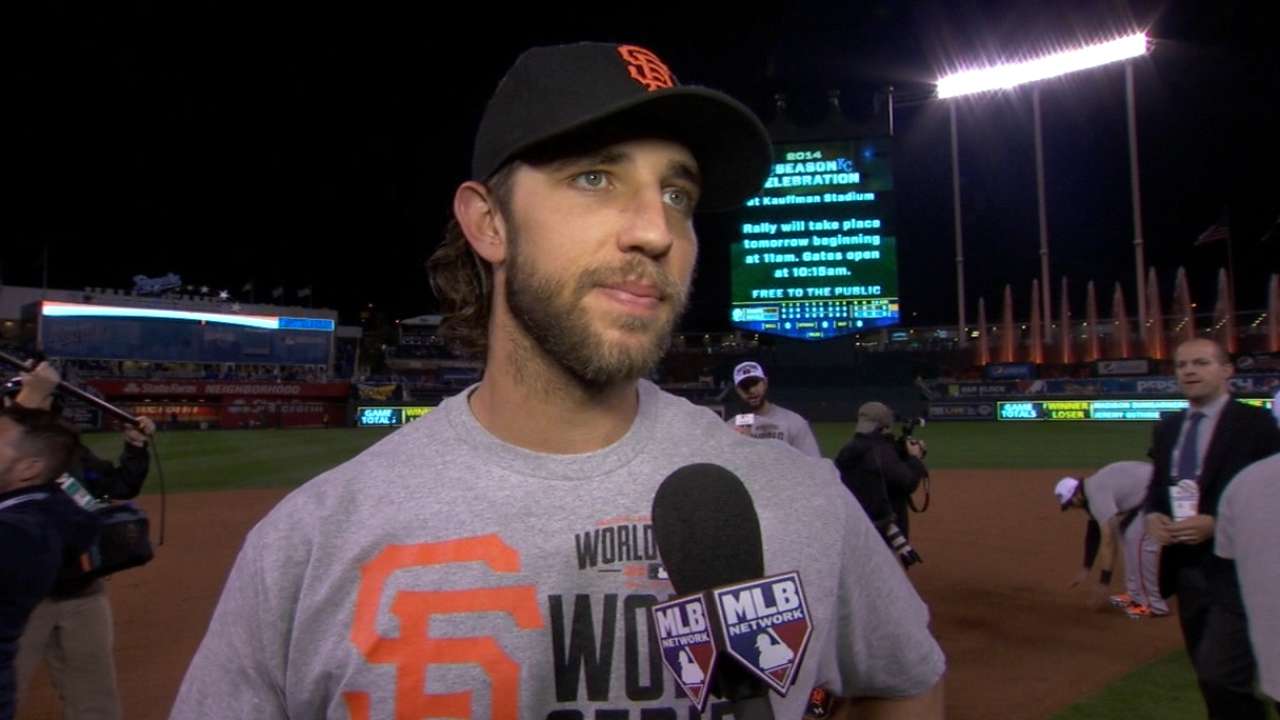 Partly because of that Kansas City bullpen, this is exactly the kind of game the Royals have been winning in the postseason. When a club can run out three guys throwing 98 mph, they shorten games and smother hope.
There was just one thing the Royals didn't count on, one thing they could not know. That one thing was Bumgarner. He'd thrown 117 pitches in a four-hit shutout of Kansas City 72 hours earlier. He'd thrown 265 innings this season, 43 more than he'd ever thrown in a full season.
To think that Bumgarner still had much more to give simply didn't seem realistic. Still, he told Giants manager Bruce Bochy he'd be available for however long he was needed in Game 7. Bumgarner had said this kind of thing before, but Bochy hadn't taken him up on the offer.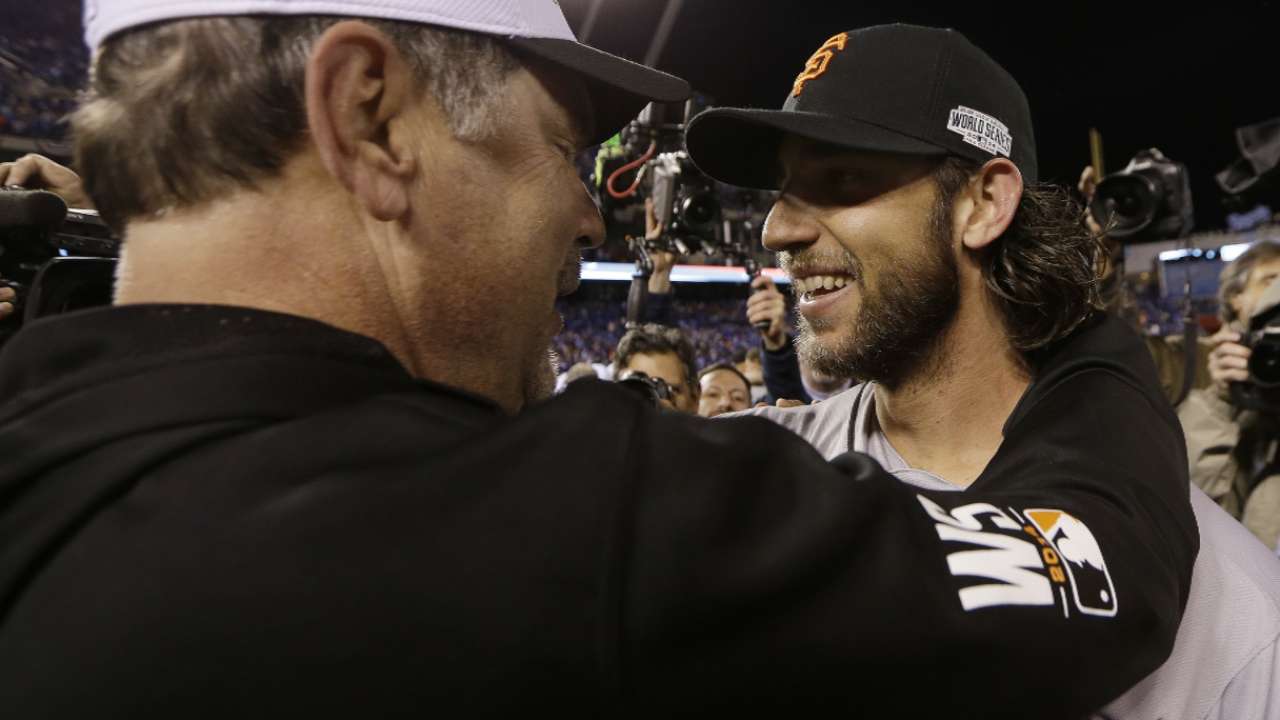 Bochy guessed Bumgarner would be good for 50 or 60 pitches. Still, when Royals manager Ned Yost turned the game over to his late guys in the fourth inning, Bochy figured he'd have little margin for error.
Bochy handed Bumgarner the ball in the bottom of the fifth inning, and he stood in the dugout and watched as his ace matched the Kansas City trio inning for inning. He took control of the game and wouldn't let go.
In a Game 7, the game every player dreams of playing in, the one that validates careers and makes legacies, Bumgarner carved out a special place for himself in World Series history.
In three World Series appearances, Bumgarner allowed one run in 21 innings, walking one and striking out 17. His 0.43 ERA is the lowest among pitchers with at least 15 World Series innings since Koufax compiled a 0.38 for the 1965 Dodgers. He was a unanimous choice for the World Series Most Valuable Player Award.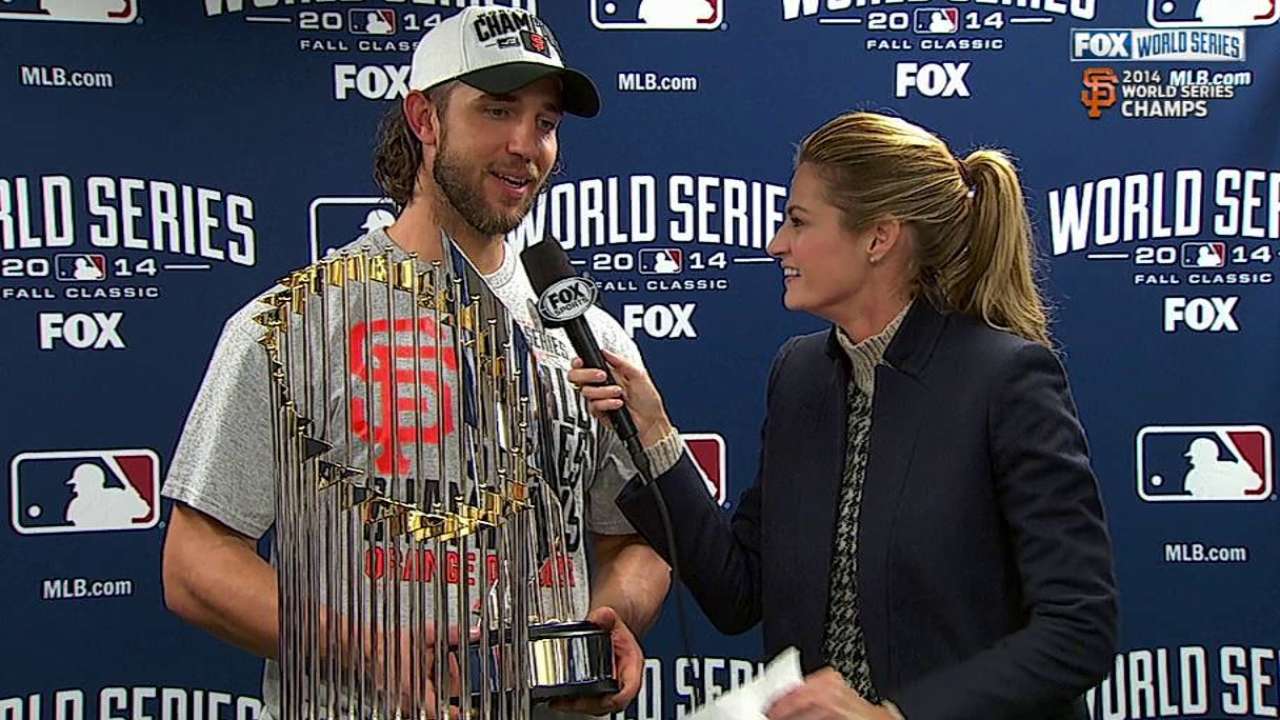 What Bumgarner did in Game 7 on Wednesday night isn't all that different than what he did in 2010 when he was 21 years old and cooly threw eight shutout innings in Game 4 against the Rangers.
Check out Bumgarner's numbers. In five World Series appearances, he has allowed one earned run in 36 innings. That's a microscopic 0.25 ERA. To add to his legacy with five more dominant innings on short rest in Game 7 is a tribute, not just to his talent, but to his grit and resolve.
Bumgarner started badly, allowing a leadoff single and struggling to find his release point in the fifth inning. Was it fatigue or nerves or some combination of both? He needed 15 pitches to get through the fifth inning, but when he ended the inning by striking out Lorenzo Cain on a high, unhittable, 92-mph fastball, something seemed to click.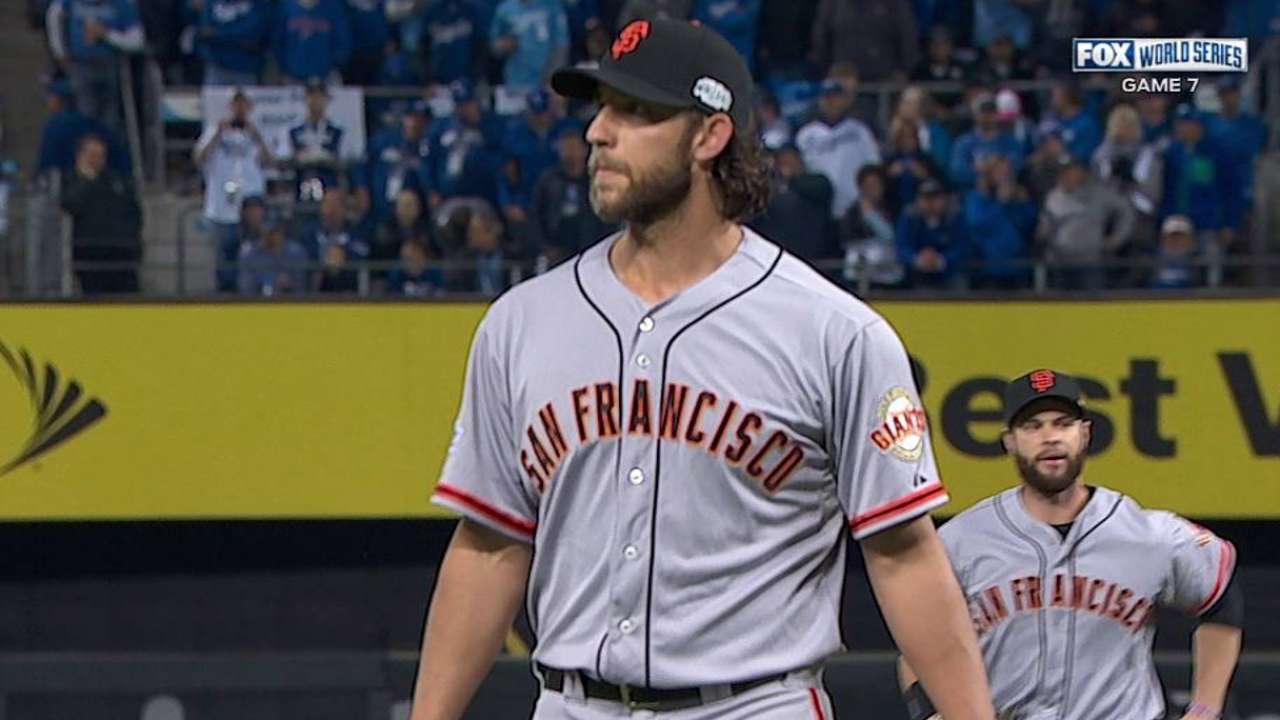 Suddenly, Bumgarner was the same guy who'd dominated this postseason, the guy who'd started six of San Francisco's 17 games and responded with a string of performances that will rank among any October runs ever.
Bumgarner got through the sixth inning in 12 pitches and the seventh in nine. Little by little, he was as good as ever. He spotted his fastball precisely, threw his curveball confidently. His slider had some of its usual nasty break.
And Bumgarner finished the game. He stepped on that mound, and amid a sea of blue and a loud, rowdy crowd roaring on every pitch, he got the final 15 outs.
The Giants flirted with disaster with two outs in the ninth when center fielder Gregor Blanco misplayed an Alex Gordon single and allowed him to reach third. Bumgarner then faced Perez, the only Royal who'd driven in a run against him in the World Series.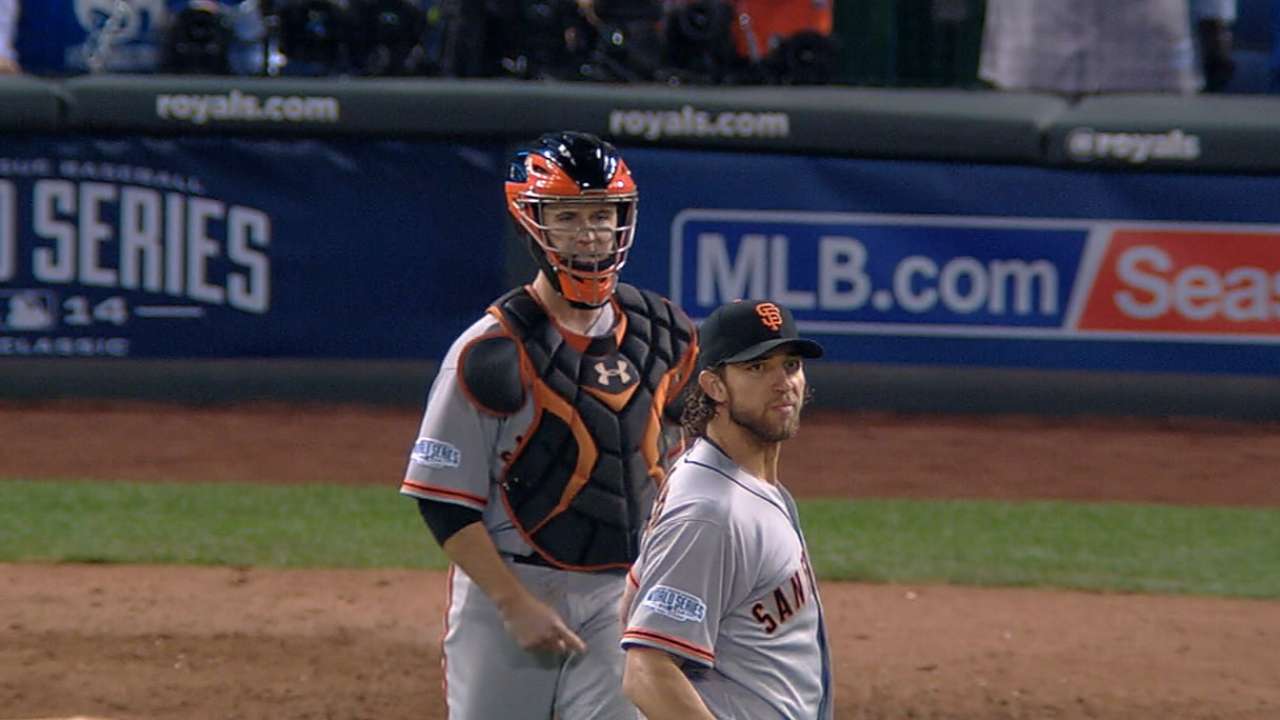 Bumgarner fed Perez one fastball after another, all of them clocked at 92 mph. Finally, Perez bit on the fifth one and popped it up near the visiting dugout and into third baseman Pablo Sandoval's glove.
There the celebration began, a celebration of a great franchise and a tough, gifted core of players. And it was also a celebration of Bumgarner.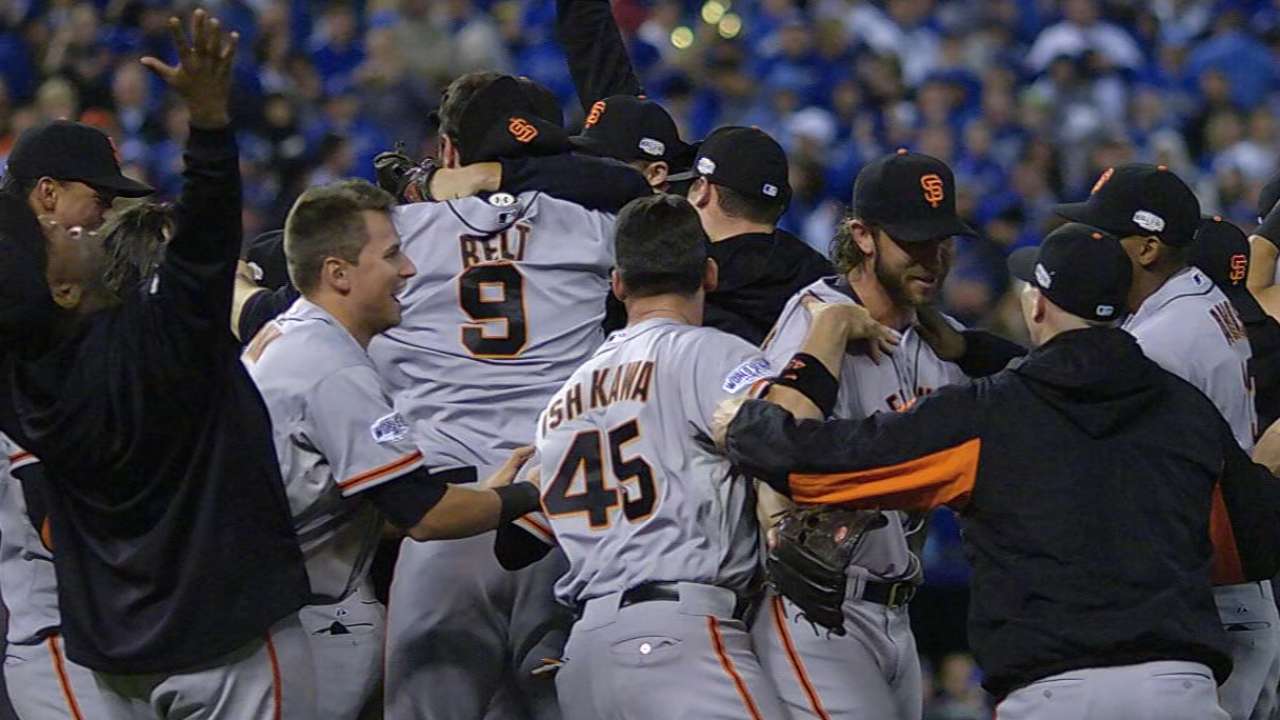 Baseball players are defined by two very different seasons. There's the part that runs from April through September. And then there's October.
Bumgarner has been very, very good in those other months. In October, he has reached another level of greatness. He has made it his time.
Richard Justice is a columnist for MLB.com. Read his blog, Justice4U. This story was not subject to the approval of Major League Baseball or its clubs.