Oct. 29 Ned Yost postgame interview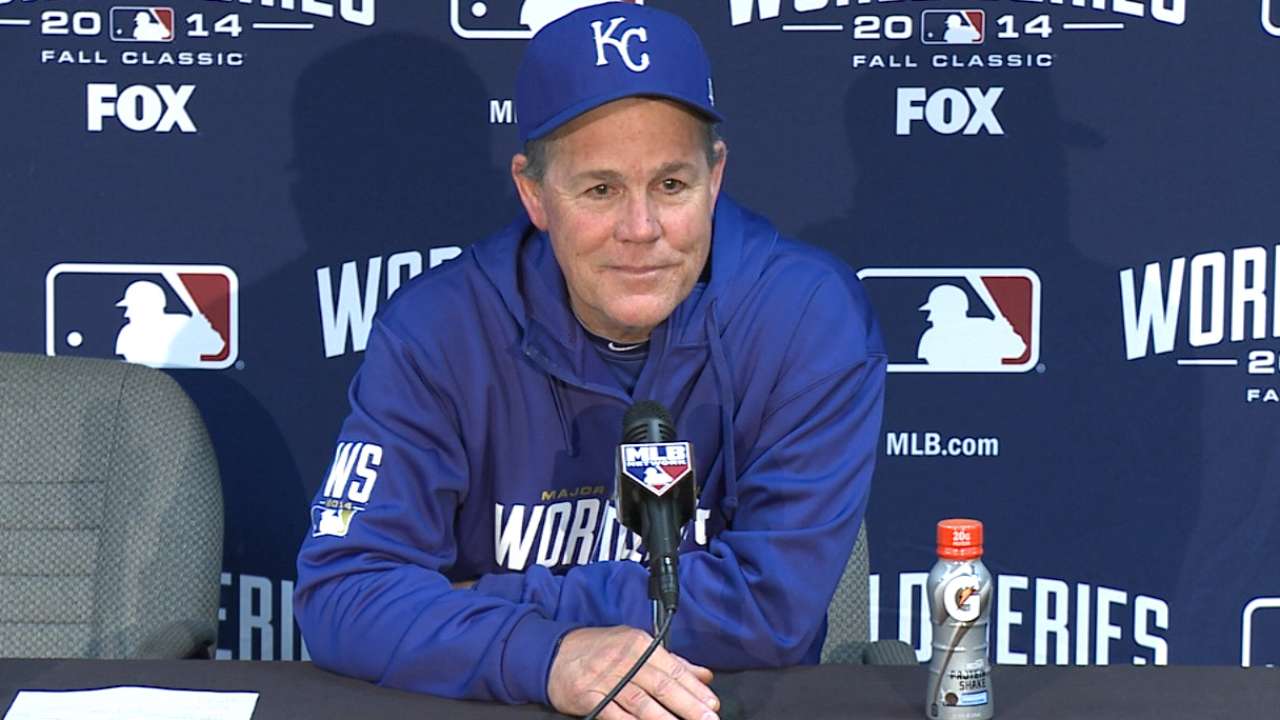 NED YOST: First, let me say, congratulations to the Giants. I mean, that was a phenomenal series. They played great baseball. Madison Bumgarner, man, what can you say about him and their team? That's a special group of guys over there. They've got an outstanding manager, outstanding coaches, and they played the game right. So I just would like to congratulate them on the World Series championship.
Q. Ned, I know obviously it just happened, but is there a way to sort of encapsulate the feeling for how far this franchise has come to finish with the tying run 90 feet away?
NED YOST: Yeah, yeah, I mean, it hurts, you know, to come as close as we came in a one‑run game, and to really ‑‑ as magical as our run has been to end up losing the ballgame by 90 feet is tough. But the hard part about this is that you work all year to climb to the top of the mountain, and then boom, you fall back and you've got to start right back at the bottom again next year.
But we've gained a ton of experience. I don't think I've ever been as proud of anything in my life as I have been of this team and the way they performed this postseason. It was just fantastic.
Q. In planning going into the game, did you have any kind of feeling that he could go, that Bumgarner could go five innings? Also, how helpless was the feeling when he was just rocking it out there?
NED YOST: Yeah, it was hopeless. But you still have that hope in the back of your mind like in the 9th inning there. You get something going, something happens, you catch a break, and you find a way to dunk one out there or a sac fly with one out, and get the game tied and then just get them out somehow.
But him going five innings was, you know, I'm sure he's going to be the MVP. I mean, what a series.
THE MODERATOR: You're right. He is the MVP.
NED YOST: Man, that's a no‑brainer.
Q. In terms of how things went from your side pitching‑wise, I would think that obviously you would prefer to have allowed fewer runs, but I'm sure you were pleased with the way things unfolded?
NED YOST: Guthrie had a ‑‑ I wouldn't even call it a rough second. They scored two. And then came out, and boom, boom, boom in the third. If the ground doesn't come out from underneath Omar's foot there on Sandoval's ball, Guthrie gets through the 4th.
We had the matchup we wanted with Morse and Herrera, and Morse did a great job of kind of just fighting off a high fastball and dumping it out into right field for the winning run. But Holly was great, Herrera was great, Wade Davis was great. And Jeremy Guthrie was really throwing the ball well, too. But you just don't have time ‑‑ when you've got those kind of arms down there, and you know you've got at least six innings, you want to try to take the advantage of it as soon as you possibly can.
Q. Was there a brief glimmer in your mind that maybe Gordon might be able to come around and score in that thing as it's rattling around out there?
NED YOST: Gordy?
Q. Alex, yeah.
NED YOST: Yeah, I was hoping for a second that he might be able to. But it's tough to pick the ball up from the dugout with that board out there, so it was tough seeing what was going on. But there was some hope that it might happen, but it didn't.
Q. Is it too hard, too soon to try to summarize what a special feeling this has been?
NED YOST: No.
Q. And maybe the hurt, too, at the last moment?
NED YOST: Yeah, no. Win, lose or draw, I knew that my boys were going to go out on the field today and they were going to give everything that they had. I mean, absolutely everything that they had. They were loose, they were confident, and it was a great game. I mean, for them to play on this stage the way that they did this postseason was phenomenal. I mean, just phenomenal. It was more than ‑‑ even as optimistic as I am, it was even more than I expected, how great they played. It was just a phenomenal run for them.
Q. When you sort of look back, again, I know the perspective is limited right now, but when you look back on this series, do you feel like thinking about these games will be the sort of thing that will cause you to lose sleep or will you be able to enjoy what this ride has been?
NED YOST: No. What causes you to lose sleep is if you go back and evaluate things that you could have done differently. But we look at these games, and there's really not much we could have done differently. What happens was they outperformed us in four out of the seven games. It wasn't matchup mistakes. It was good baseball, and they beat us.
No, I'm not going to lose any sleep over it, for sure. I'm really proud of the way they played.
Q. You were on the extended run in Atlanta. I mean, what do you think a season like this can mean as a building block for a franchise?
NED YOST: Well, these guys definitely, again, with this postseason experience, they got over the hump. Last year at the end of the year I'm like, okay, I hope they got over the hump. There is no hoping anymore. I mean, you know these guys have gotten over the hump. They're still very, very hungry. It's a very dejected group in there right now. They didn't accomplish their goal. They know how close they came, and they're going to want to taste it again.
Q. Did you or will you say anything to the guys?
NED YOST: Yeah, I just told them I'm really, really proud of them. That they had nothing to hang their heads about. They left everything on the field and it was an honor and a privilege to be their manager.
Q. You alluded a little bit to this before the game, but just your sense of what this has meant to the city, too, and how you can feel that?
NED YOST: Wow, man, this has been phenomenal. I don't know if the relationship was ever broken between the Royals and our fans. They just wanted us to be good again so that they could come out and support us. On a scale of 1 to 10 in terms of support through the postseason, it's got to be 14. I mean, it was phenomenal. What our fans did and the excitement in the city here for this last month, it's just been absolutely unbelievable.
When you look back at all of this, that's one of the main things that these guys will remember was the way that the fans rallied behind them and supported them, the fun that that was. Going out and spending time with the fans after series wins and the enjoyment. Because when I was in the World Series in '82 and then in Atlanta, the thing I remember most was enjoying it with the fans. It's a special bond when your fans are behind you like they are.