Royals lament missing out on early scoring chances
Opportunities to seize control foiled by Giants' defense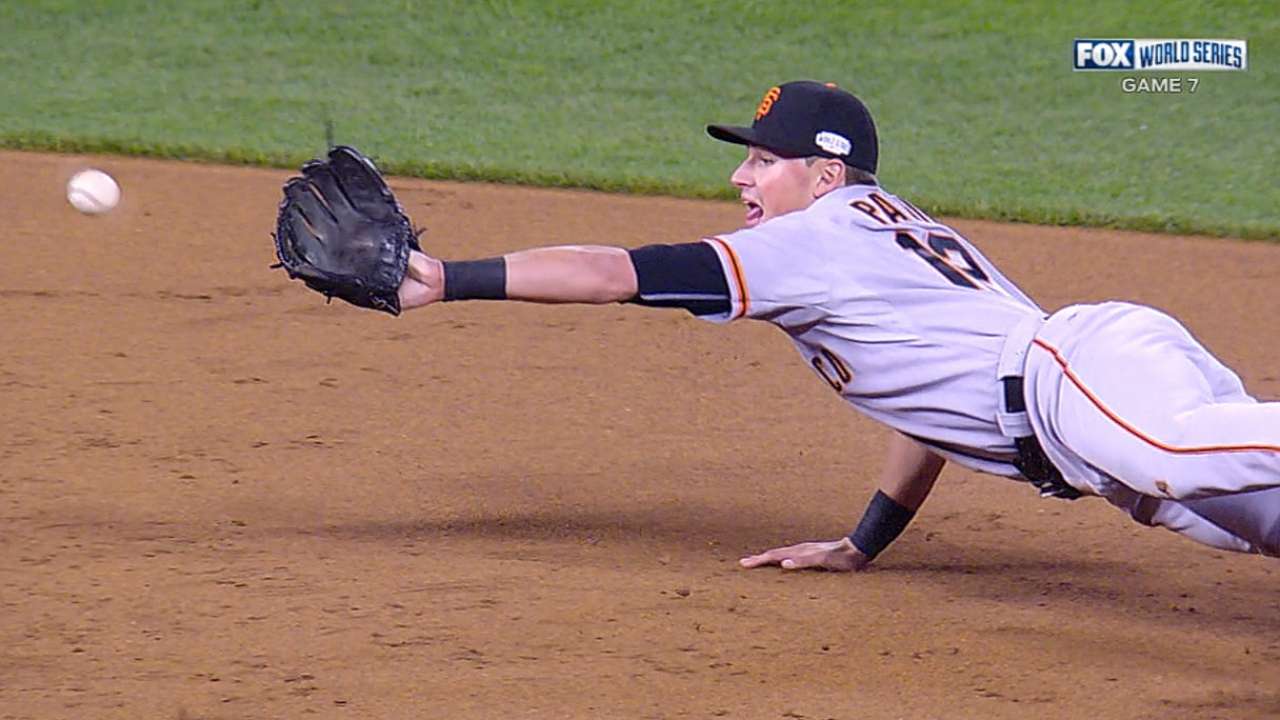 KANSAS CITY -- One thing an otherwise confident Ned Yost declared in the moments before Game 7, a point that hardly even needed to be raised, was that his Royals would "have to battle" if they found themselves trailing by the time Madison Bumgarner came out of the bullpen.
That's why, amid a stunned home clubhouse still reeling from a season-ending 3-2 loss on Wednesday night, the second, third, fourth and even fifth innings loomed so large. Four consecutive frames with a leadoff batter on base, only two runs pushed across by the Royals' offense.
"We had a lot of opportunities," first baseman Eric Hosmer said, "but they also made some great plays."
None was greater than the one made by Giants rookie second baseman Joe Panik in the bottom of the third, diving full extension to his right to take a hit away from Hosmer and instead start a game-changing 4-6-3 double play.
"Those are the types of plays championship teams make," Hosmer said. "That would've obviously been a big inning for us."
Panik flipped to shortstop Brandon Crawford with his glove, knowing it was his only chance to get Hosmer at first. Crawford then made the catch above his head, quickly shifted his body toward first base, went untouched because Lorenzo Cain slid headfirst into second and fired a bullet to first baseman Brandon Belt, just before Hosmer could touch the bag with his hands.
First-base umpire Eric Cooper initially ruled Hosmer safe, but Giants manager Bruce Bochy used his challenge and got the call overturned. Had he not slid headfirst, and instead run through the bag, Hosmer may have reached safely.
"Just trying to get there as quickly as possible," Hosmer said when asked about sliding.
"Great play by Panik," Royals left fielder Alex Gordon said. "He's been making plays this whole postseason, especially against us."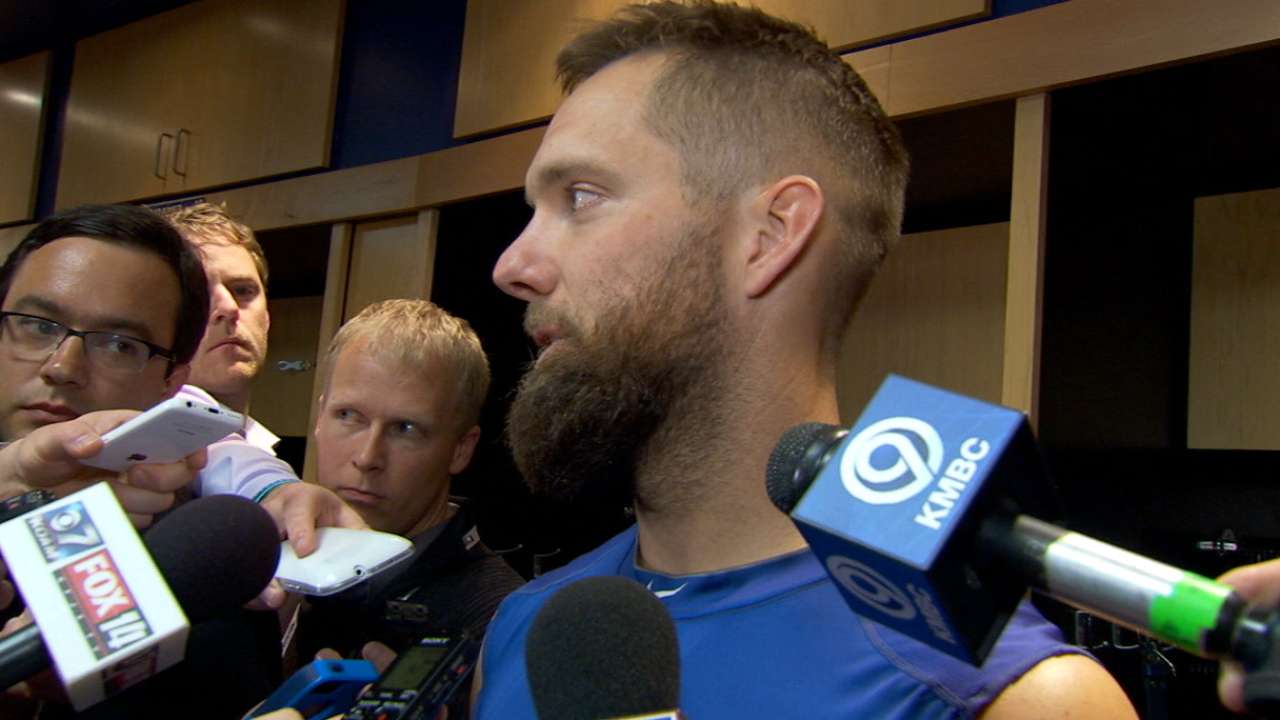 The Royals had just scored a couple of runs to tie the game in the prior inning and were on their way to building the lead in the third. As Panik himself said of his play, "It really felt like it changed momentum a little bit, and it got our bullpen going."
It helped Jeremy Affeldt get out of the inning unscathed, set it up for Michael Morse's go-ahead RBI single in the fourth and put the Giants one step closer to bringing in Bumgarner.
"That was the key to the game," Affeldt said. "It kept them from rallying for another inning. So I think being able to shut it down real quick allowed me to go out for another inning. That was a big deal. For me, that was the biggest play of the night."
It wasn't just Panik's play that doomed the Royals, though. It was having runners on first and second with none out in the second and getting only one more run, the result of two sacrifice flies. It was Gordon reaching on a hit by pitch to start the fourth and Salvador Perez promptly grounding into a double play. It was Omar Infante's leadoff single in the fifth and then a sacrifice bunt by Alcides Escobar, the first of 14 straight batters retired by Bumgarner on the way to his majestic five-inning save.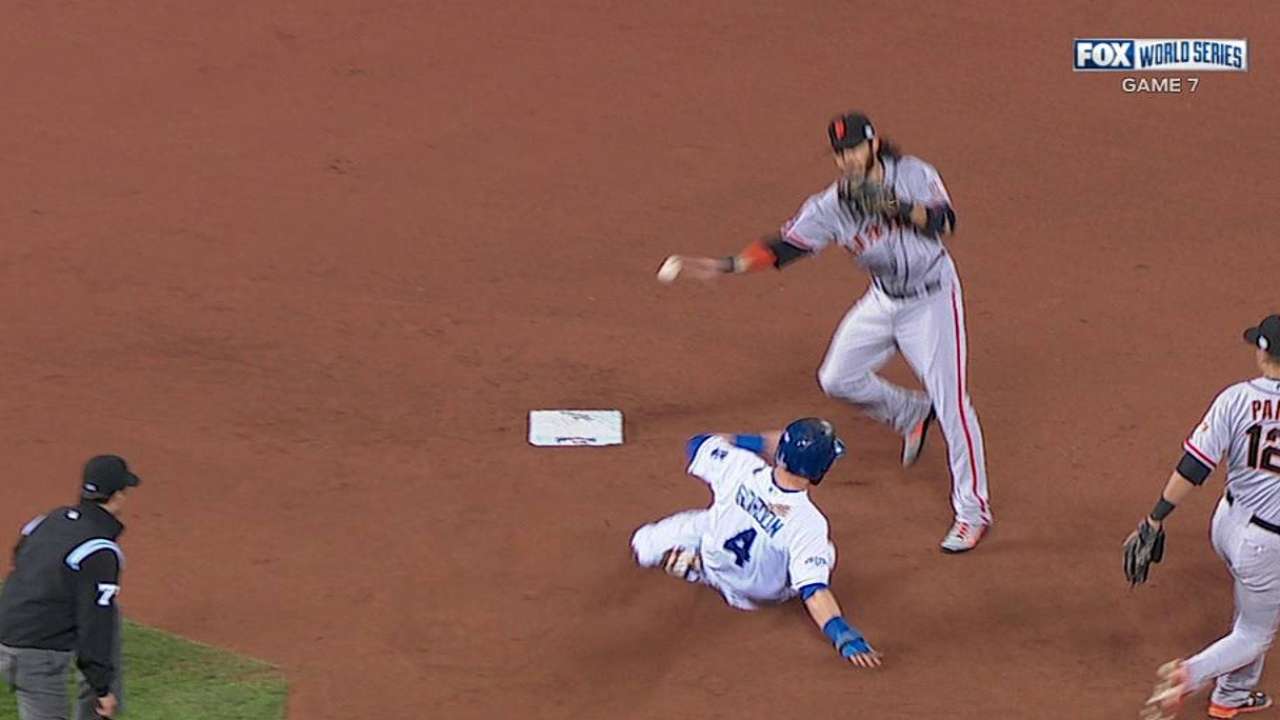 This is the cruelty of postseason baseball, particularly in the seventh game of a World Series -- one team celebrates, the other laments missed opportunities.
The Royals had plenty of them early.
"It's a tough pill to swallow," Cain said. "It's tough to deal with, right here in this moment. In the end, we didn't win it all, and that was the main goal from Day 1."
Alden Gonzalez is a reporter for MLB.com. Read his blog, Gonzo and "The Show", and follow him on Twitter @Alden_Gonzalez. This story was not subject to the approval of Major League Baseball or its clubs.