Giants fans gather for another championship party
Thousands watch Game 7 at San Francisco's Civic Center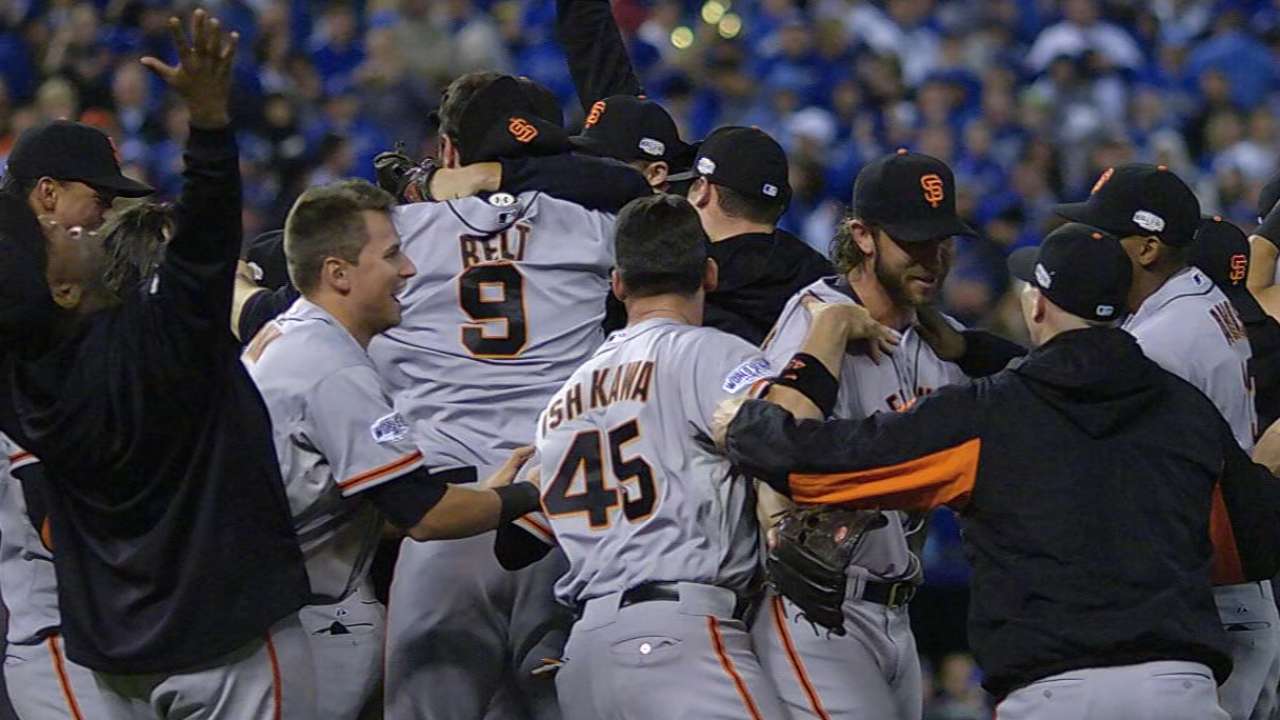 SAN FRANCISCO -- As Pablo Sandoval collapsed to the ground, the Giants' third World Series title in five seasons nestled securely in his glove, the throng of Giants fans watching the club's 3-2 victory over the Royals in Game 7 on Wednesday night on a big-screen TV nearly 1,800 miles away at San Francisco's Civic Center jumped up and down in celebration.
Well, almost all of them, at least.
As fireworks exploded in front of the orange-lit dome of City Hall, strangers hugged and champagne sprayed throughout the heart of San Francisco, 2-year-old Ray Ciardella IV cried.
"It was too loud for him. Everyone else going nuts, and he's just crying in my arms," said his father, Ray Ciardella. "What a moment."
Ciardella, 31, has lived his entire life in San Francisco, and came to the watch party to see his city at its finest.
For the third time in five seasons, the Giants are on the top of the baseball mountain, with each clincher coming on the road. As was the case in 2010 and '12, thousands of orange-and-black clad fans watched -- and then celebrated -- at Civic Center.
Two-year-old Ray, born in August 2012, wasn't at the last celebration, but his father wanted him to be there this time. It's two World Series titles in two years on Earth for Ray. A few paces to their left, David Merrick wasn't so lucky, so quickly.
A big baseball fan, Merrick has lived in San Leandro for 35 years. He waited 30 years for 2010, and can't quite wrap his head around the franchise's turn in fortune.
"I waited, and waited, and waited," Merrick said. "2010, this place was unbelievable. These people had wanted it for so long, and they had. Now we all get it again and again.
"Truly remarkable."
Ryan Hood is an associate reporter for MLB.com. This story was not subject to the approval of Major League Baseball or its clubs.