Royals' Game 7 hero Saberhagen gets call for first pitch
Asked late in Game 6 to do the honors, star of 1985 World Series finale immediately said yes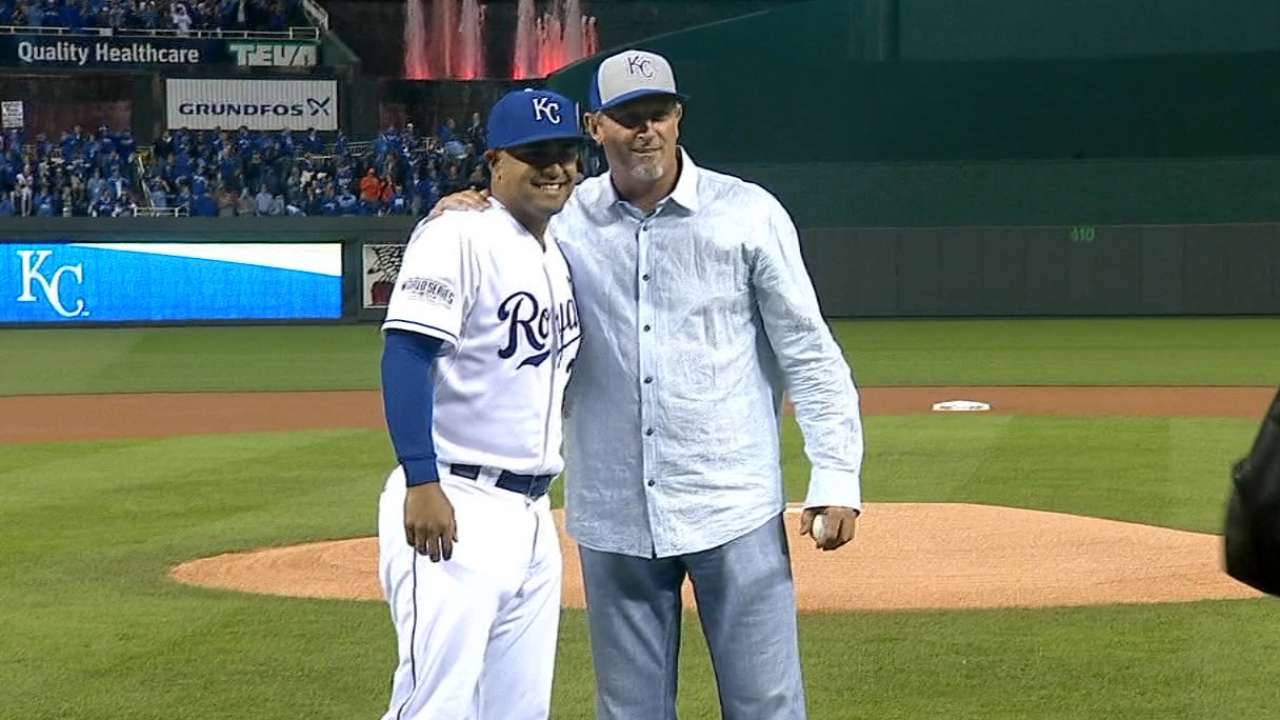 KANSAS CITY -- Bret Saberhagen worked nearly half of his Game 7 start in the 1985 World Series with an 11-run lead, but there was no discussion about taking him out early.
Saberhagen tossed a five-hit shutout over the Cardinals in the championship clincher, a game that was essentially over after the Royals scored six times in the fifth inning, adding to the five they scored in the second and third frames.
Yet, even with a double-digit lead, there was no consideration given to removing Saberhagen from the game. That's probably something that wouldn't happen today, but back then, it was more the norm to let pitchers finish what they started. In fact, Saberhagen, who won the American League Cy Young Award that year, threw 10 shutouts during the regular season.
"That part of the game has definitely changed," said Saberhagen, who was named Most Valuable Player of that '85 World Series. "Game 7, you're up by that many runs, they might try to get somebody else in. At that point in time, you just give them the ball, give them the ball as long as they can."
No walks and his typical pitch-to-contact style kept Saberhagen's pitch count low, aiding his ability to finish the game. There wasn't as much as a peep from his manager or pitching coach suggesting the bullpen would factor into that game.
"No discussion," Saberhagen said. He added with a laugh, "Nobody really wanted to talk to me."
The Royals, perhaps attempting to recapture some of that Game 7 magic, contacted Saberhagen in the eighth inning of Tuesday night's Game 6 and asked him to throw out the ceremonial pitch for Wednesday night's finale. Saberhagen said yes without hesitation.
"It was well in advance -- about 10 hours ago," he laughed. "As long as I don't bounce it, it's great."
Another former Royal also participated in the pregame ceremony. Mark Gubicza, who pitched for Kansas City from 1984-96, delivered the official game ball to the mound with 17-year-old Jazmen Fowler from the Boys & Girls Clubs of Lawrence, Kan.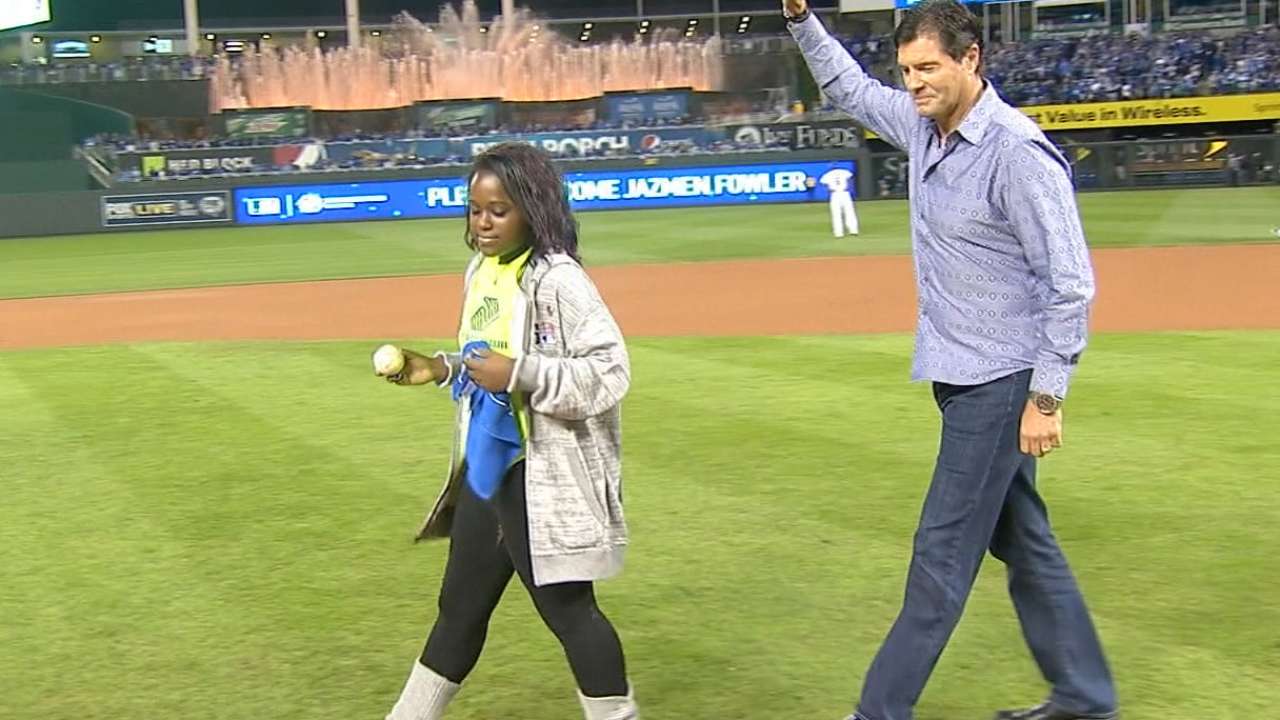 Gubicza, a Royals Hall of Famer, was part of the '85 club. He pitched 8 1/3 innings in a winning effort during the AL Championship Series that year, allowing three earned runs in a 5-3 win over the Blue Jays that forced a Game 7.
Gubicza, who retired from pitching in 1997, has been an Angels television announcer for the past 11 seasons.
The national anthem prior to Game 7 was performed by Joyce DiDonato, winner of the 2012 Grammy Award for Best Classical Vocal Solo. The Kansas-born DiDonato soared to international prominence in operas by Rossini, Handel and Mozart. Her acclaimed discography includes Grammy Award-winning "Diva Divo," "Drama Queens," "ReJoyce!," and most recently, "Stella di Napoli" (Erato/Warner Classics).
Singing "God Bless America" before the bottom of the seventh inning was Master Sgt. Jennifer Sherman from Whiteman Air Force Base.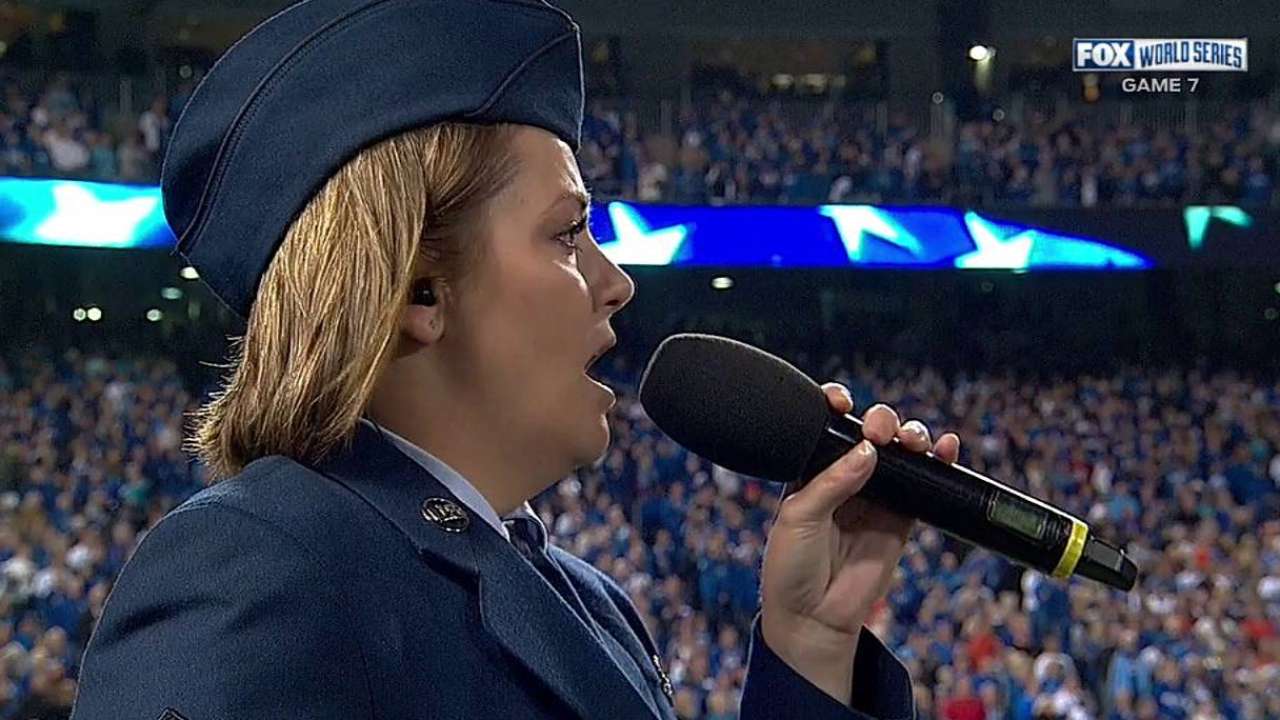 The Buck O'Neil Legacy seat was awarded to Kansas City police officer James Cisneros, who has dedicated much of his life to youth baseball.
Cisneros often heads to early-morning baseball games after an overnight shift to coach the 11-under KC Premier Sluggers, inspiring the boys to be great citizens on and off the field.
Sitting in the Budweiser "Our Hero" seat was Sgt. 1st Class Dominic Baruelo, who joined the United States Army immediately after high school at the age of 17, and served as the senior supply sergeant with the 325th Combat Support Hospital in Independence, Miss.
In 2002, Baruelo deployed in support of Operation Enduring Freedom in Afghanistan, and again in 2003 for Operation Iraqi Freedom. He and his men were constantly on dangerous roadways, charged with protecting all convoys going in and out of Iraq.
Baruelo is a highly-decorated native of Russell, Kan., and he has received many awards, including the Meritorious Service Medal twice, the Army Commendation Medal six times, the Army Achievement Medal four times and a Good Conduct Medal four times.
Alyson Footer is a national correspondent for MLB.com. Follow her on Twitter @alysonfooter. This story was not subject to the approval of Major League Baseball or its clubs.