Padres prospects roll in Fall League play
Peterson, Turner, Smith and Renfroe combine for eight hits, three runs in AFL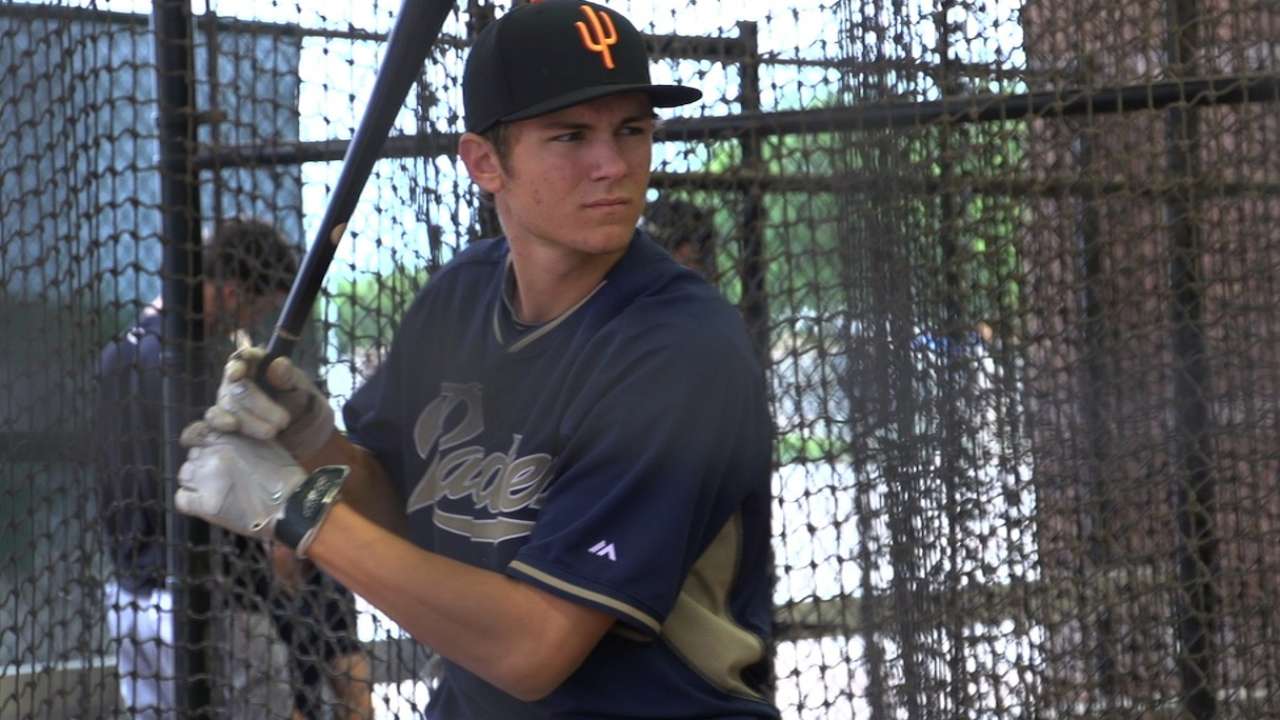 With four members of the Padres' organization powering its offense Wednesday, Surprise took a three-run lead into the late innings against Salt River. Designated hitter Jace Peterson, shortstop Trea Turner and outfielders Hunter Renfroe and Mallex Smith combined for eight hits, three runs and three RBIs.
It wasn't enough, however, as Salt River scored three runs in the eighth and ninth innings to send the game to extra innings. The game remained tied at 4 after 11 innings and, by Arizona Fall League rules, was declared a draw.
Though the Saguaros didn't get a victory Wednesday, Peterson said he enjoyed playing with his Padres teammates.
"It's always good when you've got teammates from your organization in at the same time," he said. "Playing with the guys see in Spring Training and year round makes it better. It's always a joy to watch them do well."
They all did well Wednesday. Each went 2-for-5 and scored or drove in a run. Renfroe, the Padres' No. 4 prospect, added a double and Turner, ranked No. 5 on the Top 20, swiped two bases. Peterson also stole a base.
Salt River's offense also featured some NL West flair. Second baseman Trevor Story, the Rockies' No. 11 prospect, went 2-for-6 with a solo home run. Third baseman Brandon Drury, the D-backs' No. 6 prospect, finished the game 2-for-4 with a double, a walk and a run.
While his Padres teammates were all drafted in the last two years and are just beginning their professional careers, Peterson is a little more experienced. He was the 58th overall pick of the 2010 First-Year Player Draft and made his Major League debut this season.
Peterson has hit well at every level of the Minor Leagues, a trend that continued this season at Double-A San Antonio and Triple-A El Paso, but struggled at the plate with the Padres. He said the most important lesson he learned this season was the need for patience.
"Do what you do and trust what you do," he said. "Just try to contribute somehow every day whether it's running the bases, making a good play on defense. Something to help the team win."
Peterson hasn't quite gotten on track yet in the AFL. He is hitting .240/.328/.300 with five stolen bases in 13 games this fall.
Still, Peterson said he feels good at the plate.
"I'm swinging the bat great," he said. "I'm not getting results I want necessarily, but my approach seems to be there and I'm making good contact."
Peterson will have the chance to show off his swing Saturday in the Fall Stars Game at Salt River Fields. He again will be joined by three of his Padres teammates, as Renfroe and right-handers Tayron Guerrero and Burch Smith will also suit up for the West Division.
Peterson said he is looking forward to the experience.
"There's a lot of good players that have played in that game," he said. "I'm looking forward to meeting the rest of the guys and really looking forward to playing in Salt River. That place is unbelievable."
Teddy Cahill is a reporter for MLB.com. Follow him on Twitter at @tedcahill. This story was not subject to the approval of Major League Baseball or its clubs.