Cards' Wilson gets clutch hit in Fall League win
St. Louis' No. 19 prospect triples in top of ninth, helps complete late rally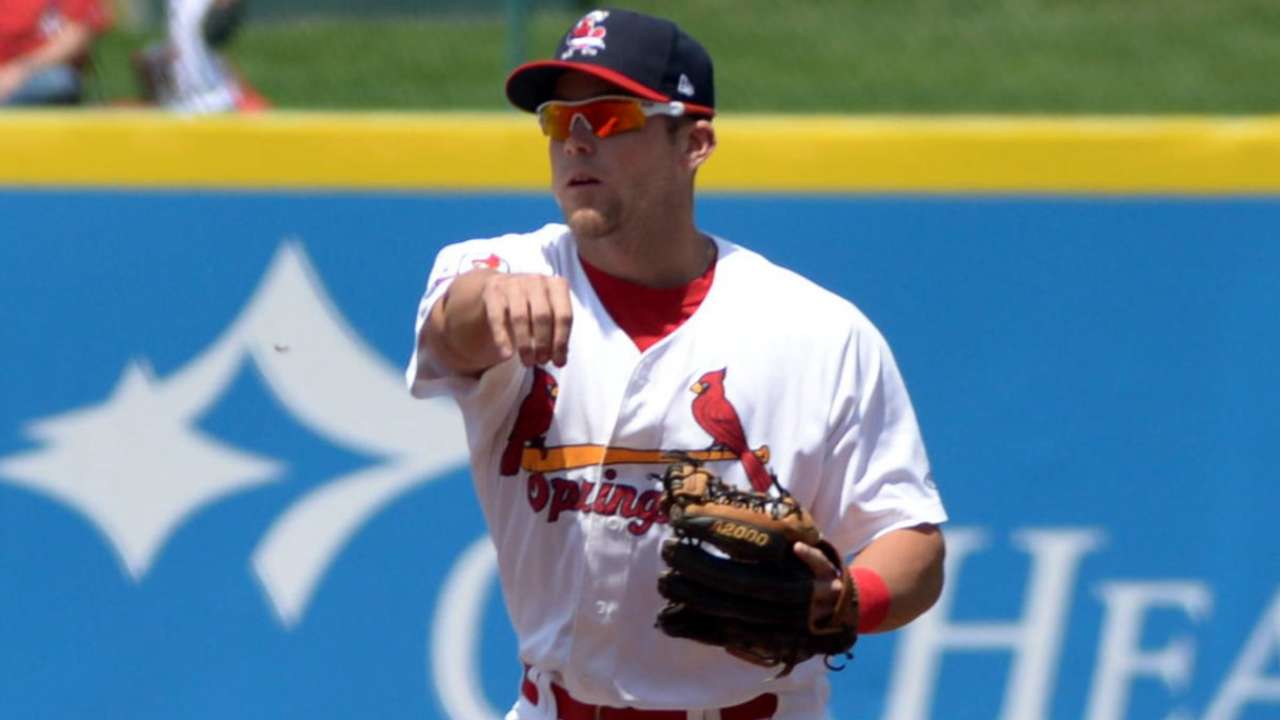 For eight innings Wednesday, Peoria's offense was silenced by Glendale's pitchers. Going into the ninth inning the Javelinas had just one run on six hits.
In their last half inning, however, the Javelinas' bats came alive against right-hander Blake Smith. Francisco Lindor led off the inning with a single and scored to tie the game when Edward Salcedo followed with a double. After Hunter Dozier drew a walk, Jacob Wilson came to the plate with runners on first and third and a chance to complete the comeback.
Wilson took a first-pitch ball before ripping a triple into right field to give the Javelinas the lead. Kes Carter brought him home with a sacrifice fly, giving them an insurance run that would become vital in the bottom of the inning when the Desert Dogs staged their own rally. But it wasn't enough as Peoria held on for a 5-4 victory.
Wilson said the key to the Javelinas' big inning was taking quality at-bats.
"The inning started off with a couple good at bats from the middle of our lineup there and we got good production from it," he said. "They walked Dozier before me and I came up first and third looking for something up in the zone to drive."
Wilson, the Cardinals' No. 19 prospect, finished the game 2-for-4 with two runs and two RBIs.
Wilson said he felt better at the plate Wednesday after scuffling through a 1-for-18 skid in his last five games.
"I was seeing the ball better," he said. "The past week I was down a little bit. So today I went back to my foundation and where my strengths are and got some good results."
Lindor, the Indians' top prospect, finished the game 1-for-4 with a run. Salcedo and Kyle Wren, teammates in the Braves' organization, each added two hits.
Glendale's offense was led by Nick Ramirez, who went 3-for-4 with an RBI. Corey Seager, the Dodgers' top prospect, added a solo home run. The homer was his first of the fall and was the difference in the game before Peoria's ninth-inning comeback.
After starting the season 2-10-2, the Javelinas have now won four of their last five games and are just one game out of first place in the West Division. Wilson said they are playing good all-around baseball.
"After the past couple wins we've had here, our energy is getting back up to where we're starting to have fun with the game again," Wilson said. "Everything is starting to come together: the pitching on the mound and hitters are putting together good at-bats, especially with runners in scoring position."
During the Javelinas' hot streak, Wilson has played three different positions in the infield. He has played both second and third base in the Minor Leagues, but is also getting experience at first base in the AFL.
Wilson played first base Wednesday and said he is making progress at the position. He hadn't played it before this fall, but said he is already starting to feel comfortable there.
"It's something that if you don't play first you're not used to," he said. "The footwork at second base when you're turning a double play is a lot different. You have to get the footwork down at first so you don't get stepped on or turn your ankle. It's starting to come along to where it should be."
While he moves around defensively, Wilson said he isn't losing sight of his offense. He hit .302/.362/.460 with five home runs in 66 games between Class A Advanced Palm Beach and Double-A Springfield during the regular season.
Wilson said his goal this fall is to consistently put together quality at-bats.
"Batting average is just a number but quality at bats shows you're putting together good plate appearances," he said. "The more quality at bats you have the more production you're going to see. I want to square balls up, hit balls hard and be a hard out basically."
Teddy Cahill is a reporter for MLB.com. Follow him on Twitter at @tedcahill. This story was not subject to the approval of Major League Baseball or its clubs.