MLB.com Columnist
Lindsay Berra
Kansas City police officer honored with Legacy Seat
In coincidental twist, Cisneros once provided security for O'Neil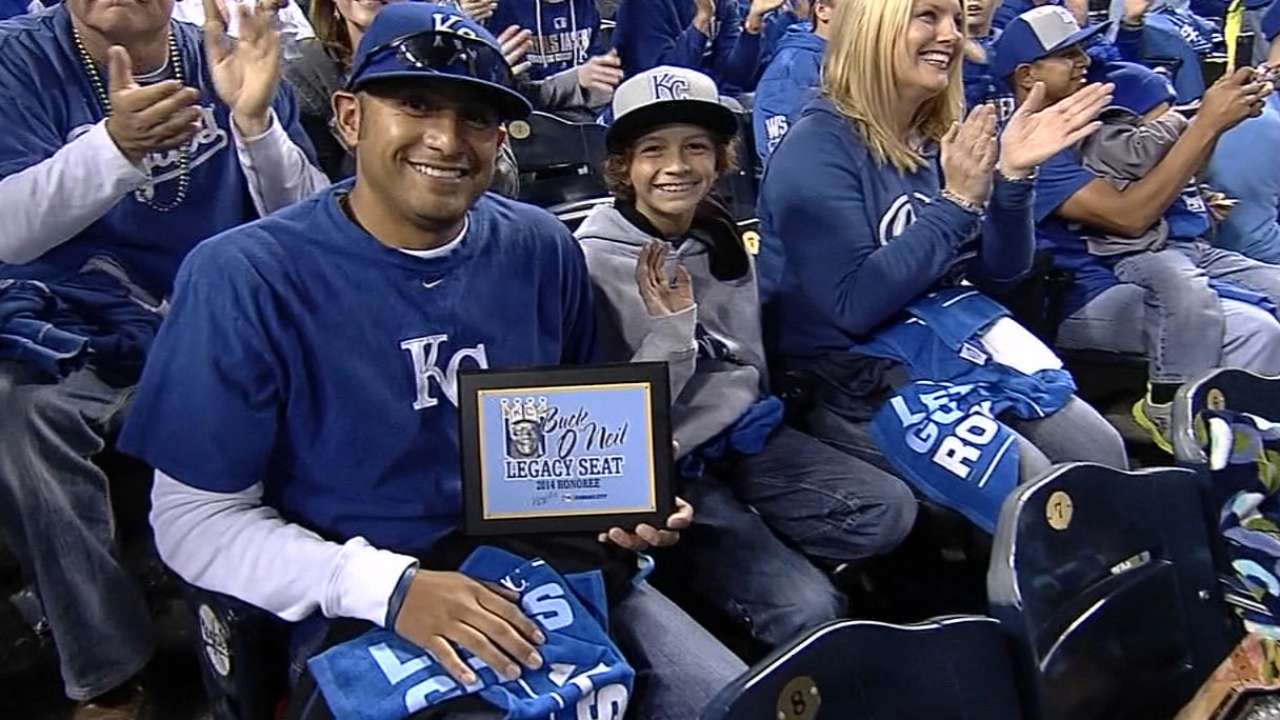 KANSAS CITY -- One way or another, Officer James Cisneros of the Kansas City Police Department was going to be at Game 7 of the World Series at Kauffman Stadium on Wednesday night.
Cisneros works off-duty security for the Royals and was stationed in the bullpen during Games 1 and 2. He assumed that his assignment would be the same for Game 7, but on Tuesday afternoon, he got the call telling him that he would have the honor of sitting in the Buck O'Neil Legacy Seat instead. Once the cat was out of the bag, the Royals canceled his shift.
O'Neil starred for the Negro League's Kansas City Monarchs and became the first African-American coach in Major League Baseball when he was hired by the Cubs in 1962. Later, as a scout for the Royals and as a fan, he spent countless days and nights watching games from his seat behind home plate: Seat 1, in Row C of Section 101.
To honor O'Neil, the Royals began the Buck O'Neil Legacy Seat program in 2007. Every night, they fill "Buck's Seat" with a special person who, on a large or small scale, represents Buck's spirit through work done in the community.
Cisneros, 32, shares his love of baseball with youth throughout the community, especially in the neighborhoods of the East Patrol Division, where he works.
Cisneros coaches the 11-and-under KC Premier Sluggers, which includes his 10-year-old son, Jeffrey, and he inspires the boys to be great citizens both on and off the field. He also mentors at-risk students from DeLaSalle Charter High School and volunteers as a coach at William Jewell College.
"I'm flattered that I'm being honored for stuff that I love to do," Cisneros said. "I love being an officer, because I love helping people. I love coaching, and I love kids. So to be rewarded for the things I love to do is amazing."
Cisneros also has a history with O'Neil. Although he grew up a Dodgers fan in Long Beach, Calif., Cisneros played baseball at the University of St. Mary in Leavenworth, Kan. During Cisneros' time there, O'Neil visited as a guest speaker.
"My baseball teammates and I had to provide security for O'Neil while he was on campus," Cisneros said. "People say things happen for a reason, and I think that was one of them, because I became a police officer and ended up sitting in Buck O'Neil's seat."
Since moving to the Kansas City area, Cisneros has become a Royals fan, and his love for the team is accentuated by the fact that his job as stadium security and his ability to speak Spanish give him the opportunity to get to know the players. Cisneros, whose family is from Nicaragua, has become especially friendly with shortstop Alcides Escobar and catcher Salvador Perez, both of whom are from Venezuela.
But on Wednesday night, Cisneros was happy to just be a fan. He attended the game with his son, his fiancee, Jessica, and her father, James Schell, who is suffering from multiple myeloma.
"James is my biggest role model, so he had to be here," said Cisneros.
O'Neil and Cisneros are both great role models in the Kansas City community. But even role models need role models.
Lindsay Berra is a columnist for MLB.com. This story was not subject to the approval of Major League Baseball or its clubs.