Jays' Ochinko contributes in huge inning in AFL
Prospect doubles, drives in two runs in seven-run sixth inning for Mesa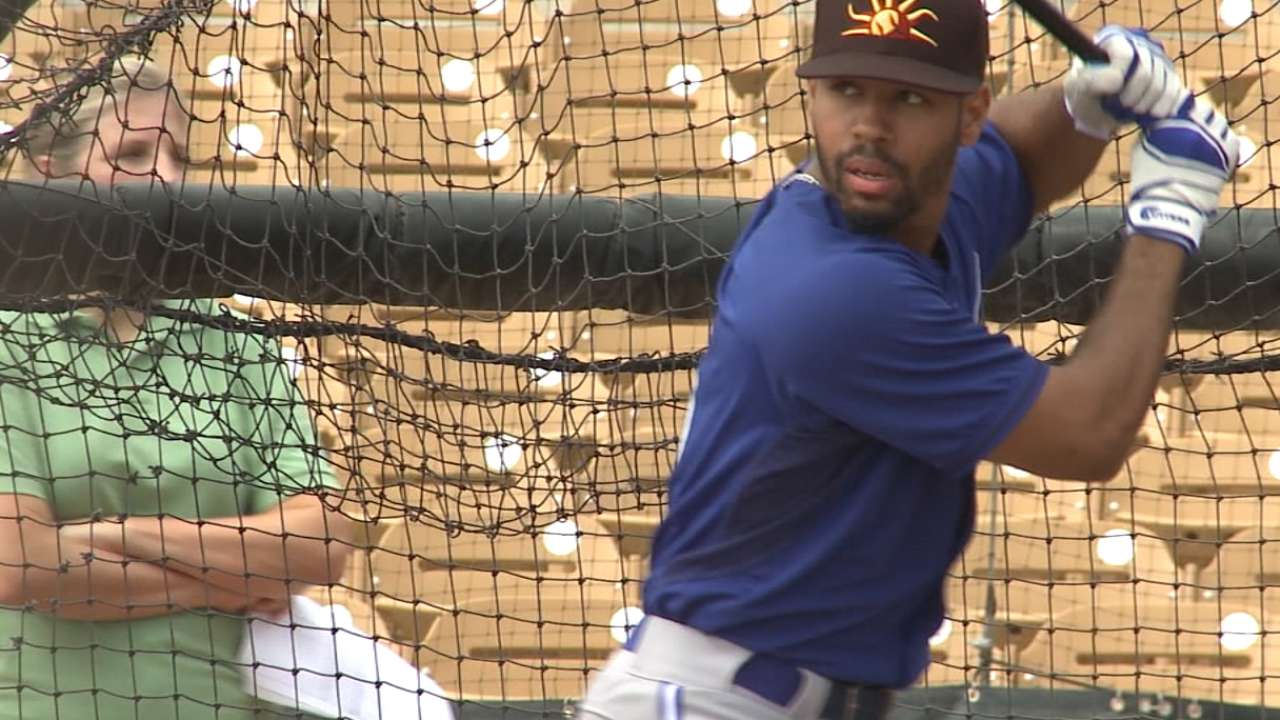 SCOTTSDALE, Ariz. -- Through five innings, Wednesday's Arizona Fall League Game was on pace to be a tight, low-scoring affair.
However, Sean Ochinko and the Mesa Solar Sox had other ideas, and put up a crooked number in the sixth to beat the Scottsdale Scorpions, 7-5, at Scottsdale Stadium.
Through five, Scottsdale led 1-0 courtesy of Yankees prospect Tyler Austin's RBI single, but in the sixth, Mesa's offense sent 12 batters to the plate and broke the game open with a seven-run inning.
"It's definitely fun," Ochinko said. "Obviously winning and guys playing well makes for a happier team and clubhouse and Arizona Fall League season."
Three straight singles and a bases-loaded walk tied the game and set the stage for Ochinko, who came through with a two-run double into the right-field corner.
"Just a fastball in," the Blue Jays prospect said. "Actually I was a little late with the barrel and got lucky, hit one down the line. Just the way the game works sometimes."
Ochinko finished 3-for-5 with two RBIs. The former 11th-round Draft pick (2009) has hits in six of the eight Fall League games he's played in, and Wednesday's three-hit performance was his fourth multi-hit game.
"Pretty much the same approach every day," Ochinko said. "I'm just trying to work the middle of the field, get in good counts, look for the pitches that I want to hit and some days you get a couple hits, some days you don't. Just one of those days."
Scottsdale fought its way back in the game with a three-run eighth.
Austin, the 2012 Yankees Minor League Player of the Year, drove in two of those runs with a double.
Austin finished 3-for-4 with three RBIs.
Scottsdale finished with five runs, but four of those runs came from the seventh inning on as the Scorpions were unable to get anything going against Mesa starter Nate Smith.
Smith, the No. 18 prospect in the Angels organization according to MLBpipeline.com, allowed one run across four innings.
The outing was Smith's longest of the Fall League season and although the box score makes his outing look crisp, it was anything but a cakewalk. He had retired the side in order just once.
In the second, Smith faced a bases-loaded, one-out jam, but struck out back-to-back batters to end the inning.
"He did a great job," Ochinko said. "Sometimes you're not going to go out there and carve for five, six innings straight. You're going to have to get out of jams and make pitches. It's just how the game works. He made some clutch pitches in tough situations."
The win, Mesa's first since Saturday, improves the Solar Sox to 10-8 and cuts its deficit to 3 1/2 games behind the Salt River Rafters.
William Boor is a reporter for MLB.com. Follow him on Twitter at @wboor. This story was not subject to the approval of Major League Baseball or its clubs.