Schuerholz's HOF induction special for Black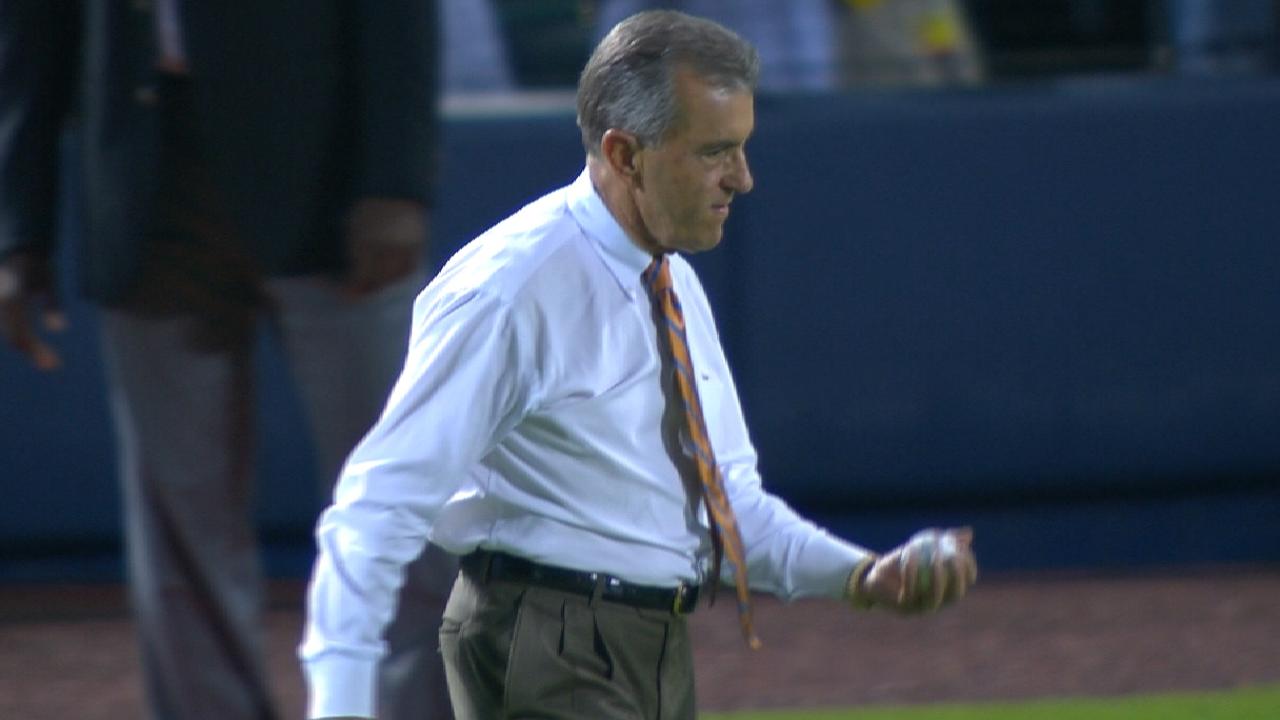 WASHINGTON -- Former Royals and Braves general manager John Schuerholz, inducted into the Hall of Fame on Sunday, made many shrewd moves. One of them was his first trade -- which landed him left-handed pitcher Bud Black, now the Rockies' manager.
The Royals sent the Mariners infielder Manny Castillo on Oct. 23, 1981, for a player to be named. How Black was eventually named, on March 2, 1982, was a story of a man taking advantage of an opportunity.
The late Tom Ferrick, a pitcher for five teams in the 1940s and '50s, was working as a Royals special-assignment scout with an emphasis on pitching when fate led him to scout Black, a 17th-round pick by the Mariners in the 1979 Draft.
"The big league players go on strike, remember?" Black recalled. "So I'm pitching in Double-A, Lynn, Mass., and all the Major League scouts are in the Minor Leagues, watching Minor League players.
"At this time, I wasn't really a prospect with the Mariners. I started the season on the Double-A disabled list and when I got activated, I was in middle relief."
But injuries and performance issues forced Black into the rotation, and he responded.
"There was a three-start stretch in July of '81 where I pitched, like, three complete games in a row and struck out, like, 12, 13 and 14," Black said. "The first game, Tom Ferrick was one of John Schuerholz's right-hand men and he saw me pitch. And the story goes, he followed me to Bristol and I punched out, like, 13, and he followed me to New Haven. He saw me pitch three times and sort of logged it."
After the Castillo trade, Ferrick told Schuerholz about "a Double-A pitcher that's really under the radar." Black went to the Royals during Spring Training, and Black would be part of the rotation when the Royals won the 1985 World Series.
And Schuerholz, who would trade Black to the Indians in 1988 for corner infielder/outfielder Pat Tabler, became "a great sounding board for me in a number of areas," Black said. "So I feel very fortunate to have played for John's clubs, and I got to know him as a friend and an advisor over the years. I'm very happy for him, for the induction today."
Thomas Harding has covered the Rockies since 2000, and for MLB.com since 2002. Follow him on Twitter @harding_at_mlb and like his Facebook page. This story was not subject to the approval of Major League Baseball or its clubs.