Walker's Hall of Fame support jumps from '16
Former Rockies slugger receives 21.9 percent of BBWAA vote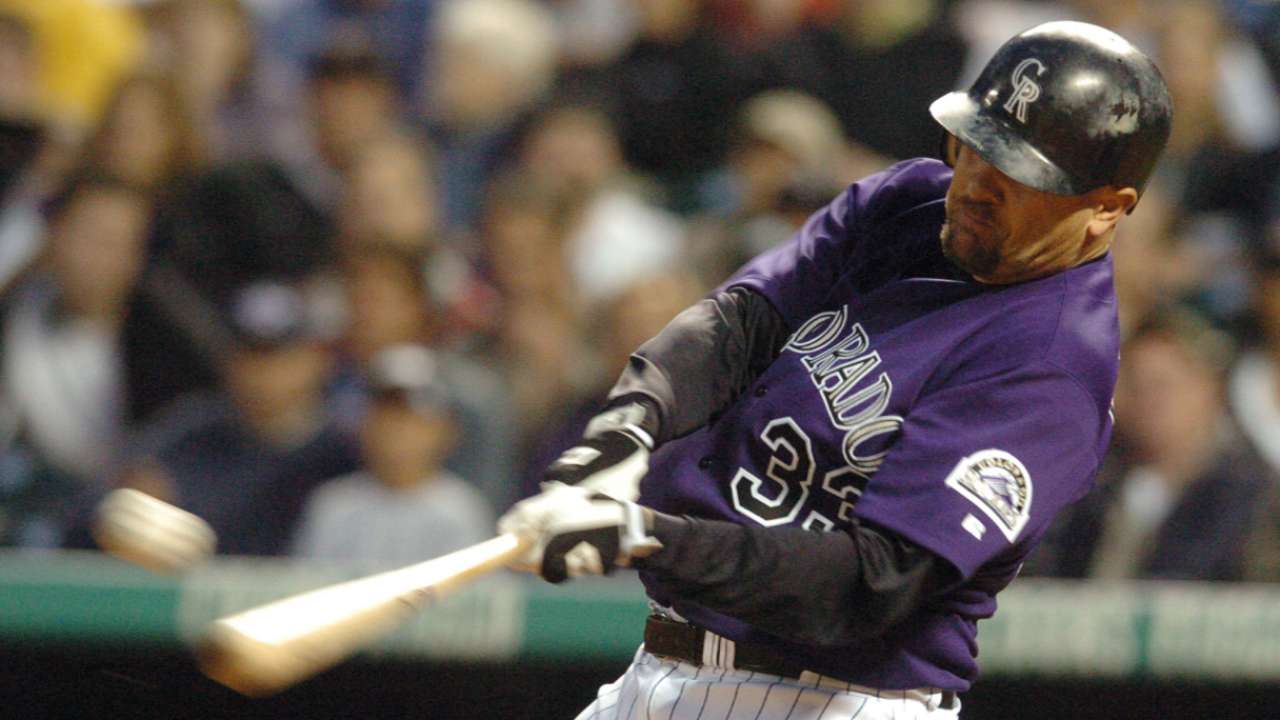 DENVER -- Former Rockies star Larry Walker saw his National Baseball Hall of Fame voting percentage increase from 15.5 percent last year to 21.9 percent, although he wasn't close to the 75 percent needed for induction.
Still, he will be on the ballot next year -- his eighth shot at Cooperstown.
2017 Hall of Fame election results
| Votes | Player | Percentage |
| --- | --- | --- |
| 381 | Jeff Bagwell | 86.2% |
| 380 | Tim Raines | 86.0% |
| 336 | Ivan Rodriguez | 76.0% |
| 327 | Trevor Hoffman | 74.0% |
| 317 | Vladimir Guerrero | 71.7% |
| 259 | Edgar Martinez | 58.6% |
| 239 | Roger Clemens | 54.1% |
| 238 | Barry Bonds | 53.8% |
| 229 | Mike Mussina | 51.8% |
| 199 | Curt Schilling | 45.0% |
"What it all boils down to is I'm still on the ballot," Walker said by phone. "That's a good thing for me. My dad sent me a text tonight, saying it's still an honor to be on that ballot, and I agree with him."
Walker, who began his career in 1989 with the Expos and ended it in 2005 with the Cardinals, spent the bulk -- and the best years -- of his time in the big leagues with the Rockies, for whom he batted .334 with a 1.044 OPS and 258 homers from 1995 until he was traded to the Cardinals in late 2004.
Tim Raines, a teammate of Walker's in Montreal; catcher Ivan "Pudge" Rodriguez; and first baseman Jeff Bagwell were announced Wednesday as the 2017 Hall of Fame class. Walker tweeted his congratulations:
Cool to see guys I played with/against make it to The HOF. Congrats to all 3! And big thx to all of you pushing for me! Honored

— Larry Walker (@Cdnmooselips33) January 18, 2017
Walker had warm words for Raines.
"Obviously, very well-deserved," Walker said. "The numbers speak for themselves. He's a great guy, to boot -- one of the funnier guys I've met in the game. He could make you laugh almost with not even saying anything. His laugh was very contagious -- fun to be around, a total gentleman."
This was Walker's seventh year on the ballot, and it was his second-highest vote percentage. He garnered 22.9 percent in '12, his second year on the ballot.
Walker signed with the Rockies in 1995, the year that Coors Field opened, and the impact of playing there on his offensive numbers has been a consistent factor in Walker's candidacy. It could be one that affects first baseman Todd Helton, who will be eligible for the Hall of Fame ballot in '19.
"I could be frustrated by it all," Walker said. "I don't let it bother me. I guess I have a fault, and my fault is I played at Coors Field. You're not going to find anything that's going to link me to any steroids or anything of that nature. I'm not worried about that at all. That doesn't exist.
"Unfortunately, I still have a fault. But it was one that was out of my control. I played in the big leagues for the wrong team, according to a lot of the voters."
But not according to Walker.
"I can't help where I played, and I don't regret one minute of it," he said. "Not one game, not one inning, not one thing about it. I played in Colorado. I had the opportunity to play for a great franchise in an amazing city and nobody's ever going to take that from me. I'm grateful for that."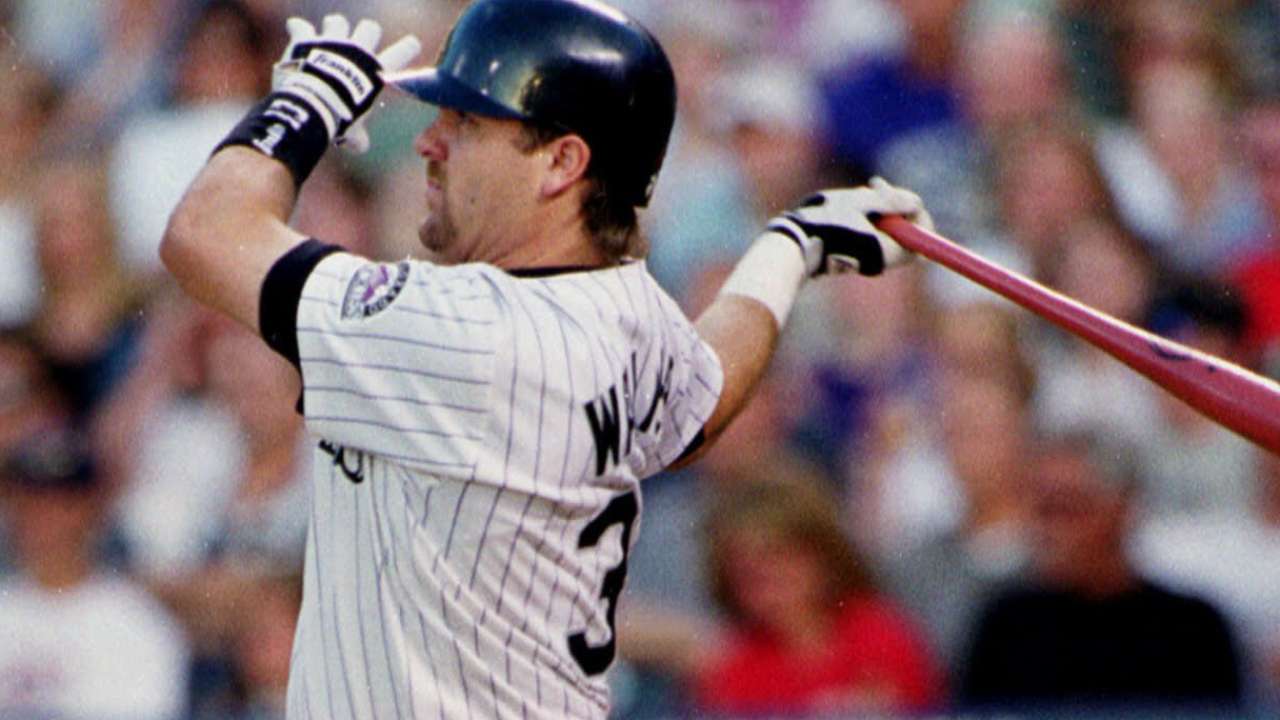 Walker was a five-time All-Star and won seven Rawlings Gold Glove Awards, three Louisville Silver Sluggers and the 1997 National League MVP Award.
His offensive numbers are similar to those of Vladimir Guerrero, who was nearly elected on the first ballot this year at 71.7 percent.
A native of Trail, British Columbia, Walker remains involved in coaching with the Canadian National Team. He was with Canada's 2015 Pan Am Games team, which beat Team USA for the Gold Medal, and he will be with Canada's World Baseball Classic club in this year's tournament.
Thomas Harding has covered the Rockies since 2000, and for MLB.com since 2002. Follow him on Twitter @harding_at_mlb, listen to podcasts and like his Facebook page. This story was not subject to the approval of Major League Baseball or its clubs.