Manny falls well short in Hall of Fame voting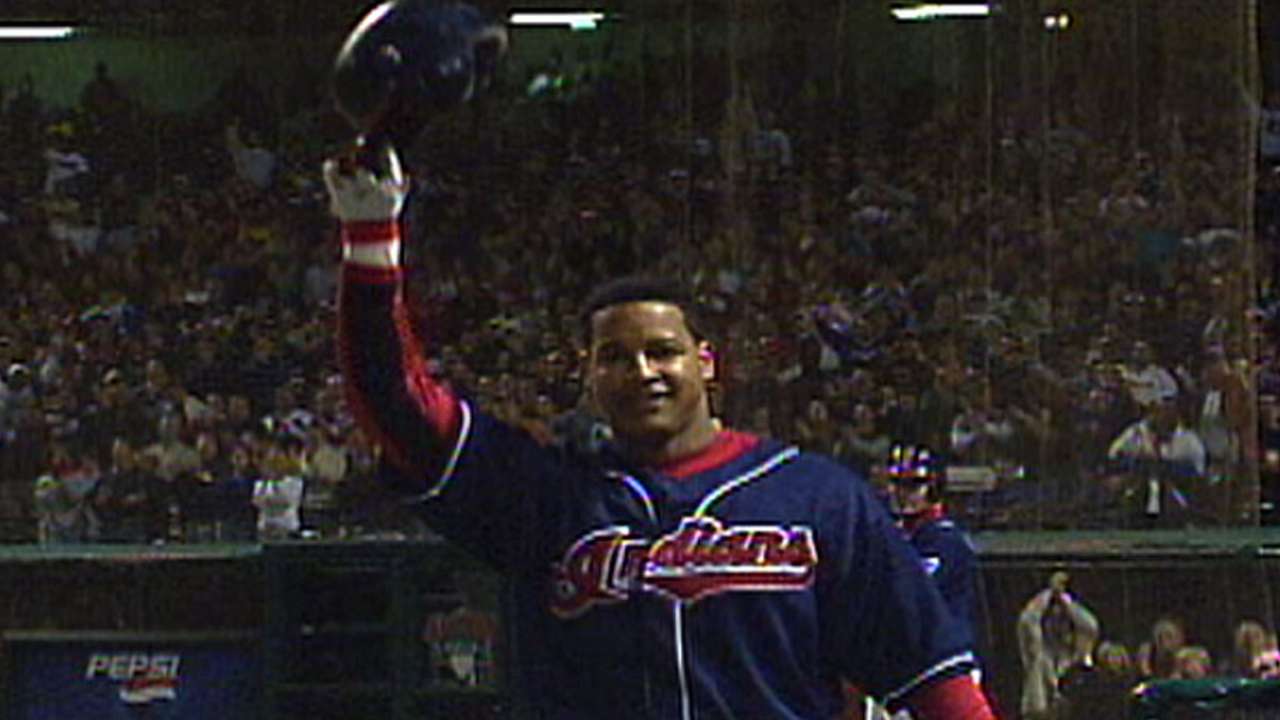 CLEVELAND -- The Manny being Manny phenomenon took off in Boston, but Manny Ramirez began to carve his place in baseball history in Cleveland. His was a unique and remarkable career, and there was a point in time when Ramirez seemed like a lock for the hallowed halls in Cooperstown, N.Y.
There is no denying that Ramirez was one of the most fearsome hitters of his era and one of the best right-handed sluggers the game has seen. In light of Wednesday's voting results for the National Baseball Hall of Fame, however, it seems clear that the controversy surrounding the end of Ramirez's career currently overshadows the impressive statistics he piled up over 19 years in the Majors.
• Bagwell, Pudge, Raines elected to Hall of Fame
• Complete Hall of Fame coverage
The Hall of Fame grew by three on Wednesday, with Jeff Bagwell, Tim Raines and Ivan Rodriguez each receiving enough votes from the Baseball Writers' Association of America to earn a plaque in Cooperstown. Ramirez, who holds a handful of Indians records and ranks among baseball's greats in terms of offense, received 105 votes for 23.8 percent, falling well short of the 75 percent required to gain entry into the Hall.
Jeff Kent, who played part of the 1996 season with the Indians, received 74 votes (16.7 percent).
If stats alone were the basis for being inducted, Ramirez would appear to be a shoo-in. Ramirez has the unfortunate distinction, though, of being one of the only Hall-eligible candidates to have suspensions for performancing-enhancing drug use on his resume. Ramirez was hit with a 50-game suspension in 2009 and then received a 100-game ban in '11. Whereas some sluggers from past eras have careers clouded in suspicion, Ramirez was actually punished by Major League Baseball.
So now, Manny waits.
Before Ramirez was a World Series MVP for the Red Sox, he came up with the Tribe during the franchise's 1990s renaissance. Cleveland selected Ramirez with the 13th pick in the first round of the 1991 Draft, and he was in the big leagues by '93. That set off an eight-year run with the Indians that established Ramirez as one of the organization's all-time greatest batters.
From 1993-2000, Ramirez hit .313/.407/.592 in 967 games for the Indians, who won five straight division titles from '95-99 and captured a pair of American League pennants. In his time as a key member of the Tribe's potent lineup, Ramirez compiled 236 homers, 237 doubles, 541 walks, 665 runs, 804 RBIs and a .998 OPS.
Ramirez holds Cleveland's career marks for slugging percentage and OPS, ranks third in homers, fourth in on-base percentage and eighth in RBIs. His 165 RBIs in 1999 remain a club record and he earned the Hank Aaron Award for his work that season. Four of Ramirez's 12 All-Star appearances and three of his nine Silver Slugger Awards came with Cleveland.
The Indians drafted and developed Ramirez and then kept him in the fold with a four-year, $10.1 million extension in December 1995. During that era, former Tribe GM John Hart used such contracts to lock up the team's core players, helping sustain the Tribe's success. After the 2000 season, though, Ramirez tested free agency and inked an eight-year, $160 million contract that brought his act to the Red Sox.
Ramirez had stops with the Dodgers, White Sox and Rays to conclude his career.
With Boston, Ramirez won a pair of World Series (2004 and '07), captured a batting title (2002) and had three top-five finishes in balloting for the AL MVP Award. His antics on and off the field both amused and annoyed at times, making Ramirez one of the more unique characters in the game.
When it was all said and done, following nearly two decades in the Majors and the pair of suspensions that tainted the ending to his career, Ramirez had 555 home runs (15th all-time). His career slugging percentage (.585) and OPS (.996) each rank eighth in Major League history, and only Barry Bonds ranks better in those categories among this year's class of Hall-of-Fame candidates.
In terms of Indians history, Ramirez is unquestionably one of the all-time greats. It will take more time to determine whether his career as a whole -- flaws included -- will become viewed as worthy of enshrinement in the National Baseball Hall of Fame.
Jordan Bastian has covered the Indians for MLB.com since 2011, and previously covered the Blue Jays from 2006-10. Read his blog, Major League Bastian, follow him on Twitter @MLBastian and listen to his podcast. This story was not subject to the approval of Major League Baseball or its clubs.