MLB.com Columnist
Mike Petriello
How many Hall of Famers will you see play in 2017?
Since 1900, an average of 31 players per season end up in Cooperstown
How many Hall of Famers did you watch play in 2016? How many will you see live and in person in '17? In the same way older generations were able to say that they saw Babe Ruth or Hank Aaron play at the height of their powers, we are with certainty seeing some of baseball's all-time greats play right now.
The trick, obviously, is that you can't say for sure which ones. There's a few slam dunks, but for most players in the conversation, so much could still happen on and off the field that might affect their paths to Cooperstown, and even the best of the best need to finish off their careers and wait five years before they get onto the ballot anyway. To look at today's players and say we know who ends up with a plaque in upstate New York is just pure speculation.
So let's do exactly that: speculate. Last winter, we looked ahead to wonder how many Hall of Famers we thought we'd maybe see in 2016, and let's update that to do exactly the same for 2017.
As we showed last year, we've historically seen an average of roughly 31 future Hall of Famers per season, and that held true even if we did "percentage of Hall of Famers per active player," although, of course, that number is much less over the last two decades. Part of that is the obvious fact that many of the most recent stars, like Derek Jeter, simply aren't eligible yet, but there's also evidence that voting gridlock has caused stars of the 1980s and '90s to be underrepresented -- only 18 players have been inducted in the last 10 elections, an average of fewer than two per year.
How many future HOF will we see in 2016? I made a list, but it gets harder every year: https://t.co/wF7xinjqLs pic.twitter.com/dz0xPe6ty6

— Mike Petriello (@mike_petriello) January 4, 2016
Still, let's stick with that 31 per year average, and have some fun. If there are 31 players likely to see time in the Major Leagues in 2017 who could end up in Cooperstown someday, who are they? And how likely are they to make it?
For simplicity's sake, we'll do this in tiers and order the players by their career Wins Above Replacement (from FanGraphs) totals; even though voters don't (and shouldn't) choose based on WAR alone, it's a solid enough estimate of a player's career worth. Don't worry too much about how a player is ordered within a tier, because it doesn't really matter. For reference, the "average" Hall of Famer compiled between 50 WAR and 70 WAR, and all-time greats like Ruth and Barry Bonds topped 160 WAR.
With the retired Alex Rodriguez and David Ortiz off our list from last year, let's find 31 Hall of Famers you're likely to see on the field in 2017.
No questions asked, no doubt about it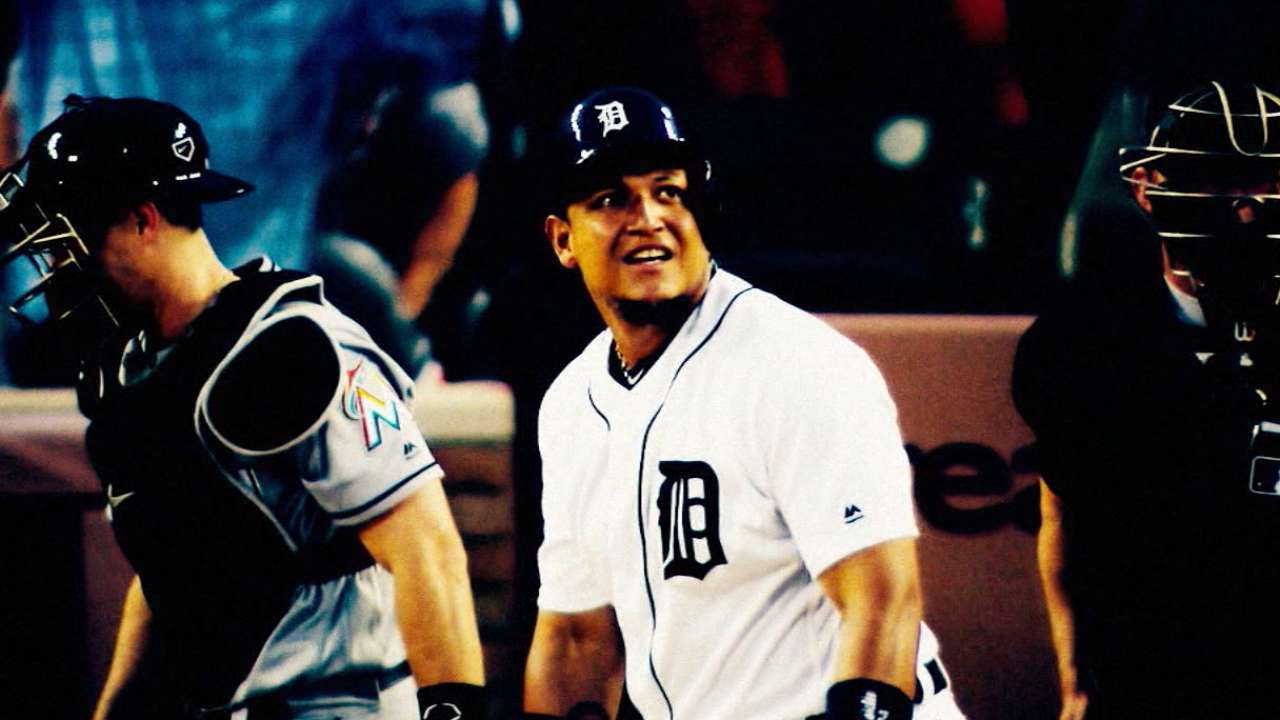 1. Albert Pujols (91 WAR)
2. Adrian Beltre (81 WAR)
3. Miguel Cabrera (68 WAR)
4. Ichiro Suzuki (58 WAR)
Pujols and Cabrera need no explanation, because they could have retired years ago and still have been slam dunks -- and while Pujols has slowed down, Cabrera keeps on hitting. Ichiro's case on both sides of the Pacific has been secure for some time, but especially so now that he has 3,000 hits in the Majors.
It's the inclusion of Beltre on the "slam dunk" list that might surprise some, but it shouldn't. Even at 37 in 2016, he had one of his strongest seasons (.300/.358/.521, 32 homers), and he'll likely end up one of the five best third basemen ever. He'll probably get to 3,000 hits in the first half of 2017, and having signed a two-year extension, it's not out of the question that he gets the 55 home runs he needs to make it to 500. (Of course, he's long been one of the best defensive third basemen around.) In addition, having talked to several Hall of Fame voters who say they can't wait to vote for him, we can comfortably say his future in Cooperstown is secure.
Over-30 players with good cases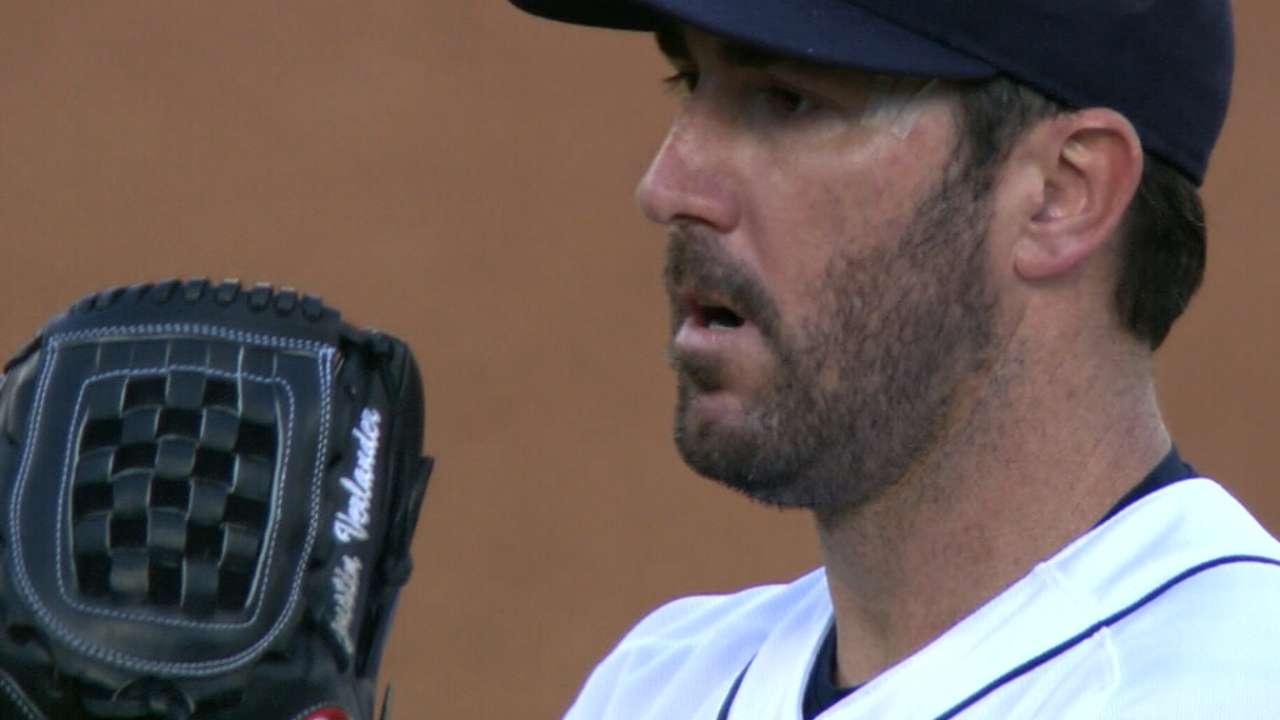 5. Carlos Beltran (68 WAR)
6. CC Sabathia (63 WAR)
7. Justin Verlander (52 WAR)
8. Felix Hernandez (51 WAR)
9. Robinson Cano (49 WAR)
10. Zack Greinke (48 WAR)
11. Evan Longoria (47 WAR)
12. Joey Votto (47 WAR)
13. Dustin Pedroia (46 WAR)
14. Cole Hamels (44 WAR)
15. Jon Lester (39 WAR)
16. Max Scherzer (38 WAR)
17. David Price (36 WAR)
18. Yadier Molina (33 WAR)
It's amazing how different this list looks than it did a year ago, as Beltre and Ortiz have moved off of it and several stars have aged onto it. While Greinke had a rough first year in Arizona, Verlander had a stellar rebound year with Detroit, and Scherzer's second Cy Young win puts him in an elite class of pitchers. Longoria had himself a fantastic year as well with a career-high 36 homers, while Cano and especially Votto (.326/.434/.550) just keep on hitting. Not all of these guys will get in -- remember how likely it seemed that David Wright, Troy Tulowitzki and Ryan Braun would a few years ago -- but a fair share will.
You could also argue for Josh Donaldson here, but since he didn't have his first good season until 27, he has a lot of ground to make up. Chase Utley is another name who might fit, but we'll skip him for now since he hasn't signed with a team for 2017, and at 38, isn't guaranteed to find a spot.
The most interesting new name on this list is Hernandez, who turns 31 in April. It's easy to argue that his twenties were among the best of any pitcher ever, but a drop in velocity and a rare trip to the disabled list in 2016 limited his effectiveness. It's far too soon to draw parallels to another Seattle superstar (Ken Griffey Jr.) who dominated in his twenties and offered little after that, but how exactly Hernandez handles his decline years could have some say in his Hall of Fame future.
The Clayton Kershaw and Mike Trout Experience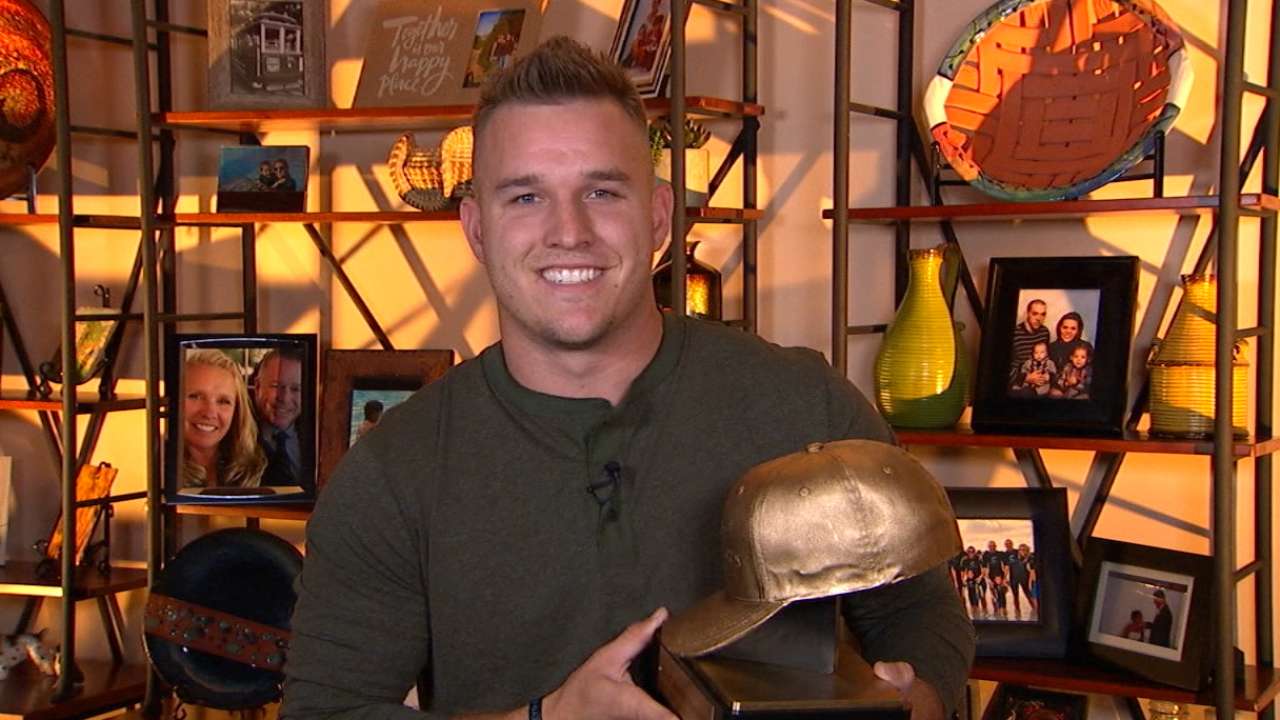 19. Clayton Kershaw (54 WAR)
20. Mike Trout (48 WAR)
There is a rule that states that all Hall of Famers must have played 10 years in the big leagues before they become eligible. Neither Kershaw nor Trout have reached that threshold, and yet it does not matter. The first five years of Trout's career have been unlike anything we've ever seen before, with two Most Valuable Player Awards and a solid case for five in a row. Trout's comparables aren't Harper, Bryant and Machado; they're Mays, Mantle and Musial. He's building a case not just to be the best player you've ever seen, but to be the best player anyone has ever seen.
Kershaw won three Cy Young Awards in five years, also had a decent (if lesser) case for five wins in a row from 2011-15, and he won the 2014 Most Valuable Player Award, too. Only 29 in March, his career already looks a lot like that of another legendary Dodgers lefty, Sandy Koufax. As soon as he makes his first appearance of 2017, he'll have satisfied the "10 year" rule, and maybe we ought to just go ahead and enshrine him right away. Despite the awards, it's possible that neither one of these two get the credit they really deserve.
30-and-under players on the right track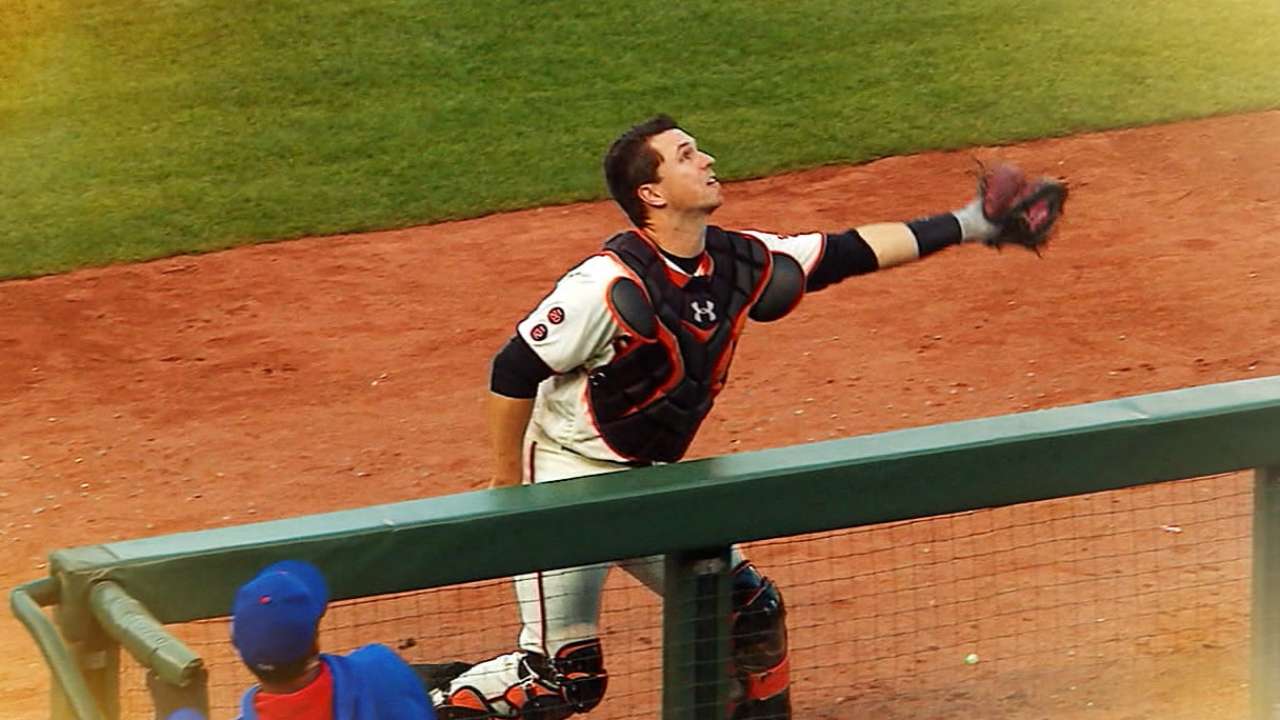 21. Andrew McCutchen (41 WAR)
22. Buster Posey (33 WAR)
23. Madison Bumgarner (28 WAR)
24. Giancarlo Stanton (27 WAR)
25. Paul Goldschmidt (26 WAR)
26. Bryce Harper (23 WAR)
27. Manny Machado (23 WAR)
28. Chris Sale (28 WAR)
29. Aroldis Chapman (14 WAR)
30. Kenley Jansen (14 WAR)
31. Craig Kimbrel (14 WAR)
There shouldn't be too much disagreement with the top of this list. For all the talk about McCutchen's down season and disappointing defense, he's still only 30 and hit an above-average .256/.336/.430 with 24 homers, though he'll need to do better than that as he ages to collect votes. As we gain understanding of how Posey's defense is just as valuable as his bat is, he's on track to be one of the best catchers ever, and Harper -- despite a disappointing 2016 of his own -- and Machado are two of the game's true young superstars.
The interesting part of the list comes at the back end, where three elite closers with similar career totals land. WAR doesn't work as well for relievers, which is why the numbers seem low, but it will be difficult for voters to ignore the truly dominant relievers of this era. The question is whether they can keep it up over a sustained length of time. These three have so far, which is why they're included here while others with shorter track records like Andrew Miller, Wade Davis and Zach Britton are not.
For now, this list no longer includes Jason Heyward, though at 27, he still has plenty of time to turn things around after a disappointing 2016. And, with one more great season, we'll probably be talking about adding Anthony Rizzo (20 WAR), Jose Altuve (19 WAR), and Nolan Arenado (15 WAR) here next year, especially since McCutchen and Posey will age out of this group.
The young field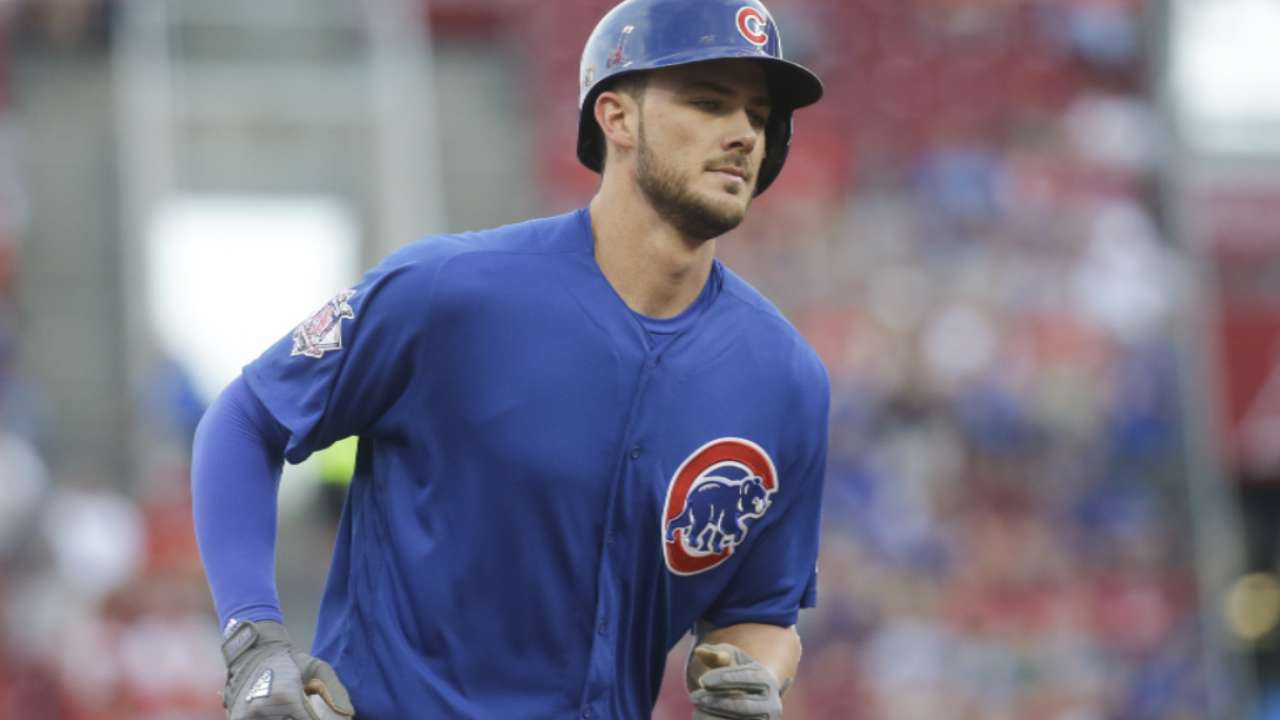 Mookie Betts / Kris Bryant / Trea Turner / Noah Syndergaard / Corey Seager / Carlos Correa / Francisco Lindor / Kyle Schwarber / Gary Sanchez / Joc Pederson / Byron Buxton / Xander Bogaerts / Julio Urias / Alex Bregman / Andrew Benintendi / Dansby Swanson / Lucas Giolito / Alex Reyes / Michael Fulmer / Yoan Moncada / etc.
Just look at this list. Stare at it. Bask in it. Bryant won the NL Most Valuable Player Award, while Betts finished second only to Trout in the AL and picked up nine first-place votes anyway. Seager unanimously won the NL Rookie of the Year and finished third in the MVP race, while the exploits of every other name on this list hardly need to be explained. We're certainly not going to drop Cooperstown predictions on a bunch of guys who haven't yet put together more than two quality big league seasons, but the influx of young talent into the game right now is nearly unprecedented. Some of these players will quietly flame out; some will be remembered as immortals. That means they're in the mix for "Hall of Famers who played in 2017."
Don't forget, also, that those are just players who actually made it to the big leagues in 2016. (Yes, Moncada appeared briefly for Boston in September.) That doesn't include the potential debuts of top prospects like J.P. Crawford, Austin Meadows, Brendan Rodgers, Clint Frazier and others who could see some time in 2017. You never know which ones will click and which won't, but you will know you're seeing the start of some legendary careers.
Mike Petriello is an analyst for MLB.com and the host of the Statcast podcast. He has previously written for ESPN Insider and FanGraphs. This story was not subject to the approval of Major League Baseball or its clubs.